MASK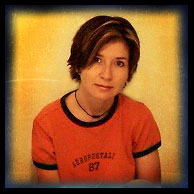 Mask - aka "Len's Woman"
PROFILE:
Sex:
Boy.
Age:
68.
Birthday:
3/2/79.
Where do you live?
At home.
Email:
mask@davidbowie.com
Your favourite David Bowie album?
Odds & Sods.
Your favourite David Bowie song?
Gloria.
Most embarrassing experience:
Derek.
Most memorable experiences:
Blam peeing on the ferry boat.
Best Bowie gigs been to:
Halloween night at the Palladium in Hollywood on the Outside tour.
Favourite Bowie event you've been to?
Paul almost going to jail for me in New York.
Favourite beverage?
Anything served by Paul and Blam in those cute ass sombreros... or, a nice Merlot.
Favourite food?
Empanadas.
Favourite sexual position?
Paul, as if you really need to ask me this, you taught that course in the Fall.
Name one thing that you completely hate?
Profiles.
Describe David Bowie in one word?
?
CLICK HERE
TO CLOSE WINDOW