MISSI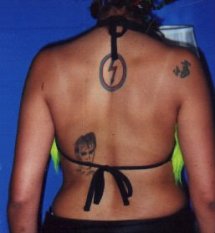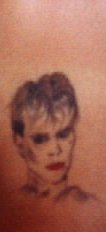 Missi - aka "The Illustrated Woman"
Well what can one say? Fancy having David Bowie continually on your back. OK calm down girlies.
PROFILE:
Sex:
Girl.
Age:
24.
Birthday:
4-8-1977.
Where do you live?
Minneapolis, Minnesota, USA.
Email:
ladeestarrdust@yahoo.com
Your favourite David Bowie album?
Hunky Ziggy Sold The World
Your favourite David Bowie song?
Sweet Thing, Sweet Head, or Time.
Most embarrassing experience:
I saw a guy who had blown me off after we had sex at his own party at his bands rehearsal space. I was drunk and pissed. He avoided me all night, but once he was drunk he came and put his arm around me. When I tried to slap him he made a surprise block. I was unprepared for that so I tried with the other hand. This is a good plan, but I forgot that I was holding a beer (bottle) in my hand. It didn't hit him too hard, but I felt pretty silly.
Most memorable experiences:
Partying in Hollywood for 2 weeks straight.
Best Bowie gigs been to:
Only one - Earthling tour. Soon to be ???
Favourite Bowie event you've been to?
There are no Bowie events to go to.
Favourite beverage?
Vodka!
Favourite food?
Pasta.
Favourite sexual position?
I have to do it... doggie!
Name one thing that you completely hate?
Rug Burn.
Describe David Bowie in one word?
Ecstasy.
CLICK HERE
TO CLOSE WINDOW