MzRED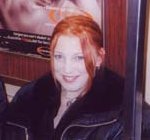 MzRed - aka "Marcella"
PROFILE:
Sex:
Girl.
Age:
Work it out.
Birthday:
16th January 1972.
Where do you live?
Austin, Texas.
Email:
MzRed@bowiewonderworld.com
Your favourite David Bowie album?
Earthling.
Your favourite David Bowie song?
Little Wonder.
Most embarrassing experience:
Pleads the Fifth.
Most memorable experiences:
-
Best Bowie gigs been to:
Roseland's and Tibet - the only ones I have gotten to.
Favourite Bowie event you've been to?
Roseland and Tibet shows.
Favourite beverage?
H2O and Tea.
Favourite food?
Sushi.
Favourite sexual position?
Which one? haha yes!
Name one thing that you completely hate?
Belly button lint and eye boogars.
Describe David Bowie in one word?
Hero.
CLICK HERE
TO CLOSE WINDOW