NICK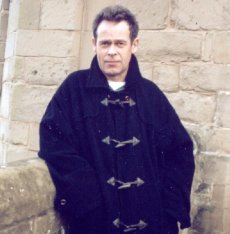 Nick
PROFILE:
Sex:
Haven't looked.
Age:
44.
Birthday:
12-02-57.
Where do you live?
England, but I ain't started living yet.
Email:
nickfa@ic24.net
Your favourite David Bowie album?
1.Outside.
Your favourite David Bowie song?
Breaking Glass (not many words to learn) plus I'm still waiting for the rest of it.
Most embarrassing experience:
Coming into this world.
Most memorable experiences:
Trying to live in this world.
Best Bowie gigs been to:
Well it should be 7th May 1976 but it wasn't - could hear or see fa,but Hanover Grand 3rd June was the best I could see and hear all of it... and the Astoria was pretty memorable, well it has to be as they've never shown it on TV yet.
Favourite Bowie event you've been to?
Well I have not been to many, so I can only say Bowie Con at Bedford, was it 97 or 98 and not to far to travel, was that an event?
Favourite beverage?
Any Bitter by Fullers or Wychwood Brewery, both flat, warm and Southern, full of good taste unlike my jokes.
Favourite food?
Egg, chips and beans.
Favourite sexual position?
Well I once had the house made backwards so I could still watch the tv.
Name one thing that you completely hate?
Only one? Love songs well for this week anyway, but I hate knuckles being rubbed together and I hate Adams apples.
Describe David Bowie in one word?
Why?
CLICK HERE
TO CLOSE WINDOW