QUEER BY CHOICE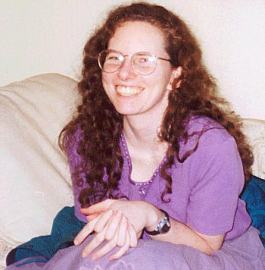 QueerByChoice - aka "QBC" aka "Gayle"
PROFILE:
Sex:
You wish.
Age:
27.
Birthday:
July 20th, 1976.
Where do you live?
Sacramento, California, USA.
Email:
Available from my website: www.QueerByChoice.com
Your favourite David Bowie album?
Oh, come on - all of them, really. With a few exceptions involving the late '80s and late '60s. But I suppose I do have a particular soft spot for the Man Who Sold the World.
Your favourite David Bowie song?
Oh! You Pretty Things, among many others.
Most embarrassing experience:
Why would I wish to divulge that here?
Most memorable experiences:
Leading the movement which successfully got PFLAG to repeal their international policy which had previously claimed that sexual preferences cannot be chosen. The policy was repealed in October 2000.
Also, nearly everything related to my QueerByChoice mailing list and my website at www.QueerByChoice.com has been memorable.
My LiveJournal at www.livejournal.com/~queerbychoice chronicles my most recent memorable experiences.
As for Bowie-related experiences... winning his BowieNet Site of the Week Award. Talking to him in the chatroom. Those were good. I'm open to better though. If you see him around, tell him he's welcome to come over for dinner at my house whenever he wants.
Best Bowie gigs been to:
April 2004 in Berkeley, California and August 2003 in Meadowview, California.
Favourite Bowie event you've been to?
Same as above.
Favourite beverage?
Milk. I don't drink alcohol. I am a wholesome innocent all-American youth.
Favourite food?
Chocolate ice cream.
Favourite sexual position?
The ones involving sweet affectionate devoted loving partners.
Name one thing that you completely hate?
People who think that queerness is a biological mistake. This applies to both queer AND straight people, and there are plenty of each who do think this, although Dr. Laura is the one who got most (in)famous for saying it.
Describe David Bowie in one word?
Multifaceted.
CLICK HERE
TO CLOSE WINDOW