REDNIK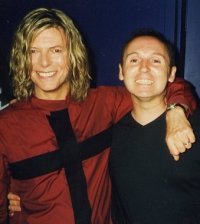 Paul Kinder - aka 'Rednik'
aka "Oh My God, Is That Moby?!"
This is the man responsible for bringing Bowie Wonderworld to the masses!

As a child, Paul had dreams of being the human cannonball at the Cheadle Circus. However, those dreams were dashed when he discovered early on that his debilitating fear of being hurtled through the air at high rates of speed would prevent him from ever reaching his goal. So he decided to go with his second love, webmastering.

He is the creative genius that brings you BowieWonderworld every day and toils on this labour of love the way some men toil over building porno sites.

Oh, and he doesn't like American beer, so be sure to buy him something really foreign if you catch him in a New York City bar.
PROFILE:
Sex:
Boy.
Age:
305.
Birthday:
17th October 1960.
Where do you live?
Cheadle, Cheshire, England.
Email:

Your favourite David Bowie album?
All of them.
Your favourite David Bowie song?
Changes weekly... this week it's Moonage Daydream, Untitled No. 1, Something In The Air, Absolute Beginners, As The World Falls Down, Cracked Actor, Art Decade and I Dig Everything.
Most embarrassing experience:
I went out with a girlfriend one night to the Altrincham ice rink with the intention of her learning me how to skate. We eventually got there and she met some guy she knew and buggered off with him, leaving me sat there with my skates like a lemon.
I spotted this vision of a girl skating around the rink like she was floating of air. I was incredibly impressed, and besides... I always fancied the arse off her, fancied isn't the right word, more like besotted with. I would of done anything for a date with her.
She came over to me and said hi and asked why I wasn't skating. I told her I was tired or some stupid excuse. She sussed me out and said "You can't skate can you?" I bowed my head in shame and admitted that I couldn't. "Come on get your skates on I'll teach you." I couldn't miss the opportunity of this vision of beauty teaching me to skate, so hurriedly put my skates on and licked my lips in anticipation.
She held my hand and we went slowly around the outside of the rink, the barrier within reaching distance in case I fell. After 3 or 4 times around the outside my confidence got the better of me and we... I mean she started skating around 'really' fast in time with the music the DJ was playing . I was holding on for dear life although really enjoying myself.
After a while, she said "Hang on a minute, one of my skate laces is coming undone." She let go of my hand and pissed off, leaving me stranded in the middle of the rink. Arrgghh! What a bitch!
People were flying around me at like 50mph, I couldn't stand up, I couldn't get off the ice, so I decided the best and safest thing to do was to sit down. So I sat down. After ten minutes or so, my arse by this time literally frozen, people started to slow down and getting off the ice. The DJ had made an announcement asking people to clear the rink so the demonstration could start. I thought 'great now I can get out off here'. No such luck, my legs were freezing, my arse so numb I couldn't even stand up.
"Would the young boy please come off the ice." announced the DJ for the sixth time. I was trying to explain to him via sign language over a distance of some 200 yards that I couldn't move let alone skate off. Next best option... crawl off.
I'd got about 3 yards when suddenly a bunch of 4 to 5 year old boys and girls, all dressed to the nines in suits and pretty party type frocks glided onto the ice. I thought 'oh shit'. One particular guy, a smartly dressed 5 year old penguin effortlessly skated towards me and said "What's wrong? Are you hurt?" "Erm. Yes. Yes! I've hurt my leg." He proceeded to help me stand up, hold my hand and then skated off the rink with me in tow.
People were laughing, and I mean literally pissing themselves laughing. I quickly exchanged my skates at the counter and got my shoes back. I put them on and ran out of the place.
Feeling sorry for myself I went and bought a bag of chips. I waited ages at the bus stop, I was still freezing cold. Eventually the bus turned up. I went upstairs so I could smoke a cigarette. Upstairs was jammed packed solid. I managed to find a seat at the back and I parked my arse down.
"Caroline. Is that the guy from the ice rink?" I overheard over my shoulder... "Yeah definitely. It sure is." Sigh... more people start pissing themselves.
Do you know it's 15 years ago since this embarrassing experience and STILL people mention it when I'm in the Altrincham area. I guess some things you just just can't ever live down.
Most memorable experiences:
Being invited to watch David soundcheck in Paris 1999.
Going to The Three Tuns pub in Beckenham in 1991. We were all knackered from following Tin Machine on tour. We all went in the pub and sat down for a beer. SteKing fell asleep in the bar still holding his beer - we all buggered off and left him there. You had to be there to see his face.
All four of us falling asleep in the chillout tent at Phoenix Festival in 1997, all stoned out of our heads. It was early and the crowd wasn't too big. I woke up hearing Prodigy... dammit db's on next... I quickly woke everyone else up. We went outside of the tent.. Jesus wept there were thousands and thousands of people between us and the stage. We all held hands (aww) and pushed and shoved through the crowd. Somehow, don't ask me how but within 10 minutes all four of us were bruised to hell, but at least we were leaning against the barrier ready for db.
Best Bowie gigs been to:
Empire Pool 4/5/76, Maine Road 7/8/87, Little Wonderworld gig at the Hanover Grand 3/7/97, HQ Club Dublin 10/10/99, Roseland's 16th and 19th June 2000.
Favourite Bowie event you've been to?
Whole New York experience in 2000. Factory Dublin 97, BBC Theatre 2000 and The Riverside.
Favourite beverage?
Oxo with a pinch of salt.
Favourite food?
Prawns, basically anything out of the sea, Walkers Cheese and Onion crisps, Bendi Gost, Chicken Tarka (same as a Chicken Tikka but a little otter).
Favourite sexual position?
Tied up, gagged and blindfolded and/or hanging from the chandelier. (We haven't got a chandelier by the way, so I'll say light fitting instead).
Name one thing that you completely hate?
Tomatoes.
Describe David Bowie in one word?
Cloud.