ROB STORM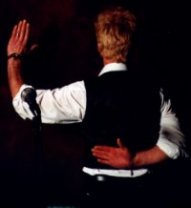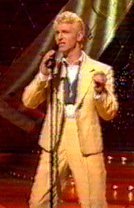 Rob Storm - aka "Mr. Showbiz"
As you can see from his pictures, Rob is one of a very small community of Bowie impersonators. While not as in demand as Elvis impersonators, or even Cliff Richard impersonators, Rob is one of the top three out of the entire five Bowie impersonators in the world! What an achievement!
If you're looking for someone to entertain your friends at your next birthday, anniversary or Bar Mitzvah, give old Rob a call! We hear he does a scorching cover of The Laughing Gnome.
PROFILE:
Sex:
Male.
Age:
41.
Birthday:
All Saints Day.
Where do you live?
In hot, sunny North Wales.
Email:
robstorm@bowiewonderworld.com
Your favourite David Bowie album?
All.
Your favourite David Bowie song?
Too many!
Most embarrassing experience:
Stars In Their Eyes.
Most memorable experiences:
Stars In Their Eyes.
Best Bowie gigs been to:
Bingley Hall, 1976 or 1977. Too long ago to remember now. (Ed. 1978).
Favourite Bowie event you've been to?
Is there any?
Favourite beverage?
Tea, coffee, lager, nah lager, coffee, tea.
Favourite food?
A good old Ruby Murray.
Favourite sexual position?
Don't need to say with 4 kids! Do I?
Name one thing that you completely hate?
Dog shit.
Describe David Bowie in one word?
Unusual.
CLICK HERE
TO CLOSE WINDOW