ROGER B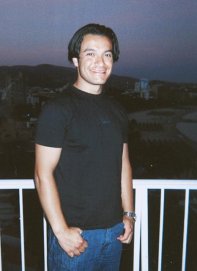 Roger B - aka "Just put that on my tab, please"
aka "Oooh my achin' head"
Roger is not only the resident bartender of BowieWonderworld, he's also a bit of a clever wordsmith. Harken yourself back to this clever conundrum: "If u drop a cat, it will land on it's feet, similarly toast will land butter side down, so what happens if u tie a piece of toast to a cat's back and drop it?" It's almost too much to think about.
Roger B is a man of many facets: footie fan, pub crawler and avid EastEnders watcher. Roger has elevated the question as to whom might have wanted to do kill Phil into a debate of epic proportions not seen since the days of "Who Shot JR?"
He's also a Mac fanatic, known to exclaim "once you go Mac, you never go back" at the drop of a dime. However, we're not sure if he's just saying that because Bowie has a Mac, or if he just likes the neat-o colours they come in.
Roger's full screen name is Roger Bacardi, a nick that is derived from his love of rum. Like so many here at BW, Roger is a pro-drinker from way back. Perhaps there is something within the walls of BW that attracts all the best drinkers. Aw hell, who cares, it's happy hour!
PROFILE:
Sex:
Boy.
Age:
26.
Birthday:
04/08/1974.
Where do you live?
Bromley.
Email:
minotaur@btinternet.com
Your favourite David Bowie album?
Earthling.
Your favourite David Bowie song?
Amlapura.
Most embarrassing experience:
It's probably goota be my worx's Xmas paty, where i spent the whole evening calling Ruth into the sink after haviing greeted one of the directors whilst carrying my own vomit so that i didn't stain the swanky floor at the very expensive venue we hired. I blame the wine waiters.
Most memorable experiences:
Taking my nephew to see Spurs trounce Stockport 4-0 at the lane a few weeks ago..
Best Bowie gigs been to:
Astoria, Twix Mix.
Favourite Bowie event you've been to?
Only been to one, a 50th birthday thing in Beckenham. I came joint 1st in the quiz though!
Favourite beverage?
Beer.
Favourite food?
Fajitas.
Favourite sexual position?
With company.
Name one thing that you completely hate?
Westlife.
Describe David Bowie in one word?
Cool.
CLICK HERE
TO CLOSE WINDOW