SEVEN SMILES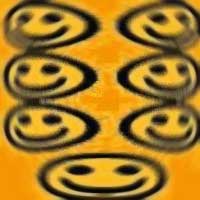 SevenSmiles






PROFILE:

Sex:
Girl.

Age:
17 (soon :-) )

Birthday:
27/09/87.

Where do you live?
I'd like to know too... (They say Prague, The Czech Republic).

Email:


Your favourite David Bowie album?
Hard question... Scary Monsters maybe.

Your favourite David Bowie song?
Fantastic Voyage.

Most embarrassing experience:
Mmmmmmmmmmmmmmmm..............

Most memorable experiences:
I'll never forget David's concert in Prague 23/06/04. I was sad, sad, sad... :-(((

Best Bowie gigs been to:
I was only on that mentioned above.

Favourite Bowie event you've been to?
:-(((

Favourite beverage?
Water.

Favourite food?
Cheese - Pizza.

Favourite sexual position?
With David everything and everywhere... :-)

Name one thing that you completely hate?
Violence.

Describe David Bowie in one word?
Genius.