SUSANS and SPACEFACE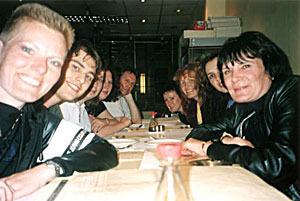 Susans and Spaceface - aka "The Happy Twins"
This unlikely duo is responsible for keeping peace and harmony throughout the land. Through sheer force of will, either one (or both together if necessary) can stop trolls and flamers dead in their tracks simply by exuding their bottomless Pit-O-Love for Sailor.
Both Spizzy (that's what her sister ho's call her) and Susans are keepers of the flame around these parts and without their endless love-vibes, we'd all be lost!
Susans also seems to have taken on the immense task of buying all the really important Bowie stuff on eBay to prevent just anyone from having the best items in their own vault! It is rumoured that one day she will open her shrine to the public once some vast warehouse opens up in a fashionable district of London.
PROFILE:
Name:
Spaceface.
Sex:
Girl.
Age:
45.
Birthday:
14th April.
Where do you live?
Sunderland, UK.
Email:
spaceface@davidbowie.com
Your favourite David Bowie album?
Hunky Dory, Ziggy, Earthling, 1.Outside.
Your favourite David Bowie song?
The Bewlay Brothers, My Death, Rock N Roll Suicide, I'm Afraid Of Americans, Heart's Filthy Lesson (this week).
Most embarrassing experience:
Been racking my brains on this one. They are either too rude to be mentioned, or too excruciating. If anyone knows a good one, please mail me (ducks avalanche).
Most memorable experiences:
Becoming a mammy, TWICE!
Best Bowie gigs been to:
Earthling gig at Newcastle, Riverside (UK).
Favourite Bowie event you've been to?
So this is a different question to the one above? Something which was mega fantastic was my trip to New York in 1999, to meet the chatters from Bowienet. I had never been to NY, and the only thing I knew about the people I was meeting was the lines of type I had seen on my puter screen. Seeing them all together at Leeza's in the flesh was quite surreal and an absoultely new experience. And what an amazingly cool bunch of people. I should have guessed, of course.
Favourite beverage?
White Wine.
Favourite food?
Lobster.
Favourite sexual position?
You mean there's more than one?
Name one thing that you completely hate?
Being cold.
Describe David Bowie in one word?
Genius.
CLICK HERE
TO CLOSE WINDOW