SPACE PATROL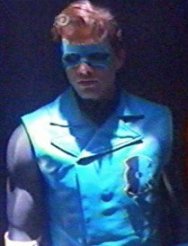 Space Patrol
PROFILE:
Sex:
Male
Age:
Just 30!
Birthday:
11th November 1971.
Where do you live?
Didcot, near Oxford, England.
Email:
paulerowland@hotmail.com
Your favourite David Bowie album?
Hunky Dory.
Your favourite David Bowie song?
Quicksand.
Most embarrassing experience:
Losing my trunks in a swimming competion, aged 11. Very, very embarrassing. And many many more.
Most memorable experiences:
Appearing on the UK childrens TV programme 'Rainbow'.
Playing drums in a band at the Marquee (RIP), although the Charing Cross one.
Being three and my uncle frightening me with the gatefold image of Aladin Sane, this with seeing Alice Cooper on 'Top Of The Pops' gave me a great fear later to turn into love with the whole Glam Rock movement.
Best Bowie gigs been to:
Wembley Bowie/Morrissey 1995.
Favourite Bowie event you've been to?
As above - only got on the internet this year and discovering like minded people.
Favourite beverage?
Red Wine, Beer, Vodka, Jack Daniels and Coke.
Favourite food?
Chicken Tikka.
Favourite sexual position?
66.
Name one thing that you completely hate?
Wet Cardboard.
Describe David Bowie in one word?
English.
CLICK HERE
TO CLOSE WINDOW