sQueakie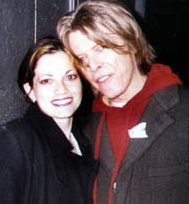 sQueakie - aka "sQueekie"
aka "Sisteur Squeakilicious"
It seems that BowieWonderworld attracts most of the ladies of SOD. Squeakie, or Sisteur Squeakilicious as she is known over at the SOD site frequents BW to spready her arty-ness and her love of Bowie to all.
Squeakie is also a snappy dresser and a whiz at web creation. With her talents we all fully expect her to one day become totally rich and famous by designing sites for the ultra-rich and famous. We can see it now, people like Englebert and Wayne Newton begging SQ to design their sites for them! And when she is as famous as the people she designs for, we fully expect her to take us all on a three-day binge.
And if you should run into Squeakie at any Bowie Gatherings, be sure to buy her a cosmo and not some crummy beer.
PROFILE:
Sex:
Female.
Age:
:(
Birthday:
December 9th.
Where do you live?
Los Angeles.
Email:
squeeekie@mindspring.com
Your favourite David Bowie album?
Low.
Your favourite David Bowie song?
Life On Mars.
Most embarrassing experience:
Can't think of any.
Most memorable experiences:
Meeting db (as shown in my pic).
Moving to Vancouver.
Moving away from Vancouver.
Going to NYC.
Best Bowie gigs been to:
Nov '99 at the Kit Kat Club.
Favourite Bowie event you've been to?
Same as above.
Favourite beverage?
Vodka.
Favourite food?
Sushi.
Favourite sexual position?
All of them.
Name one thing that you completely hate?
Stupid drivers.
Describe David Bowie in one word?
Cookie.
CLICK HERE
TO CLOSE WINDOW