STEVEE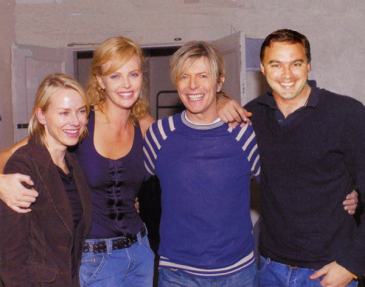 Stevee - aka "Steveeee"
PROFILE:
Sex:
Yes please!
Age:
39.
Birthday:
17 October.
Where do you live?
Perth, Western Australia.
Email:
-
Your favourite David Bowie album?
Lodger.
Your favourite David Bowie song?
Heroes.
Most embarrassing experience:
Nothing embarrasses me.
Most memorable experiences:
Meeting Bowie and getting his autograph at the Perth airport in 1983, and getting a high five from him when in the front row at the Perth 2004 gig.
Best Bowie gigs been to:
Perth 1983 x3, Melbourne 2004 x2, Perth 2004 x1.
Favourite Bowie event you've been to?
1983 - lined up for 14 nights for Perth concert tickets with 50 other wonderful Bowie fans.
Favourite beverage?
Swan Lager.
Favourite food?
Swan Lager.
Favourite sexual position?
On the kitchen table.
Name one thing that you completely hate?
Kitchen tables with weak legs.
Describe David Bowie in one word?
Quaalude.