BETTINA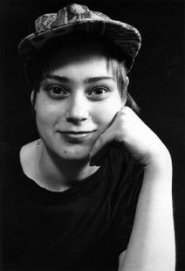 Bettina - aka "Straffer"
Bettina is one of the jet setters of BowieWonderworld. Travelling the world, she has met celebrities such as the Dali Lama and our pal Sailor. In fact, Bettina is so world reknown that when she met Lou Reed, he was actually NICE to her!
When not spanning the globe in high style, Bettina works to bring positivity to message boards.
PROFILE:
Sex:
Girl.
Age:
30.
Birthday:
-
Where do you live?
Eindhoven, Holland.
Email:
straffer@davidbowie.com
Your favourite David Bowie album?
1.Outside.
Your favourite David Bowie song?
"Heroes", Word On A Wing, Strangers When We Meet, Hallo Spaceboy, Never Let Me Down.
Most embarrassing experience:
Had too many...!
Most memorable experiences:
Getting the job which I still have at the moment. My first Boy-friend. My friends who I meet over the years.
Meeting David Bowie in Person. Meeting the Dalai Lama and also meeting Lou Reed. Those 3 meetings really changed my life.
Best Bowie gigs been to:
Paris 1996, Utrecht 1996, Outside Tour Rules..
Favourite Bowie event you've been to?
A TV show called Karel - absolutely great. Also BBC 2000 was very surreal.
London 14th November 1995 my first Bowie concert outside Holland, also my first Bowie concert with a fellow Bowie "die hard".
Meeting him for the first time.
Meeting all those great Bowie fans in real life and also online. That is really something special.
Favourite beverage?
Beer.
Favourite food?
Cheese and Chips.
Favourite sexual position?
*grin*
Name one thing that you completely hate?
Getting up early in the morning.
Describe David Bowie in one word?
Trouble.
CLICK HERE
TO CLOSE WINDOW