SUSANS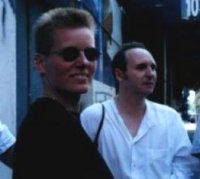 Susans - aka "One Of The Happy Twins"
Susans seems to have taken on the immense task of buying all the really important Bowie stuff on eBay to prevent just anyone from having the best items in their own vault! It is rumoured that one day she will open her shrine to the public once some vast warehouse opens up in a fashionable district of London.
PROFILE:
Name:
SusanS.
Sex:
Female.
Age:
35.
Birthday:
22nd September.
Where do you live?
Braintree, Essex.
Email:
susans@davidbowie.com
Your favourite David Bowie album?
Oh God impossible.
Your favourite David Bowie song?
Love 'em all... honest!.
Most embarrassing experience:
Caught snogging Bowie picture aged 8 :))
Most memorable experiences:
Meeting David.
Best Bowie gigs been to:
Impossible.
Favourite Bowie event you've been to?
Impossible.
Favourite beverage?
Coffee and Lager.
Favourite food?
Bread.
Favourite sexual position?
Bugger off Paul.
Name one thing that you completely hate?
Kiss and Tell.
Describe David Bowie in one word?
Gorgeoussexygenius :))
CLICK HERE
TO CLOSE WINDOW