TATI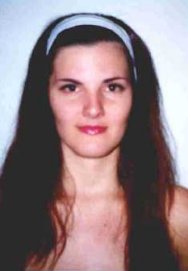 Tati - aka "Welovedb" aka "Damn, that girl is hot!"
Tati is not only one of the resident hotties of BowieWonderworld, she is also an well rounded student of Sailor. Tati travels far and wide on the Internet to spread the word of Bowie's music and we here at BW are overjoyed she calls this board home (especially the men!).
Rumour has it that Tati has been growing her hair out for the last 15 years to gain the lead part in the upcoming Steven Spielberg epic, "Rapunzel and the Tower of Temples of Doom and Adventure." If that doesn't work out, she can always sell her hair to the big time wig manufacturers and retire on profits.
PROFILE:
Sex:
Girl.
Age:
23.
Birthday:
23rd January.
Where do you live?
Brazil.
Email:
wlovedb@teenagewildlife.com
Your favourite David Bowie album?
Earthling.
Your favourite David Bowie song?
Moonage Daydream, Teenage Wildlife, Conversation Piece, Seven Years In Tibet, Something In The Air, Station To Station, "Heroes"/Helden - so many.
Most embarrassing experience:
So, I emailed this guy and his girlfriend replied. How embarrassing for me. I didn't expect. If I knew, I'd of written a different email.
One day I came in the classroom and there was going to be a test. I didn't have a clue about... I just stood up and went out of the room, and passed the following 2 hours thinking of a good excuse to give to the professor.
My twin sister was dating a gorgeous guy. I went to the bar and he looked at me and thought I was her... and called me over. I was there, all sassy - just wanted to talk to him, I swear...! and then my twin arrives... whew!
Most memorable experiences:
Mostly school or studies related memories... but I'll save you from this. I have also great memories from my childhood, mainly in the country city where my grandparents have a farm.
Best Bowie gigs been to:
I have never been in a Bowie gig.
Favourite Bowie event you've been to?
Hmm... the only kind of Bowie events in real life I have been to are the Bowie parties me and some friends give... there is this guy that lives in an isolated place right in front of the beach, we call all the friends there and see Bowie movies or interviews, listen all the albums all night long and get drunk and it's so damn cool.
Favourite beverage?
Vodka - Strawberry Bice.
Favourite food?
Pizza.
Favourite sexual position?
In front of my computer, left hand on keyboard (tee hee, how sad).
Name one thing that you completely hate?
Paranoia, Intrusion, Jealousy.
Describe David Bowie in one word?
Talented.
CLICK HERE
TO CLOSE WINDOW