TOTAL BLAM BLAM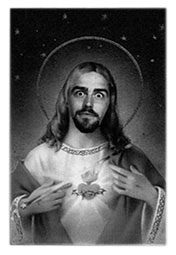 Total Blam Blam - aka "Blammo" aka "Blam"
PROFILE:
Sex:
Later... busy.
Age:
Older than Rednik... Though you wouldn't think it.
Birthday:
3rd September, 1066.
Where do you live?
In a special place in my mind, where everything is groovy and no-one even knows what negative karma is...
Email:
E-mail who?
Your favourite David Bowie album?
The Rise And Fall Of The Man Dog Ziggy Monster And The Hunky Dory Heroes From Outside.
Your favourite David Bowie song?
You're The One For Me, Blammo.
Most embarrassing experience:
Mask mounting New York Cows.
Most memorable experiences:
Birth.

Best Bowie gigs been to:
I've been to all the best Bowie gigs.
Favourite Bowie event you've been to?
Bowie taking a leak at the BBC.
Favourite beverage?
Fresh Piss.
Favourite food?
Fried Insects.
Favourite sexual position?
72.
Name one thing that you completely hate?
This sort of blackmail.
Describe David Bowie in one word?
How?
CLICK HERE
TO CLOSE WINDOW