TONEDEAF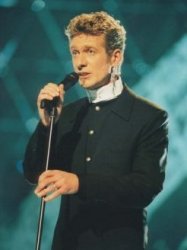 ToneDeaf - aka "Tony Def"
aka "Tony What?"
PROFILE:
Sex:
Boy.
Age:
41.
Birthday:
December 2nd.
Where do you live?
Essex, UK.
Email:
Southsiding@aol.com
Your favourite David Bowie album?
Hunky Dory, Lodger, oh sod it all of them.
Your favourite David Bowie song?
Stay, Life On Mars?, Survive.
Most embarrassing experience:
Trying to look cool in my canoe on a very fast river in France. Capsized on one of the rapids and got rescued by a group of very large German naturists, flesh everywhere and not quite sure what to grab hold of in my panic.
Most memorable experiences:
Erica the naked German tourist...... only kidding. Probably the birth of our first son. The most horrifying and amazing sight I think I've ever experienced, won't go into the gory details, but after a 36 hour labour I am totally amazed my wife decided to have another. Glad she did though.
Best Bowie gigs been to:
Astoria on my birthday 2nd Dec '99 and TFI last time round.
Favourite Bowie event you've been to?
Wish I'd been at the BEEB that must have been awesome, TFI was bloody good though , right down the front and stayed there. Love that version of Starman.
Favourite beverage?
Coffee.
Favourite food?
Chinese No. 23.
Favourite sexual position?
Indian No. 12.
Name one thing that you completely hate?
Blue cheese.
Describe David Bowie in one word?
Sorry... can't be done.
CLICK HERE
TO CLOSE WINDOW