TONY DAY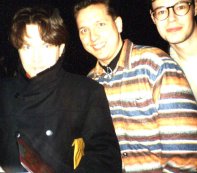 Tony Day - aka "The Gospel According To..."
TonyDay is known around these here parts as a Bowie Guru. For instance, if you ever want to know what cigarette David was smoking at the Imperial College show on 12th February 1972, just ask Tony.
Tony is also responsible for procreating a new generation of little BowieNetters. Using the latest in genetic technology to transfer all the proper Bowie-lovin' genes, Tony's very own son is set to take the throne of Bowie Guru once dear old dad feels he has adequately amassed the vast catalogue of information that Tony has stored on secret microchips located under Posh Spice's flower pot.
We salute Tony for his efforts in bringing up a new crop of Bnetters! Our very future depends on men like TonyDay!
PROFILE:
Sex:
Boy.
Age:
32.
Birthday:
6th March 1969.
Where do you live?
Manchester.
Email:
tonyday@davidbowie.com
Your favourite David Bowie album?
Low, Outside and Buddha Of Suburbia.
Your favourite David Bowie song?
Today it's Something In The Air. Yesterday it was Silly Boy Blue, tomorrow ???
Most embarrassing experience:
Finally meeting David Sylvian in 1993 and getting my photo taken with him, only to discover later that the film I'd taken off my windowsill,was in fact full. I had to relocate Mr. Sylvian outside the Manchester Apollo and explain my mishap. Now as you know Mr. Sylvian is a very delicate sensitive soul, but the look he gave me when I explained what had happened, eradicated this opinion I had of him. He looked at me as though I was a complete f**kwit. Which, as those of you who know me can verify, I am!!
Most memorable experiences:
A threesome you don't need to know about.
Best Bowie gigs been to:
Bradford 89... sorry Paul!! (Ed. Grrr!!!!)
Favourite Bowie event you've been to?
The whole New York experience in 2000, and the recent Jaunt to Scotland which has affirmed the power of the Internet to me. Both these events were all the more enjoyable cos I did them with people from the Bowie community, who I probably otherwise would not have met.
Favourite beverage?
Vodka Red Square, Baileys, Jack Daniels, Lager, Bitter, oh erm, only one. Sorry!!
Favourite food?
Curry, can't ya tell.
Favourite sexual position?
Doggy style. This way you can still watch a Bowie video whilst resting a can of lager on your birds back. Heaven. The other advantage and one I often partake of, is if you've been arguing then you can pull faces behind her back. Quite theraputic!!
Name one thing that you completely hate?
A bird spilling my lager during her orgasm.
Describe David Bowie in one word?
Wowie.
CLICK HERE
TO CLOSE WINDOW