TVC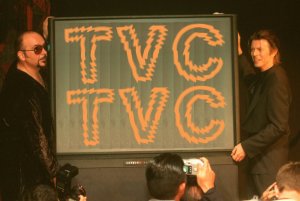 TVC - aka "TeeVeeSee"
PROFILE:
Sex:
Yes Please!
Age:
Late -ish 20's.
Birthday:
March.
Where do you live?
UK.
Email:
tvc15@bowiewonderworld.com
Your favourite David Bowie album?
Aladdin Sane - most of the rest...
Your favourite David Bowie song?
Time - too many 2 mention...
Most embarrassing experience:
Mmm, my (too) baggy swim shorts disappearing when I dived into a pool once - and then nearly drowning whilst trying to wrestle them back on underwater...
Most memorable experiences:
Bowie gigs and the rest is UNPRINTABLE.
Best Bowie gigs been to:
89' - Tin Machine (COS I WAS AT THE FRONT), '97' Brum Q Club was cool!
Favourite Bowie event you've been to?
THE ABOVE AND ALL THE OTHERS - and playing Bowie loud in the lounge is usually a pretty cool event if u use yer imagination.
Favourite beverage?
Whisky, beer, anything... water!!!!!
Favourite food?
Tasty food - Chinese....... cheese on toast is cool...
Favourite sexual position?
Anyway, anyhow, anywhere I choose...
Name one thing that you completely hate?
Olives.
Describe David Bowie in one word?
Geniuspersonified.
CLICK HERE
TO CLOSE WINDOW