ZIGIZIGI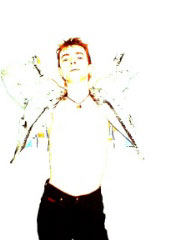 ZigiZigi - aka "I Am The Spider"
PROFILE:
Sex:
Male.
Age:
-
Birthday:
Halloween.
Where do you live?
North East England.
Email:
iamthespider@supanet.com
Your favourite David Bowie album?
Probably Ziggy.
Your favourite David Bowie song?
Impossible to say.
Most embarrassing experience:
-
Most memorable experiences:
-
Best Bowie gigs been to:
Serious Moonlight and Sound + Vision.
Favourite Bowie event you've been to?
-
Favourite beverage?
Vodka.
Favourite food?
-
Favourite sexual position?
-
Name one thing that you completely hate?
Questions I can't answer.
Describe David Bowie in one word?
Genius.
CLICK HERE
TO CLOSE WINDOW