WHAT'S REALLY HAPPENING IN JUNE - MONTHLY PLANNER

[BOWIEWONDERWORLD SHOP] [LATEST DAVID BOWIE ITEMS ON eBAY]
[@bowiewonderworld.com email addresses HERE]
Have YOU got some DAVID BOWIE related news or a hot scoop?
Well don't just sit there keeping it to yourself - send it in to
All news items are credited if you so wish
---
AND THE BITS FLEW FAR AND WIDE...
29th June 2015
• HOLY HOLY Are you ready for some Black Country Rock tonight Birmingham!? Some tickets are available on the door - [More details]...
• If you missed the BBC 4 Arena documentary last night: Nicolas Roeg - It's About Time you can catch it on the BBC iPlayer. Plenty of DAVID BOWIE and The Man Who Fell To Earth. Well worth watching - [View here]...
• We Spoke Of 'Was' And 'When': TONY VISCONTI Interviewed by The Quietus. Legendary producer Tony Visconti has recently been revisiting one of his classic DAVID BOWIE recordings, The Man Who Sold The World, with a tour and a live album. Simon Price asks him about the Dame, Bolan, Sparks, the Manics, and more - [Read here]...
• On this day, 7 years ago, DAVID BOWIE released his 'iSelect' CD free via The Mail On Sunday newspaper - [Read here]...
---
LAZARUS LEAD ANNOUNCED
23rd June 2015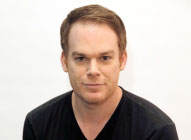 MICHAEL C. HALL the 'Dexter' and 'Six Feet Under' actor who recently appeared in Broadway's 'Hedwig and the Angry Inch,' has signed on to star in 'Lazarus,' the new DAVID BOWIE - Enda Walsh stage show that opens Off Broadway in December.
He'll play protagonist Thomas Jerome Newton in the production, which is based on the Walter Tevis novel 'The Man Who Fell To Earth.' In the 1976 film version of the tale, Newton was portrayed by Bowie, who will not appear in the stage incarnation but will provide original songs as well as previously recorded material.
'Lazarus' begins previews at Off Broadway's New York Theater Workshop on 18th November ahead of a 7th December opening.
From Variety.
---
FIVE YEARS 1969-1973 BOX SET OFFICIALLY ANNOUNCED
22nd June 2015
Official Press Release:
DAVID BOWIE 'FIVE YEARS 1969-1973' BOX SET RELEASED SEPTEMBER 25th
Commencing countdown, engines on, check ignition and may God's love be with you...
DAVID BOWIE 'FIVE YEARS 1969-1973'
The first in a series of David Bowie Box Sets to be released on September 25th.
June 23rd 2015 London.

On this day in 1971, David Bowie performed for the first time at what was then known as the 'Glastonbury Fair'. Today in 2015 as the Glastonbury Festival approaches once more Parlophone Records are proud to announce DAVID BOWIE FIVE YEARS (1969-1973)
the first in a series of box sets spanning his career.
The ten album / twelve CD box, ten album / thirteen-piece vinyl set and digital download featuring all of the material officially released by Bowie during the nascent stage of his career from 1969 to 1973. All of the formats include tracks that have never before appeared on CD/digitally as well as new remasters.
Exclusive to the box sets will be Re:Call 1 a new 2-disc compilation of non-album singles, single versions and b-sides. It features a previously unreleased single edit of All The Madmen, which was originally set for a U.S. release but was never actually released. Also included is the original version of Holy Holy, which was only ever released on the original 1971 Mercury single and hasn't been available on any release since.
Also exclusive to all versions of Five Years 1969-1973 will be a 2003 stereo remix of 'The Rise and Fall Of Ziggy Stardust And The Spiders From Mars' by the album's original co-producer Ken Scott, previously only available on DVD with the LP/DVD format of the 40th anniversary edition of the album.
The vinyl box set has the same content as the CD set on pressed on audiophile quality 180g vinyl.
The box set's accompanying book, 128 pages in the CD box and 84 in the vinyl set, will feature rarely seen photos as well as technical notes about each album from producers Tony Visconti and Ken Scott, an original press review for each album and a short foreword by legendary Kinks front man Ray Davies.
The CD box set will include faithfully reproduced mini-vinyl versions of the original albums and the CDs will be gold rather than the usual silver.
An alternate cover has been created for the 2003 mix of Ziggy Stardust by Ken Scott, which features an outtake from the original Heddon Street photo session. There is also newly originated artwork for Re:Call 1 featuring a 1973 in-studio image from renowned photographer Mick Rock.
DAVID BOWIE FIVE YEARS (1969-1973)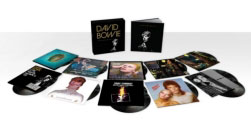 6 Original Studio Albums:
David Bowie (aka Space Oddity)*
The Man Who Sold The World*
Hunky Dory*
The Rise And Fall Of Ziggy Stardust And The Spiders From Mars
Aladdin Sane
PinUps*
*New 2015 Remasters.
2 Live Albums:
Live Santa Monica '72
Ziggy Stardust: The Motion Picture Soundtrack
Exclusive To All Sets:
Re:Call 1
The Rise and Fall Of Ziggy Stardust And The Spiders From Mars (2003 mix)
Re:Call 1 - Tracklisting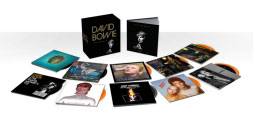 CD1
Space Oddity (original UK mono single edit)*
Wild Eyed Boy From Freecloud (original UK mono single version)*
Ragazzo Solo, Ragazza Sola
The Prettiest Star (original mono single version)*
Conversation Piece*
Memory Of A Free Festival (Part 1)
Memory Of A Free Festival (Part 2)
All The Madmen (mono single edit)*
Janine*
Holy Holy (original mono single version)*
Moonage Daydream (The Arnold Corns single version)*
Hang On To Yourself (The Arnold Corns single version)*
CD2
Changes (mono single version)*
Andy Warhol (mono single version)*
Starman (original single mix)
John, I'm Only Dancing (original single version)
The Jean Genie (original single mix)
Drive-In Saturday (German single edit)
Round And Round
John, I'm Only Dancing (sax version)
Time (U.S. single edit)
Amsterdam
Holy Holy (Spiders version)
Velvet Goldmine
All tracks stereo except *mono.
The vinyl box set has the same content as the CD box set pressed on audiophile 180g vinyl.
Formats:
CD Box Set
0825646284085 (UK Cat No: DBX 1)
Vinyl Box Set
0825646284092 (UK Cat No: DBXL 1)
Digital download 0825646070602
DAVID BOWIE 'FIVE YEARS 1969-1973' is released 25th September on Parlophone Records.
You can pre-order Five Years (1969-1973) CD
and Five Years (1969-1973) VINYL
NOW and receive guaranteed pricing.
---
CONGRATULATIONS TO DAVID AND IMAN
6th June 2015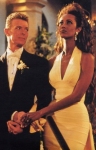 Today marks the 23rd anniversary of DAVID and IMAN's wedding ceremony at Saint James Episcopal Church, in Florence, Italy.
The best man was David's son Duncan, with chief usher Alan Edwards.
Iman's maid of honour was her best friend Bethann Hardison.
Besides their immediate families, among the sixty-eight invited guests were Yoko Ono, Brian Eno, Bono, Eric Idle, Geoff MacCormack, George Underwood, Corinne Schwab, Hervé Léger, Thierry Mugler and Teddy Antolin.
You can click here to read an article from Hello! magazine entitled 'The Wedding of David Bowie and Iman' by Brian Aris from the BW press archive.
---
SWITCH ON THE TV...
5th June 2015
• DAVID BOWIE appears on The Old Grey Whistle Test tonight on BBC FOUR and it is repeated just after midnight at 00.30 GMT - [More details]...
• Check out LULU performing DAVID BOWIE's 'The Man Who Sold The World' broadcaster earlier tonight on BBC One's The One Show (26.45) - [View here]...
• Showing tomorrow night in Germany on ARTE at 4.10 CET is an IGGY POP documentary '(Fast) die ganze Wahrheit Iggy Pop', which translates as: '(Almost) The Whole Truth: Iggy Pop'...
Check out other listings over on the BW June Planner
---
BW TRADING POST LATEST ADS
5th June 2015
For all the DAVID BOWIE collectors out there - it might well be worth your while checking out a few of the latest adverts over on the BowieWonderworld Trading Post...
ENTIRE DAVID BOWIE COLLECTION FOR SALE - Including: Vinyl, VHS, Tapes, CDs, Bootlegs, T-Shirts, Concert Tickets, Concert Posters, Magazines etc.
BOWIE BOWIE BOWIE - THE VAULT HAS OPENED! - Rare collectables and unseen treasures. Over 3,000 David Bowie items collected over 35 years. Check out my listings - Free post worldwide! Pick up welcomed from Sydney Australia! Mention BOWIEWONDERWORLD while picking up and get to stay for dinner! (and chat Bowie for hours!)
BOWIE POSTER - Looking to sell or TRADE a German concert poster from the Outside Tour (with special guest Morrissey) from 1996. It is signed By David Bowie and dated '96. Signed Backstage in Dortmund on January 30th, 1996. I will either sell for $800 OBO... OR trade for one of these signed books: Moonage Daydream (signed by Bowie) / Speed of Life (signed by Bowie) or David Bowie Is autographed copy (signed by Bowie).
DAVID BOWIE COLLECTION - Hi there! I am putting a few things from my immense and unique David Bowie collection up for sale. It is quite a vast collection that I have invested quite a lot of time and an even greater amount of money into, with a number of very rare items of limited production, as well as items I've never even been able to track another copy of. I am selling some of among the most rare and valuable items I have and am taking the best offers I receive for them.
---
DAVID CELEBRATES 51 YEARS RECORDING
5th June 2015

Today marks the anniversary of DAVID BOWIE's first ever lead vocal single release 'Liza Jane' credited to Davie Jones with The King Bees, which was released 51 years ago today, 5th June 1964 on the Vocalion Pop label (V 9221).
Featuring seventeen-year-old Davie Jones (vocals and saxophone), George Underwood (guitar), Roger Black (guitar), Francis Howard (bass) and Robert Allen (drums).
Although credited to Leslie Conn, David's then manager who negotiated a one-single deal with Decca Records, George Underwood said the song was originally an old Negro spiritual that the band played around with and came up with this R'n'B song.
Leslie Conn's recollection of the events in 1997:
"I can tell you that I have got a pretty retentive memory, but that is something I can't clearly recall. I used to write songs except that I don't write music and I don't play piano. When the boys were jamming to kind of come up with some ideas to make a record, they came up with some six bar blues, which everyone uses. As they were doing that, I came up with my own idea, which came from nowhere, and we improvised and the song came together. I mean, I would never take credit for something that I never did and I know David wouldn't have agreed for me to sign the contract as writer if he had wrote it himself. I would never have stolen someone else's song on principle. I know that I'm quite vague on that and I can't be absolutely sure how it all came about, but I know that I did come up with a lot of ideas. As for the production of the song that was most certainly me, I arranged and organised the whole thing and I always produced the material I was arranging with Decca at that time. George Underwood is definitely wrong on that point.
"There is a funny story while were still on the subject of 'Liza Jane'. When David and I parted company I went off to live and work in Majorca for a few years and one day I was on the phone to my mother and she said, 'what shall I do with those records I have in the garage' which were a few hundred copies of 'Liza Jane'. So I replied, 'Throw them out', and she did. The last time David came up here he said, 'Have you got any of those records we made, you know they're worth over a hundred pounds each!' I told him I got my mother to throw them all out! We had to laugh."
Backed with 'Louie Louie Go Home', written by Paul Revere and Mark Lindsay, which was incidentally pencilled in as the A-side, both songs were recorded in a seven-hour session at Decca Studios in Broadhurst Gardens, West Hampstead.
The single was re-released by Decca in September 1978 (catalogue number F 13807) and beware there are counterfeit Vocalion copies in circulation. Produced in the USA in 70s, the tell-tale difference between the original and the illegal pressings is the matrix number. On the original 1964 issue the matrix number is machine stamped on the vinyl and on the fake copies it is handwritten.
The official press release for the single from the press room of the Dick James Organisation in May 1964 read...
INTRODUCING DAVIE JONES WITH THE KING-BEES... AND THEIR FIRST DISC 'LIZA JANE'
Pop Music isn't all affluence. Just ask new seventeen year old recording star Davie Jones. Time was (two months ago, in fact) when he and his group were almost on their uppers. No money, bad equipment. Then Davie had a brainwave. "I had been reading a lot in the papers about John Bloom," says Davie. "So I put pen to paper and wrote him a letter." David told Bloom that he had the chance of backing one of the most talented and up-and-coming groups on the pop scene. All he had to do was advance the several hundred pounds it requires to outfit a pop group with the best equipment.
Davie didn't get the money, but he did get a telegram next day from John Bloom giving the phone number of Artist's Manager Leslie Conn. Davie got in touch, he was rewarded with a booking at Bloom's Wedding Anniversary Party. "We were a dismal failure", recalls Davie. "It was a dinner dress affair and we turned up in jeans and sweat shirts and played our usual brand of rhythm and blues. It didn't go down too well. Still we'll know better next time."
However, all's well that ends well. Leslie Conn liked the earthy type of music the group played, arranged an audition with Decca Records which resulted in a contract and the first release by David Jones with the King-Bees. "Liza Jane", released by Decca (Vocalion 9221) on June 5th.
DAVIE JONES WITH THE KING-BEES MET AT BARBERS
Davie Jones met up with his four member backing group the King-Bees when he visited his local barber shop in Bromley. In between clips he got chatting to the four lads, also there to be sheared, about their musical interests, and before you could say "Short back and sides", they decided to join forces.
The group specialise in hard-driving, uncompromising R & B, a brand of music that has won for them a dedicated following in the London area, a following which should soon be spreading throughout the length and breadth of England on the strength of their first disc.
"LIZA JANE", is a beaty, action packed disc which features the direct no-holds-barred Davie Jones vocal delivery. The King-Bees supply a hard core, R & B backing and the whole thing is crowned by a catchy chorus featuring the line "Little Liza Jane".
DAVIE JONES - Seventeen years old, fair haired Davie first got interested in pop music when he was ten. His father's secretary (Davie's father in P.R.O. for Dr. Barnardo's homes) who had previously worked for a disc company, sent Davie a 'Demo' copy of a new Little Richard disc. As the phrase goes, Davie was "knocked out", and when he had scraped together a few pounds of his pocket money, bought a plastic saxophone. Eventually he progressed on to the real thing. Lessons were the next step. "My idol on saxophone has always been Ronnie Ross", says Davie, "So I looked up his name up in the phone book and asked him if he would give me lessons." Ross agreed, but after Davie played him a few bars Ross's comment was: "Right now we can start working on you, that was bloody awful!" Davie gave up his music to take his G.C.E. at 15, then left school and joined an advertising agency as a commercial artist, where he still works.
When he left school Davie was able to concentrated on his music again, this time mainly as a vocalist, playing dance halls and clubs in and around the Bromley area. Then came the hair-cut and the letter to John Bloom...
Davie's favourite vocalists are Little Richard, Bob Dylan and John Lee Hooker. Apart from the saxophone he also plays the guitar. He dislikes Adams apples, and lists as his interests Baseball, American Football and collecting Boots. A handsome six footer with a warm and engaging personality, Davie Jones has all it takes to get to the show business heights, including... talent.
---
DAY AFTER DAY...
4th June 2015
On this day, 3 years ago, DAVID BOWIE released the 40th Anniversary Edition of The Rise and Fall of Ziggy Stardust and The Spiders From Mars album...
On this day, 11 years ago, DAVID BOWIE performed at Tommy Hilfiger at Jones Beach Theatre, in Wantagh, New York, USA during his A Reality World Tour...
On this day, 14 years ago, DAVID BOWIE held an official chat in the BowieNet chatrooms - [Read chat log]...
On this day, 19 years ago, DAVID BOWIE performed at the Budokan Hall in Tokyo, Japan during his Outside World Tour in 1996...
On this day, 25 years ago, DAVID BOWIE performed at the Starplex Amphitheatre in Dallas, USA during his Sound+Vision World Tour in 1990...
On this day, 32 years ago, DAVID BOWIE performed at Wembley Arena in London, England during his Serious Moonlight World Tour in 1983...
On this day, 37 years ago, DAVID BOWIE performed at the Scandanavium in Gothenburg, Sweden during his 1978 World Tour...
On this day, 42 years ago, DAVID BOWIE performed at the Gaumont Theatre in Worcester, England during his 1973 World Tour...
On this day, 43 years ago, DAVID BOWIE performed at the Public Hall in Preston, England during his 1972 UK Tour #1...
On this day, 50 years ago, DAVIE JONES and THE LOWER THIRD performed at the Pavilion Ballroom in Bournemouth, England in 1965...
On this day, 59 years ago, REEVES GABRELS was born. Happy Birthday Reeves - have a great day...
---
NEW IGGY POP BOX SET
4th June 2015
Scheduled for next month is a brand new IGGY POP box set entitled Psychophonic Medicine
which contains live and previously unreleased material.
This 3-CD compilation is released by Cleopatra Records on 10th July.
Disc 1 includes studio outtakes from Iggy's monumental solo albums THE IDIOT (1977) and PARTY (1981) including two never before released tracks as well as a special bonus track of Iggy's duet with Best Coast's Bethany Cosentino that was featured on HBOs True Blood.
Discs 2 and 3 contain electrifying live performances including the first ever CD release of the epic Paris Palace 1979 show as well as a newly discovered audio source for Pop's San Francisco Old Waldorf performance in 1981.
The box set also includes a 36-page full colour booklet featuring rare photographs from the archive of long-time Stooges photographer and co-author of the only authorised Stooges biography, Robert Matheu.
The full tracklisting run as follows:

CD1: Rarities.
01. Dum Dum Boys (Alternate Mix).
02. Baby (Alternate Mix).
03. China Girl (Alternate Mix).
04. Tiny Girls (Outtake).
05. It's My Life (Unreleased).
06. Bang Bang (Alternate Mix).
07. Sea of Love (Alternate Mix).
08. Time Won't Let Me (Alternate Mix).
09. Fire Engine.
10. Warrior Tribe.
11. Old Mule Skinner.
12. Beside You.
13. Cry For Love.
14. Purple Haze.
15. Warm Feeling (Unreleased).
16. Let's Boot And Rally with Bethany Cosentino.
CD2: Paris Palace 1979
01. Cock In My Pocket.
02. Kill City.
03. Fortune Teller.
04. New Values.
05. Billy Is A Runaway.
06. I Wanna Be Your Dog.
07. Five Foot One.
08. Dirt.
09. Batman.
10. Louie Louie.
11. Shake Appeal.
12. I'm Bored.
CD3: San Francisco 1981.
01. I Need More.
02. Some Weird Sin.
03. Houston Is Hot Tonight.
04. TV Eye.
05. 1969.
06. Rock and Roll Party.
07. Bang, Bang.
08. Dum Dum Boys.
09. Eggs On Plate.
10. I'm a Conservative.
11. I Need More (Again).
12. Lust For Life.
13. The Winter of My Discontent.
You can pre-order Psychophonic Medicine
NOW.
---
AND THE BITS FLEW FAR AND WIDE...
3rd June 2015
• DAVID BOWIE appears on the front cover of the June issue of ROCKIN' ON in Japan. Inside there is a rather gorgeous eight-page feature and a fold-out poster - [View here]...
• Rock critic Neil McCormick over at THE TELEGRAPH has chosen his '100 greatest songs of all time'. Notably DAVID BOWIE appears twice in his list. Can you guess where? - [Read list]...
• ACMI in Melbourne, Australia, who as you know are about to host the DAVID BOWIE Is exhibition have announced 'Bowie Late Nights'. From 19th July through 30th October, every visitor to the exhibition on Friday from 5pm gets FREE VIP access to Bowie Late Nights. More details and information - [Read here]...
---
DAVID BOWIE IS ATTRACTS 200,000 IN PARIS!
2nd June 2015
The DAVID BOWIE Is exhibition attracted an incredible 200,000 visitors during its three-month stay in Paris.
Held at the Philharmonie de Paris from 3rd March through to 31st May, the exhibition has now surpassed the one million since its launch in London in 2013.
So far, the exhibition has been seen by 312,000 visitors in London, 146,500 in Toronto, 80,000 in Sao Paulo, 151,000 in Berlin and 193,000 in Chicago, according to the Victoria and Albert Museum.
The next stop for this worldwide travelling exhibition is at ACMI in Melbourne, Australia in July (16th July to 1st November 2015), and at the Groninger Museum in The Netherlands (11th December 2015 to 13th March 2016).
---
REST IN PEACE CHARLES KENNEDY
2nd June 2015

Such sad news to hear that CHARLES KENNEDY has passed away at such an early age.
If you weren't aware, the former Liberal Democrat leader was a genuine, huge DAVID BOWIE fan.
Take it from me, his love of David Bowie wasn't simply namedropping, or to appear trendy in the media.
Back in September 2000, there was a lovely piece here on BW news... Liberal Democrats leader Charles Kennedy is unmasked as a closet Bowiephile.
"Young Americans was a magical departure. David Bowie was the first major artist to get into black disco music and the title track has it all - superb rhythms - those drums! - and typically innovative lyrics. I had two hours in my schedule and managed to catch him again at Glastonbury this year. It was fantastic hearing all the old favourites from the side of the stage. But, no, once again, I didn't get to meet him. It was packed backstage and I was running against the clock. But it'll happen one day, I'm sure." - (Mojo).
Sending sincere condolences to Charles' family.
---
TMWSTW - LIVE IN LONDON
1st June 2015
Released today is the brand new double album THE MAN WHO SOLD THE WORLD - Live In London featuring Tony Visconti and Woody Woodmansey's Holy Holy with Glenn Gregory and Steve Norman.
Released by Code 7 - Maniac Squat Records, the recording is taken from their gig at the O2 Shepherd's Bush Empire in London on 22nd September 2014.
Legendary DAVID BOWIE bandmates, producer/bass player Tony Visconti and drummer Woody Woodmansey performed together for the first time since 1970 in September 2014 in a four date UK tour. Fronting the band was Glenn Gregory of Heaven 17 and on saxophone and guitars was Spandau Ballet's Steve Norman.
This is a live double album recorded at the London shows. The band is: Tony Visconti (David Bowie, T-Rex, Thin Lizzy), bass Woody Woodmansey (David Bowie), drums Glenn Gregory (Heaven 17), vocals Steve Norman (Spandau Ballet), sax, guitar, percussion and vocals Erdal Kizilcay (David Bowie, Iggy Pop, Freddie Mercury), keyboards and vocals James Stevenson (The Cult, Generation X, Scott Walker, Gene Loves Jezebel), guitar Paul Cuddeford (Ian Hunter, Bob Geldof), guitar / Rod Melvin (Ian Dury, Brian Eno), piano / Malcolm Doherty (Rumer), 12 string guitar and vocals / Hannah Berridge Ronson, backing vocals, recorder and keyboards / Lisa Ronson, backing vocals The album also features special guest performances from Marc Almond and Spandau Ballet's Gary Kemp.

The twenty-one tracklisting runs as follows:
01. The Width Of A Circle.
02. All The Madmen.
03. Black Country Rock.
04. After All.
05. Running Gun Blues.
06. Saviour Machine.
07. She Shook Me Cold.
08. The Man Who Sold The World.
09. The Supermen.
10. Life On Mars?
11. Hang Onto Yourself.
12. Ziggy Stardust.
13. Watch That Man.
14. Cracked Actor.
15. Lady Stardust.
16. Starman.
17. Time.
18. Five Years.
19. Moonage Daydream.
20. White Light White Heat.
21. The Jean Genie / Love Me Do.
You can purchase The Man Who Sold The World - Live In London
NOW.
---
UK BOWIE BALL THIS MONTH
1st June 2015
Divine Trash & Panda Productions presents: BOWIEBALL taking place this month on 20th June - Stage 3 at Northern Stage, Barras Bridge, Newcastle-upon-Tyne NE1 7RH, England.
There's always an anniversary celebrating something about the life of 'The Dame', so we're throwing a party to celebrate YOUR Bowie.
Major Tom, Ziggy, Aladdin Sane, The Thin White Duke... come as the Bowie you love the most.
We'll be joined by Bowie covers band The Ronson-ettes, we'll have Lindsay Kemp-era mime, our tribute to Space Oddity and dancer Voodoo Tuesday.
DJ Sheena Revolta will be playing dancing and posing tunes by T.Rex, Roxy Music, Kraftwerk, Donna Summer, Sparks, New York Dolls, Iggy, Lou, Eno and of course, tons and tons of Bowie himself.
There'll be a Bowie facepainting and photobooth, and enough depravity and decadence to make you think you're in New York circa 1973, LA 1975 or Berlin in 1977.
Early bird tickets are only £10 with standard prices at "12. Don't miss out.
More details and information can be found over on their Facebook events page.
---
'DAVID BOWIE IS' ITEMS UP FOR GRABS
1st June 2015
I have several DAVID BOWIE Is collectors items available... including the 'David Bowie Is Walking In Soho' Fold-out Maps and 'David Bowie Is Missing' Print Poster (10x15 inches, rare and never on sale to the general public).

If anyone is interested in any of the items, please email me at for more details and information.
All monies raised go directly towards the upkeep and running of this website.
---
THE MUSIC AND THE CHANGES
1st June 2015


Just published is DAVID BOWIE: The Music and The Changes by author David Buckley via Omnibus Press.
The indispensable consumers' guide to the music of David Bowie. An album by album, track by track, examination of every song released by Bowie from his early singles, through the Ziggy Stardust era, the Eno/Berlin trilogy, the solo years, Tin Machine and his most recent work, including The Next Day.
Features Include:
- A detailed album by album, track by track analysis...
- A separate section on compilations of early material and hits collections...
- Eight page colour section.
- A David Bowie timeline.
- Everything you need to know about the music of David Bowie is here!
About the Author: David Buckley has a doctorate from Liverpool University and is the author of six music books, including David Bowie: Strange Fascination. An earlier edition of this guide to David Bowie's music was personally chosen and reprinted by Bowie to promote his albums Earthling and 'hours...' - In 2012, The Guardian called him 'the best of his [Bowie's] umpteen biographers.'
You can purchase David Bowie The Music and The Changes
NOW.
---
HOPEFULLY THE STARS WILL ALIGN
1st June 2015
As Hannibal season 3 arrives, Den of Geek! chat to showrunner BRYAN FULLER about origin stories, Francis Dolarhyde, DAVID BOWIE and more...
Q: I have to ask because it's such a great idea, how far did you get in discussions with bringing David Bowie in to the cast?
The trick with David Bowie right now is that he is so incredibly busy. He's got a new musical that he's plotting, he's got new albums that he's plotting, so he's simply not available right now. We've reached out and he knows that we would love to do something the moment he has any room to do something. We just hope our calendars schedule. We've had several conversations with his people and the feedback is always that David loves that we're approaching him and to keep approaching, and hopefully the stars will align. Right now, between his new musical and new batch of songs, he is maintaining radio silence as far as any other projects are concerned, which I applaud because I can't wait to see the musical and I can't wait to hear his new music because he continues to be a vibrant and modern voice in song.
Q: So you'd be flexible about which character he could play should he become available in future?
Even if he has a day... What I would love to do is collaborate with him and craft a role that uses his skillset as a comedian, because his comic timing is so good. I would love to write a very dark comedic role for him.
You can read the whole interview over at the denofgeek.us website.
---
DAVID BOWIE WONDERWORLD NEWS ARCHIVE
May | April | March | February | January
2014 Bowie News | 2013 Bowie News
2012 Bowie News | 2011 Bowie News | 2010 Bowie News | 2009 Bowie News
2008 Bowie News | 2007 Bowie News | 2006 Bowie News | 2005 Bowie News
2004 Bowie News | 2003 Bowie News | 2002 Bowie News | 2001 Bowie News
2000 Bowie News | 1999 Bowie News | 1998 Bowie News | 1997 Bowie News






| | |
| --- | --- |
| Created: June 2015 © Paul Kinder | Last Updated: 29/6/15 |