BOWIE TV and WHAT'S REALLY HAPPENING IN JANUARY - MONTHLY PLANNER

[BOWIEWONDERWORLD SHOP] [LATEST DAVID BOWIE ITEMS ON eBAY]

Have YOU got some DAVID BOWIE related news or a hot scoop?
Well don't just sit there keeping it to yourself - send it in to
All news items are credited if you so wish


---
AND THE BITS FLEW FAR AND WIDE...
29th January 2005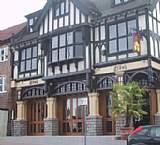 • The Three Tuns public house in Beckenham formerly the home of The Arts Lab in 1969, co-founded by DAVID BOWIE and Mary Finnigan is now an Italian and pizza restaurant called Zizzi. Hopefully the David Bowie celebratory plaque purchased by the Beckenham Town Centre Residents Association and unveiled in December 2001 by Mary Finnigan and Christina Ostrom will be put back in it's rightful place...

• If you didn't manage to get hold of one of these the first or second time around, here's another chance... After postponing a fall 2004 launch, Sony BMG is set to introduce its first DualDisc titles. Arriving on February 8th among the scheduled DualDisc releases is DAVID BOWIE's 'Reality'. The CD side of the disc contains the full album and the DVD side features the entire album in 5.1 Surround Sound and enhanced LPCM Stereo - The exclusive film Reality - Video performances: 'Never Get Old', 'The Loneliest Guy', 'Bring Me The Disco King' and 'New Killer Star'. - Photo Gallery - Lyrics - Biography - Discography - ROM content/web links. DualDisc is a dual-sided CD/DVD hybrid, featuring standard two-channel 16-bit/44.1kHz audio on one side and such multimedia content as high-resolution, surround-sound audio mixes, videos and documentary footage, Web links, liner notes and photos on the other. The major labels test-marketed the product last year in Boston and Seattle. Sony BMG's DualDiscs will carry an $18.98 suggested retail price. You can pre-order NOW...

• Duckie hostess Amy Lamé is apparently planning a DAVID BOWIE salute at the Institute of Contemporary Arts (ICA) in London. This will be the fourth in Duckie's series of quirky tributes to English pop cultural figures at the ICA - following on from their previous homages to Julie Burchill and Morrissey. Check out www.duckie.co.uk for authentic London honky-tonk and purveyors of progressive working class entertainment - from tojoo...

• Newly released album 'Osirus' was completed a week before the rapper OL' DIRTY BASTARD collapsed and died at a Manhattan recording studio on November 13th. The album mixes two styles OLB thrived in: the straightforward MC'ing of his early Wu-Tang Clan days and the glitzy, club-thumping feel from his acclaimed second solo album. The track 'Dirty Run' has him rapping on top of DAVID BOWIE's 'Fame' creating an infectious party track...


---
BEAMING DAVID BOWIE
28th January 2005



MARC JOHN (MJ Publications) is to publish a DAVID BOWIE book in May 2005 entitled Beaming David Bowie (ISBN 0-9549040-0-1). Marc was the person responsible for setting up the live global cinema Reality gig David did in September 2003, which was a pioneering, world first event that played to 50,000 fans in sold out cinemas across five continents. And the adventure of it all is the thrust of the book, told in the context of how the experience affected his spirituality and actually helped him rediscover it.

A rising hotshot in the cinema business loses and then rediscovers his spirituality along the way to making history with David Bowie. In the autumn of 2003 author Marc John organised a live satellite broadcast of a specially produced David Bowie concert which was shown exclusively in cinemas around the world. This marked the first time ever that a live event had been beamed to cinemas world-wide, and reflects the coming of 'digital cinema', which is seeing the cinema industry steadily adopt satellite dishes, hard drives and digital projectors to diversify cinema programming to include live music, sport, interactivity and video games, for the first time in cinema's 100 year old history.

This book goes revealingly behind the scenes as this major, digital transition takes place, culminating with the fast paced, high flying experience of beaming David Bowie to tens of thousand of fans across five continents in sold out, rocking cinemas. But at what price to the author's spiritual direction did this historic landmark and career height cost? As an aspiring actor/playwright in New York in his teenage years, a former political candidate back home in England in his 20's and a guerrilla moviemaker whose low budget digital video experiments brought him into the executive ranks of Odeon, the UK's biggest cinema chain, the author discovered, through many improbable adventures leading up to the Bowie gig, the journey in life that we are all on. And this book is as much about the change within as it is about the change around us as the digital age gathers pace in transforming every area of our work and lives.

Synopsis: In the 21st century something called the digital age came upon us. It swept quickly through the entertainment, telecoms and broadcast industries transforming businesses, careers, homes, lives and destinies. Music, television, film and cinema were just a few of society's great pastimes to feel the force of the digital age. Entrepreneurs and pioneers burst forth with great visions. Grand ambitions could not be held back. This is the story of one of them. The Event. A live and interactive pop concert beamed via satellite to cinemas worldwide. The Star: Pop icon David Bowie. The Catalyst: A guerrilla moviemaker who wanted to change the world. The Result: A real life adventure like no other...

More details and information can be found at www.beamingdavidbowie.com where you can read sample pages from chapter one.

You can pre-order Beaming David Bowie now for only £11.99.

From Marc John


---
JOHNNY CARSON R.I.P.
23rd January 2005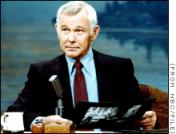 Sad news to report the death of US night-time chat show host legend JOHNNY CARSON aged 79 years.

"Mr. Carson passed away peacefully early Sunday morning," his nephew, Jeff Sotzing, told The Associated Press. "He was surrounded by his family, whose loss will be immeasurable."

Carson went out on top when he retired in May 1992. In his final show, he told his audience: "And so it has come to this. I am one of the lucky people in the world. I found something that I always wanted to do and I have enjoyed every single minute of it."

Carson spent his retirement years sailing, traveling and socialising with a few close friends. He simply refused to be wooed back on stage. "The reason I really don't go back or do interviews is because I just let the work speak for itself," he told Esquire magazine in 2002 in a rare interview.

Carson made his debut as "Tonight" host in October 1962. Audiences quickly grew fond of his boyish grin and easy wit. He even made headlines with such clever ploys as the 1969 on-show marriage of eccentric singer Tiny Tim to Miss Vicki, which won the show its biggest-ever ratings.

In the '80s, Carson was reportedly the highest-paid performer in television history with a $5 million "Tonight" show salary alone.



More than 22,000 guests appeared on the NBC 'The Tonight Show' during Johnny Carson's 30-year tenure as host including DAVID BOWIE who appeared back in 1980 on the 5th September (recorded two days previously) to promote his newly released 'Scary Monsters (and Super Creeps)' album.

The other guests on the same programme besides David were: Bob Hope, Richard Pryor and Randi Oakes.

Every time Johnny mentioned David's name the audience would not stop screaming and cheering. Carson quipped... "After all this, he'd better be good!"

On came David sporting a red windbreaker jacket, white t-shirt and blue jeans was dressed up exactly as James Dean from the 1955 movie 'Rebel Without A Cause', complete with matching hair-do.

David and his live backing band, featuring among others... Carlos Alomar, G.E. Smith (George Edward) and Steve Goulding on drums - performed fantastic versions of 'Life On Mars?' and the newly released 'Ashes To Ashes'. Without doubt one of the best television performances he's ever done.


---
MONTREUX JAZZ FESTIVAL FOOTAGE ON IT'S WAY?
23rd January 2005

EAGLE ROCK Entertainment, the music publisher with the DVD and television rights to the Montreux Jazz Festival, is being prepared for sale for an estimated £60 million.

Eagle Rock, with access to footage of acts from DAVID BOWIE and Radiohead to the Rolling Stones through its deal with the Montreux festival, was set up by Terry Shand in 1997.

The company are the world's biggest publisher of music DVDs, also has an independent record label which includes Simple Minds, Bob Geldof and the Beach Boys as clients. But the company is best known for securing the Montreux Jazz Festival rights, which give it the rights to reproduce footage of artists such as David Bowie, Paul Simon, the Corrs and Bob Dylan.

David performed at the 36th Montreux Jazz Festival at the Auditorium Stravinski during his Heathen 2002 tour on 18th July. Previously, in 1995 he was commissioned to design the festival poster for the 29th Montreux Jazz Festival.

You can read the full article on the timesonline.co.uk website


---
ROCK 'N' ROLL CIRCUS EXHIBITION
22nd January 2005



French comic artist THIERRY GUITARD who's artwork features every month in DAVID BOWIE's long time supporter music magazine Rock & Folk - will shortly have a solo exhibition at the Art's Factory in Paris, France.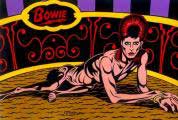 The show is titled 'Rock 'n' Roll Circus' and will show among others two beautiful portraits of David Bowie and Iggy Pop.

The opening is next month on Sunday 6th February from 15:00 to 20:00 and any BWW visitors are of course most welcomed. The show will be at the gallery until February 25th.

Address: Art's Factory - 48, rue d'orsel 75018 Paris, France. - Tel : +33 (0)1 53 28 13 50.
Opening hours: Tuesday till Friday 13:00 to 19:30. Saturday 11:00 to 19h30 - Sunday 14:00 to 19:00.

You can find a complete press release following this link (sorry French text only).

We hope to see you there! From Laurent.


---
GLAMDAMMIT NEXT WEEKEND
17th January 2005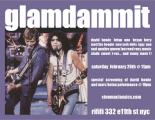 Glamdammit... Twig The Wonderkid and The Astronettes will put their arms around your head whilst spinning early-Seventies glam accompanied with video-projections...

Special screening of DAVID BOWIE and Marc Bolan television appearance @ 10pm!!

Date/Place: Saturday January 22nd - Cinema Classics 332 East 11th St, New York City

Click on the flyer for details or visit the cinemaclassics.com website.

From Antonio.


---
AND THE BITS FLEW FAR AND WIDE
17th January 2005

CHRIS webmaster of THE YOUNG AMERICAN which concentrates on DAVID BOWIE in America in 1974 has given his site a new year facelift. Go and check it out now at http://homepage.ntlworld.com/gouster/index.htm...

Today's NME 80's Special has a rather great DAVID BOWIE interview circa 1983 and a beautiful shot of the man that I've never seen before as well as four or five others - from John K...

WES ANDERSON director of the brand new movie The Life Aquatic talks about DAVID BOWIE's involvement with the soundtrack to the movie... "Well, Bowie's one of my favorites, and I've never used him in a movie, so I just thought I was going to have a bunch of songs that were going to be sung by one of the characters on the deck of the ship and it seemed like Bowie was the best bet. It was only halfway through the writing that we kind of made his crew more international and made that character Brazilian and named him Pele and then it became Bowie songs in Portuguese. We had the licenses to come of them." And it turns out, David Bowie is a fan of the results. "He's heard them," Anderson said. "He said he loved them. I never spoke to him but a friend of mine heard him on the radio and he said, this was six months ago or something, he was talking about a top secret project he couldn't say anything about, 'A film I can't say what the film is, but a fellow sings some of my songs in Portuguese and it's very interesting,' and that the only thing, that's the only report I've ever heard, which might not be true even, but that's what my friend heard." - from ActionAdventure.About.com...


---
ANDY, WHERE'S MY FIFTEEN MINUTES?
16th January 2005

Last month on 10th December, when DAVID BOWIE and IMAN were guests at launch party for Andy Warhol's Interview: 'The Crystal Ball of Pop Culture - The Best of the First Decade 1969 - 1979', Ford Wright of Fashion Wire Daily chatted with the couple...

Last Friday night at the Stephan Weiss Studio in New York's West Village, the signature one-eye-blue and one-eye-green gaze of David Bowie scanned a hive of famous faces.

"I'm looking on the walls to see if I can see them," David Bowie said as he looked upon a Warholian, floor-to-ceiling wallpaper of Interview magazine covers. Bowie was asked to name his favourite cover. There were a number of his own covers to choose from, but in the swirl of the party, Bowie could not settle on one.

"The success of it is absurd," Bowie said with a touch of comic exasperation. "Every one of them is a masterpiece. When I lived in New York in 1974, Interview and the Soho Weekly News were the first two things I bought a subscription to. And Soho Weekly News unfortunately is no longer with us, but I have all my own copies still. Sandy and Ingrid (Sandy Brandt and Ingrid Sischy) have just given me the old Interviews of that time hardbound, so I am so so delighted."

"I guess they are going to give it to us a decade at a time," said the beautiful Iman. "They're teasing us."

A whole decade of hardbound Interview's? A gift such as that can't be carried on the head of a pin - and indeed, "Andy Warhol's Interview: The Crystal Ball of Pop Culture - The Best of the First Decade 1969 - 1979" requires its own set of wheels. A small army of models wheeled around the boxes containing the new limited edition pop culture tome, each box with its own mini hand truck, like a pop version of Duchamp's famous work "Boite-en-Valise (Box-in-Valise)."

The party celebrating the new publication was an Interview magazine retrospective in the flesh, with many remembering their first introduction to Warhol, as well as their favorite moments in Interview history.

You can read the entire article at entertainment-news.org.


---
MAN OF CHANGES: NEVER GET OLD
16th January 2005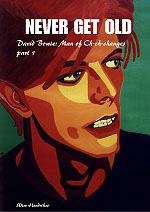 Two new DAVID BOWIE books have just published by GOPHER PUBLISHERS entitled 'Never Get Old - David Bowie: Man of Ch-Ch-Changes' (ISBN 9051791860) by author WIM HENDRIKSE.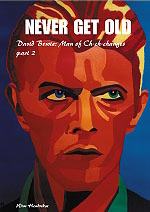 'Never Get Old' is published in two A4 sized books containing over a thousand pages, with stunning cover art by Caro Rigter.

Synopsis: David Bowie conquered glam rock. His concert performances had a very huge cultural impact in the seventies. He is a spellbinding personality in rock music. All the facts about his career are now assembled in one book. This book is the most complete and best researched book about multimedia performer and glam rock sex symbol David Bowie so far.

In Part 1 (450 pages), contains a very detailed chronology / biography and collectors guide up to 1989.

In Part 2 (610 pages) contains a very detailed chronology / biography and collectors guide 1989 - 2004. Albums and singles, discography. All the versions of songs Bowie has performed listed from A to Z. Everything about the recordings, the concerts, groups that were formed, groups that split, his influences, collaborations with other artists, soundtracks, and bootlegs.

Name anything about Bowie's musical career and it's mentioned in the book. This book is the result of a lifetime's interest in David Bowie's work. It's a work of love.

Official Press Release: [Read here]
Site: http://www.gopherpublishers.com
E-mail:
Telephone: 0031 50 365 72 72
Fax: 0031 50 365 72 73
Mail Address: Gopher Publishers, P.O. Box 70080, 9704 AB Groningen, The Netherlands

For more information and buying details please visit www.gopherpublishers.com

From Sjoerd de Boer.


---
I HOPE I MAKE IT ON MY OWN?
14th January 2005



Back in 1966, thirty-nine years ago to this very day saw DAVID BOWIE release his first ever single 'Can't Help Thinking About Me' as 'David Bowie with The Lower Third', backed with 'And I Say To Myself'.



Released on the Pye label (Pye 7N 17020) in the United Kingdom , the single reached number 34 in the Melody Maker chart and peaked at number 14 on 20th February in the Radio London Fabulous Forty chart.

The musicians on the single were: David Bowie: vocals/tambourine, Dennis Taylor: guitar, Graham Rivens: bass and Phil Lancaster: drums. The producer was Tony Hatch.

Four months later the single was released in the USA on the Warner Brothers label (WB 5815). Later the same year, the track appeared on the Pye compilation album 'Hitmakers Volume 4' (Pye NPL 18144), which marks the first track on an album by 'David Bowie'.

David said of the song during an interview for Melody Maker on 26th February 1966... "Several of the younger teenagers' programmes wouldn't play 'Can't Helping Thinking About Me', because it is about leaving home. The number relates several incidents in every teenager's life - and leaving home is something which always comes up."




Six years later in October 1972, the song was re-released as an EP in the United Kingdom (Pye 7NX.8002) and New Zealand (Pye 7NX 8002).

Also the same month, saw the Japanese 7" single released, backed with 'I'm Not Losing Sleep' (Pye/Teichiku UP-408-Y).



The following year in March 1973, saw a 7" release in Spain (Pye 11.603) backed with 'I Dig Everything', complete with as you can see a rather nice picture sleeve.

June 1978 saw a Canadian-only 7" release on the Pye blue label backed with 'Do Anything You Say' (7N8002), there then follows a list as long as your aunty's left arm of compilations, reissues and repackages containing the track.

More recently, David has re-recorded this song - which was first performed live again during the VH1 StoryTellers show - as well as his Roseland Ballroom 1999 gig in New York City.

Something for the trivia anoraks out there, he actually performed a snippet of this song in San Francisco during his 1997 Earthling world tour.


---
ALL I'VE GOT IS SOMEONE'S FACE
11th January 2005

Live photographs of DAVID BOWIE, MORRISSEY and PATTI SMITH are going on display at a new exhibition in Manchester.

'Photography Live In Concert', a collection of the work on international photographer SONJA NIEMEIER can be seen at the Night and Day Café in the city's Northern Quarter from January 9 until March.

Based in Germany, Niemeier has spent recent years travelling the world photographing artists, and will be taking over one of Manchester's premier underground venues this spring.

Other artists on display include Placebo, PJ Harvey, Muse, Embrace, Starsailor and British Sea Power. The exhibition has is lent a local flavour with Elbow, I Am Kloot, Amplifier and The Chameleons.

From NME.

---
AND THE BITS FLEW FAR AND WIDE
10th January 2005

New York based band SECRET MACHINES namedrop DAVID BOWIE in an interview over on the Drowned in Sound website stating: ...Patience and endurance has definitely paid dividends. It doesn't get much better than finding out David Bowie "digs" what you do. The lads were particularly impressed when the Thin White Duke himself was curious enough to turn up to one of their shows. "He came to see us play and he was very enthusiastic. He's like our hero after writing some of the best songs - the most amazing music," says Ben. - [Read full article]. Their debut album Now Here Is Nowhere is well worth checking out - a real grower - click on the link to listen to some song samples...

Fame... what's your game? PARIS HILTON is all set to release a cover version of the DAVID BOWIE, John Lennon and Carols Alomar US number one hit 'Fame'. Her debut album is to be named 'That's Hot' or 'Paris Is Burning' will also feature a cover of Blondie's 'Heart of Glass.'...

New Zealand actor the rather handsome MICHAEL GALVIN states in an interview over on stuff.co.nz ..."Then there's BOWIE's Scary Monsters. At the Catholic college I attended, my best friend Jeremy Donovan revered David Bowie as a deity. I'm no longer a Catholic but I still believe in David."...


---
MIKEGARSON.COM INFO AND UPDATES
10th January 2005

The official MIKE GARSON website has some new updates and new features well worth checking out...

1. Mike featured in Yamaha's 'Accent' magazine: Mike's use of the Yamaha Disklavier® GranTouch? DGT2A on David Bowie's 'A Reality Tour' is featured in the Fall 2004 issue of Accent? The Official Publication of the Yamaha Piano Division. A long-time Yamaha artist, Mike made sure to bring his trusted equipment with him on the year long Bowie tour.

"I've been a Disklavier fan for years, and as a songwriter, it literally changed my way of working and writing... The GranTouch adapted very easily to the road. The Graded Hammer Action feels and responds like an acoustic piano, and the sound is quite realistic. It was also a practical alternative to carrying a large grand piano from venue to venue," Mike explained. To read the article, click here.


2. Additions to the 'Archive' and improvements to the Photo Gallery: In our ongoing quest to improve your experience, we have added several new items to the Archive:

- Fall 2004 Yamaha 'Accent' Magazine Profile of Mike's Touring Keyboard
- January 2004 Keyboard Magazine: Cover Story on Mike
- January 2004 Keyboard Magazine: M-Audio Full Page Ad Featuring Mike
- August 2003 Performing Songwriter Feature on Mike's Home Studio

We have organized the photo gallery by decade in anticipation of adding several new photos? Many of which were personally taken by Mike while on the road with David Bowie and bandmates from the 'A Reality Tour.' Also, be on the lookout for some one-of-a-kind new videos in the coming months, including footage of Mike and his Bowie bandmates joining the Dandy Warhols for an impromptu jam session that happened in Portland, Oregon in April 2004!

If you would like to subscribe to the Garson Gazette - send a message to with the word 'subscribe' in the Subject field.

Check out MikeGarson.com now.


---
EARPLUGS AND EYELINER
10th January 2005

Make sure to tune into the forthcoming IGGY POP story to be broadcast on BBC RADIO 2 this coming Saturday night (15th January) at 21:30 till 22:30 GMT.

'Earplugs and Eyeliner: The Iggy Pop Story is narrated by Chrissie Hynde, who tells the story of one of the greatest rock icons of our age and godfather of the punk rock movement - Mr. James Jewel Osterberg.

From his time in the Psychedelic Stooges, to the plain Stooges, then on to Iggy & The Stooges, Iggy Pop defined Punk before it even existed.

This special programme features comments from Glen Matlock, Miranda Sawyer, Chris Charlesworth and the great man himself.

More details can be found at the bbc.co.uk website.


---
HAPPY BIRTHDAY WISHES DAVID
8th January 2005



To David
Wishing you many happy returns on this special day
Have a wonderful time

Best wishes and lots of love from
Paul and everyone here at Wonderworld xxxx
---
OTHER HAPPY BIRTHDAY WISHES
8th January 2005

Besides our DAVID, other famous and well known people also born on the 8th January include...

Elvis Presley (singer), Ron Moody (actor), Larry Storch (actor/comedian), Soupy Sales (aka Milton Hinkes) (comedian and father of Tony and Hunt Sales of Tin Machine, Charles Osgood (CBS TV newsman/host/author), Shirley Bassey (singer), Cristy Lane (singer), Robby Krieger (musician), R. Kelly (singer), Paul King (musician), Jeff Abercrombie (musician), Terry Sylvester (musician), Paul Hester (musician), Stephen Hawking (professor, astrophysicist, author), Amanda Burton (actress), Gil Grand (musician), Ami Dolenz (actress), Amber Benson (actress), Sarah Polley (actress), Yvette Mimieux (actress), Thelma 'Butterfly' McQueen (actress), Simone De Beauvoir (writer), Evelyn Wood (reading teacher), Gypsy Rose Lee (burlesque entertainer), Bill Graham (concert promoter), Wilkie Collins (author), Frank Doubleday (publisher), Sir Frank Dyson (scientist), Lee Jackson (musician), Vladimir Feltsman (Russian pianist), Little Anthony aka Anthony Gourdine (singer), Ted McDougall (footballer), Michael Ridley (cricketer), Harriet Sansom Harris (actress), Sean Paul (musician), Karen Poole (musician), Jenny Lewis (actress), Richard Cromwell (actor), Jose Ferrer (actor/director), John McTiernan (director), Scott Whyte (actor), Sander Vanocur (broadcaster), Joan Rivers (comedian), Maria Pitillo (actress) and Gabby Hoffman (actress).


---
MORE DUTCH BOWIE ON DVD
7th January 2005

There are another two interesting DVD's which have just recently been released in The Netherlands...

A series of 20 DVD's have just been released by EMI in The Netherlands with various artists covering a period of 40 years Dutch top 40 by Veronica (a radio and tv station).

Among these artists are a few interesting recordings by DAVID BOWIE.

There's a 1969-1970 DVD containing the rare Space Oddity (live version in superb quality) from The Ivor Novello awards and a 1989-1990 DVD contains the duet of David with Tina Turner "Tonight" live in Birmingham.

Both video's were, until now, unreleased on DVD. Each one in this series contains a DVD and a audio CD in a box.

From Ruud den Ouden.


---
DIRECTORS NOTE ABOUT 'ZIGGY'S BAND'
6th January 2005

Directors note from the forthcoming 'Ziggy's Band' play...

My wife keeps saying "it had to happen"... well now it has. David Bowie who provided the soundtrack to my life has inspired me to write a play. When I presented it to the Youth Theatre a year or so ago I had no idea how they'd react... they weren't even born when Ziggy was in his prime. I have no idea how it will be received when it's performed tonight. I hope that it provides as many laughs as it seemed to on the night of the YT's first read through!

After completing the utterly absorbing play about the tragic Dan Nolan case in 2003, I wanted to write something lighter... but something that would capture my interest completely. The idea of Ziggy's Band started to form in my mind some years ago when I read Nick Hornby's book 'Fever Pitch' telling his own life story against the backdrop of Arsenal FC in that same time frame. I remember thinking how I'd love writing a similar tribute to my rock star hero. I decided to make my tribute fictional but had no story mapped out as I usually do. I trusted that a story would emerge and it did... but as the cast will tell you it went through numerous changes to get to the play you see tonight. In the end I have mixed fiction and reality... I didn't have a sister, nor a mother who was fixated with the fear of aliens abducting people! I did write a rock opera (two or three in fact all unperformed!!!), did live in Thornbury (which did have a wonderful record shop called Shapes) and I did belong to a group... I can't remember what we were called but the other guys in the band would not let me call it The Luminous Earwigs!

In 'Ziggy's Band' things that happened to me are mixed with things that I would have liked to have happened or simply make, in my view, a good story! All these events occur alongside the Rise And Fall of Ziggy Stardust... and writing this play has made me realise more than ever before that Ziggy Stardust and David Bowie are two very different entities... it was Ziggy who I worshiped enthusiastically for a while and David who I continue admire to this day.

From Mark Wheeller.

(Ed. Scroll down to bottom of the page for original news piece)

---
MOVIE APPEAL FOR FOOTAGE
5th January 2005

The Glastonbury Festival has grown in popularity over the years. The makers of a movie about the Glastonbury Festival are appealing to fans for video footage of DAVID BOWIE, The Smiths and Marc Bolan. The festival's highs and lows are being recorded by director Julien Temple for the film, to be released in 2006.

Producers are hoping festival-goers caught some of the highlights of the 34-year-old event on video. Bowie's 1971 performance and Primal Scream's 1992 appearance are among those being sought.

Missing moments: Marc Bolan - 1970 / David Bowie - 1971 / The Smiths - 1984 / Primal Scream - 1992 / Bob Dylan - 1997.

The - as yet untitled - film secured funding for a cinema release last month and was launched by Glastonbury guru Michael Eavis. It charts the history of the legendary festival since Eavis sold 1,500 tickets to watch Marc Bolan perform on his dairy farm in 1970.

Six hundred hours of footage has already been collected, but production company Root House Nitrate is looking for more.

Mr Temple, who directed The Great Rock 'n' Roll Swindle, the 1980 film about the Sex Pistols, told the BBC News website the five performances he was looking for were all seminal moments from the festival.

"David Bowie is the interesting one. He played at the first proper festival in 1971 at 4am," he said. "He wasn't famous at the time and that performance is almost the Holy Grail of festival acts.

"I was actually at Glastonbury when he played. Someone woke me up saying 'you have to check this guy out'. "He was absolutely amazing and I'd love to see any footage from a personal point of view." "I have seen some footage from behind-the scenes, so we know there were cameras there, but there is nothing of his actually performance," he said. We have already received some wonderful stuff but we are still looking for more.

Phil Shepherd, one of the film's producers, told the BBC News website it was important for Glastonbury-goers to be involved in the making of the two-hour-long feature film... "Part of the concept is that as many people as possible who have attended the festival should contribute," he said. "There is huge value in stuff filmed by non-professionals. "We have already received some wonderful stuff but we are still looking for more - especially for footage from festivals before 1989."

You can read the full article here.


---
DAVID TO VOICE 'MALTAZARD LE MAUDIT'
5th January 2005

DAVID BOWIE is reported to be playing the voice characterisation of 'Maltazard' in the forthcoming big budget movie ARTHUR AND THE MINIMOYS produced and directed by Luc Besson.

Maltazard or M. Le Maudit is the scary villain of the book series - who is also the main character of the third book of the series 'La Vengeance de Maltazard' (Maltazard's Vengeance), published in France last month.

Besides David, two other major music stars are now part of the project... MADONNA will voice Princess Sélénia de Matradoy, the daughter of the King of Minimoys, and rapper Snoop Dog has also joined the cast who will voice 'Max'.

Besson was not originally scheduled to direct the movie, but took the place of Patrice Garcia, the illustrator of the three stories about Arthur, originally in charge of the movie direction, as the project became bigger and bigger. Garcia is now in charge of the artistic direction of the movie.

French musician and Besson's longtime collaborator Eric Serra will compose the soundtrack for the movie. Serra is the man behind the score of the most part of the French director's cinematic productions, including Subway, The Big Blue, La Femme Nikita, Atlantis, Leon (The Professional), The Fifth Element and Jean d'Arc.

'Arthur and The Minimoys' will mix live action footage, CGI generated images and 2D animation. Besson is currently working on the project with Pierre Buffin, who worked on the special effects of The Matrix. The movie is currently scheduled for a mid 2006 release.

Thanks to Hendrik for the pointer.


---
MARCH OF FLOWERS...
5th January 2005

BRANDON FLOWERS lead singer of The Killers, recently championed by DAVID BOWIE states in a recent interview: ..."it's almost impossible to make a pop song that sounds entirely original any more. "I would like to be innovative in whatever way I can," he said.

"But whatever you do, there's already been so many wonderful songs written. It would be a shame if people said 'this song is obviously ripping off Ashes To Ashes'. Or 'this song is definitely Duran Duran's Planet Earth'. It's not that. David Bowie is one of my influences, and that comes out every now and again. It's just something that's in your psyche."

You can read the full article at www.ssonet.com.au


---
BOWIE SONG NOMINATED IN NEW BRIT AWARD
3rd January 2005

DAVID BOWIE is amongst a list of 25 musicians doing battle for a new 'Best Song' award at the Brit Awards 2005 . This entirely new category for this year, looks back over the last 25 shows. You can cast your vote to determine the shortlist for the in this category for one week only!

The five will be named at the Brits nominations on 10th January and the winner at the awards on 10th February, which this year will be hosted by Chris Evans.

The award has been introduced to celebrate the 25th anniversary of the Brit awards. The longlist has been chosen by a panel made up of members of the music industry and media and it includes a wide range of musical genres.

Voting will be open via the internet, text and telephone from 21st-30th January to decide on the best song. The full list of songs are:

01. "Heroes" by David Bowie
02. We Are The Champions by Queen
03. Wuthering Heights by Kate Bush
04. Night Fever by Bee Gees
05. London Calling by The Clash
06. Love Will Tear Us Apart by Joy Division
07. That's Entertainment by The Jam
08. I Don't Want To Talk About It by Rod Stewart
09. Look of Love by ABC
10. Golden Brown by The Stranglers
11. True by Spandau Ballet
12. Careless Whisper by George Michael
13. Holding Back The Years by Simply Red
14. Sledgehammer by Peter Gabriel
15. Sacrifice by Elton John
16. Unfinished Sympathy by Massive Attack
17. Why by Annie Lennox
18. Fields of Gold by Sting
19. Kiss From A Rose by Seal
20. Wonderwall by Oasis
21. Angels by Robbie Williams
22. Yellow by Coldplay
23. Babylon by David Gray
24. Leave Right Now by Will Young
25. Dry Your Eyes by The Streets

Check out the Brit Awards website for more details.


---
GAIL ANN TO PLAY NY AND LONDON
3rd January 2005

GAIL ANN DORSEY performs two shows this month. First up tomorrow night (Jan 4th) in New York at The Chanteuse Club with Maggie Moore and Kate Pierson, followed by a solo show in London, England on January 20th.

The original Chanteuse Club line up returns to Joe's Pub with an acoustic evening of solo performances. Ringleader Maggie Moore, of the hit Off-Broadway musicals 'People Are Wrong' and 'Hedwig and the Angry Inch', is joined by Kate Pierson of the world famous pop group the B-52's; and Gail Ann Dorsey, bassist and vocalist for DAVID BOWIE, to create a rare, intimate acoustic evening of music separately and together, accompanied by Rob Arthur on piano. Join the Chanteuses for what promises to be an unforgettable evening of songs performed by three very different artists, who each take their turn bringing you some of their favourite covers and originals.

The Chanteuse Club, Joe's Pub at The Public Theater
425 Lafayette Street New York, NY 10003
Tickets $20.00. Available at The Public Theater box office or via www.telecharge.com - Tel: 212.239.6200
For dinner reservations call 212.539.8778.


On the heals of her outstanding solo appearance in London last November opening for Ani DiFranco at The Barbican Theatre, you can see David Bowie-bassist, Gail Ann Dorsey, performing a solo acoustic set headlining the Thursday night instalment of the week long Singer-Songwriter Festival at The Borderline in Central London. This has the promise of being an unforgettable evening. Emily McGuire is the opening act.

The Borderline, Manette Street, London W1, England
Thursday, January 20th 2005 @ 19:00
Tickets £8.00. For tickets call TicketMaster UK on 0870.154.4040.


---
TWO SPECIAL TRIBUTE SHOWS
3rd January 2005



SPACE ODDITY - the tribute to DAVID BOWIE will be returning to Los Angeles this month for two special shows.

The band features:

David Brighton from Quiet Riot and Beatlemania as David Bowie.
Howie Anderson from The Strawberry Alarm Clock and The Spencer Davis Group on lead guitar and vocals.
Tuesday Knight star of Nightmare On Elm Street 4 on keyboards and vocals.
Jason Harrison Smith from the Grammy nominated Five For Fighting on Drums.
Shane Soloski from Five For Fighting on bass.

January 7th
PERSHING SQUARE
Downtown LA's outdoor ice rink's Outdoor Concert Series
532 S. Olive St
Los Angeles, CA, USA
8:00pm and 9:15pm Show times
(The band will be performing two sets)

January 21st
Buffalo Club / Restaurant
1520 Olympic Blvd.
Santa Monica, CA USA
(310) 450-8600
(Proper dress required)
(Reservations recommended)
The band will be performing two sets of dance material... beginning at 10:00pm
(This show will be the 'Return Of The Thin White Duke'... so no Ziggy costumes at this one kids).

For more info: www.DavidBowieTribute.com


---
THE WHOLE WORLD IS A STAGE
3rd January 2005

DAVID BOWIE's live album from 1978 'Stage' gets released in both Audio CD and DVD Audio formats next month on 21st February.

The two-disc audio release from EMI (Catalogue Number: 8634362) contains the following tracklisting:



DISC: 1
01. Warszawa
02. "Heroes"
03. What In The World
04. Be My Wife (previously unreleased)
05. Blackout
06. Sense Of Doubt
07. Speed Of Life
08. Breaking Glass
09. Beauty And The Beast
10. Fame
11. (Band intro)

DISC: 2:
01. Five Years
02. Soul Love
03. Star
04. Hang On To Yourself
05. Ziggy Stardust
06. Art Decade
07. Alabama Song
08. Station To Station
09. Stay (previously unreleased)
10. TVC-15

You can pre-order Stage [Audio CD] now - scheduled for release next month.


The single disc DVD Audio release from EMI (Catalogue Number: 8634369) contains the following tracklisting:

01. Warszawa
02. "Heroes"
03. What In The World
04. Be My Wife (previously unreleased)
05. Blackout
06. Sense Of Doubt
07. Speed Of Life
08. Breaking Glass
09. Beauty And The Beast
10. Fame
(Band intro)
11. Five Years
12. Soul Love
13. Star
14. Hang On To Yourself
15. Ziggy Stardust
16. Art Decade
17. Alabama Song
18. Station To Station
19. Stay (previously unreleased)
20. TVC-15

You can now pre-order Stage [DVD Audio] scheduled for release next month.


---
DAVID LIVE AGAIN
3rd January 2005

As you all know by now DAVID BOWIE's live album from 1974 'David Live' gets released in both Audio CD and DVD Audio formats next month on 21st February.

The two-disc audio release from EMI (Catalogue Number: 8743042) contains the following tracklisting:


DISC: 1
01. 1984
02. Rebel Rebel
03. Moonage Daydream
04. Sweet Thing / Candidate / Sweet Thing (reprise)
05. Changes
06. Suffragette City
07. Aladdin Sane
08. All The Young Dudes
09. Cracked Actor
10. Rock 'n' Roll With Me

DISC: 2
01. Watch That Man
02. Knock On Wood
03. Here Today, Gone Tomorrow
04. Space Oddity (previously unreleased)
05. Diamond Dogs
06. Panic In Detroit (first issue on CD)
07. Big Brother
08. Time
09. The Width Of A Circle
10. The Jean Genie
11. Rock 'n' Roll Suicide

You can now pre-order David Live [Audio CD] scheduled for release next month.


The single disc DVD Audio release from EMI (Catalogue Number: 8743049) contains the following tracklisting:

01. 1984
02. Rebel Rebel
03. Moonage Daydream
04. Sweet Thing / Candidate / Sweet Thing (reprise)
05. Changes
06. Suffragette City
07. Aladdin Sane
08. All The Young Dudes
09. Cracked Actor
10. Rock 'n' Roll With Me
11. Watch That Man
12. Knock On Wood
13. Here Today, Gone Tomorrow
14. Space Oddity (previously unreleased)
15. Diamond Dogs
16. Panic In Detroit (first issue on CD)
17. Big Brother
18. Time
19. The Width Of A Circle
20. The Jean Genie
21. Rock 'n' Roll Suicide

You can now pre-order David Live [DVD Audio] scheduled for release next month.


---
BW COMPETITION WINNERS
2nd January 2005

Congratulations to the three lucky winners who have all won a copy of the recently published book THE PASSENGER - A DAVID BOWIE PHOTOBOOK by PHILIPPE AULIAC.

The winners chosen at random were: tHEeAGLE, D. Robinson and JtF

Check the BW Competition page for answers and details.


---
BW COMPETITION: RESULTS TOMORROW
1st January 2005

The BowieWonderworld Competition number 16 finished last night at midnight. The three lucky winners to win a copy of the recently published book THE PASSENGER - A DAVID BOWIE PHOTOBOOK by PHILIPPE AULIAC will be announced tomorrow.

Check the BW Competition page tomorrow for the answers to the three questions.


---
MERRY CHRISTMAS MR LAWRENCE SPECIAL COLLECTORS EDITION
1st January 2005

Released this month on January 24th is the new special collectors edition DVD Region 2 version of MERRY CHRISTMAS MR. LAWRENCE which stars DAVID BOWIE as Major Jack Celliers.

This new release from Optimum Home Entertainment contains interviews with director Nagisa Oshima, Ryuichi Sakamoto and Jerry Thomas, along with the excellent 'making of' documentary 'The Oshima Gang'.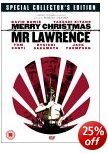 Release Information:
Studio: Optimum Home Entertainment
DVD Release Date: January 24th, 2005
Run Time: 124 minutes

Edition Details:
- Region 2 encoding (Europe, Japan, South Africa and the Middle East including Egypt)
- PAL
- Catalogue Number: OPTD0065

DVD Features:
- Special Feature Information:
- Interviews With Nagisa Oshima, Ryuichi Sakamoto and Jerry Thomas
- The Oshima Gang Making Of Documentary
- Theatrical Trailer
- Main Language: English

You can Order NOW and receive a 25% discount.


---
LOOK OUT FOR THE LATEST VOYEUR
1st January 2005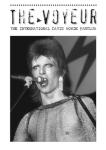 The current issue of THE VOYEUR is out now. As always The International David Bowie fanclub 'The Voyeur' have created another beautiful fanclub magazine filled with interesting stories and previously unpublished photographs. In this issue of 'The Voyeur':

- Watch out for 'The Voyeur'
- Welcome to 'The Voyeur'
- Disheveled Dandy ( a very interesting interview 'The Voyeur' had
with LICHEN'S Elise Fife and Vincent Martinelli who designed David's Reality tour clothes)
- I used to be (An inside story of our meeting with Gail Ann Dorsey in Amsterdam)
- Four beautiful full size colour pages
- Voyeur Fanclub T-shirt
- The Passenger (All about the great book by Mauro Lupi and Danielle Pensavalle filled with photographs by Philippe Auliac)
- DVD15 (a special edition)
- The 2005 Voyeur Fanclub Meeting (preview)

[You can click here for a sneak preview of six pages from this brand new issue].

If you want to grab yourself a copy of the latest issue, visit their website at http://go.to/bowiefanclub or send an email to

From Peter Smit.

---
PLAY ON "ZIGGY'S BAND"
1st January 2005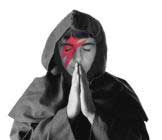 A brand new production "ZIGGY'S BAND" is all set to hit the Southampton stage next month.

"Ziggy's Band" is a new play set against the backdrop of DAVID BOWIE's early 70s music and charts the life of a Ziggy era David Bowie fan.

Written by playwright Mark Wheeller, this unique Youth Theatre production will appeal to teachers, parents, David Bowie fans and serve to introduce school students to such fantastic music!

"Ziggy's Band" will be premiered at the Oaklands Theatre in Southampton, England on the 3rd February and will run until the 5th February.

Mark is looking for around ten or so people who would like a free ticket to view the play in return for writing an independent review of the performance which will be published. If you are interested please email

More details and information can be found at Wheeller Plays


---
HAPPY NEW YEAR 2005 EVERYONE!!!
1st January 2005



HAPPY NEW YEAR 2005 TO EVERYONE, EVERYWHERE

I hope you all receive everything you ever wish for

Very Best Wishes from Paul (aka Rednik)
---
OLDER NEWS


2004 Bowie News Archives | 2003 Bowie News Archives
2002 Bowie News Archives | 2001 Bowie News Archives
2000 Bowie News Archives | 1999 Bowie News Archives
1998 Bowie News Archives