DECEMBER 1998 - DAVID BOWIE NEWS
---
BOWIE MIDI JUKEBOX
31st December 1998

You can now listen to background music whilst you surf. Choose from 40 different DAVID BOWIE midi files.

The Baby Can Dance - go and watch him...

---
MORE MIRABELLE DIARIES FOUND!
31st December 1998

A big thank you to ANNETTE BRABAZON who has managed to dig up another fifteen of the Mirabelle Diaries entries that are missing. I will get them online in the next day or two - whiskey and lager permitting! Cheers Annette, much appreciated.

---
BOWIENET CHAT TONIGHT
31st December 1998

There is a live chat TODAY with the UltraStar Crew at 7:30 p.m. EST. No special room for this chat, just log in and chat!

---
A ROCK 'N ROLL SUICIDE TOUR DATES
31st December 1998

The Ziggy Stardust tribute reenactment show which was premiered at the ICA in London have now secured the following shows in Europe. Read the full press release on my message board. These four dates will be the ONLY shows performed within mainland Europe.
Thursday 14th January 1999
DEN ATELIER, Luxembourg

Friday 15th January 1999
ELYSEE MONTMARTRE, Paris, France
E-mail: k.rin@elyseemontmartre.com
www.elyseemontmartre.com
Tel: +0033 1 44 924545
**Tickets / F.N.A.C.

Saturday 16th January 1999
VK THEATRE, Brussels, Belgium
Tel: +0032 2. 4142907. Fax: +0032 2. 4105752
**Tickets / F.N.A.C.

Sunday 17th January 1999
MELKWEG, Amsterdam, Holland
Email: jacqueline@melkweg.nl
www.melkweg
Tel: +0031 20.6241777. Fax: +0031.20 6201209
**Tickets / venue and usual outlets
(Ed. I saw the show in London - I can thoroughly recommend it).
---
BLOCKBUSTER v THE JEAN GENIE
29th December 1998

The songwriting team of NICKY CHINN and MIKE CHAPMAN who were responsible for a mass of glam hits in the Seventies including the likes of The Sweet, Suzi Quatro and Mud are interviewed in next months issue of Record Collector. One question from the interview asks:

Q: The Sweet's No. 1 'Blockbuster' had the same riff as David Bowie's 'The Jean Genie' which charted at the same time. Coincidence?

Nicky Chinn: "Oh, absolute coincidence. The ridiculous thing was, of course, they were both on the same record label (RCA). But I know we had never heard Bowie's 'Jean Genie' and to the best of my knowledge he hadn't heard 'Blockbuster'. There was a lot of fuss about it at the time. I think it's interesting to note, and again it was not a conscious thing on our part, but the riff is extremely similar to 'I'm A Man' by The Yardbirds. Fortunately, we went to No. 1 and Bowie went to 2."

---
MERRY CHRISTMAS TO EVERYONE
25th December 1998

Merry Christmas to everyone.
I hope you all get what you wish for.

Par-Rup-A-Pum-Pum!
All the very best
Paul
---
THE HEROES IN THE STUDIOS
24th December 1998

I was kindly invited by the CLP to the Cutting Rooms Studios in Manchester last week to meet some of the THE HEROES whilst they were recording four new songs for their forthcoming album ACCESS ALL AREAS. I took some snaps and chatted with them and also their parents and carers.

To my complete surprise, CLP gave me the task of announcing to everyone that DAVID and BOWIENET had officially adopted their cause for this festive season. I thought they already knew!

You should have seen their faces, especially their parents and carers. Words cannot justify their response to the news, but suffice to say it was the most humbling experience I think I've ever had.

On behalf of The Heroes, their parents/carers and the CLP, I would like to thank David and BowieNet for making a lot of people happy and proud this Christmas. Thank you very much.



You can view the rest of the photos here on The Heroes web pages.

---
100 GREATEST BRITS OF THE LAST 1,000 YRS
20th December 1998

DAVID BOWIE is one of the names listed in a poll currently being held by UK Sunday newspaper THE NEWS OF THE WORLD.

The poll entitled '100 Greatest Brits Of The Last 1,000 Years' includes Brits such as Sir Winston Churchill, Charles Darwin, William Shakespeare, John Lennon, Paul McCartney, Princess Diana, Sir Francis Drake, Queen Victoria, Sir Francis Drake, Duke Of Wellington, Sir Isaac Newton, Tony Blair, Sir Charlie Chaplin, Oliver Cromwell, Dr. Barnardo, Sean Connery, George Best, Richard Burton, Laurence Olivier and Richard Branson.

The News Of The World have trawled through the history books to find their own list of the top 100. David Bowie is currently placed at No. 43.

You can vote for your No. 1 by calling 0660 100251 (UK only), calls cost no more than 20p and the lines close at midnight on Monday 21st December.

---
A REQUEST FROM DAVID BOWIE ABOUT THE HEROES CHARITY PROJECT
19th December 1998



"This is a really great cause. The proceeds of this project will help fund some very positive programs and events, and I would be knocked out if we could get behind this, this Christmas!
Order the CD!

Many Thanks" - David Bowie



Check out The Heroes Project web pages.

---
LESBIAN/SUPERMODEL MIX
18th December 1998

Check out a new version of the DAVID BOWIE/BRIAN ENO track 'I'm Afraid Of Americans Lesbian/Supermodel Mix by new artist s.rabid

s.rabid is an independent band hailing from New York. It consists of s.rabid, his computer, and a handful of performers who have cameos on the tracks. The music is computer based, but does not fall under an easily definable category. You could consider it a hybrid of styles.

You can hear a RealAudio version of the track here

(Ed. If you ask him really nicely he might send you a free copy on CDR if you pay for the postage).

---
BOWIENET CHAT GUESTS NEXT MONTH
18th December 1998

According to C4 Teletext DAVID BOWIE has secured exclusive on-line interviews with Boyzone singer RONAN KEATING, Placebo's BRIAN MOLKO and EDDIE IZZARD for his ISP BowieNet in January 1999.

And don't forget on David's birthday... IMAN online chat 8th January.

---
BOWIENET LIVE CHAT TRANSCRIPTION
17th December 1998

BowieNet live chat transcription here. Chat with Tony Visconti, Mick Rock and some guy called David Bowie turned up.

---
DAVID BOWIE ADOPTS THE HEROES CHARITY
17th December 1998



17th December 1998 - FOR IMMEDIATE RELEASE

DAVID BOWIE ADOPTS THE HEROES CHARITY



COMMUNITY LEISURE PROJECTS (CLP) are delighted and honoured to announce that DAVID BOWIE through BowieNet (www.davidbowie.com) has officially adopted THE "HEROES" PROJECT for this festive period.

David posted the question to the BowieNet community: "What shall we do... and for whom, this Christmas?" and after receiving several requests, BowieNet decided that the "Heroes" fund raising charity project will be their special Christmas community activity.

CLP would like to take this opportunity to personally thank everybody concerned in bringing this social awareness campaign to a wider audience.

CLP are not promoting a worthy cause, they are supporting a basic right.

Community Leisure Projects (CLP) is a registered charity based in Manchester, England and covers the whole of the North West region.

Their aim is to develop and encourage the social integration of disabled people into mainstream society. The CLP organise a calendar of social events for young disabled people, where they can enjoy socialising in the company of their able bodied friends.

CLP hope that by providing these social activities, disabled people will use the experience as a stepping stone toward achieving social self sufficiency. Of course they can only achieve this with full social acceptance which in turn can only be achieved via social awareness.

The events that the CLP stage and the venues they use provide evidence that full integration of disabled people into a social environment is not only achievable, it is also an essential requirement of a rapidly developing and ethically responsible world.

In April 1998, CLP staged their "Flight Of Fancy" project when they hired a Boeing 757 to take over 200 disabled people on a 2 hour pleasure flight around the UK and Ireland.

The Discotheque Royale in Manchester is hired twice a year for their Summer and Christmas disco's attracting over 1,000 revellers to both events. Earlier this year, CLP organised a group trip to the Beatles exhibition in Liverpool. They regularly take groups to the Manchester Arena to watch the Manchester Giant's Basketball team. CLP host carers awareness days and stage equal opportunities training events.

Another special project of interest that is currently being organised is "The Amateur Variety Performance Of Youth".

To be staged at the Palace Theatre Manchester next year in conjunction with The Prince's Trust. Disabled people will naturally be featured in this production given the fact that disabled issues effect every one of the many community cultures that they intend to feature at this event.

CLP events serve to increase awareness, promote a better understanding of integration and provide valuable life skill experiences for disabled people.

Thank you for your support.

For further information please contact CLP on 0161 236 1878 or fax: 0161 228 0085.

Community Leisure Projects (CLP)
Suite 14b, 3rd Floor, St. James's Building, 79 Oxford Street, Manchester M1 6EJ.

Director: L.C. Worsley, MBE. Chairman: J. Warmisham. Patrons led by Sir David Trippier.
Registered UK Charity No. 1016634

---
BOWIENET UK LAUNCH PRESS RELEASE
16th December 1998



BOWIENET FINALLY LAUNCHES IN THE UK 16 DECEMBER 1998

THE FUTURE IS NOW



In a career spanning over 30 years, David Bowie has always been at the cutting edge of technology and artistic endeavour a pioneer at the forefront of breaking down the distinctions between art forms. As the first artist to make a single ('Telling Lies') available exclusively through the Internet and having just been named in the Top 25 technology visionaries in the next issue of Computerworld America's leading computer magazine, it will come as no surprise to learn that from 16th December 1998, he will launch BowieNet in the UK. It's been a mighty long time coming, but it'll be worth the wait in the end.

BowieNet is the very first artist created Internet Service Provider. Located at www.davidbowie.com, BowieNet will provide a high speed Internet Service throughout the world by the close of 1999. As well as full uncensored access to the Internet, www.davidbowie.com will give you all the usual stuff you need from News, Sport and Finance to the very best music and entertainment content on the Internet along with a plethora of exclusive features available only through BowieNet.

BowieNet will give you a fully customisable home page, a davidbowie.com e-mail address yourname@davidbowie.co.uk, news groups, chat rooms, on-line shareware, multiplayer gaming and tons of options with local access from over 2000 North American cities and 47 countries by the close of next year. For Bowie fans and music-heads alike, BowieNet will provide you with everything you could ever need previously unreleased material, videos and photos, thousands of album and gig reviews across all musical genres, features and a huge selection of content which will be updated daily. And if that little lot doesn't float your boat, BowieNet will also give you real-time chat and copious cybercasts (both live and archived) from Bowie and a host of other artists and celebrities.

Each BowieNet user will be given 20MB of personal web space, unlimited e-mail accounts and encouraged to create their own web pages. These pages will be created by BowieNet at no extra cost and will guarantee their placement on the World Wide Web giving access to all Internet users. Each user will also be given the latest version of Internet Explorer, specifically customised for www.davidbowie.com. For only £10.39 per month, you'll be able to use BowieNet as your Internet Service Provider. For those who would like to remain with their current Internet Provider, you can access davidbowie.com for only $5.95 per month.

David Bowie comments: "I wanted to create an environment where not just my fans, but all music fans could be part of a single community where vast archives of music and information could be accessed, views stated and ideas exchanged." With this in mind, UltraStar Internet Services was created to offer the entire Internet community a celebrity branded Internet service. According to Bowie business manager Bill Zysblat, "our biggest challenge was to assemble unique proprietary content along with first rate content suppliers and unparalleled Internet service from technical support to billing. I believe, after nine months of work we have achieved just that."


BowieNet's technology partner in the UK is Global Internet, who have been named "The Best ISP on the planet" in the December '98 issue of Internet Magazine. BowieNet will also provide a 24 hour, 7 day a week customer support service and offer all dial-up locations in North America and also afford users availability in 47 countries by the close of 1999. General content will be supplied by Lycos UK, one of the top content providers on the Internet. Lycos UK offer everything you could ever need from news, financial information, sports and weather to less serious (but equally vital) subject matter such as lottery numbers, local TV and film listings and horoscopes. Lycos UK will also offer BowieNet users unlimited access to their virtually limitless content. Through a relationship with Lycos UK and Tripod, BowieNet members will also receive an additional 11MB of web space in the David Bowie Pod to create fan based web sites. Lycos UK will also let you customise your own home page so users can get the information they need at the click of a button. It's as easy as that.

Design will be overseen personally by Bowie in conjunction with NettMedia (whose clients include the Backstreet Boys and Wu-Tang Clan) a new media development company specialising in web site design and production for the entertainment industry.

Bowie will also be hosting a songwriting competition inviting contestants to co-write one of his new songs, titled 'What's Really Happening'. The music and chorus for the song have already been penned by Bowie, leaving budding songwriters to submit three verses to complete the track. The winner will be in rather good company alongside other Bowie writing partners such as Queen, Brian Eno, Iggy Pop, Luther Vandross and John Lennon. Bowie will be selecting the winning entry from a shortlist chosen by the public. The winner will receive a $15 000 publishing contract with renowned international publisher Bug Music and a trip to New York to actually be there when 'What's Really Happening' is recorded. Obviously, the winner will also get a free one-year subscription to BowieNet. But it's not just budding songwriters who'll benefit. Merely by voting in the competition, you'll be eligible to win some serious daily prizes. It's open to anyone, anywhere with access to the Internet. All you have to do is click onto BowieNet (www.davidbowie.com). Then click onto the button for "cybersong contest" and you're almost there.

In an unprecedented move, Bowie has also announced details of the first "Virtual CD" in music history. BowieNet subscribers will help create the very first online virtual CD to be titled liveandwell.com. BowieNet members will be given three songs recorded live during his 1997 'EARTHLING TOUR' and asked for their contributions for the album cover art and a 48-page insert. Two or three additional songs will be posted each month to create two pages per track for the insert. BowieNet members have been asked for photos and ticket stubs from the shows along with anecdotes and their personal reviews of shows they attended during the EARTHLING tour. BowieNet will be making set lists, pictures and other clip-art available to subscribers. Entries will also be accepted via a PO BOX number for members with oversized materials or those without scanners, so there's absolutely no excuse for not taking part.

BowieWorld is the very first artist / music avatar based 3-D chat environment. It will enable the user to become a 3 dimensional personality that can be customised so that members can interact and chat with BowieNet members everywhere. All subscribers will receive a CD containing Fun, (a totally exclusive track for BowieNet members) and two unreleased live video's of Under Pressure and Space Oddity. BowieNet will be the first open internet site to use the Lucent 360 degree FullView Camera, which enables members to control the direction of the camera lens during a live event. In effect, the user becomes the "director" of the live event. Users will also be able to access BowieNet Radio with Bowie himself acting as programme director and DJ. Given this positive plethora of cool facilities, the fact that BowieNet received 5.5 million 'hits' in the first 2 weeks since its launch in USA alone should be enough to convince anyone that BowieNet is, indeed "the coolest ISP on the planet."

Check out what the media have been saying about BowieNet and then make up your own mind:-


'BowieNet is not a glorified official home page. It's a taste of things to come: a situation where artists might bypass the traditional record company route by providing music, artwork, news and tour information from their own sites. He's offering the usual things - the exceptional part is that you'll also get album and gig reviews, Webcasts of performances, unreleased audio and video tracks, previously unseen photographs, backstage footage, rarities, and special access to new material. There will be cyberchats with David and guests and most interesting, live video cameras in the studio while David is recording. All this for $19.95 a month, which also gets you a CD-ROM containing two unreleased Bowie audio and video tracks, as well as the decryption code to a new Bowie track on the Internet.' (MOJO)

'By developing his name as an Internet brand, the old poser might just be on to something big. Subscribers to the ISP get e-mail addresses that end in @davidbowie.com. Designed for his fans to communicate with the site and each other, the service will doubtless handle endless traffic between Ziggy this and Ziggy that, but the principle could readily be extended. Other rock stars may be interested in the idea that modern fans don't just buy the T-shirt, they sign up for the e-mail address as well. It's like writing the band's name on your school-bag, but people on the other side of the world can get the message too.' (Independent on Sunday)

'Now Bowie is set to pitch his flag in deepest cyberspace by becoming the first of his ilk to offer his own ISP. This means that instead of having the odd web site dotted around here and there, he has bought the whole block. The inducement to use this server rather than any of the competition will be the opportunity to access all manner of Bowiebilia, from further unreleased tracks to more live concerts and real-time chats. Most attractive, this all-singing, all-dancing package will be available at the very approachable price of £12.50 a month. It is typical of Bowie to make the pre-emptive leap into a world of infinite electronic possibilities. Ladies and gentlemen, people from other planets, I give you David Bowie: popular culture's answer to Bill Gates.' (Evening Standard)

'Rock icon David Bowie has one of the finest sites on the Web. It's extremely stylish and packed with lots of multimedia, including songs, interviews and art. It stands head and shoulders above other rock sites.' (Sunday Mirror)

'The possibilities for artistic excellence on the Net are breathtaking. Enter an idiosyncratic pop star who's never balked at breaking a mould: yes, you guessed, it's Mr Bowie. It's a beautiful and innovative web site, which any aspiring (or working) webmaster or designer should take in if they're looking for inspiration.' (Time Out)

'Clearly the digital revolution and wife Iman's fashion tips are doing very well by the Thin White Duke. BowieNet offers Web service, e-mail and a scintillating world unto itself. Picking up new features every day, BowieNet features a blizzard of bona fide Bowie memorabilia. You can also get up close and personal with Bowie through his frequent journal entries and personal photographs.' (L.A Times)
For more information please contact sales@davidbowie.co.uk or telephone 0870 909 8400.

---
BOWIENET TO SUPPORT HEROES PROJECT
15th December 1998

From BowieNet:

After reviewing the responses to David's Question: "What shall we do...and for whom, this Christmas?", and receiving several requests, BowieNet has decided to Adopt The Heroes Project as our special Christmas community activity.

---
BOWIENET UK LAUNCH! 17th DECEMBER
13th December 1998

In conjunction with the BowieNet ISP launch in the UK, be on the look out for the upcoming "Glam Chat" event, on Thursday, December 17th at 8:30 GMT / 3:30 p.m. EST.

BowieNet Chat Guests include TONY VISCONTI and MICK ROCK (and you never know which other "Glammers" might show up...)

From BowieNet

---
BOWIE UK TV THIS WEEK
13th December 1998

LOU REED
Rock 'n Roll Heart - Saturday 19th December, Channel 4, 00.20.

GOLDIE
When Saturn Returnz - Monday 14th December, Channel 4, 23.00.

Both documentaries feature DAVID BOWIE

---
BRAZILIAN BOWIE FANS MEETING
12th December 1998



The Brazilian David Bowie Fan Club OUTSIDE are planning their first annual meeting for January 1999. It will take place in the city of Rio de Janeiro between the 15th and 17th January 1999.

Their plans include a city tour, parties and a studio session where the fans will get together as a tribute band and play Bowie tunes till dawn.

Anyone who would like to get the full schedule and more detailed information should send email to: Andherson Miliatti

Pedro Parga and Andherson Miliatti

---
GAIL ANN DORSEY ON BOWIENET CHAT
9th December 1998

On December 10th, tomorrow at 7.00pm EST GAIL ANN DORSEY is the special guest in the BowieNet Chat Room.

Read the Gail Ann Dorsey chat transcription here.

---
THE HEROES AIM FOR CHART SUCCESS
9th December 1998

Stockport Express

THE HEROES AIM FOR CHRISTMAS CHART SUCCESS

YOUNG disabled Stockport adults are making a bid for the Christmas charts after releasing their very own debut single.

Pop band THE HEROES released the CD last week, a cover of the DAVID BOWIE song of the same title.

The 12-strong singing group is a mixture of able-bodied and disabled young people from the Stockport and Manchester areas.

Three of the backing singers, Mandy, Mark and Philip, are from Cheadle Hulme and Hazel Grove.

"She does like singing," said Mandy's carer. "She can't read or write, but it's given her a lot of self confidence being in this group. She is happy about it."

Mark said: "I feel I've accomplished something. It would be wonderful to get on Top Of The Pops."

And the single has been such a success that David Bowie himself has asked for a copy.

The idea was born in June when Terry Day, former BBC GMR presenter hosted a disco in Manchester for the charity Community Leisure Projects (CLP), which organises integrated events for able-bodied and disabled people.

"I had a diabolical idea on stage in front of 600 people. I asked them if they wanted to make a CD. We got 65 names and telephone numbers," said Mr. Day. Names were picked randomly.

They were signed to Raw Fish Records and the single was recorded in a day at The Cutting Rooms in Abraham Moss Educational Facility, Manchester. "We recorded it with Bowie tribute band The Diamondogz from Exeter," he said.

The Heroes have already recorded their second single, and have started work on an album - Access All Areas. If you would like a copy of their single, send a cheque for £4 (including postage and packaging) to Terry Day, Community Leisure Projects, Suite 4b, Third Floor, St. James's Building, Oxford Street, Manchester, M1 6EJ. You can even see them on the Internet at http://www.bowiewonderworld.com and read all about them.

---
IMAN ON BOWIENET CHAT
7th December 1998

IMAN has agreed to be a guest in the BowieNet Chat room. The planned date for the chat is on David birthday 8th January 1999.

---
GUESTBOOK ADDED
6th December 1998

Well I finally got around to adding a guest book to this site. If you want to make any comments or requests about David Bowie Wonderworld please feel free to do so.

I'm currently working my way through adding lots of new sections and features. I'm slowly but surely sorting my way through my collection of David Bowie memorabilia. There are literally thousands of photographs and articles to get through. Hopefully I'll get there before I start drawing my pension fund!

---
IT'S ALL THE RAGE
5th December 1998

DAVID BOWIE'S 'Ashes To Ashes' is featured on a new CD containing music from the Australian video programme RAGE. The CD compiles the most popular Rage videos from a long list of guest programmers which have appeared over the years (these have included Frank Black and Garbage among others). A full track listing and order information can be found at this address: ABC Shop
---
OUTSIDE TOUR ULTIMATE GUIDE BOOK
5th December 1998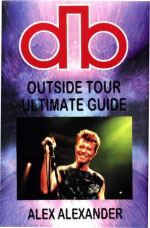 DAVID BOWIE OUTSIDE TOUR ULTIMATE GUIDE by Alex Alexander. A must for all Bowie collectors, in a limited edition of 125.

196 glorious pages crammed with details of all the shows performed on the 1995/96 Outside Tour, plus all TV performances slotted in. Every page filled with rare photo's, ticket stubs, flyers, backstage passes, set lists and reviews from all 103 shows.

Each book also contains a free A4 colour sticker from the tour. Available now from:

Alex Alexander
143 Ferry Road, Eastney, Portsmouth PO4 9UD
Price: £25 including postage and packaging Europe - £30 including P&P Rest of the World.
Please make cheques/PO payable to A. Alexander.

(Ed. Fan produced with good information contained, an A4 sized soft cover, ring binder, photostatted pages).

---
BOWIE ART IN JOHN REID AUCTION
5th December 1998

Pop manager JOHN REID is following in the footsteps of his former client ELTON JOHN by selling off his treasures in a grand clearance to mark out his 50th birthday. He is putting art and antiques valued at more than two million pounds under the hammer at a sale in London in just over a fortnight after clearing out his homes in London, New York and St. Tropez for a two-day auction of 600 works of art at Christie's

One of DAVID BOWIE'S paintings HEART'S FILTHY LESSON is up for grabs, expected to raise somewhere in the region of eight to ten thousand pounds.

JOHN REID AUCTION

17th December at 2:00 p.m.
18th December at 10:30 a.m. and 2:30 p.m.
at King Street, London, England.
JOHN REID EXHIBITION

13 December 12:00 p.m. - 5:00 p.m.
14th December 9:00 a.m. - 4:30 p.m.
15th December 9:00 a.m. - 8:00 p.m.
16th December 9:00 a.m. - 4:30 p.m.
17th December 9:00 a.m. - 4:30 p.m
at King Street, London, England
Further information and catalogues for the John Reid Auction are available at Christie's www.christies.com

---
BOWIE AUCTION OVER!
5th December 1998



Started on: 27th November 1988 at 8.00 GMT
Finishes on: 5th December 1988 at 19.00 GMT

There are a couple of items left over - be quick Bowie Auction

---
BOWIE SONG COMPETITION
5th December 1998

Visit http://members.aol.com/bowieremix/ and check out this entry. The competitors entry has their own 'What's Really Happening' lyrics in English and French, and also downloadable music files in Real Audio G2, Real Audio 5 and below, as well as mpeg.

Tip: If you are having problems submitting your entry on the Bowie song competition because you keep getting an error message, the way around it is to remove any quotes or apostrophes, ie dont instead of don't. It should work OK then. Check my MB for more information.

---
EXCLUSIVE! THE HEROES PROJECT - CLP
1st December 1998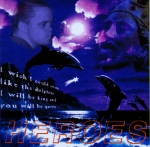 The aim of THE HEROES PROJECT is to influence SOCIAL ATTITUDE. All proceeds from the sale of this recording will contribute to the staging of events to encourage the social integration of disabled people into mainstream society.

Performed by THE HEROES featuring THE DIAMONDOGZ written by DAVID BOWIE/BRIAN ENO

On sale only by direct mail order.

Full details at The Heroes Project and
Community Leisure Projects web page.

Available next week:
Credit Card Hotline: 0161 236 1878 or by fax: 0161 228 0085

You can now register on-line for your copy of the strictly limited edition ACCESS ALL AREAS CD.

---
STELLA STREET: BOWIE FOCUS
1st December 1998

The next episode of STELLA STREET BBC2, Friday 4th December at 11.15pm is based around the Bowie character.

Michael Caine's new live-in comedy friend has been teaching David the ropes. The stars assemble at David Bowie's house to see the pop legend turn his hand to comedy prior to his 'Laughing Man' world tour."

(Ed. I've just seen a trailer on TV tonight... it looks hysterical).

The first series of Stella Street is available to purchase on video.

---
BOWIE POSTAGE STAMP
1st December 1998

ZAIRE (now known as the Democratic Republic Of Congo) issued a postage stamp to honour DAVID BOWIE measuring 1.38" x 2.0".



---
BOWIE TV VH1 (UK)
1st December 1998

There is a DAVID BOWIE day on VH1 (UK) on the 3rd December starting at 8.30am.
08.30 - Planet Rock Profiles / Greatest Hits Of Bowie
17.30 - Planet Rock Profiles
17.00 - Bowie Live At The Beat Club (Bremen '78)
20.00 - Planet Rock Profiles
22.00 - David Bowie And Friends (Birthday Show)
Also on VH1 UK Saturday 5th December
18.00 - Planet Rock Profiles
18.30 - The Greatest Hits Of David Bowie
---
GOLDIE DOCUMENTARY
1st December 1998

The one hour long documentary film WHEN SATURN RETURNZ about GOLDIE is part of Channel 4's THE BA BA ZEE series, directed by David Lawson from the Black Audio Film Collective.

The documentary which features footage of DAVID BOWIE with Goldie at the Chisholm House Art Gallery will be screened on Monday, December 14th at 11pm on Channel 4.


---