Created:
July '97
© P. Kinder

Last
Updated
15 July 17
....A WEEKLY DIARY COLUMN EXCLUSIVELY
....WRITTEN FOR MIRABELLE MAGAZINE

....DAVID BOWIE .................From July 1973 to May 1975


....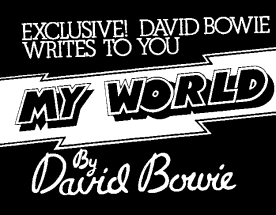 ...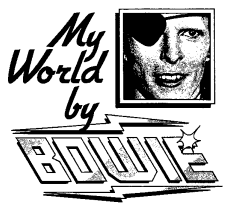 ...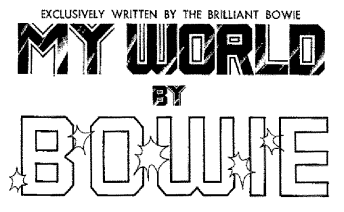 ....1973..........................1974.....................1975



BOWIENET: DAVID BOWIE'S JOURNAL - TUESDAY AUGUST 25th 1998

Back in journal-land, I found the Bowie diaries on Little Wonderworld and, boy did they take me back. But did I write them? Well, here's the awful truth. Not a word. This was a time when I had decided to give my public life over to an extraordinary woman called Cherry Vanilla an actress and performer whom I had hired to be my PR.

I had seen her in the London performance of the Warhol play 'Pork' (written of course by someone else). She had such a great sense of humor and imagination that I told her to make things up about what Ziggy/Bowie was doing and to publish it. Whenever these stories got back to me, I would just confirm them and the events would become part of my real/unreal life. Not so very different from the way many celebrities conduct themselves in regular 'show-biz' really. So when this teeny magazine out of the UK wanted me to write for them, I just passed the job on to Cherry. And of course, she just wrote about her own life, like what shows she was seeing, where she ate and all that. If Cherry loved or hated something or someone it was Ziggy/Bowie who loved/hated it. You get the idea. Some of the events she wrote about did happen to me but you can assume that most of anything that is taking place in New York is happening to Ms. Vanilla. The cute thing is that every now and then she'd write how I had just come from seeing this great new performer whom everyone should know about... Cherry Vanilla.

The most frustrating thing about re-reading these diaries now is trying to remember what I was actually doing as opposed to what Cherry was doing. The embarrassment is that I sometimes remember.

© DAVID BOWIE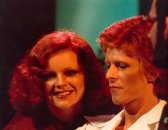 (Ed: Personally I don't think many fans believed that David himself actually wrote all ninety-four weekly entries from July 1973 to May 1975. I think the general consensus of opinion - from talking with lots of fans over the years is - that David maybe wrote the first few and then the rest were almost certainly written by a female (most thought ANGIE or possibly FIONA and AINDREA from the UK fan club). Anyway, now David has put the record straight we now know for definite. I expect a torrent of 45-year-old ex-Mirabelle women readers asking for their money back!...

UPDATE: After a reminder from a Bowie fan friend of mine I went through some of my old cuttings. I found a piece by Cherry Vanilla in an article in the Soho Weekly News from January 1974 where she admits she actually wrote the Mirabelle Diaries. It is also noted on page 60 of 'Presenting David Bowie' a publication from 1975 written by David Douglas.


"I was the tongue of Bowie when it really mattered. The amazing thing is that it all worked. I established the MainMan newspaper and the sensational "My World by David Bowie" column in London. I ghost-wrote it for David, telling all his little fans about all the places I had never seen." - CHERRY VANILLA



MIRABELLE DIARIES: HELP REQUIRED! Can anyone out there help me with the 'My World' columns that appeared in Mirabelle the seventies teenage girls magazine?

I've just discovered that very first one was actually published on July 21st 1973 and not 5th May 1973 as previously thought. Therefore I've gone through every single diary I have in my archives running through to 3rd May 1975 with the known dates confirmed from the magazine covers. Plus a lot of help from people selling Mirabelle magazines on eBay.

After over thirty years of searching, purchasing and photostat donations, I reckon I'm now only 1 column missing from a total of 94.

Is there anyone out there with any of the columns glued in a scrapbook or magazines hidden away in a trunk in the attic? If so, any help on confirming the remaining dates would be more than helpful.

If you have any Mirabelle magazines in your possession please could you email me the opening line of the Bowie 'My World' column and date if known.

A list of confirmed dates July 1973 - May 1975 appear here along with the opening line of each column with date unknown.

Thanks to Martyn for informing me about the French/Canadian publication 'Les papiers de Ziggy Stardust' - I thought I'd solved all the unknown dates all in one go - unfortunately the dates in the book have been used from this website and I'm still none the wiser.

BIg thanks to Steve Lowe who kindly visited a London library to help piece together the final few missing pieces of the jigsaw.





---