BOWIE TV and WHAT'S REALLY HAPPENING IN JANUARY - MONTHLY PLANNER

[ BOWIEWONDERWORLD SHOP ] [ LATEST DAVID BOWIE ITEMS ON eBAY ]

[ Get your @bowiewonderworld.com email address HERE sponsored by Everyone.net
]

[ BW POLL: FAVOURITE CLOSING BOWIE TRACK? - VOTE HERE ]

Have YOU got some DAVID BOWIE related news or a hot scoop?
Well don't just sit there keeping it to yourself - send it in to
All news items are credited if you so wish


---
MORE UPDATES WITH KASHMIR
30th January 2006

The long awaited video for 'The Cynic' the song featuring DAVID BOWIE is finished. And the result is astonishing: it's a truly unique visual/sonic melt of Kashmir/El Lissitzky/animation/montage with a twist of the Thin White Duke. It will be aired on national programs such as Liga .dk, Boogie List and MTV soon.

'The Cynic' vinyl - the 7 inch vinyl single is available in Danish shops. The b-side on the single is a demo that didn't make it to the studio sessions for No Balance Palace
. The track is called 'Supergirl (demonstrations skizze)' and it has an eerie appealing feel.

The 4-track European Maxi-CD single (Sony BMG) released on 17th February features the following songs:



01. The Cynic (featuring David Bowie)
02. Supergirl - (demonstrations skizze)
03. Snowman - (organic draft)
04. The Dusk Hour - (sidestep walk)

You can view the promo video via Windows Media player: [Fast Connection] [Medium Connection] [Slow Connection]

More details can be found @ http://kashmir.dk

From the Kashmir newsletter.


---
I COULD PLAY THE WILD MUTATION...
29th January 2006

Today marks the 34th anniversary of the first ever live performance by DAVID BOWIE as his alter ego 'Ziggy Stardust' at the Borough Assembly Hall in Aylesbury, Buckinghamshire on 29th January 1972.



This first live gig, after a week's rehearsal at the Royal Ballroom in Tottenham, was used a warm-up for the upcoming Lanchester Arts Festival performance in Coventry on 3rd February 1972, which was cancelled. With the "official" opening gig of the UK tour being on the 10th February at the Toby Jug in Tolworth.

David informs the music press a few days previously that: "Our new stage act will be outrageous, quite outrageous but very theatrical. It's going to be costumed and choreographed, quite different to anything anyone else has tried to do before... No-one has ever seen anything like this before."

The opening act were 'Grand Canyon', who warmed up for David and the as yet unnamed 'Spiders From Mars'. With newly cut and dyed Schwarzkopf red hair and matching red plastic boxing boots, David took the stage sporting a bomber jacket and rolled up trousers, complete with a bulging codpiece a la A Clockwork Orange style... and Ziggy Stardust "the cosmic yob" was born.

His three piece band - Mick Ronson (lead guitar), Trevor Bolder (bass) and Mick 'Woody' Woodmansey (drums) were all togged up in gold outfits but obviously hadn't totally switched over into full on "Martian Spider" mode. Probably with all three feeling rather uncomfortable and not yet fully convinced about this adventure they were about to embark on.

David says: "The Ziggy hair came lock, stock and curler, from the cover of a magazine ('Honey' or the like) and was sported by a model doing a shoot for Kansai Yamamoto's first London show. I couldn't afford the clothes but I could get the hair. Suzi did a straight forward copy. The cut and colour were both Kansai's - Schwarzkopf red was the colour. I had her cut my hair short in early January 1972. No dye. Layed flatish. I believe that it went red and stood up between the 20th and 25th of January 1972, therefore that's when the Kansai show must have been given maximum press."

Originally back in 1969, the Friars Club was started in Aylesbury by a bunch of hippies lead by David Stopps. The very first ever concert they presented was in the New Friarage Hall on 2nd June 1969 and featured Mike Cooper and a band called Mandrake Paddle Steamer. Other acts followed that year including The Pretty Things, King Crimson, Mott The Hoople and a myriad of others. This club was closed down in August 1970 but reopened in April 1971 at a larger venue called the Borough Assembly Hall. Between 1971 and 1975, the Friars presented bands such as David Bowie, Roxy Music, The Velvet Underground, Can, MC5, Mott The Hoople and many more.

Promoter David R. Stopps recalling the Ziggy show said: "I remember him doing 'Rock N' Roll Suicide', maybe for the first time. He shouted at the audience, "Gimme your hands, 'cos you're wonderful" and nobody got up. In those days they used to sit on the floor, and the stage was reasonably high and somebody got up to give him their hands, but only half-heartedly... I remember thinking, 'Oh that's a strong song, but nobody had heard it.'".

In September 1975, Friars moved yet again to an even larger venue in Aylesbury... the new Aylesbury Civic Centre which was inside the Maxwell Hall, which lasted as a venue until December 1984.

Trivia: Pure coincidence or planned? Did David chose this venue as the first ever live performance of Ziggy Stardust because the famous 'subway attack' scene in 'A Clockwork Orange' movie was actually filmed in the old Friars Square shopping centre in Aylesbury?


---
DAVID AND LOU VISIT THE TOWN HALL
27th January 2006

Last night DAVID BOWIE, along with LOU REED and SUFJAN STEVENS checked out a performance by COLIN MELOY at Town Hall in New York City (26th Jan).

Part way though the gig, John Wesley Harding joined The Decemberists' Colin to played a couple of songs from his Shirley Collins's cover songs EP.


---
PUT ON A ROMANTIC VINYL
27th January 2006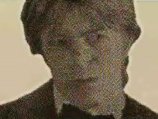 'The Cynic' duet track featuring guest vocalist DAVID BOWIE with Danish band KASHMIR was released on a limited edition 7" vinyl on Monday 23rd January.

You can watch the fab video that features David here via Windows Media player:

Fast Connection
Medium Connection
Slow Connection

The video was directed by the lead singer of Kashmir, Kasper Eistrup and illustrator/filmmaker Andreas Bødker. The video's graphics are based on the No Balance Palace album artwork.

The song - written by lead singer Kasper Eistrup - is also released on a European 4-track CD single as well as featuring on their current album No Balance Palace
that was released in October 2005 (Sony/BMG 82876727672).

Also this week 'The Cynic' music video is a candidate at Liga.dk - To vote for 'The Cynic' click here

More details can be found at kashmir.dk website.


---
DAVID AT LOU'S DO
21st January 2006




DAVID BOWIE attending the opening of LOU REED's New York Photography exhibit at the Gallery at Hermes on Thursday 19th January in New York City.

Other attendees at the opening included: Laurie Anderson, Moby, Julian Schnabel, Carmen Dell'Orefice, Christopher Makos, Paul Solberg and Cindy Adams.

'Lou Reed: New York' will be exhibited in two simultaneous exhibitions at Steven Kasher Gallery and The Gallery at Hermes between January 20th and February 25th.

More details and information can be found at stevenkasher.com and also at usa.hermes.com website.

More photographs can be viewed at patrickmcmullan.com


---
PERABO AND SERKIS JOIN 'THE PRESTIGE'
20th January 2006

PIPER PERABO is the newest addition to THE PRESTIGE, a high-profile drama reuniting 'Batman Begins' stars Christian Bale and Michael Caine with director Christopher Nolan.

"I'm just about to start preparations for that," the 29-year old star of 'Cheaper by the Dozen' revealed. "I play Christian Bale's wife; it's sort of a period piece (set in) 1880's London."

The film, based on a novel about two performers (Bale and Hugh Jackman) who turn to murder, also co-stars DAVID BOWIE. "It's about magicians on the magical stage in the 1880s, and the competition between them."

As for her new director, the man behind such visually striking films as 'Memento' and 'Insomnia', Perabo gushed, "He's a genius. I'm so excited to work with him." - [from MTV]...

AICN spy reports that ANDY SERKIS has been added to the cast in the small but pivotal role of Mr. Alley, Bowie's/Tesla's assistant. Though Alley isn't a major character, he's one of the most appealing in the novel, and it's reassuring to hear that Nolan isn't either pushing him into the background or eliminating him entirely - [from Cinematical].


---
YOU'RE SQUAWKING LIKE A PINK MONKEY BIRD!
17th January 2006

Apologies for the following news piece... couldn't resist the headline and desperate for some news...!

There were, to coin a phrase, three of them in the relationship - plus a parrot called Ziggy.

For Chris Taylor, however, the only cloud on his horizon was that his girlfriend did not share his fondness for the eight-year-old African grey he had bought as a chick.

But if relations between Suzy Collins and Ziggy were always on the cool side, it seems fair to say that now they must be deep frozen after the parrot's mimicry revealed the existence of Miss Collins's secret lover, known only as Gary.

At first, 30-year-old Mr Taylor was amused when Ziggy started screeching "Hiya, Gary" everytime it heard Miss Collins's mobile phone ring. He even saw the funny side when the parrot began making kissing noises when the same name was mentioned on television or radio. But the truth finally dawned as the couple snuggled alongside one another on the sofa and Ziggy blurted out, "I love you, Gary" in her voice.

Miss Collins, 25, a call centre worker, broke down in tears and confessed to having a four-month fling with a former colleague. Her confession not only ended their two-year relationship but also led Mr Taylor to parting with his pet because it kept repeating the offending name.

He said yesterday: "I wasn't sorry to see the back of Suzy after what she did but it really broke my heart to let Ziggy go. It was torture hearing him repeat that name over and over again.

"It feels like someone's got it in for me because I've lost my girlfriend and my best mate at the same time. He never liked Suzy and she never took to him. "I didn't want to believe it at first but when Ziggy said, 'I love you, Gary' in Suzy's voice, it sent a chill down my spine."

Mr Taylor, a computer programmer, named the parrot after DAVID BOWIE's alter ego, Ziggy Stardust, and his pet learned to reproduce the line "Put on your red shoes and dance the blues!" from the Bowie song Let's Dance. The parrot also began imitating Mr Taylor, his friends and household noises such as the doorbell and microwave as heard from its cage in the front room of the flat in Headingly, Leeds. But when Miss Collins moved in a year ago, she was not so enthusiastic about Ziggy and the attention the pet was paid.

Mr Taylor said: "Suzy never showed the slightest bit of interest in Ziggy. To be fair to her, you either like parrots or you don't. "At first, she didn't mind me having one but over time she began to resent the time we spent together. She used to say I spent more time talking to Ziggy than I did to her and she often moaned that we never went out."

The name "Gary" was first uttered by Ziggy about two months ago and Miss Collins denied knowing anyone of that name. Mr Taylor thought it hilarious and assumed it was just another thing that had been picked up from the television. He said: "Ziggy was a really good mimic - better than Alistair McGowan - and he had Suzy down to a tee. Whenever he heard the name Gary on the telly he would start making these big, slurpy kissing sounds.

"I didn't have a clue what he was trying to tell me. In fact I think I even joked to Suzy that he [Gary] must be her bit on the side." Everything changed shortly before Christmas, however.

Mr Taylor said: "We were watching telly when Ziggy blurted out, "I love you Gary" in Suzy's voice. I started laughing but when I looked at Suzy, I could tell something was up. Her face was like beetroot and she started to cry.

"I felt sick to my stomach. She told me that she'd been seeing someone she'd met at work called Gary and that she wanted to finish with me. "She said she was going to tell me anyway but she didn't know how and couldn't find the right time. "I've no idea who this Gary is. I was devastated. Suzy left that night and I've not seen her since. She came back to collect her stuff when I was out. "I hope I never see her again."

He also claimed that Miss Collins had told him that she had visited the flat with Gary when only the bird was in. Mr Taylor said: "It makes my stomach churn to think about what he might have seen or heard them doing."

He finally decided to find a new home for Ziggy, through a parrot dealer, because he was unable to break its habit of saying "Gary".

Mr Taylor added: "I couldn't get him to stop saying that bloody name. "It felt like I'd been stabbed through the heart every time my phone rang or he heard the name on the telly. "In the end, I decided he had to go. I felt awful but what else could I do?"

Miss Collins, who is staying with friends, yesterday admitted her affair with Gary, who is thought to be in his twenties.

"It's true but I'm not seeing him any more and I really don't want to talk about it," she said. "I'm not proud of what I did but I'm sure Chris would be the first to admit we'd been having problems. "We'd spoken about splitting up several times and I think it was inevitable. I'm surprised to hear he's got rid of that bloody bird. "He spent more time talking to it than he did to me. I couldn't stand him [Ziggy] and it looks now like the feeling was mutual. "But that is all I'm prepared to say about it."

From Daily Telegraph


---
ME AND MR. JONES
14th January 2006

The legendary record producer and recording engineer KEN SCOTT, the man DAVID BOWIE called "My George Martin" talks about his work on some of the 20th Century's most renowned albums at Barfly: The Great Escape in Brighton in May.

The discussion, "Me and Mr. Jones", will cover the technicalities, the stories, the history leading to some of the seminal albums of the seventies from 'Space Oddity' to 'The 1980 Floor Show' and all stops in between.

Barfly - The Great Escape is an international live music event; by day, a series of insightful interviews with leading figures from the worldwide music industry; by night, a festival of export-ready artists from across the globe performing at 10 walk-able venues, all underpinned by a comprehensive digital strategy and widespread coverage from media partners.

It will take place in the seaside city of Brighton, UK on 18th, 19th and 20th May, it will bring together all the key elements of the live and recorded music industries in a way that will entertain, educate and excite all comers - from experienced industry campaigners to those who just want to experience good music.

More details and ticket information can be found at escapegreat.com

Thanks to JackieC for the pointer.


---
'THE WAY TO DIRTY FAME'
14th January 2006

Mosey on over to the 'Get Your Bootleg On' forum where you can check out DAVID BOWIE vs. Don Henley: The Way To Dirty Fame.

The first great mash-up of 2006 from Audiodile layers 'Dirty Laundry' over top of DB's 'Fame', and ingeniously embellishes the result with snatches of Gary Wright's 'Love Is Alive', Queen's 'Another One Bites The Dust' and 'Let's Go All The Way' by forgotten '80s teen duo Sly Fox.

Visit www.gybo-v3.co.uk


---
TAKE A QUICK BUTCHERS...
13th January 2006

THE MAN WHO FELL TO EARTH which stars DAVID BOWIE as alien Thomas Jerome Newton plays this weekend on Saturday and Sunday, January 14th and 15th at the Museum of the Moving Image, 35th Ave. at 36th St., Queens, 718-784-4520; 6:30, $12...

DAVID BOWIE is to receive a lifetime achievement award at the 48th Annual GRAMMY Awards, which will be held at Staples Center in Los Angeles on Wednesday, February 8th. The ceremony is to be broadcast live at 8:00 p.m. ET/PT on the CBS Television Network...

DAVID BOWIE band guitarist GERRY LEONARD performs with DUNCAN SHEIK at Legends, Appalachian State University, Boone, North Carolina, USA on Wednesday, January 18th at 10:45 p.m. Tickets are on sale now. The show will be the first stop on a nationwide tour to promote his latest album, 'White Limousine', to be released later this month. Western North Carolina band Evoka will open the show and doors open at 9 p.m. Tickets for the concert are only $8 in advance for students and $10 for guests and at the door. For Sheik's performance at Legends, his band will include guitarist Gerry Leonard, drummer Doug Yowell and bassist Milo DeCruz...

DAVID BOWIE Tribute band THE THIN WHITE DUKE play The Royal Oak in Purley on Saturday 28th January. It's free to get in and the show starts at 9:00pm. Venue: The Royal Oak, Brighton Road, Purley, Croydon, Surrey. For more details please visit thinwhiteduke.biz - [from Scott]...


---
DAVID TO RECEIVE GRAMMY HONOUR
10th January 2006

Recipients of the 2006 Lifetime Achievement Award, Trustees Award and Technical GRAMMY Award were announced today by The Recording Academy. DAVID BOWIE, Cream, Merle Haggard, Robert Johnson, Jessye Norman, Richard Pryor, and the Weavers will receive The Recording Academy Lifetime Achievement Award. Chris Blackwell, Owen Bradley and Al Schmitt will be honored with The Academy's Trustees Award. Bell Labs/Western Electric and Tom Dowd have been named recipients of the Technical GRAMMY Award.

"This year's honorees are a prestigious group of diverse and influential creators who have contributed some of the most distinguished and influential recordings," said Recording Academy President Neil Portnow. "Their work exemplifies the highest artistic and technical standards, creating a timeless legacy that has positively affected multiple generations, and will continue to influence generations to come."

The Lifetime Achievement Award honors lifelong artistic contributions to the recording medium while the Trustees Award recognizes outstanding contributions to the industry in a non-performing capacity. Both awards are decided by vote of The Recording Academy's National Trustees. Technical GRAMMY Award recipients are determined by vote of the members of The Academy's Producers and Engineers Wing and The Academy's Trustees. The award is presented to individuals and companies who have made contributions of outstanding technical significance to the recording field.

Formal acknowledgment of these special merit awards will be made at an elite ceremony during GRAMMY Week on Tuesday, February 7th, as well as during the 48th Annual GRAMMY Awards, which will be held at Staples Center in Los Angeles on Wednesday, February 8th, and broadcast live at 8:00 p.m. ET/PT on the CBS Television Network.

Check out grammy.com for more information.


---
DAVID PERFORMS AT BIRTHDAY BASH
10th January 2006

As you might expect, JANN WENNER's 60th birthday bash on Sunday (7th Jan) was a star-studded affair. The founder and publisher of Rolling Stone magazine was toasted by a slew of famous friends at New York's Le Bernardin restaurant. The party, emceed by Boston's own Peter Wolf, featured performances by Bette Midler, John Mellencamp, DAVID BOWIE and Bruce Springsteen, who apparently wrote a special tune for the occasion.

VIP guests included Iman, Yoko Ono, John Kerry, Caroline Kennedy, Al Gore, Tom Wolfe, Larry David, Robin Williams, Richard Gere, Robbie Robertson, Michael Douglas and Atlantic Records founder Ahmet Ertegun.

You can check out a few photographs of David and Iman arriving at the restaurant over at gettyimages.com


---
DAVID DOES WHATEVER IT TAKES
9th January 2006

Now back in stock is the DAVID BOWIE designed limited edition wristband which contains the message 'Peace Thru Art'. After completely selling out it is now again available to purchase online via WhateverItTakes Shop





21st Century Leaders is a unique charity artwork project. The concept is simple. They gather artworks from leaders in all fields; royalty, film, music, noble peace laureates, sports, literature etc. Each ambassador donates a symbol of hope, a self portrait and a message of hope for the future.

These artworks are being used to create products, initially charity wristbands, clothing, tableware, ethical cosmetics and stationary released on the 21CL label. The goal of 21st Century Leaders' charitable brand is to sell 'merchandise with a meaning'. All products are manufactured under fair working conditions and are sold to raise funds for charitable causes chosen by each contributing leader.

100% of net profits are donated to charity. The aim is to raise a minimum of $3 million over three years to fund charitable projects in developing countries, contribute to the protection of the environment and other charitable causes.

David's limited edition wristband is priced at mere £2.99 (UK), $5.47 (US) and €4.55 (Euro). Be a proper old fashioned Bowie fan and buy two for your left wrist!

All proceeds go to David and Iman's chosen charity Save The Children. Purchase now via WhateverItTakes Shop


---
HAPPY BIRTHDAY WISHES DAVID
8th January 2006



To David
Wishing you many happy returns on your special day
Have a wonderful time

Best wishes and lots of love from
Paul and everyone here at Wonderworld xxxxx
---
OTHER HAPPY BIRTHDAY WISHES
8th January 2006

Besides our DAVID, other famous and well known people also born on the 8th January include...

Elvis Presley (singer), Ron Moody (actor), Larry Storch (actor/comedian), Soupy Sales (aka Milton Hinkes) (comedian and father of Tony and Hunt Sales of Tin Machine), Graham Chapman (comedian), Charles Osgood (CBS TV newsman/host/author), Shirley Bassey (singer), Cristy Lane (singer), Robby Krieger (musician), R. Kelly (singer), Mike Reno (singer), Paul Dresher (composer), Paul King (musician), Jeff Abercrombie (musician), Terry Sylvester (musician), Paul Hester (musician), Stephen Hawking (professor, astrophysicist, author), Amanda Burton (actress), Gil Grand (musician), Ami Dolenz (actress), Amber Benson (actress), Yvette Mimieux (actress), Thelma 'Butterfly' McQueen (actress), Simone De Beauvoir (writer), Evelyn Wood (reading teacher), Gypsy Rose Lee (burlesque entertainer), Bill Graham (concert promoter), Wilkie Collins (author), Frank Doubleday (publisher), Sir Frank Dyson (scientist), Lee Jackson (musician), Vladimir Feltsman (Russian pianist), Little Anthony aka Anthony Gourdine (singer), Ted McDougall (footballer), Michael Ridley (cricketer), Harriet Sansom Harris (actress), Sean Paul (musician), Karen Poole (musician), Jenny Lewis (actress), Richard Cromwell (actor), Jose Ferrer (actor/director), Ryan Frances (actor), Roy Kinnear (actor), John McTiernan (director), Scott Whyte (actor), Sander Vanocur (broadcaster), Joan Rivers (comedian), Maria Pitillo (actress), Sarah Polley (actress), Loretta Lee (actress), Gabby Hoffman (actress), Maria Pitillo (actress), Brad Snyder (shot putter), Kent Jones (golfer), Virgil Hill (boxer), Vyacheslav Dmitriyevich Zudov (USSR cosmonaut), Terry Brooks (author), Antai Ribari (composer), Serge Poliakoff (Russian/French painter/guitarist), Queen Marie of Yugoslavia, Bronislava Nijinska (ballet choreographer), Storm Jameson (novelist), Frank Nelson Doubleday (publisher), William Wallace Gilchrist (composer), Fannie M Jackson (pioneer and educator), Lawrence Alma Tadema (Dutch/British painter), Nicolas Coustou (French sculptor) and Henry V (Roman German king/emperor).


---
HALLO SPACEBOY IS ON ITS WAY
4th January 2006



As mentioned last month Toronto Canada-based publishers ECW PRESS are currently working with DAVE THOMPSON on a sequel to his fabulous DAVID BOWIE 'Moonage Daydream' book that was first published back in 1987.

The book is scheduled for publication on June 30th. (ISBN: 1550227335).

This sequel entitled 'Hallo Spaceboy: The Rebirth of David Bowie' will capture the most recent 18 years of David Bowie's life, from 1987 onwards.

You can pre-order Hallo Spaceboy: The Rebirth of David Bowie
Now for only £9.79 saving 10% discount.


---
ITALIAN FAN CLUB BIRTHDAY BASH
3rd January 2006



This coming weekend sees VELVET GOLDMINE the Italian DAVID BOWIE fan club get together on Saturday January 7th at Sottosopra Disco Pub - Via dei Serragli 48r - Florence, Italy.

In Florence, the town which witnessed David and Iman's marriage, Velvet Goldmine, the Italian Fan Club, will celebrate David Bowie's 59th Birthday with a Sound and Vision Show made of rare video clips and acoustic live-acts.

During the night there will be a contest in which the 'Perfect Bowie Clone' will be awarded.

At midnight, the winner will blow out out the candles on the big cake which will be offered to all the attendants.

DJ set by Glamy and Blam Blam
Dresscode: BowieStyle
The prizes have been kindly offered by EMI Music, Sony Bmg and Rizzoli Publishing.
The entrance is free.

From Stefano @ velvetgoldmine.it


---
STARMAN AT THE SPECTRUM
2nd January 2006

Currently on display in their Christmas Exhibition at the SPECTRUM LONDON art gallery is a piece of artwork by PETER MURPHY entitled Bowie 'Starman' (26x22cm) Egg Tempera and Gold leaf on board.



Peter Murphy's artistic carrier started in the 80's when he trained with noted iconographer Guillem Ramos Poqui and has been painting for church, museums and private patrons ever since.

Peter Murphy most recent work consists of iconic portraits of music legends using traditional early medieval techniques and materials such as gold leaf and egg Tempera fusing traditional styles, techniques and formats with radically new material to create a truly original oeuvre.

The exhibition runs from 21st December to 31st January 2006.

Venue: Spectrum London
77 Great Titchfield Street, London W1W 6RF
Tel: +44 (0)20 7637 7778.
Website @ spectrumlondon.co.uk


---
HALLO SPACEBOY IS ON ITS WAY
1st January 2006



As mentioned last month Toronto Canada-based publishers ECW PRESS are currently working with DAVE THOMPSON on a sequel to his fabulous DAVID BOWIE 'Moonage Daydream' book that was first published back in 1987.

The book is scheduled for publication on June 30th. (ISBN: 1550227335).

This sequel entitled 'Hallo Spaceboy: The Rebirth of David Bowie' will capture the most recent 18 years of David Bowie's life, from 1987 onwards.

The editor Jen Hale is looking for photographs that fans have taken of David Bowie, either on his own or with the fans themselves.

If you would like to submit or post any Bowie photographs for inclusion in the new book please email Jen Hale at

Important: Please email her BEFORE sending any photo attachments. She will reply to you with specific details.

Everyone whose photographs are used will receive a copy of the book, and depending on how many photos they have and the quality, a fee will be arranged with each person individually.

From Jen Hale Senior Editor @ ecwpress.com


---
GET THE LATEST VOYEUR FANZINE
1st January 2006

The International DAVID BOWIE fan club THE VOYEUR proudly announces another fabulous edition of 'The Voyeur' fanzine.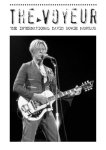 As always in our December issue the centerfold contains rare full colour Bowie photographs. In this issue of 'The Voyeur'...

Watch out for 'The Voyeur'
Welcome to 'The Voyeur'
All fake? (about genuine and fake David Bowie stamps)
About the cover (The Man Who Sold The World)
'Outrageous', Part 2 of an interview by Playboy's Cameron Crowe
Four page full colour David Bowie centerfold
Sigma Kids (An inside story by Sigma kid Marla Kanevsky)
Speed Of Life (About David's Borsalino hat from TMWFTE)

[You can click here for a Sneak Preview of several pages from this brand new issue].

More details about the new edition and information on how to become a member can be found on their homepage at http://go.to/bowiefanclub or alternatively you can also send them an email at

From Peter Smit


---
DAVID BOWIE TRIBUTE CONVENTION AT THE CAVERN
1st January 2006

For all the peeps who've emailed in asking about the 2006 DAVID BOWIE Tribute Convention in Liverpool - here's the low-down...

The convention takes place on Saturday 12th August 2006 at Liverpool's famous Cavern Club - birthplace of The Beatles.

Tribute band THE BOWIE EXPERIENCE are to perform. Thirty-four events from January to November featuring all the top tributes from around the UK and abroad.

Each convention starts at 12 noon and ends at 12 midnight and features: headline tribute act, support act, rare and vintage film footage, guest speakers and forums and memorabilia.

Tickets are on sale now priced at £10 each but there are only 150 tickets available for each gig - which the organisers state that they sell out pretty quick.

Venue: Cavern Club and Pub
8-10 Mathew Street, Liverpool
Merseyside, England.
Enquiries: 0151 222 1957. Ticket Website

And some more upcoming 2006 news for The Bowie Experience... they are teaming up with the MARC BOLAN T. Rex tribute act JEEPSTER to do "double header" shows. Bowie will do a set, Bolan will do a set and then Bowie and Bolan will appear on stage together, should be cool.

You can find out more information by visiting The Bowie Experience website.


---
LATEST BW POLL RESULTS
1st January 2006

So far in the current BowieWonderworld poll to select your favourite closing DAVID BOWIE song - the top five chosen are as follows:

01. Rock 'N' Roll Suicide
02. Heathen (The Rays)
03. Bewlay Brothers
04. Lady Grinning Soul
05. Wild Is The Wind



[ BW POLL: FAVOURITE CLOSING BOWIE TRACK? - VOTE HERE ]




---
HAPPY NEW YEAR 2006 EVERYBODY!!!
1st January 2006



HAPPY NEW YEAR 2006 TO EVERYONE, EVERYWHERE

I hope you all receive everything you ever wish for

Very Best Wishes from Paul (aka Rednik)
---
OLDER NEWS

2005 Bowie News Archives | 2004 Bowie News Archives
2003 Bowie News Archives | 2002 Bowie News Archives
2001 Bowie News Archives | 2000 Bowie News Archives
1999 Bowie News Archives | 1998 Bowie News Archives