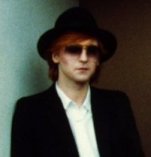 Rednik
YOU NEVER KNOW YOU MIGHT
FINDUS HERE
One of my Southern spies informs me that DAVID BOWIE was spotted back home in London over the weekend. Several reports have filtered through that David was spotted driving around Westminster in a blue metallic Ford and he was also seen popping into Harrods for his weekend food shopping.
It is heavily rumoured that David is planning a special birthday surprise picnic treat on Clapham Common for BLAMMO, who's birthday it is today... Happy Birthday Blam xxx.
I fortunately managed to get hold of a bugged telephone conversation that David had made earlier this morning on his mobile phone to Westminster Council.
Click here to listen/download an mp3 version.
DB telephone conversation transcript:
WC: "Westminster Council. Can I help you?"
DB: "Yes I've got something slightly unfortunate to report today."
WC: "What is it Sir? Who do you want to speak to?"
DB: "I want the department that deals with parking tickets."
WC: "Parking tickets. Do you have a pen there Sir?"
DB: "Yes I have and it's in my hand."
WC: "Right. I'm going to give you a direct line number to ring."
DB: "That's very nice. I suppose when I ring the other person at the end will tell me all about my parking ticket queries."
WC: "Yes Sir."
DB: "And on my windscreen the fella's put a big sticker on."
WC: "If you keep calm and let me give you the number."
DB: "Thank you very much, you've really sorted me out."
DB: "Because I hope the man comes soon 'cos I've done my shopping and I have lots of frozen Findus Crispy Pancakes in the back."
DB: "My Ford Capri is blue and there's nothing I can do."
Many thanks to the EarWig for use of his mobile scanner and very happy birthday wishes to Blam xxx

Tarrah,
Rednik.

3rd September 2001.




CLICK HERE
TO CLOSE WINDOW