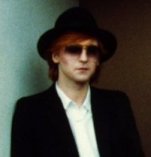 Rednik
LIZA JANE'S 37 YEAR ANNIVERSARY

Today marks the anniversary of DAVID BOWIE'S first ever single release 'Liza Jane' credited to Davie Jones with The King Bees, which was released 37 years ago today, 5th June 1964 on the Vocalion Pop label (V 9221).
Featuring seventeen year old Davie Jones (vocals and saxophone), George Underwood (guitar), Roger Bluck (guitar), Francis Howard (bass) and Robert Allen (drums), the original 7" vinyl single is now worth in the region of around £500 in mint condition.
Although credited to Leslie Conn, David's then manager who negotiated a one-single deal with Decca Records, George Underwood said the song was originally an old Negro spiritual that the band played around with and came up with this R'n'B song.
Leslie Conn's recollection of the events in 1997:
"I can tell you that I have got a pretty retentive memory, but that is something I can't clearly recall. I used to write songs except that I don't write music and I don't play piano. When the boys were jamming to kind of come up with some ideas to make a record, they came up with some six bar blues, which everyone uses. As they were doing that, I came up with my own idea, which came from nowhere, and we improvised and the song came together. I mean, I would never take credit for something that I never did and I know David wouldn't have agreed for me to sign the contract as writer if he had wrote it himself. I would never have stolen someone else's song on principle. I know that I'm quite vague on that and I can't be absolutely sure how it all came about, but I know that I did come up with a lot of ideas. As for the production of the song that was most certainly me, I arranged and organised the whole thing and I always produced the material I was arranging with Decca at that time. George Underwood is definitely wrong on that point.

"There is a funny story while were still on the subject of 'Liza Jane'. When David and I parted company I went off to live and work in Majorca for a few years and one day I was on the phone to my mother and she said, 'what shall I do with those records I have in the garage' which were a few hundred copies of 'Liza Jane'. So I replied, 'Throw them out', and she did. The last time David came up here he said, 'Have you got any of those records we made, you know they're worth over a hundred pounds each!' I told him I got my mother to throw them all out! We had to laugh."
Backed with 'Louie Louie Go Home', written by Paul Revere and Mark Lindsay, which was incidentally pencilled in as the A-side, both songs were recorded in a seven-hour session at Decca Studios in Broadhurst Gardens, West Hampstead.

The single was re-released by Decca in September 1978 (catalogue number F 13807) and beware there are counterfeit Vocalion copies in circulation. Produced in the USA in 70s, the tell-tale difference between the original and the illegal pressings is the matrix number. On the original 1964 issue the matrix number is machine stamped on the vinyl and on the fake copies it is handwritten.

The official press release for the single from the press room of the Dick James Organisation in May 1964 read...

INTRODUCING DAVIE JONES WITH THE KING-BEES... AND THEIR FIRST DISC 'LIZA JANE'

Pop Music isn't all affluence. Just ask new seventeen year old recording star Davie Jones. Time was (two months ago, in fact) when he and his group were almost on their uppers. No money, bad equipment. Then Davie had a brainwave. "I had been reading a lot in the papers about John Bloom," says Davie. "So I put pen to paper and wrote him a letter." David told Bloom that he had the chance of backing one of the most talented and up-and-coming groups on the pop scene. All he had to do was advance the several hundred pounds it requires to outfit a pop group with the best equipment.

Davie didn't get the money, but he did get a telegram next day from John Bloom giving the phone number of Artist's Manager Leslie Conn. Davie got in touch, he was rewarded with a booking at Bloom's Wedding Anniversary Party. "We were a dismal failure", recalls Davie. "It was a dinner dress affair and we turned up in jeans and sweat shirts and played our usual brand of rhythm and blues. It didn't go down too well. Still we'll know better next time."

However, all's well that ends well. Leslie Conn liked the earthy type of music the group played, arranged an audition with Decca Records which resulted in a contract and the first release by David Jones with the King-Bees. "Liza Jane", released by Decca (Vocalian 9221) on June 5th.

DAVIE JONES WITH THE KING-BEES MET AT BARBERS

Davie Jones met up with his four member backing group the King-Bees when he visited his local barber shop in Bromley. In between clips he got chatting to the four lads, also there to be sheared, about their musical interests, and before you could say "Short back and sides", they decided to join forces.

The group specialise in hard-driving, uncompromising R & B, a brand of music that has won for them a dedicated following in the London area, a following which should soon be spreading throughout the length and breadth of England on the strength of their first disc.

"LIZA JANE", is a beaty, action packed disc which features the direct no-holds-barred Davie Jones vocal delivery. The King-Bees supply a hard core, R & B backing and the whole thing is crowned by a catchy chorus featuring the line "Little Liza Jane".

DAVIE JONES - Seventeen years old, fair haired Davie first got interested in pop music when he was ten. His father's secretary (Davie's father in P.R.O. for Dr. Barnardo's homes) who had previously worked for a disc company, sent Davie a 'Demo' copy of a new Little Richard disc. As the phrase goes, Davie was "knocked out", and when he had scraped together a few pounds of his pocket money, bought a plastic saxophone. Eventually he progressed on to the real thing. Lessons were the next step. "My idol on saxophone has always been Ronnie Ross", says Davie, "So I looked up his name up in the phone book and asked him if he would give me lessons." Ross agreed, but after Davie played him a few bars Ross's comment was: "Right now we can start working on you, that was bloody awful!" Davie gave up his music to take his G.C.E. at 15, then left school and joined an advertising agency as a commercial artist, where he still works.

When he left school Davie was able to concentrated on his music again, this time mainly as a vocalist, playing dance halls and clubs in and around the Bromley area. Then came the hair-cut and the letter to John Bloom...

Davie's favourite vocalists are Little Richard, Bob Dylan and John Lee Hooker. Apart from the saxophone he also plays the guitar. He dislikes Adams apples, and lists as his interests Baseball, American Football and collecting Boots. A handsome six footer with a warm and engaging personality, Davie Jones has all it takes to get to the show business heights, including... talent.

Tarrah,
Rednik.

5th June 2001.




CLICK HERE
TO CLOSE WINDOW