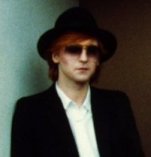 Rednik
EVERYTHING'S STILL HUNKY DORY

Unbelievably, it was 30 years ago today that DAVID BOWIE'S classic 'Hunky Dory' album was first released.
Last year Hunky Dory was ranked at number 38 in the New Musical Express 'Greatest Albums Of All Time'.... number 16 in Q magazine's '100 Greatest British Albums'... and at number 12 in the New Musical Express list of 'The Greatest Albums of The 70s'.
Back in 1971, Hunky Dory received some good reviews at the time of release, notably in the NME, Melody Maker, Billboard and Rolling Stone magazines but initial sales figures were disappointing up until the Ziggy Stardust album, then it took off:
Billboard
Review: 28th November 1971.
The British composer-performer comes up with a heavy debut for RCA, loaded with the kind of Top 40 and FM appeal that should break him through big on the charts. Along with vocals, Bowie plays piano, sax and guitar. Strong material, his own, for programming include "Changes," "Oh You Pretty Things," and "Life On Mars." His "Andy Warhol" material is also a standout.

Rolling Stone
Review: 6th January 1972.
"...Hunky Dory not only represents Bowie's most engaging album musically, but also finds him once more writing literally enough to let the listener examine his ideas comfortably..."
It's interesting to read David's own notes on each of the songs contained on the album that appeared on a promotional sheet at the time:
Changes - This album is full of my changes and those of some of my friends.

Pretty - The reaction of me to my wife being pregnant was archetypal daddy - Oh he's gonna be another Elvis. This song is all that plus a dash of sci-fi.

Eight - The city is a kind of high-life wart on the backside of the prairie.

Life On Mars - This is a sensitive young girls reaction to the media.

Kooks - The baby was born and it looked like me and it looked like Angie and the song came out like - if you're gonna stay with us you're gonna grow up Bananas.

Quicksand - The chain reaction of moving around through out the bliss and then the calamity of America produced this epic of confusion - Anyway, with my esoteric problems I could have written it in Plainview - or Dulwich.

There is a time and space level just before you go to sleep when all about you are losing theirs and whoosh void gets you with its cacopfony of thought - that's when I like to write my songs.

Fill - Biff Rose song.

Andy - A man of media and anti-message, with a kind of cute style.

Bob - This is how some see B.D.

Queen - A song on a Velvet Underground-Lou Reed framework s'about London sometimes.

Bewlay - Another in the series of David Bowie confessions - Star-Trek in a leather jacket.
So what the hell is a 'hunky dory' anyway?... We all take it for granted now that it now translates as 'everything is fine' or 'everything is ok'... but if you take a peek into The Random House Historical Dictionary of American Slang it suggests that the term may have been introduced in America about 1865 by a popular variety performer named Japanese Tommy.

It is said to have been sailors' slang for a street in Yokohama named Honki-Dori, whose inhabitants "catered for the pleasures of sailors".

The trouble with this story is that nobody has ever found a street of that name in Yokohama, then or at any other time, and it seems it may be another example of people trying too hard to explain a puzzling phrase. However, there is more than a germ of plausibility in the theory, as one Japanese word for a street is indeed dori, though it refers to a broad or important one, perhaps like our avenue, rather than any old road.

In fact, there was a street in existence in Yokohama about 1884 with the name Honchou-doori that was set aside for foreign residents, and which conceivably could have something to do with the phrase. It may be that hunky-dory was the result of a bilingual pun, perhaps invented because American sailors knew the word doori and prefixed it with hunky as an imagined Japanese street of earthly delights.

Sailors fighting in the dance halls? Hmm I wonder?

Tarrah,
Rednik.

17th December 2000.




CLICK HERE
TO CLOSE WINDOW