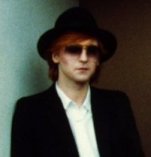 Rednik
UP THE HILL BACKWARDS

Way back in 1968 on 14th June, DAVID BOWIE placed an advertisement in the jobs section of the International Times newspaper. It read: 'DAVID BOWIE needs acoustic guitarist, good singing/speaking for exciting project, must be alive. 460-6489'.
The person who applied and got the 'gig' was a certain TONY HILL who had previously been in the bands The Answers and The Misunderstood.
Three months later, David had created the 'mixed media' trio named TURQUOISE, which featured himself and girlfriend HERMIONE FARTHINGALE on vocals and mime, and Tony Hill on acoustic guitar and vocals.
The name 'Turquoise' only lasted for a couple of appearances, which included a performance at the Round House in London on Sept 14th, before they were renamed FEATHERS. Two days later, inbetween a Middle Earth Club show in Covent Garden, Tony's final performance was at the Wigmore Hall in London.
Tony left to join High Tide, a group that David was later to support. His replacement was ex Buzz member John Hutchinson.
So in the good old tradition of 'Where are they now?' here goes...
David has said (probably joking) that: "Apparently Hermione married an anthropologist and went to live in Irian Jawa in New Guinea. She became a very competent map-maker, discovering and recording the rivers of New Guinea."
John Hutchinson still performs to this day. You can catch him at The Punch Bowl in York performing every Thursday evening.

Tony Hill is still going strong... he has recently released a new CD 'Inexactness' (cat. number WOO 46) on the Woronzow Records label. The liner notes state: 'Tony Hill is the mastermind behind sixties psychedelic legends 'High Tide' not to mention 'The Misunderstood' and for those of you with really long memories 'The Answers'. An extraordinary guitarist and songwriter, he is joined on this album by ex High Tide and Third Ear band bassist Pete Pavli along with Nick, Ade and Andy from the Bevis Frond and a highly talented violinist, Matt Kelly.

You can listen to a sample of one of the tracks on RealAudio here.

Check out the Woronzow Records website.

Tarrah,
Rednik.

27th November 2001.




CLICK HERE
TO CLOSE WINDOW