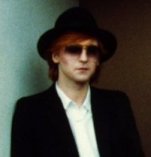 Rednik
BECKENHAM SALUTES DAVID BOWIE

Yesterday 6th December 2001, Beckenham celebrated their famous former resident DAVID BOWIE with a plaque hung at The Rat & Parrot (formerly The Three Tuns) to celebrate and recognise David's involvement in their town with The Arts Laboratory he co-founded at the pub.
Some people like to arrive fashionably late, we arrived an unfashionable 4 hours late! And unfortunately missed the unveiling, Steve Harley's performance and at least 8 pints necking down time. Motorway traffic was horrendous, and chauffeur for the day poor Stephen K drove for a record 7 hours non stop. The journey should of been 4 hours at the most but having arrived in Beckenham via the scenic route we unfortunately didn't arrive until gone 2 o'clock. Aren't traffic jams wonderful?
I felt worse for the DJ Craig (aka Tony Day), he's probably Steve Harley's biggest fan and sadly missed it all. Craig got his set up, set up in record time and started spinning his discs and doing his thing. He did a grand job. As a special thank you to Craig I had a word with Kevin Cann and explained the situation and he kindly promised he'd sort him out next time Steve performs and get some autographed items. Thanks Kevin :)

Pictured here (courtesy of Total Blam Blam and Eddie Harris) are Mary Finnigan and Christina Ostrom who unveiled the plaque, with Mary giving her speech followed by recollections from Christina.

Stephen Roberts says he just watched the the video footage he shot through the day and the evening. There were loads of police there because they were training some new police officers in crowd control, so there were about 10-14 of them. This started a rumour that David was going to turn up which in turn brought more crowds.

Everyone I spoke to said Steve Harley gave a great 30 minutes along with his brilliant guitarist Robbie Gladwell. He performed classics such as 'Judy Teen', 'Sebastian', 'Star For A Week', 'Mr Soft' and 'Make Me Smile' (Come Up And See Me).

Stephen Roberts performed one song with his acoustic guitar, which went down really well. After speaking with sore-throated Stephen today I get the feeling he's got some of the old taste back for performing. Go for it son!

Mark Pritchett brought along his Hagstrom 12-string acoustic guitar that formerly belonged to David. Comment from someone in the crowd: "I can't believe that's THE actual guitar!"

Paul Henderson and Rob Storm both played great sets and went down really well. How on earth they've got the bottle to perform live in front of 150 or so hardcore Bowie fans is beyond me. I think it just goes to show how good they actually are.

Seven piece band Little Wonder performed a great tight set, playing a bag full of Bowie songs. The sound of 7 musicians playing in a very small venue was overwhelmingly wonderful. They sounded absolutely brilliant. For me 'Scary Monsters' did it - brilliant! Then to top it all, the encore at the end, Paul and Rob joined in with the band and got the crowd going ape.

A lot of the credit for the excellent sound with all the musicians goes to all the sound engineers. Brilliant job done guys.

Band member Craig from Little Wonder said: "U lot rock! What a great crowd in Beckenham! Thanks to everyone who came - we had a great time. Good to meet everyone. Faces to names and all that.You all know far too much about Bowie, far too much about the songs, and I think you're all mad as hat stands, but to use the cliche... you certainly know how to party. I know the band loved it, as did all of the other acts. Thanks for a great night."

The auctions and raffle went down rather well. Big thanks you to everyone who bought tickets and bid on items. All the money raised goes directly to the childrens charity. You're a generous lot :) All in all, with the collection boxes, raffle, auctions, barstaff charity events, and with the forthcoming DB and Visconti signed photos to be auctioned online - we estimate it will easily reach a thousand pounds raised for the childrens charity :)

Apart from this amount there is also the donations to be added from the forthcoming "photo packs" as well as donations from every video sold by Brett. If you saw the photos behind the bar on the large white board, which later raised over £50 each in the auction, these will be part of the special limited edition 'Three Tuns' photo pack along with recently written contributions from people who were directly involved in the Arts Lab, will be available to order. Proceeds from the 'packs' are to help raise money for the Chernobyl Children Life Line Charity of which Stephen is heavily involved with. Exclusively written contributions from David Bowie, Mary Finnigan, Ken 'Wild Man' Simmons, Stephen Roberts, The Diary of Steve Hippy, Mark Pritchett, as well as extracts and information about The Arts Lab taken from various sources. Watch this space for full details in the next few days.

The video shot by Brett Allen to produce a professional record of the daytime events. Brett captured people recalling their own memories of the Arts Lab days. Along with this, Brett is to film various places relating to David Bowie in the Beckenham and Bromley areas. Brett has very kindly offered to donate money to the childrens charity on each video sold. Again, watch this space for full details in the next few days.

Landlord Alan and Tammy did a absolutely marvellous job of pulling all this together. Their generosity in 'sponsoring' the childrens charity before and after the event helping raise money is more than we ever wished to hope for. Many thanks from us all.

A big thank you to the barstaff who did an absolutely wonderful job. Dressed in their Bowie T-shirts and Aladdin Sane lightning bolts across the faces, they collected money and sold raffle tickets above and beyond the call of duty.

I emailed David this morning and sent him the above photograph of the plaque. I'm sure he won't mind me informing everyone that he responded immediately with the comment: "It's so swishy." I think you can safely take from that he's well chuffed about it.

On behalf of everyone involved in this event I would like to personally send a huge thank you to everyone on behalf of the Chernobyl Children Life Line charity who contributed, helped, donated, sung, sang, played, attended, supported, gave money, gave time, gave effort, wrote, reported, filmed, drove friends, travelled, gave encouragement and signed stuff - it was a absolutely marvellous event and fingers crossed it will renamed back to The Three Tuns and turned into an annual event.

A big thank you also goes out to Matthew Fisher who's original proposal to erect the plaque on The Three Tuns was the nomination for its inclusion in the BBC History Magazine Domesday project.

Last but not least, on behalf of all David Bowie fans everywhere the biggest thank you goes to Mr. Cliff Watkins of the CCARA, who has spent the last six months organising this whole overall event. We Bowie fans salute you... you did the boy proud!

If anyone took any photographs during the event and would like to send them to me to add to photo gallery please feel free to do so. I took my digital camera and unfortunately it decided to go ape on me.

Tarrah,
Rednik.

7th December 2001.




CLICK HERE
TO CLOSE WINDOW