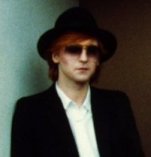 Rednik
FATMA THE BEARDED CAMEL WOMAN
Isn't it amazing what you come across whilst stalking the streets of Tunisia? My mother and stepfather have just returned from a holiday there over the New Year holiday period.

She rang me part way through her stay...

"Paul?"

"Hi Mum. Are you both having a good time?"

"Yes it's great. Listen I have to be really quick. I've just seen a David Bowie CD in a shop across the road. It's called 'David Bowie 2000' and it's got lots of tiny little photos all over it. There's only one left and I'm sure you've not got it."

(How the hell she knows I've not got this I've no idea).

"No Mum it doesn't ring a bell. I've never heard of it. It's probably just a CDR bootleg or something. How much is it?"

"Well it's ten Dinars."

"How much is that?" I ask.

"About a fiver. Do you want this or a t-shirt with Tunisia on the front?" she asks.

"Mother what's the point of me having a t-shirt with Tunisia written on it when I've never even been there?"

"Well do you want this Bowie CD or not?"

"Erm... yes please buy it then if it's only a fiver I'll sort you out when you get back. But please don't get me a t-shirt with Tunisia written on the front. It's winter." I plead.

"What about one with Tunisia written on the back?" she asks.

"Mother please - I don't want another t-shirt with anything written on it - front OR back."

I'll interrupt at this point to explain that my mother, who goes abroad about eight times a year, always brings me back a t-shirt with the place name emblazoned on the front from wherever it is she's been to. Why she does this God only knows. I'm sure she's not doing it intentionally just to piss me off. For my holiday we usually get two weeks in Bognor if we're lucky.

Even both my children have ALWAYS called her 'Nanna Greece', not Nanna Babs, or Nanna Barbara, it's Nanna Greece. My son Michael, when aged around two years old, asked where his Nanna was. I explained to him that she was on holiday in Greece, hence the name stuck. A couple of months later and Michael is asking "Where's Nanna Greece?" and I have to explain that Nanna Greece is on holiday in Cairo or somewhere. Good old Nanna Greece. Yes she gets some peculiar and funny looks in the park when either of the kids shout out: "Nanna Greece will you push me on the swing?"

On the very rare, and I mean, very rare times I'm ever forced to wear one of these "non vacational" t-shirts, it's usually when I'm fixing the car or doing the gardening. Next door neighbour Jim - who'll be leaning over the fence - will ask something like: "What was Honolulu like?" or "How was Bali?" or "What was (add any place name) like?"

You can imagine the awkward embarrassing reply to say the least trying to explain that I've never even been to the country in question.

Anyway... back to the telephone call...

"OK then darling. Love to Dawn and the kids. I'll see you all soon. Bye." Mum says.

So we say our tarrah's and I tell her to have a good time and that I'll her see her real soon and so on.

Two days later... phone rings again...

"Paul?"

"Hi ya mum. Happy New Year. Everything OK? How's the weather there? It's bleedin' freezing here."

"Yes it's wonderful here. Lovely and warm. Happy New Year Son and stop swearing."

"Happy New Year Mum... wish Brian Happy New Year for me too." I ask.

"Brian says 'Happy New Year'. We've just been on a camel ride and arrived at this place called Soo... Suck... Suss... Sousse... Or whatever its called. Anyway I've been in another bazaar and I've found another David Bowie CD. It's called 'David Bowie Golden Collection 2000'. Have you got it?"

"No Mum. It's probably a bootleg CDR the same as the other one."

"Well it's a different name and a different cover. The cover is lovely. It's made up of (long pause - starts reading) - Black Tie White Nose, Ziggy Stardrops and Eartherlings."

Me laughing: "Stardrops? That's a floor cleaner. You mean Stardust."

"Yes Stardust you know which one I meant. It's ten dinars. They're all ten dinars. Shall I get this one too?" she asks.

"Please yes Mum if you would." I ask still laughing.

"There's lots of the normal Bowie CDs here. But I've only seen these two that are completely different."

(Again how the hell she knows this I've no idea).

So we say our goodbyes and she reminds me to pick them up at the airport at 2:00am on Sunday morning.

Ain't it great when your Mum travels the four corners of the globe and searches high and low for obscure David Bowie items for your collection? :)

I remember the time she came back from Hong Kong a few years ago. She presented me with 'The Best Of David Bowie' CD with rather a kewl looking cover. The CD proclaiming Starnice Limited (SNCD-758) 1993. Ooooo!... Ooooo?... Excitedly I put the CD in the machine. First track 'Jump They Say'. Never heard this version before. 'Wow I'm thinking. What the f**k IS this?' Excitedly I wait for the second track: 'Sound And Vision'. Out from the speakers I hear quite possibly the worst ever cover version of Roxy Music's 'Love Is The Drug' I've ever had the misfortune to hear. Not only that, the guy is singing with a Chinese/Japanese accent.

The remaining twelve tracks are all Bowie songs... 'Let's Dance', 'China Girl', 'Dancing In The Street', 'Under Pressure', 'This Is Not America', 'Tonight', 'Blue Jean', 'Absolute Beginners', 'Modern Love', 'Cat People', 'Day In Day Out' and 'Underground' - all done by this Tokyo Joe or Hong Kong Phooey or whatever this twat is called.

I go back to the opening track to listen very very carefully. Shit yep it's Tokyo Joe but with probably the best ever Bowie cover song I've ever heard. He got me good style and has fooled several other major Bowie collectors since. What a complete twat.

Anyway I digress... over the next couple of days, I'm sat here excitedly asking the missus "How long before my mother gets back?... "What day is it?... "I wonder what these Bowie CDs are?"... and so on and so forth.

Eventually I get the opportunity of getting my arse up from this computer seat and going outside in the freezing cold to pick my Mum and Brian from the airport at two in the morning.

I greet them at the arrivals area with me looking like something the cat has dragged in. I wish them both Happy New Year, kiss me Mum, shake Brian's hand and drive them back to their home. She explains she'll be around at our house after the kids have got home from school later on, after they've had a chance to get some sleep.

As promised, they duly arrive at our house later on that day to tell us all about their holiday and distribute their presents in a way that ONLY my Mother does.

My Mother can only be described as totally "over generous". She really is. She ALWAYS goes over the top in the gift giving department. I am spoilt - the family is spoilt. Everyone says so. Everyone except my mother and I. Obviously I know why she does this but that's another story for another time.

The "gift giving distribution ceremony" is identical every single time. Whether it be Christmas, a birthday, an anniversary, she ALWAYS starts off with a small present, followed by "the surprise". And yes, each time we have to pretend that it isn't coming.

An excited Michael quickly gets thwarted with a selection of Tunisian T-shirts LOL - but is impressed with one featuring the alphabet in English along with the corresponding Arabic characters. Within thirty minutes he's written a short story in Arabic entitled: 'Shoremon and The Knickers Of Sincerity'. Where DID we get this child from?

Jade gets a camel with a scary bearded woman doll sat on it - I kid you not. The dolls passport is dangling from a piece of florescent green wool wrapped around the camel's neck which states: 'I am Tunisian, born in Sousse. My name is Fatma. My clothes are typical and I would like ta visit your country. Let me go with you.'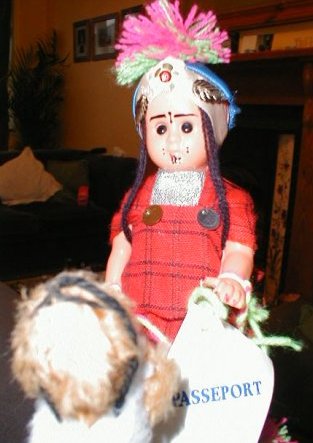 After looking at this strange bearded magical woman from North Africa - sat astride a disoriented camel - a slightly confused Jade places it nearby on the fireplace, maybe secretly hoping that the flames from the fire might just set this monstrosity of a toy ablaze.

Dawn and I get what's best described as a dish thing made from a piece of gold coloured metal featuring a cross-eyed, three legged camel hobbling across the Sahara Desert. Not only that - engraved "beautifully" on the inside are the words 'Paul Dawn'.

"Oh that's lovely" says Dawn inbetween gritted teeth.

"Who engraved that?" I ask. "Stevie Wonder?"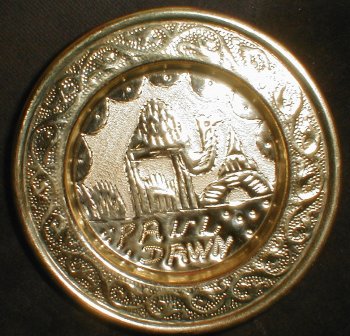 Jade's eyes widen as she gets her "real" present. She is presented with a big parcel. She rips it open to find inside a beautiful jewelled belly-dancers outfit. She's in heaven and rushes upstairs to try it on.

Next up Michael receives a HUGE big bag of postage stamps. Enough to buy at least three Blue Peter guide dogs. Yes he's a totally serious philatelist, that's a big stamp collector to you, and a fillatalist to me. He proceeds to go get his gi-normous stamp collecting book and is in a world of his own as he inspects the stamps and puts them in chronological country, year, size and some other order he has dreamt up.

Note: Michael in being a stamp collector is one of the ways how I manage to get away with buying so much Bowie stuff on eBay... "Yes dear, I realise the Bowie item cost £120 but look at that stamp from Mexico!" Works every time ;)

Dawn's relief is obvious and she receives a rather nice black leather shoulder bag handcrafted in Paris, albeit re-routed via Tunisia.

Now yours truly. Firstly I receive something I've been after for years! My good old mother has finally managed to locate in one of the back streets of (in her words) 'some bizarre bazaar' - a leather wallet - the type where all the plastic photo holders all fold out and neatly fit back into place.

'You can get them anywhere' I can hear you all saying. Not like this matey. This is THE specific type I wanted after seeing some movie star with one on the telly. I had given up trying to find one of these years ago. I thought I might have to go into the countryside and shoot a cow and make one myself, or get some local tannery to produce a one-off, designed especially for me.

By the way it smells divine. I've always had a thing for the smell of leather. Don't know why. Just do. Possibly could be because my mother made me wear a pair of German grey leather lederhosen when I was around 3 years of age. Some bitch of an auntie brought them back from Germany for me. There were photographs of some pissed off kid wearing these and pretending to be playing a piano accordion. Maybe I burnt them - oh I do hope so.

Anyway, Mum hands me over the two Bowie CDs :) Nice cover on one. They are both compilations. The first one 'David Bowie: Golden Collection 2000' states made in the UK (LOL). It obviously wasn't because both the 'D's of David are back to front. I'm surprised and made up that it is factory pressed - sorry but I refuse to collect CDRs. Well PAY for CDRs I should say.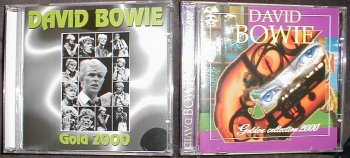 For you anoraks and collectors out there like me - here are all the details...



DAVID BOWIE Golden Collection 2000
Label: Lighthouse UK: CD EMD 1055 (MLN 07/022) 1999.

Tracklisting:


01. Space Oddity


02. Life On Mars?


03. The Jean Genie


04. Fame


05. Lady Stardust


06. Ziggy Stardust


07. Under Pressure


08. Let's Dance


09. Dancing In The Street


10. Day In Day Out


11. You've Been Around


12. Nite Flights


13. I Know It's Gonna Happen Some Day


14. Little Wonder


15. If I'm Dreaming My Life


16. The Dreamers


17. Thursday's Child (unreleased Rock Mix)

It's a nice picture CD of a 'purpled up' Ziggy. But what a strange choice of tracks.

Next CD is entitled 'David Bowie Gold 2000' - 'Shit I bet it the same thing' me thinks. I'm surprised that it isn't. Another factory pressed CD this time with the 'D's the correct way round - LOL - made in Europe this time. The cover is made up of tiny black and white photographs from the Serious Moonlight tour. The same picture was used on a Spanish postcard a while back.


DAVID BOWIE Gold 2000
Label: Hitsound Europe: CD 07-530077-10.

Tracklisting:


01. Survive


02. Fame 90


03. Under Pressure 2000 (with Queen)


04. Space Oddity


05. Jump They Say (Dance version)


06. Ziggy Stardust - (live)


07. Let's Dance


08. The Heart's Filthy Lesson


09. Dancing In The Street (with Mick Jagger)


10. Little Wonder


11. Absolute Beginners


12. Black Tie White Noise


13. Hello Spaceboy


14. Young Americans - (live)


15. Thursday's Child


16. Strangers When We Meet


17. I Feel Free


18. Seven


19. Blue Jean - (live)

Now we're all sat there. I'm well chuffed with my factory pressed Bowie bootleg CDs and my smelly wallet, Dawn's happy with her Parisian shoulder bag, Michael is happy as Larry in his own 'stamp world' and then eventually Jade appears at the lounge door. Her face still lit up, doing this kind of sexy little belly dance thing in her white, completely see-through outfit... with no knickers on.

Everyone goes 'awww' and then one by one they realise she ain't wearing no knickers.

Jade's first words were... "Mum. I'm wearing this for school tomorrow."

"But Jade you can't - it's completely see-through."

"Yes I know," says Jade grinning - "That's why I didn't bother putting any knickers on!"

Thanks Mum - you're the best :)
Tarrah,
Rednik.
17th January 2002.
CLICK HERE
TO CLOSE WINDOW