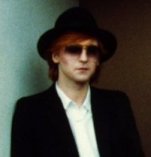 Rednik
SO YOU WANNA SMELL LIKE DAVID?

For those of you who enquired about the MINOTAURE perfume that DAVID BOWIE wears, sorry I meant 'aftershave', I've managed to locate another source online. The store also sells Guerlain too.
When asked David said that he really likes 'Minotaure' by Paloma Picasso. He says it's quite hard to find so he stocks up when he is in France. He also likes anything by Guerlain. Minotaure was introduced in 1992 and is recommended for daytime wear.
The blurb says: A slight spice combined with a hint of musk. This dashing cologne is powerful, yet subtle and sexy. Minotaure compliments the three piece suit as well as evening attire.
Minotaure Eau de Toilette Spray for Men
It does actually smell rather dashing, makes an idea present for your fella or woman for that matter.

I myself just last night dabbed a touch behind each ear and popped down to The Dog and Dart. Worked for me... I pulled three women in eleven minutes, got slapped twice, and met a nice bloke called Mary (don't ask!).

Tarrah,
Rednik.

9th September 2001.




CLICK HERE
TO CLOSE WINDOW