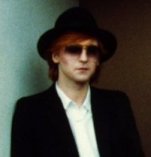 Rednik
I WAS QUICK ON THE BALL...
It's fairly common knowledge amongst the DAVID BOWIE fan fraternity that David was into American Football and American Baseball when he was just a 'limey kid'. 'Limey Kid Digs Yank Football' was one of the headings in several US and British newspapers back in 1962 after he had written to the US Embassy in Grosvenor Square asking for information. He was surprisingly invited down to the Embassy, fully kitted out and a staff photographer took some promotional photographs that were distributed amongst the press.
Also well documented was the fact that David once belonged to the 'Dulwich Bluejays' Baseball team during the school summer holidays of 1962. 'Beckenham Bluejays' might have a nicer ring to it but it was the wrong name.
Well forty-three years later and out of the woodwork comes this school photograph from 1957 of the Burnt Ash Junior School Football team. Can you pick out the 11 year-old David Jones?

Max Batten, a former classmate and football school team player recalled to me three months ago back in January: "I am sorry to admit that I cannot remember where David played. I was on the left wing but... The captain who I think was called Mike Payne and myself also had a trial for the Bromley Schools' team, which he eventually captained, but I went no further. I also remember playing one match with the stud nail coming through the boot (I discovered afterwards!) but otherwise it's all a big blank - it was over 40 years ago! There were, I suppose about 50-60 boys in that year so he must have been a reasonable player."

"I also have a picture of the same vintage showing the recorder group - David isn't in it so I don't know when he "became" musical."

"One thing I do recall though, since you like anecdotes, I believe that David and Chris Britten, back row 3rd from left, were responsible for putting up and removing the climbing ropes in the playground, until Chris fell and broke his wrist. I don't think they would allow that sort of thing today!"

Burnt Ash Juniors in Rangefield Road, Bromley was formerly known as Raglan Infants.

Max Batten has his own Bromley website detailing facts and information about his hometown. You can check it out at thebattens.me.uk.

Thanks to Max for supplying the photograph and his recollections.

Tarrah,
Rednik.

18th April 2001.




CLICK HERE
TO CLOSE WINDOW