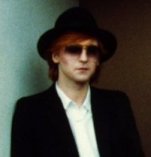 Rednik




2001 THE YEAR AHEAD




So what can we expect on the db scene in 2001? - Well there's the next album, recorded at Sear Sound in NYC, already in the can awaiting release and scheduled for March.

The tentatively titled 'Toy' is a 12 track album consisting mainly of remakes and remodels of some of David's earlier Sixties tracks along with totally unreleased demo's that never saw the light of day. Plus he has written some brand new songs in the style of that period. David also says he has some great 'extra's' for this album and it's singles.

Eight of the known tracks so far include: Uncle Floyd, Afraid, The London Boys, I Dig Everything, Can't Help Thinking About Me, Conversation Piece, Let Me Sleep Beside You, Silly Boy Blue, as well as Untitled and Gail's favourite 'Secret 1'. Karma Man had been mentioned along the way but dropped in favour of A.N. Other. David suggests that rather than a 'Pin Ups II', it's more of an 'Up Date I'... and he's even doing his own artwork for the album sleeve, which he describes as 'very odd'.

Commenting on the finished album David says "...it really has surpassed my expectations already. The songs are so alive and full of colour, they jump out of the speakers. It's really hard to believe that they were written so long ago." He describes the music as "dreamy, a little weird at times, it rocks, it's said, it's got passion, it... it... it's really good."

The musicians that appear on 'Toy' include Earl Slick, Mark Plati, Sterling Campbell, Gail Ann Dorsey, Mike Garson, Emm Gryner, Holly Palmer, Lisa Germano, Gerry Leonard and on trumpet Cuong Vu. Mark Plati suggested that they work with multi-instrumentalist Lisa. Recording at Mark's home studio, she played recorder, electric and acoustic violin, mandolin and accordion.

If the live versions of 'Dig', 'Can't Help Thinking' and 'London Boys' performed at Roseland and the BBC Theatre are anything to go by... this album is going to be something rather special.

In keeping with David's statement of only performing within a 20 mile radius of Iman and Alex, expect a few gigs in New York City, again probably at the Roseland, sometime in early Spring. He's also hinted at the possibility of a couple of shows in Philadelphia and Boston.

When asked about a European BowieNet Members only concert for 2001 David announced: "I can seriously say we're considering it." Fingers crossed then.

2001 will see the start of his next studio album to be recorded with Tony Visconti. They've already completed a couple of tracks with The Rustic Overtones. 'Sector Z' and 'Man Without A Mouth', with the latter pencilled in for the soundtrack of 'Attraction' the forthcoming movie directed by Russell DeGrazier scheduled for release in February. There's still no word about the release of David's version of 'Mother' the track originally done for John Lennon's birthday celebrations. Another cover version done by David is The Who's 'Pictures Of Lily' to be part of a Pete Townshend tribute album project.

Movie-wise David has already completed his cameo role for the next Ben Stiller fashion movie 'Zoolander'. David said: "It was just too funny a script to walk past. An absolute hoot!!". He went on to say: "There is a 'fight-club' style 'walk-off' between the two star models and I act as the ref."

Another comedy type role lined up that David has agreed to is 'All You Need Is Lunch'. Rattles = Rutles = Beatles you get the picture. Eric Idle had asked him to participate and be interviewed. David: "I obviously have said 'yes!' This should be an absolute laugh."

Also sometime this year, hopefully sooner rather than later, will see the release on DVD of Twin Peaks: Fire Walk With Me, with the previously unseen cut footage of David aka Phillip Jeffries.

So for 2001 there's lot to look forward to and David probably has other projects planned stuck up his sleeve... get ready for '2001: A Paced Commodity'.

Tarrah,
Rednik.

1st January 2001.