BOWIE TV and WHAT'S REALLY HAPPENING IN JUNE - MONTHLY PLANNER

[BOWIEWONDERWORLD SHOP] [LATEST DAVID BOWIE ITEMS ON eBAY]

[@bowiewonderworld.com email addresses HERE]







myspace.com/bowiewonderworld

Have YOU got some DAVID BOWIE related news or a hot scoop?
Well don't just sit there keeping it to yourself - send it in to
All news items are credited if you so wish

[BW POLL: YOUR FAVOURITE TRACK FROM PIN UPS? - VOTE HERE]

[LISTEN and DOWNLOAD BOWIE SONGS from Amazon]



---
MOON WINS EIFF AWARD
29th June 2009

Moon the new movie directed by DUNCAN JONES has won the 'Michael Powell Award' for the 'Best New British Feature Film' at the Edinburgh International Film Festival.

You can read about all the winners and awards over at the edfilmfest.org.uk website.

(Ed. Well done Duncan!)


---
NEW BOWIE BOOK NEXT YEAR
24th June 2009

Another DAVID BOWIE publication in the pipeline for 2010 is David Bowie
by author Paul Trynka.

The David Bowie
hardcover version containing 384 pages is all set to be published by Sphere on 3rd June 2010.

If the authors name rings a bell, Paul also wrote the rather excellent IGGY POP bio 'Open Up and Bleed' last year.

If you've never visited trynka.net go there now - fascinating information and photographs... and lots about David et al.


---
NEW BOWIE iPHONE APP
24th June 2009



MOSAIC LEGENDS create photomosaics of iconic figures and produce fine art prints as well as iPhone apps.

They have partnered with famous photographer MICK ROCK and used his DAVID BOWIE archive of images in collaboration with Mosaic Legends Artist Craig Adam to create a mosaic.

The iPhone app gives users the chance to immerse themselves in the life of Ziggy Stardust.

Hundreds of images along with stories of the era. You get to read what was actually happening at the time of the photo.

You can download the application here.

For more details and information check out the mosaiclegends.com website.

From Kendra @ mosaiclegends.com


---
BOWIE REED POP BOOK
23rd June 2009



Scheduled for publication by Backbeat Books in November this year is Your Pretty Face Is Going to Hell: The Dangerous Glitter of David Bowie, Iggy Pop, and Lou Reed by Dave Thompson.

Synopsis: First-ever look at the intertwining, outrageous lives of three rock legends.

When Lou Reed and Iggy Pop first met David Bowie in the fall of 1971, Bowie was just another English musician passing through New York City. Lou was still recovering from the collapse of the Velvet Underground, and Iggy had already been branded a loser... Yet within two years they completely changed the face of popular music with a decadent glamour and street-level vibe. With Bowie producing, Reed's Transformer album was a worldwide hit, spinning off the sleazy street anthem 'Walk On The Wild Side'. Iggy's Raw Power, mixed by Bowie, provided the mean-spirited, high-octane blueprint for Punk. Bowie boosted elements from both Iggy and Reed to create his gender-bending rock idol Ziggy Stardust.

Your Pretty Face Is Going to Hell is the story of this friendship and the incredible productivity and debauchery that emerged from it. Presented here for the very first time are their stories interwoven in a triple helix of sexuality, glam rock, and drugs - as seen through the eyes of the people who made it happen.

This 300-page softcover will be published by Backbeat Books and you can pre-order pre-order NOW
and receive a 15% discount.


---
KISS YOU IN THE RAIN
23rd June 2009

MAX LORENTZ has a new DAVID BOWIE covers album all ready for release.

The album is entitled 'Kiss You In The Rain - Max Lorentz sings David Bowie' and it's one song from each Bowie album 1967 - 1980 except of course, for Pinups and the live albums.

The tracklist is:
Station To Station (Part 1) / Five Years / All The Madmen / Be My Wife / Drive-In Saturday / Blackout / When I Live My Dream / Scream Like A Baby / Rock 'n' Roll With Me / Quicksand / Yassassin / Cygnet Committee / Can You Hear Me / Station To Station (Part 2).

You can have a listen to some of the songs over at myspace.com/maxlorentz.

From Max Lorentz.


---
YOU ASKED FOR THE LATEST PARTY
22nd June 2009

DAVID BOWIE tribute band DIAMOND DOGS hailing from Boston are performing at Steve's Backstage Pass, Taunton, MA on Saturday 27th June with two full hours od David Bowie's greatest hits.

Venue address: 15 School Street, Taunton, MA, USA.

Doors open at 7pm, show starts 9pm and cover is a mere $10.

Diamond Dogs are: Michael Richard (vocals and guitars), Lulu (keys and synthesizers), Joe Whalen (acoustic drums, electronic drums and percussion), John Allouise (bass guitar, vocals), Gina Lovewell (percussion, vocals and harmonica), Brian Hall (guitars from Mars), Mike Caglianone (alto, tenor and baritone saxophones).

For more details and information pop on over to myspace.com/diamonddogseastcoast


---
AND THE BITS FLEW FAR AND WIDE...
21st June 2009

• The Independent reporting from the Edinburgh International Film Festival give Duncan's Moon 4 out of 5 stars - [Read review]...

• Horses running in the Queen's Plate race in Canada include one named STARDUST ZIGGY. Anthony Coombes wanted to name his colt after a favourite record by DAVID BOWIE, but Ziggy Stardust was not available so he simply switched the words around...

• DUNCAN JONES is interviewed by the BBC about his new movie Moon. One question asked is: 'is it not inconceivable that father and son might work together one day' - [Read here]...

• One of DAVID BOWIE's videos appears on the latest SINGSTAR Sampler Pack entertainment music game for the PlayStation 3...

• DAVID BOWIE has given special permission for one of his songs (Moonage Daydream) to appear on MOONDUST The soundtrack to the best-selling book by ANDREW SMITH. The tracklist has been chosen by the author, who began his career as a music journalist at Melody Maker and spent three years as the Sunday Times' chief rock critic. The album is dreamily mixed by Richard Norris (Beyond The Wizard's Sleeve / The Time and Space Machine), Moondust is a different kind of trip for readers and non-readers alike. The release is to mark the 40th anniversary of the first lunar landing next month. The jewel-case CD including 24-page booklet with exclsuive sleeve notes by the author is release on 6th July through the Heavenly/Virgin label...


---
HUTCH HOME TOWN GIG
18th June 2009

JOHN HUTCHINSON former DAVID BOWIE collaborator and band member returns to his home town for a special gig this weekend at Cellars on Saturday 20th June in Scarborough, England.

Address: 35-37 Valley Road, Scarborough, North Yorkshire, YO11 2LX. Tel: 0871 917 0007. [Map]

Hutch, who will be accompanied by bassist John Precious, has a few new songs under his belt, including a tribute to Johnny Kidd and The Pirates and others telling stories of Amsterdam and the old days.

Hutch has a long and distinguished history as a guitar player, singer and songwriter, including his seven-years off and on with David Bowie's bands.

Check out a news piece from the Scarborough Evening News website.


---
AND THE BITS FLEW FAR AND WIDE...
15th June 2009

• The two-piece linen suit worn by DAVID BOWIE in The Hunger in 1982 is up for auction at Bonhams in Knightsbirdge, London. Sale 16808: Entertainment Memorabilia (takes place on 16th June). Estimate £1,000-£1,500 - [View here] - thanks to Vaun for the pointer...

• Sony have announced that LABYRINTH is scheduled for release on Blu-ray on 1st September in US. There's no word on any technical specs or extras as of yet. Suggested list price has been set at $34.99...

• Movie director DUNCAN JONES' new movie 'Moon' is showing now in New York and Los Angeles. Next weekend June 19th, it opens in San Francisco / Bay Area, San Diego, Chicago and Boston. Throughout June and July it opens in over 40 more cities. Search through the movie theatre listings here and go see it!...

• In the IGGY POP interview in the June issue of WORD Magazine, Iggy gets a question regarding when he last met DAVID BOWIE. Iggy replied that it's so long ago that he can't remember. He also reveals that he got a call from David when he curated the Meltdown Festival in 2002; Bowie wanted Iggy to do something, but not with his regular band, instead he wanted Iggy to bring a jazz band and "tell stories". He also thought it would be a good idea if Iggy did 'Isolation' since "it was a damn good song". However, due to a previous engagement Iggy was unable to attend Meltdown - [thanks to NateTate for the pointer]...

• Apparently DAVID BOWIE was all lined-up to appear at The Secret Policeman's Other Ball event back in 1981. Co-creator/producer Martin Lewis tells the story of how he apparently got David lined up for the event, only to have John Cleese balls it all up. Musicians that did perform at the 1981 show included Sting, Phil Collins, Eric Clapton, Jeff Beck, Donovan and Bob Geldof. The show was presented at the Theatre Royal Drury Lane in London on four consecutive nights on September 9th-12th, 1981 - [Read here]...

• Movie director TONY SCOTT is currently developing a sequel to his 1983 vampire movie The Hunger, which starred DAVID BOWIE, Catherine Deneuve and Susan Sarandon. Interestingly, it's neither remake, reboot or relaunch - as it stands, it's directly dependent on the original. Scott didn't mention whether or not any of the original cast would be involved in the sequel. He's keeping it under wraps at the moment. Check out the interview with ComingSoon.net - [Read here]...


---
A CAMP BOWIE COVER
10th June 2009

A CAMP have released their 'Covers' EP which features their version of DAVID BOWIE's 'Boys Keep Swinging', as well as 'Us and Them' (Pink Floyd) and 'I've Done It Again' (Grace Jones).

A Camp is the solo project of Swedish singer NINA PERSSON of The Cardigans.

They decided to cover the Bowie song because: "Who doesn't love Bowie? He's given us so much... and again we thought it would be rocking to hear this particular track come out of a girl's mouth. We think it lends the song a different angle. Plus at this point it's the loudest thing in our live set and is a massive energy release. It's a totally catchy song as well and it's like Bowie just said to hell with it and recorded things in the most train-wrecked non-commercial way he could come up with, almost guaranteeing its commercial failure back in '79. Fantastic... off of his Lodger record, which is packed with excellent songs.

More details can be found at acamp.net


---
AND THE BITS FLEW FAR AND WIDE...
9th June 2009

• CinemaBlend have an excellent online interview with move director DUNCAN JONES about his new movie Moon - again be careful - major movie spoilers in there - [Read here]...

• THE TEDS a band around Dutch singer-songwriter Theo van der Linden, have released a DAVID BOWIE tribute song entitled 'Angry Angels'. You can check it out here...

• At the CRAWDADDY! magazine website, they have posted an article holding up DAVID BOWIE and Kanye West alongside one another in terms of their relationship to contemporary musical trends - [Read here]...


---
CONGRATS TO DAVID AND IMAN... AND ZIGGY
6th June 2009

Today marks the 17th anniversary of DAVID and IMAN's wedding ceremony at Saint James Episcopal Church, in Florence, Italy.

The best man was David's son Duncan with chief usher Alan Edwards. Iman's maid of honour was her best friend Bethann Hardison.

Besides their immediate family, among the sixty-eight invited guests were Yoko Ono, Brian Eno, Bono, Eric Idle, Geoff MacCormack, George Underwood, Herve Leger and Thierry Mugler.

You can click here to read an article from Hello! magazine entitled 'The Wedding of David Bowie and Iman' in the BW archives.

Today also marks the 37th Anniversary release of the immortal 1972 album 'The Rise and Fall of Ziggy Stardust and The Spiders From Mars'.


---
...DRY CLEANING ONLY!
2nd June 2009

Over on the BW Message Board SISSY pointed everyone in the direction of some footage on YouTube of the KANSAI YAMAMOTO fashion exhibition from Tokyo/London from 1971.

One of the models is wearing the original ZIGGY STARDUST 'Woodland Creature' outfit whilst strutting her stuff on the catwalk.






Also note the original black and red platform boots that David had copied and made by shoemaker Stan Miller of Greenaway and Sons in Penge for a fraction of the price.


---
AND SO THE STORY GOES...
2nd June 2009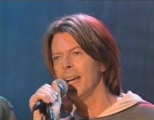 The two-disc CD and DVD set of DAVID BOWIE - VH1 STORYTELLERS is released next month on Monday 6th July.

Some of you may remember this fabulous recording took place at Sony Studios in New York on 23rd August 1999. You can read the original news story from 10 years ago here courtesy of two lucky people who were in attendance.

David Bowie - VH1 Storytellers
CD/DVD and Digital Version
Released: 6th July 2009 - EMI

VH1 Storytellers began in 1996 with intimate TV performances by Ray Davies and Elvis Costello. Over the next few years many singer/songwriters appeared on the show, performing in front of a live audience while telling stories of their music and memories. From Garth Brooks to Smashing Pumpkins, many of the most memorable episodes featured British rock acts, and David Bowie appeared on the show on August 23rd 1999.

Bill Flanagan, Executive Producer of the show explains, "We were used to dealing with legendary musicians. Still, landing David Bowie was more than a big booking. There's no way to say this without being corny: it was an honour. Bowie has a unique place in rock and roll. He is not only one of the most influential musicians of the era, he does nothing unless he is fully committed. He never phones it in."

The full tracklistings are as follows: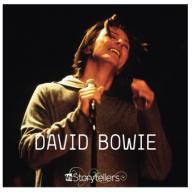 CD:
01. Life On Mars?
02. Rebel Rebel (truncated)
03. Thursday's Child
04. Can't Help Thinking About Me
05. China Girl
06. Seven
07. Drive-In Saturday
08. Word On A Wing

DVD:
01. Life On Mars?
02. Rebel Rebel (truncated)
03. Thursday's Child
04. Can't Help Thinking About Me
05. China Girl
06. Seven
07. Drive-In Saturday
08. Word On A Wing

DVD bonus performances:
09. Survive
10. I Can't Read
11. Always Crashing In The Same Car
12. If I'm Dreaming My Life

Digital audio version:
01. Life On Mars?
02. Rebel Rebel (truncated)
03. Thursday's Child
04. Can't Help Thinking About Me
05. China Girl
06. Seven
07. Drive-In Saturday
08. Word On A Wing

Digital audio bonus performances:
09. Survive
10. I Can't Read
11. Always Crashing In The Same Car
12. If I'm Dreaming My Life


He continues, "Bowie's STORYTELLERS was a unique theatrical event, a sort of off-Broadway 'Evening with the Artist' in which a great songwriter used bits and pieces from his life and career to show us all the roads leading up to a single moment, a complement to his current album but also a performance strong enough to stand on its own: a compelling introduction to David Bowie for the uninitiated and a fresh experience for the long time fan.

"It was a highlight of the series and a good lesson to those of us behind the camera who sometimes think the artist needs our help. When dealing with an artist of the stature of David Bowie, we can help best by getting out of his way."

You can pre-order David Bowie - VH1 Storytellers
2 disc CD and DVD NOW.


---
MOON SHOWING IN UK THIS MONTH
1st June 2009

The UK finally gets the opportunity to see 'Moon' the debut feature sci-fi movie by director DUNCAN JONES which is showing at the Edinburgh International Film Festival.

There are two showings at Cameo 1 on Saturday 20th and Tuesday 23rd June. Tickets available now, priced £8.50 / £7.50.

20th June - Cameo 1 at 21:00 (Saturday)
23rd June - Cameo 1 at 21:15 (Tuesday)
Venue: Cameo 1, 35 Home Street, Tollcross, Edinburgh EH3 9LZ, Scotland.

More details and information can be found at edfilmfest.org.uk website.

Moon goes on general release in the USA on 12th June and in the UK on 17th July.


Update: Duncan is to make a film about the sinking of submarine the USS Tang during World War II. Based on Alex Kershaw's non-fiction book 'Escape From The Deep', the film will track the survivors who, 180 feet below the surface of the Pacific, are forced to swim up to safety. Brilliant Films's Joe Abrams and Rory Gilmartin will develop and produce the project with Duncan.

ScreenDaily quoted Duncan stating: "Alex Kershaw's book is incredible, and a powerful story that will come alive on the big screen. I'm very much looking forward to creating a tense action movie that highlights an important part of history."

Duncan is expected to make futuristic thriller 'Mute' before moving on to 'Escape From The Deep'.

Check out an interview with Duncan over at moviehole.net - warning: be careful though it contains spoilers about the 'Moon' movie.


---

OLDER NEWS

May | April | March | February | January
2008 Bowie News Archives | 2007 Bowie News Archives | 2006 Bowie News Archives
2005 Bowie News Archives | 2004 Bowie News Archives | 2003 Bowie News Archives
2002 Bowie News Archives | 2001 Bowie News Archives | 2000 Bowie News Archives
1999 Bowie News Archives | 1998 Bowie News Archives | 1997 Bowie News Archives