BOWIE TV and WHAT'S REALLY HAPPENING IN FEBRUARY - MONTHLY PLANNER

[BOWIEWONDERWORLD SHOP] [LATEST DAVID BOWIE ITEMS ON eBAY]

Have YOU got some DAVID BOWIE related news or a hot scoop?
Well don't just sit there keeping it to yourself - send it in to
All news items are credited if you so wish


---
DAVID LIVE AND STAGE ON DVD-AUDIO
28th February 2005

The new releases of DAVID BOWIE's 'David Live' and 'Stage' on DVD-Audio are now set for a street date of April 2005.

PRESS RELEASE: EMI Music Releases First 'DTS Signature Series' Surround Titles; Seven New DVD-Audio Titles Available

DTS (Digital Theater Systems, Inc.) (Nasdaq:DTSI) and EMI Music have announced release dates for the first DVD-Audio (DVD-A) music titles in the 'DTS Signature Series' collection from EMI. Representing some of the top artists from EMI's catalog as well as current releases, the new "DTS Signature Series" DVD-As include titles from David Bowie, N.E.R.D, Cassandra Wilson, Simple Minds and The Thrills.

Bearing a new 'DTS Signature Series' logo, each DVD-Audio disc is created by the DTS Entertainment production team, and offers exclusive 5.1 surround sound re-mixes plus a variety of bonus features, including videos, artist biographies, photo galleries, lyrics and more. The series will be distributed globally by EMI.

The street date is: David Bowie 'David Live' and 'Stage' - April 2005.

&quotEMI Music and DTS together have been championing surround music, and the 'DTS Signature Series' represents our commitment to the continuing growth of the next generation of music,&quot said Jeff Skillen, vice president, Pro Audio and Technology Evangelism. &quotThese releases are great examples of how surround sound can enhance the listening experience, and we look forward to working on more titles from EMI.&quot

&quotEMI is very excited about working with DTS on the Signature Series. DVD-Audio offers fans the opportunity to listen to their favourite albums in uncompressed surround sound for the first time,&quot said Mark Dunn, vice president, Global Marketing, EMI Music. &quotWith DVD-Audio we can also offer fans additional content such as video footage, lyrics, photographs, etc on the same disc as the surround sound album. EMI continues to explore all new technologies and soundcarrier formats in order to enhance the musical experience.&quot

About EMI Music
EMI Music is the world's largest independent record company, operating in nearly 50 countries around the world. Its record labels include Angel, Astralwerks, Blue Note, Capitol, EMI, EMI Classics, Manhattan, Mute, Parlophone and Virgin.

About DTS Entertainment
DTS Entertainment is an entertainment label that licenses, produces, and markets an expansive series of DVD-Audio and 5.1 Music Discs to millions of DTS Digital Surround enthusiasts. Currently, there are more than 100 DTS Entertainment music titles available covering a wide variety of genres, including pop/rock mega-hits such as the Eagles' 'Hell Freezes Over' and Sting's 'Brand New Day.' For more information, please visit www.dtsEntertainment.com.

About DTS
DTS (Digital Theater Systems, Inc.) (Nasdaq:DTSI) is a digital technology company dedicated to delivering the ultimate entertainment experience. DTS decoders are in virtually every major brand of 5.1-channel surround processors, and there are 300 million DTS-licensed consumer electronics products available worldwide. A pioneer in multi-channel audio, DTS technology is in home theatre, car audio, PC and game console products, as well as 5.1 Music Discs, DVD-Video, DVD-Audio and DVD-ROM software. Additionally, DTS is featured on more than 24,000 motion picture screens worldwide. Founded in 1993, DTS is headquartered in Agoura Hills, California and has offices in the United Kingdom, Canada, Japan and China. For further information, please visit www.dtsonline.com.

You can pre-order both titles now: David Live [DVD Audio] and Stage [DVD Audio]


---
GLAMDAMMIT NEXT WEEKEND
23rd February 2005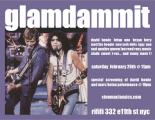 Glamdammit... Twig The Wonderkid and The Astronettes will put their arms around your head whilst spinning early-Seventies glam accompanied with video-projections.

Special screening of DAVID BOWIE and Marc Bolan television appearance @ 10pm!!

Date/Place: Saturday February 26th - Cinema Classics 332 East 11th St, New York City

Click on the flyer for details or visit the cinemaclassics.com website.

From Antonio.


---
WHERE ARE THEY NOW?
21st February 2005

I for one well remember former DAVID BOWIE lead guitarist STACY HEYDON who played with him on the 1976 World Tour. Well what's the Canadian born guitarist up to these days?

Stacy plays guitar for a band called TOAST, and his solos are as tasteful as ever. Heydon also produced Sheriff's album (which included the Biilboard #1 song 'When I'm With You') and Teenage Head's second release, 'Frantic City,' which went gold and spawned two hit singles.

Toast recently released their second recorded titled 'All In,' along with the single, 'Faded,' which is getting quite a few national radio spins all over the country.

OFFICIAL PRESS RELEASE:

Toast is proud to announce the release of the 2nd major CD of the Toast Band, titled 'All In'. Following in the footsteps of their first CD release, these new soulful sounds break new ground in the alternative rock blues genre. 'All In' features drummer Josh Houser (Jerry Cantrell) and was engineered by Stacy Heydon (Billboard #1 producer) and Matt Brown (Trespassers William). Stacy and Matt recently finished mixing the Great Wall of Hope concert.

Recorded at the Great Wall of China featuring Alicia Keys, Boyz II Men, and Cindy Lauper. Howard Rosen Productions will be handling the radio promotion for the new release.

The first single from the CD, 'Faded', was released on January 10th, 2005, to American Radio.

Toast is the brainchild of singer/songwriter Gordon Price and Billboard #1 producer (Sheriff) Stacy Heydon, former guitarist for David Bowie.

Released in 2003, Toast's first CD has been getting airplay on USA commercial and college radio stations from Hawaii to New York.

Toast recently released their albums in Australia in August 2004. The band immediately received rotation on over 36 radio stations as well as favorable interviews in a multitude of Australian street press.

Toast has collaborated with famed conductor Robert Winston, mixing alternative rock with classical music. Toast played with his orchestra in noted venues such as Carnegie Hall, United Nations, and the Virginia Beach Pavilion. Robert Winston has scored songs by such notables such as Metallica and Smashing Pumpkins. Future concerts and collaborations are in the works for 2005.

The reviews and interviews have been extremely positive and copies of reviews are available on request. We hope everyone will enjoy this new Toast CD.

You can check out several song samples at www.toastcd.com and www.cdbaby.com

From Chris Bade @ Mazur Public Relations, Inc.


---
DAVID MAKES TOP 10 IN UK BIGGEST SELLING
20th February 2005

Broadcast on UK television tonight was the CHANNEL 4 programme 'The Ultimate Pop Star' which revealed the definitive list of the 50 biggest selling artists of all time, based purely on actual sales in the UK Singles Chart from the last 50 years.

DAVID BOWIE was placed in tenth position with a total figure of nine million, three hundred and ninety two thousand, four hundred and ten singles sold in the United Kingdom.

During the Bowie segment, Marco Pirroni of Adam And The Ants fame said of David: &quotI think Bowie will probably go down in history as the second greatest rock star of all time after Elvis.&quot

Producer and musician Tony Visconti said: &quotI think David has shown other musicians that anything is possible. And that there are no barriers. Because he certainly doesn't have any barriers in his own music.&quot

The full top ten list ran as follows:

01 = 20,969,006 - Cliff Richard
02 = 20,799,632 - The Beatles
03 = 19,293,118 - Elvis Presley
04 = 14,562,856 - Madonna
05 = 13,475,063 - Elton John
06 = 11,310,958 - Michael Jackson
07 = 10,334,713 - Queen
08 = 10,004,039 - Abba
09 = 09,781,603 - Paul McCartney
10 = 09,392,410 - DAVID BOWIE


---
NEW IGGY DVD ON THE WAY
19th February 2005

Music Video Distributors and Target Video have announced the home viewing release of IGGY POP - Live San Fran 1981' for worldwide distribution on DVD.

This is the Godfather of punk, dressed in drag, in an exceptionally energetic performance for a crazed-crowd in San Francisco. Over the 30-plus years of Iggy Pop's career, one thing has always remained constant, his absolute devotion and dedication to the live show. From the chaos of the early Stooges shows to his recent work with the Trolls (as well as the reformed Stooges), no one can deny that Pop is the epitome of live rock action.

While this DVD may look rough and raw to 21st century eyes, it is also the best representation of Iggy live during an otherwise pitifully undocumented era of his career. Fronting a crack band featuring Blondie drummer Clem Burke and DAVID BOWIE guitarist CARLOS ALOMAR, Pop is as unpredictable and dominant as ever (no small feat since he is sporting a mini skirt, garters and stockings for most of the show). Filmed on November 25th, 1981 near the end of their tour supporting his 1981 album 'Party', Iggy and company are raw and ready for business. 'Live San Fran 1981' provides a snapshot of a hungry artist at the top of his game in front of an adoring crowd.

'Iggy Pop - Live San Fran 1981' track listing:

01. Some Weird Sin
02. Houston Is Hot Tonight
03. Eggs On Plate
04. Rock 'n' Roll Party
05. Bang Bang
06. Lust For Life
07. Pumpin' For Jill
08. I'm A Conservative
09. T.V. Eye
10. 1969
11. Dum Dum Boys
12. I Need More

Line-up: Iggy Pop - Vocals. Carlos Alomar - Guitar. Gary Valentine - Guitar. Rob Duprey - Guitar. Mike Page - Bass. Clem Burke - Drums.

'Iggy Pop - Live San Fran 1981' will be released on April 19th through Music Video Distributors.


---
MOBY'S SONG TRIBUTE TO BOWIE
18th February 2005



MOBY has announced details of a brand new album and single, due for release in 2005. The album, 'Hotel', Moby's fifth studio album, is out on 14th March outside of North America and 22nd March in North America and will be preceded by a single released at the end of February.

Recorded and mixed during 2004 at Moby's apartment, Electric Lady Studios and Loho Studios in Manhattan, 'Hotel' continues in Moby's tradition of beautifully eclectic records and runs the gamut from quiet instrumentals, to anthems, to downtempo sultry jams, to uplifting electro-disco, to ballads.

The new fourteen track album features Moby's vocals on ten tracks and two duets and contains two instrumentals. This is his first album without vocal samples. Moby has played every instrument on the album (except for the live drums, played by Scott Frassetto) and is joined by Laura Dawn on vocals.

Track seven entitled 'Spiders' is a tribute to the one and only DAVID BOWIE. The album to be released by Mute was produced by Moby and engineered and mixed by Moby and Brian Sperber.

Update: The first disc of Hotel is composed of melodic pop songs tinged with new-wave and post-punk references, and the second album, Hotel-Ambient, features 11 electronic chill-out cuts in the vein of 1993's Ambient and 1997's I Like to Score.

Moby says: &quotIt's kind of a bonus record inspired in some ways by David Bowie's Low,&quot. &quotWhen Low was on vinyl, the A-side was songs and the B-side was quiet, ambient music. I think there's a place in people's lives for both types of records. The ambient record I actually made a year ago, and I was just holding onto it wanting it to be the second disc regardless of how the main disc came out.&quot

You can pre-order Hotel now.


---
WIN A BOWIE PRESENTATION DISC FROM EMI
16th February 2005

Next Monday 21st February sees the release of two live recordings from key turning points in DAVID BOWIE's career: 1974's 'David Live' and 'Stage' from 1978.

Think you're a Bowie expert? Take part in the quiz and win yourself a Bowie presentation disc engraved with your name.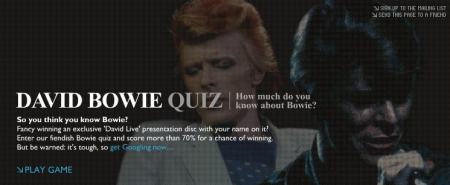 'David Live', recorded in Philadelphia sees Bowie in transition between the glam rock of Diamond Dogs and the soul of Young Americans.

'Stage', part of David's 1978 world tour, was a set largely comprised of 'Low' and "Heroes" material, but Bowie surprised fans by performing Ziggy Stardust tracks with re-arrangements reflecting his new futuristic synthesizer sound.

CLICK HERE TO ENTER THE QUIZ!

The David Bowie David Live/Stage competition takes place from 15.02.2005 until 31.03.2005. The closing date by which entries must be received is midnight on 31.03.2005.


---
BOWIE TRIBUTE ACT FOR TSUNAMI BENEFIT
14th February 2005

DAVID BOWIE UK tribute band CHANGES BOWIE are performing at The Mill Hall in Rayleigh, Essex on Friday 18th February as part of a Tsunami Benefit gig.

Other acts on the bill include: The Confetti Pearls, Phoenix Motorcade, Deep Fix, Opium Pillowcase and The Sam I Am.

The benefit gig kicks off at 7:15pm and tickets cost £5 and can be bought on the door, but to be sure of your ticket, please visit Fives Record Shop in Rayleigh High Street or Leigh Broadway, or contact Mark Gibson at via email or on 01268 770633. Tickets can also be purchased from The Mill.

Address: The Mill, (Arts and Events Centre), Bellingham Lane, Rayleigh, Essex.

Visit www.rockingfortsunami.co.uk and www.changesbowie.co.uk for more details and information.

Changes Bowie also are set to perform on Saturday 26th February at The Ship, Leigh on Sea, Essex, England.


---
AND THE BITS FLEW FAR AND WIDE
13th February 2005

Mosey on over to the SCOTLAND ON SUNDAY website and check out an online interview with Scottish artist JOHN BELLANY who talks about his friend DAVID BOWIE - who incidentally owns 15 Bellanys - [Read article here]...

Fashion designer JULIEN MacDONALD had his latest collection on show at London Fashion Week which was described as &quothigh octane glamour&quot and &quotpure luxury&quot. Models Naomi Campbell and Elizabeth Jagger were sent down the catwalk to a DAVID BOWIE sound track. The clothes had the designers trademark glitter as he showed shimmering metallic gold dresses and coats embellished with Swarovski crystal...

PHILIPPE AULIAC has just updated his website in DAVID BOWIE section (click on Bowie's face from the opening page and go to the late page) 6 news for some unpublished Reality tour pictures from the Lille show. Also click on 'Regie Video' on the left and the click on Bowie's face on a betacam lens, double click and play in RealPlayer the 2 minute exclusive film broadcast in the French television news from 1999 - Visit www.auliac.com...


---
TWO BOWIE TRIBUTE SHOWS THIS MONTH
7th February 2005

SPACE ODDITY - David Brighton's Tribute to DAVID BOWIE will be doing a couple of special shows this month. The band will be doing more requests than ever, from pre-Ziggy through Labyrinth and beyond.




Friday, February 11th
Martini Blues Supper Club
Showtime: 9:00pm
5874 Edinger Ave, Huntington Beach, CA, USA
Tel: (714) 840-2129. (Reservations recommended).
BowieNetters and Wonderworlders can email to get a $2.00 discount at:
and
$12.00 at the door. ($10.00 with discount).

Saturday, February 19th
Chumash Casino
Showtime: 8:00pm
3400 E. Highway 246, Santa Ynez, CA, USA 93460.
Tel: 1-877-CHUMASH

For more information and details visit www.DavidBowieTribute.com


---
THE TWO DAVID'S BACK IN THE ARCADE
5th February 2005

Last Wednesday night (2nd Feb), DAVID BOWIE was spotted in the balcony of the Irving Plaza in New York watching one of his current favourite bands ARCADE FIRE.

For their encore, DAVID BYRNE of Talking Heads joined the band on stage and performed 'This Must Be The Place (Naive Melody), as db#1 watched on.

Click here for a grainy photo of db#1 and here for movie footage of David Byrne encore.

Thanks to Mark S for the pointer.


---
(WE WERE) ZIGGY'S BAND OPENS IN SOUTHAMPTON
4th February 2005

Last night saw the opening of the new MARK WHEELLER play &quot(We Were) Ziggy's Band&quot at the Oaklands Community School in Southampton.

Update: Read playwright Mark's thoughts and comments on the opening night and other reviews.


Review: by Graham Cole.
Oaklands Community School, Southampton, Thursday February 3rd 2005.



So, a year on from the initial read-through and much changed since then, Mark Wheeller's new play &quot(We Were) Ziggy's Band&quot has played its opening night, performed and tecchied brilliantly by members of Oaklands Youth Theatre. This is a play that Bowie fans, and others too, should try to see, either here in Southampton over the next two nights, or elsewhere in the future (the group hopes to take it to the Edinburgh Fringe, where it would surely go down a storm).

Rock music fandom has grown into its own kind of cult over recent years, and the appearance of &quotHigh Fidelity&quot (written by the same author, Nick Hornby, of course, whose &quotFever Pitch&quot was one of the inspirations for Mark to create &quotZiggy's Band&quot), both in it's original text, and later in film form, has shown to us obsessives (and, let's be fair, to the not-so-mad as well) the reasons why being able to explain what label some obscure no-higher-than-34-on-the-charts single was on gives us such a quiet, but fulfilling thrill. Like the beautiful scene in &quotDiner&quot where Shrevie screams at his uncomprehending girlfriend (Ellen Barkin) that James Brown records do NOT belong in the jazz section of his carefully arranged record collection, so &quotZiggy's Band&quot captures a similar obsessive excitement, in this case of young Shakey Threwer's first brush with all things Ziggy.



Danny Sturrock, commanding in the role of the older Shakey, and resplendent in his glorious costume, leads us from stage to stage through the documentary that may have been Mark's younger (or other??) life. The closeness to fandom is all there. We find ourselves almost walking into Shapes record shop in Thornbury (I wonder if it's still there in these days of impersonal megastores??), and secretly agreeing with Shakey's observations on the minutiae of the label/title/actual sung lyrics of Peter Noone's &quotOh You Pretty Thing(s)&quot (on RAK, of course!). And there are plenty of other 70s references to keep you on your glam-rock toes, including direct and indirect notes to the late Mick Ronson (check out Billy Porter's MR hair-a-like!).

But if Danny, who is also responsible for some stunning choreography throughout the piece, shows great strength of presentation, and some fine singing (catch especially the closing live version of &quotZiggy&quot), it is Adam Sanders, as the younger incarnation of Shakey, who really welds things together throughout, with an assured performance that belies his sixteen years of age. His delivery and timing are sound, notably in the band dispute scene (musical differences? nah, just about who gets top billing!) and he is consistently the lead in all his appearances on stage.



Mark's own enthusiasm is evident all through the play, whether identified in the fact, or hinted at in the fiction of the storyline. Mum and Dad Threwer, a very effective pair, are portrayed as the embarrassing parents that we've probably all claimed to have had at some stage, because they learn Spanish together at evening class, he is always harping on about his own youth, and she, well, she simply can't dance to save her life. In any case, the (thematic) aliens (or are they luminous earwigs?) scare the pants off them both, though we can suspect that, at the final curtain, they too are Ziggy converts.

So do go see &quot(We Were) Ziggy's Band&quot. It's a fab piece whether you're into Bowie or not, but even more so if you are! It works as a tribute to the MainMan himself, of course, but shows just how a particular music, in this case that of Ziggy being just the start to Mark's lifetime following of the career of David B, can lead someone into the exciting, and vaguely clandestine world of music obsession. And in the end, we, the audience, perhaps getting a little obsessive ourselves by now, are left hanging over the edge of the fandom abyss, because we never do get to hear &quotMonkey's Revolt&quot. Whatever did happen to the rock operas the author wrote back in those halZiggyon days, I wonder?


Tickets are still available for &quotZiggy's Band&quot and are available from: Oaklands Community School Reception 02380 739797.

£4.00 (Advance sales) - £5:50 on the day of the production - 10% reduction for groups of 10 or more.

More information can be found at http://amdram.co.uk/wheellerplays


---
REALITY DUAL DISC RELEASE
1st February 2005

If you didn't manage to get hold of one of these the first or second time around, here's another chance...

After postponing a fall 2004 launch, Sony BMG is set to introduce its first DualDisc titles. Arriving next week on Tuesday February 8th among the scheduled DualDisc releases is DAVID BOWIE's 'Reality'.

The CD side of the disc contains the full album and the DVD side features the entire album in 5.1 Surround Sound and enhanced LPCM Stereo - The exclusive film Reality - Video performances: 'Never Get Old', 'The Loneliest Guy', 'Bring Me The Disco King' and 'New Killer Star'. - Photo Gallery - Lyrics - Biography - Discography - ROM content/web links.

DualDisc is a dual-sided CD/DVD hybrid, featuring standard two-channel 16-bit/44.1kHz audio on one side and such multimedia content as high-resolution, surround-sound audio mixes, videos and documentary footage, Web links, liner notes and photos on the other.

The major labels test-marketed the product last year in Boston and Seattle. Sony BMG's DualDiscs will carry an $18.98 suggested retail price. You can pre-order NOW.


---
PLAY ON "ZIGGY'S BAND"
1st February 2005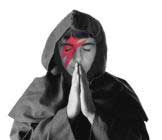 As mentioned two months ago, a brand new production "ZIGGY'S BAND" is all set to hit the Southampton stage this month.

"Ziggy's Band" is a new play set against the backdrop of DAVID BOWIE's early 70s music and charts the life of a Ziggy era David Bowie fan.

Written by playwright Mark Wheeller, this unique Youth Theatre production will appeal to teachers, parents, David Bowie fans and serve to introduce school students to such fantastic music!

"Ziggy's Band" will be premiered at the Oaklands Theatre in Southampton, England on Thursday 3rd February and will run until Saturday 5th February.

Mark is looking for around ten or so people who would like a free ticket to view the play in return for writing an independent review of the performance which will be published. If you are interested please email

More details and information can be found at Wheeller Plays


---
WELL I MIGHT STRETCH IT TO WEDNESDAY
1st February 2005



The DAVID BOWIE film 'Love You Till Tuesday' is finally released by Universal-Island on DVD (Region 0) next week on Monday 7th February.

Originally released in 1969, this is the first time 'Love You Till Tuesday' has been made available on DVD. Kenneth Pitt financed 'Love You Till Tuesday' as a television film, but it was never shown on a major network.

The performance includes the single versions of 'Love You Till Tuesday', 'Rubber Band' and 'When I Live My Dream', and importantly, it contains the previously unreleased original version of 'Space Oddity' (with Buzz cohort John Hutchinson joining in on vocals). Elsewhere, we find 'Ching-A-Ling', 'Sell Me A Coat' and 'When I'm Five'. Not merely a curio for the aficionado, 'Love You Till Tuesday' is a fascinating document that shows even with all the mime and period detail, Bowie's trademark creativity and poise shines through. An absolute must for fans!

Also featured as a bonus on the DVD is 'The Looking Glass Murders' containing the songs: When I Live My Dream / Columbine / The Mirror / Threepenny Pierrot / When I Live My Dream (Reprise).

The television piece was filmed in Scotland, Edinburgh at the Gateway Theatre and was broadcast on Scottish TV on July 8th 1970. The play stars David as 'Cloud', along with Annie Stainer, Jack Birkett and Michael Garett.

Hang on there's more... there's also an extensive photo gallery.

You can purchase Love You Till Tuesday DVD now and save 25% discount.


---
ROCK 'N' ROLL CIRCUS EXHIBITION
1st February 2005



French comic artist THIERRY GUITARD who's artwork features every month in DAVID BOWIE's long time supporter music magazine Rock & Folk - has a solo exhibition taking place this month at the Art's Factory in Paris, France.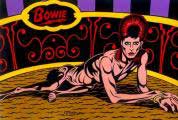 The show is titled 'Rock 'n' Roll Circus' and will show among others two beautiful portraits of David Bowie and Iggy Pop.

The opening is next week on Sunday 6th February from 15:00 to 20:00 and any BWW visitors are of course most welcomed. The show will be at the gallery until February 25th.

Address: Art's Factory - 48, rue d'orsel 75018 Paris, France. - Tel : +33 (0)1 53 28 13 50.
Opening hours: Tuesday till Friday 13:00 to 19:30. Saturday 11:00 to 19h30 - Sunday 14:00 to 19:00.

You can find a complete press release following this link (sorry French text only).

We hope to see you there! From Laurent.


---
THE WHOLE WORLD IS A STAGE
1st February 2005

Get ready for DAVID BOWIE's live 1978 album 'Stage' which gets released in both Audio CD and DVD Audio formats this month on Monday 21st February.

The two-disc audio release from EMI (Catalogue Number: 8634362) contains the following tracklisting:



DISC: 1
01. Warszawa
02. "Heroes"
03. What In The World
04. Be My Wife (previously unreleased)
05. Blackout
06. Sense Of Doubt
07. Speed Of Life
08. Breaking Glass
09. Beauty And The Beast
10. Fame
11. (Band intro)

DISC: 2:
01. Five Years
02. Soul Love
03. Star
04. Hang On To Yourself
05. Ziggy Stardust
06. Art Decade
07. Alabama Song
08. Station To Station
09. Stay (previously unreleased)
10. TVC-15

You can pre-order Stage [Audio CD] now.


The single disc DVD Audio release from EMI (Catalogue Number: 8634369) contains the following tracklisting:

01. Warszawa
02. "Heroes"
03. What In The World
04. Be My Wife (previously unreleased)
05. Blackout
06. Sense Of Doubt
07. Speed Of Life
08. Breaking Glass
09. Beauty And The Beast
10. Fame
(Band intro)
11. Five Years
12. Soul Love
13. Star
14. Hang On To Yourself
15. Ziggy Stardust
16. Art Decade
17. Alabama Song
18. Station To Station
19. Stay (previously unreleased)
20. TVC-15

You can now pre-order Stage [DVD Audio].


---
DAVID LIVE AGAIN
1st February 2005

As you all know by now DAVID BOWIE's live album from 1974 'David Live' gets released in both Audio CD and DVD Audio formats this month on Monday 21st February.

The two-disc audio release from EMI (Catalogue Number: 8743042) contains the following tracklisting:


DISC: 1
01. 1984
02. Rebel Rebel
03. Moonage Daydream
04. Sweet Thing / Candidate / Sweet Thing (reprise)
05. Changes
06. Suffragette City
07. Aladdin Sane
08. All The Young Dudes
09. Cracked Actor
10. Rock 'n' Roll With Me

DISC: 2
01. Watch That Man
02. Knock On Wood
03. Here Today, Gone Tomorrow
04. Space Oddity (previously unreleased)
05. Diamond Dogs
06. Panic In Detroit (first issue on CD)
07. Big Brother
08. Time
09. The Width Of A Circle
10. The Jean Genie
11. Rock 'n' Roll Suicide

You can now pre-order David Live [Audio CD].


The single disc DVD Audio release from EMI (Catalogue Number: 8743049) contains the following tracklisting:

01. 1984
02. Rebel Rebel
03. Moonage Daydream
04. Sweet Thing / Candidate / Sweet Thing (reprise)
05. Changes
06. Suffragette City
07. Aladdin Sane
08. All The Young Dudes
09. Cracked Actor
10. Rock 'n' Roll With Me
11. Watch That Man
12. Knock On Wood
13. Here Today, Gone Tomorrow
14. Space Oddity (previously unreleased)
15. Diamond Dogs
16. Panic In Detroit (first issue on CD)
17. Big Brother
18. Time
19. The Width Of A Circle
20. The Jean Genie
21. Rock 'n' Roll Suicide

You can now pre-order David Live [DVD Audio].


---

OLDER NEWS


January

2004 Bowie News Archives | 2003 Bowie News Archives
2002 Bowie News Archives | 2001 Bowie News Archives
2000 Bowie News Archives | 1999 Bowie News Archives
1998 Bowie News Archives