MAY 2000 - DAVID BOWIE NEWS

WHAT'S REALLY HAPPENING IN MAY - MONTHLY PLANNER


---

Dr. GIGGLES AND IT'S A MAN'S WORLD ENQUIRY
31st May 2000


For the guy from LA who sent in the email enquiring about the 'Dr. Giggles' soundtrack which includes a TIN MACHINE track and also the 'E-Male' version of 'Let's Dance' on Blast Records here's the information:

Tracklisting for the soundtrack to the 1992 flick Dr. Giggles:

..1. Paul Rodgers - 'Bad Case of Loving You'.
..2. Tin Machine - 'Stateside'.
..3. House Of Lords - 'O Father'.
..4. Copperhead - 'Busted'.
..5. Ten Inch Men - 'Back To Blue'.
..6. Dingo - 'No One Believe Me'.
..7. Apostles - 'I Could Be Anything'.
..8. Tonto Tonto - 'Real Today'.
..9. Girls Bones Found - 'Little Bit Of Pain'.
10. Kristen Vigard - 'Party's Over'.
Tracklisting for 'It's A Man's World: 12 Pumpin' Gay Anthems' (Blast Records UK 1996).
..1. Rochelle - 'I Love You Always Forever'.
..2. Hannah Jones - 'No One Can Love You More Than Me'.
..3. Destiny Love - 'Call Me Tonight'.
..4. Sarah Washington - 'I Will Always Love You'.
..5. Lipstick - 'No More I Love You's'.
..6. Obsession - 'Anytime' (Bangin' mix).
..7. Abbacadabra - 'Gimme Gimme Gimme'.
..8. Monica Dionne - 'Twice the Man'.
..9. Sally Ann Marsh - 'Windmills Of Your Mind'.
10. 4-2 The Floor - 'Watching You Watching Me' (Illusive mix).
11. Jackie O - 'Wonderwall'.
12. E-Male - 'Let's Dance'.
(Ed. Thanks to Mr. Blam Blam who is probably the ONLY person in the whole of the UK to actually own an acetate copy of 'It's A Man's World: 12 Pumpin' Gay Anthems').

---
2 DB TICKETS GOING AT COST FOR NYC ON 16TH
29th May 2000


NOW SOLD - If anyone is still searching for DAVID BOWIE New York City tickets for Friday 16th, one of my UK friends in Boston has TWO spare tickets for sale at the price he paid which was $110.

Email DB Tickets if you are genuinely interested... be quick! No timewasters please. NOW SOLD.
---
100% GENUINE BOOK TITLES WRITTEN BY DAVID JONES'
29th May 2000


So you thought you had every book concerning DAVID R. JONES either written by David or concerning David? Well you can totally impress your friends with this superb collection. Just make sure you keep schtum and the cabinet door locked.

The following list contains some of the 100% genuine titles written by various David Jones' around the world. Isn't it coincidential how certain titles and subjects crop up?

Thanks to Brenda for sending these in. (Ed. Brenda. Take it from me... you've got too much spare time on your hands ;) ).

Here's just a sample of some the titles:
Diseases of Banana, Platain, Abaca and Enset
Freak or Unique?
Yes You Can Stop Smoking: Even If You Don't Want To
The World's Best Sexual Fantasy Letters Vol I
The World's Best Sexual Fantasy Letters Vol II
X Marks the Spot
Resource Atlas: Germany
Revise A-Level Geography
Gnawing Medusa's Flesh
Robin Hood's Sherwood Shenanigans
Kensington Mass
Media Hits The Pits
Letters to William Hayward
Racism as a Factor in the 1989 Gubernatorial Election of Doug Wilder
Financial Vulnerability in Farming
Fret Cut Relief Work
Skeletal Muscle in Health and Disease
The Further Inventions of Daedalus
Ducks
Stone And The Maiden
Scroll Saw Wood Reliefs: The Art & Craft of Painted Intarsia Work
The Anathemata
Building a Web-based Education System
One World, Many Cultures
Power of Climbing
The Roman Quarry
Supply Teaching
Teacher's Directions
Toy With The Idea
Tut'ankhamun's Tomb Vol 9: Model Boats.
If you feel so inclined you can see the full list here or search them at amazon.co.uk.

David Jones book list courtesy of Brenda.

---
KING CRIMSON ENCORE WITH "HEROES"
28th May 2000


KING CRIMSON (Robert Fripp, Adrian Belew, Gunn og Mastelotto) launched their new tour in Copenhagen last night - amongst the encores was DAVID BOWIE'S "Heroes". It was a great gig, by the way!

From Thomas.

---
BBC GLASTONBURY WEB CAM ONLINE
27th May 2000


Thinking of going to Glastonbury this year? Why not check out the BBC Glasto cam, where you can watch the festival coming together right now! You can even see the Pyramid Stage being built where DAVID BOWIE is set to play via the BBC Glasto Cam.

---
BARGAIN SHOPPING FOR BOWIE IN THE UK
27th May 2000


I was walking down the High Street... when I....

OK for all you DAVID BOWIE bargain hunters - check these goodies out.

Find your nearest Music Zone Trade Direct outlet, they have a huge sale going on at present. Here are some of the db items I noticed:

Three of the new EMI 24 bit digital remasters: 'Tin Machine', 'Tonight' and 'Let's Dance' at an amazing £5.99 each! Absolute Beginners on video tape at £2.99, big savings on a few of the DB DVD titles and the Strange Fascination hardback book at £5.99.

I noticed that HMV Records are doing the new Ziggy Stardust EMI 24 bit digital remaster release for £13.99 or buy it with 'hours...' and get them both for £20.

Thanks to Bargain Babs for tracking these down... (Ed. What would we do without our mums?)

---
DAVID, ELTON AND STING AID BRITISH MUSIC FESTIVAL
27th May 2000


A live music marathon with more than 7,000 concerts and 250 street festivals began in Britain Thursday.

Sir Elton John, crooner Tony Bennett, Spice Girl Emma Bunton and violinist Nigel Kennedy will join the five-day Music Live event aimed at getting more people involved in making music.

Backed by the BBC, the festival kicked off Thursday with a ''Young Music Makers' Day'' of performances by children at schools and colleges across the country.

An "Instrument Amnesty'' appeals for people to donate unwanted musical instruments. DAVID BOWIE has donated a saxophone, Sting a guitar and Elton John some keyboards to encourage children to take up music.

Out of the 10 million or so young children around the country, only about 5 to 10 percent of those are actually playing music at the moment or learning an instrument,'' Christine Koker of the National Foundation for Youth Music told the BBC.

Friday is "On the Move'' day, when passengers will be able to listen to live music as they pass through stations and airports or travel on trains, buses and trams.

The festival culminates on the evening of May 29 when the public is encouraged to join in with a nationwide karaoke performance of Lou Reed's song Perfect Day. The BBC will broadcast their efforts from across the country.

(Ed. David's saxophone donated to the appeal was shown on childrens TV programme 'Blue Peter' yesterday).

---
BOWIE FANS GRAB CASH FOR QUESTIONS
25th May 2000


Reminder... On sale in the UK in next day or so is the July issue of Q magazine, which this month features DAVID BOWIE in their 'Cash For Questions' section. From the sackfuls of mail received, Q chose the sharpest and funniest questions to be put to db. Besides getting your name in print, each person receives £25 for their editorial input. Can't be bad.

(Ed. Don't quote me on this... but I "think" David had a total of 100 questions to answer).

Check out the Q web site.

---
WONDERWORLD NYC TICKET ALLOCATION
24th May 2000


Unfortunately, I can't do the deal that BowieNet offered with the 50 New York DAVID BOWIE tickets allocated for my web site.

In my present position, I'm afraid can't take up the opportunity of purchasing the 50 tickets upfront or afterwards. Sadly I have had to decline Bnet's generous offer.
---
CRASH COURSE FOR THE RAVERS...
23rd May 2000


Walter J. Magnuson and Antonio Farruggio present at 'Cinema Classics' post-concert reception for June 16, 17, and 19th from Midnight - 2.00 a.m. The cafe will be open exclusively to concert-attendees while the screening-room will feature rarely-seen DAVID BOWIE television appearances.

Cinema Classics
332 E 11th Street, New York City

For directions e-mail: cinemaclassics@excite.com

Check out Cinema Classics new web site - and look for David featured throughout the new schedule!

From Antonio Farruggio and Walter J. Magnuson III.

---
BOWIE STYLE: NEW BOOK PUBLISHED NEXT MONTH
22nd May 2000



Bowie Style
Mark Paytress and Steve Pafford
160 pages, fully illustrated in colour, paperback.
ISBN 0-7119-7722-4, £19.99 or less, June 2000

"He is an avatar of cultural plunder and a complete one-off.
He is David Bowie and he's a particularly precious kind of butterfly." - Mark Paytress.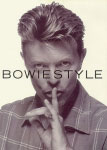 A compelling celebration of one of rock music's most colourful and eclectic personalities, this visually astounding volume documents the impact of David Bowie on twentieth-century fashion and culture. This unbeatable guide reveals the artistic influences and facets of one of the twentieth century's most enduring pop icons whose many guises - mod, space-creature and soul-boy - have earned an international following.

The range of photographs is staggering, capturing how Bowie has always chimed successfully with contemporary trends. This volume presents a panorama of those unforgettable and highly individual moments in fashion history when David altered the sound, meaning and the look of rock 'n' roll. Stepping into the Bowie world is a unique and fascinating experience as Bowie Style demonstrates - sample Ziggy Stardust, the space cadet with an impudent dash of A Clockwork Orange; experience the sophisticated and imaginative Ashes To Ashes; discover how Bowie, the cultural all-rounder, continues to dominate all media and be a millennium style-setter.

The richly illustrated and incisive text charts Bowie's explosive evolution, from Seventies glam-rocker to Nineties style-setter. Mark Paytress' discussion of the Bowie style is quirky, informed and extremely entertaining, with chapters covering revealing new aspects. Painter Man, for instance, explores Bowie's use of contemporary art trends while You Will Be Queen illustrates the many women whom Bowie has partnered during his thirty year career.

The desire for old-style stars - glamorous, larger-than-life and endowed with mystery - has dominated the history of pop. David Bowie's contribution to rock-glamour is unquestionable; Bowie Style is the ultimate account of his incredible personality and his legendary fashion sense.

You can pre-order the book online here.

From Omnibus Press.

---
50 DB TICKETS ALLOCATED FOR WONDERWORLD VISITORS
21st May 2000


If you were one of the unlucky ones who didn't manage to secure your DAVID BOWIE tickets for The Roseland Ballroom New York City gigs on the 16th or 17th June - watch this space in the next day or so.

Wonderworld has been allocated, with the generous help of BowieNet, 50 tickets for these two shows exclusive for Wonderworld visitors.

Details of the extra tickets available for sale will be online here as soon as possible.

---
CRASH COURSE FOR THE RAVERS...
20th May 2000


Walter J. Magnuson and Antonio Farruggio present at 'Cinema Classics' post-concert reception for June 16, 17, and 19th from Midnight - 2.00 a.m. The cafe will be open exclusively to concert-attendees while the screening-room will feature rarely-seen DAVID BOWIE television appearances.

Cinema Classics
332 E 11th Street, New York City

For directions e-mail: cinemaclassics@excite.com

From Antonio Farruggio and Walter J. Magnuson III.

---
BOWIE ROSELAND PUBLIC TICKETS SOLD OUT
20th May 2000


All the tickets available to the public for the 16th June are now SOLD OUT, in just under twenty minutes... immediately the tickets for the second show on 17th June went on sale, those too then completely sold out.

BowieNet members will have the chance to still obtain some tickets for the shows via BowieNet, whether this is done in the format of competitions or purchasing we'll have to wait and see.

(Ed. Please feel free to post up on the Message Board if you need tickets etc - if I receive emails from people with spares, swops etc I'll post them up there too).

---
DAVID BOWIE NEW YORK TICKETS ON SALE TODAY!!!
19th May 2000


DAVID BOWIE tickets go on sale TODAY Friday 19th May at 2.00 p.m. GMT (6.00 a.m. PT, 9.00 a.m. ET) for the June 16th Roseland Ballroom show. Tickets will be available via telephone (Ticketmaster NY Charge-By-Phone), via the internet at TicketMaster.com and at the Roseland Ballroom Box Office and at all New York Ticketmaster locations.

Telephone: Roseland Ballroom Box Office on (212) 777-6800

Telephone: Ticketmaster New York (212) 307-7171
(Click here [Charge By Phone] for other New York Ticketmaster phone numbers)

There is a strict limit of 6 tickets per customer.

Tip: For domestic US customers ONLY... It will help if you pre sign up via Express Ordering. This will help speed up your purchases. Click on "My Account" button, and sign up for an account. Fill in your details in the form provided.

TicketMaster Bowie Concert Page (online sales).
TicketMaster.com Online

(Ed. Go and bookmark your pages now or get your dialling fingers ready. Good luck to one and all).

---
MONDAYS CONFIRMED FOR SUNDAY AT GLASTO 2000
18th May 2000


The latest big act official confirmed to appear at the GLASTONBURY 2000 festival line-up are THE HAPPY MONDAYS. The Mondays will be third on the bill, below Embrace and DAVID BOWIE on the Pyramid Stage on Sunday, 25th June.

Mondays lead singer Shaun Ryder, a well know admirer of David's work, was once asked in an interview about his favourite performers, he gave David the ultimate tribute with his comment... "Bowie's Bowie isn't he."

Pyramid Stage: Headliners... Friday Chemical Brothers, Saturday Travis and Sunday DAVID BOWIE. Also confirmed to play the Pyramid stage are Embrace, The Happy Mondays, The Wailers and Ladysmith Black Mambazo.

Other Stage: Confirmed acts include amongst others, Moby, Nine Inch Nails, Leftfield and Basement Jaxx. Dance Tent: Confirmed acts on Friday include Manchild, Junkie XL, Dave Clark. Saturday sees Bentley Rhythm Ace and Rhinocerose, while on Sunday confirms include Kelis, Gilles Peterson and Mint Royale. Jazzworld Stage: Confirmed are Groove Armada, Morcheeba, Reprazent and Horace Andy. The New Bands stage headliners will be Flaming Lips.

New facilities and improvements for this years event include extra camping space, extra security, better drainage and a new bus station. Tickets for the 23rd-25th June festival at Worthy Farm, Pilton are available for purchase now priced at £89.
---
BOWIENET CONFIRM 16th JUNE NYC GIG
17th May 2000


New Show Announcement!! - You've heard about the Members-Only show at Roseland on the 19th of June, but we would now like to announce another gig, but this time, the show is open to the world!

Friday, June 16th, Roseland Ballroom, NYC! Tickets ($40 each) go on sale this Friday, May 19th at the Roseland box office, and at all Ticketmaster locations, online, in-person, and charge-by-phone.

From BowieNet

Please note: The Roseland Ballroom web site has revised its ticket onsale time to 9.00 a.m ET. and NOT 12 as previously reported.

---
BECK 'SEVEN' REMIX LATEST...
17th May 2000


BECK is working on a remix of DAVID BOWIE'S new single, 'Seven', nme.com can confirm. (Ed. Wow they were quick ;)) The results are expected to form one of the bonus tracks on the the single, which is scheduled for release on June 26th through Virgin.

Spokespersons for both Beck and Bowie told nme.com that the track was being worked on at present, and was "subject to approval" from both parties. However, the remix is expected to feature on the single across the globe.

From nme.com

---
NEW YORK CITY GIG TICKETS ON SALE THIS FRIDAY
16th May 2000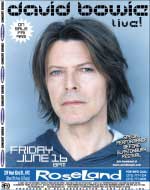 David Bowie New York Show news for Non-BowieNetters!

According to the web site for the venue - Roseland Ballroom in New York City...

Concert Information: DAVID BOWIE JUNE 16

Tickets on sale Friday May 19 at 9.00 a.m. EST, priced $40.

THE BOX OFFICE AT ROSELAND IS ONLY OPEN THE EVENING OF A SHOW! FOR TICKETS OR CONCERT INFORMATION CALL THE IRVING PLAZA BOX OFFICE on 212-777-6800 or TICKETMASTER 212-307-7171

Delsener/Slater is the exclusive promoter for Roseland, detailed concert information can be found at www.livetonight.com.

ALL CONCERTS ARE GENERAL ADMISSION-STANDING ROOM ONLY

Don't quote me, but rumour has it tickets might go onsale for the 17th when the 16th sells out!

Info from Bonster.

---
'YOU'RE TO OLD TO LOSE IT, TOO YOUNG TO CHOOSE IT...'
15th May 2000


Tiny Dynamite presents

FROM IBIZA TO THE NORFOLK BROADS

Written and directed by Adrian Berry

The Camden People's Theatre (Warren Street tube)
58-60 Hampstead Road, London NW1
Aug 28th to Sept 16th at 8pm (not Sunday or Monday).

Tickets £8/£6 concessions - Box Office: 0207 916 5878

'You're too old to lose it, too young to chose it...'

Sixteen year old Martin is in a hospital (of sorts) for assorted problems, and shares a room with two girls. His father is a huge David Bowie fan, so much so that he risks his family, health, money and eventually, his life. Unable to cope, Martin takes on the obsession in order to deal with the loss.

He has a disfunctional relationship with his sister (Angie) and his alcoholic mother. His only solace is his imagined communication with Bowie and a world where the hospital becomes his fantasy, with Martin as David. There's a plethora of music to keep the most ardent of fans happy, and a brilliant performance by Alex Clarke as Martin. Songs include Starman, Rock 'n Roll Suicide, Lady Grinning Soul and Little Wonder, amongst others.

The comedian ROB NEWMAN is also providing an uncanny Bowie voice-over! 'From Ibiza' is a funny, deeply moving and truly rock 'n' roll experience!

Booking now! Three week run only.

---
BBC AMERICA TO BROADCAST JOOLS HOLLAND SHOW
15th May 2000


US residents finally get the opportunity to see DAVID BOWIE'S appearance on the top UK music show LATER WITH JOOLS HOLLAND. BBC America are to show three programmes next month on June 1st, 2nd and 3rd at 11.00pm-12.00am ET. Miss this performance at your peril...

Also next month sees the Bravo Profile: David Bowie on the 21st at 11.00 a.m. ET.

Coming up this month (27th May) is the Saturday Night Live on Comedy Central, with David Bowie and Neve Campbell from 1996-1997 at 6pm-7pm ET.

Check out the Monthly Planners for the next two months: May | June

---
HAPPY BIRTHDAY WISHES TO BRIAN!
15th May 2000


Very Happy Birthday wishes to BRIAN ENO - 52 years young of age today. Have a wonderful day.

Best wishes from Wonderworld

Brian Eno - EnoWeb

---
BOWIENET MEMBERS CLAIM YOUR TICKETS...
14th May 2000


Tickets are on sale now for DAVID BOWIE'S June 19th concert at New York's Roseland Ballroom, but don't bother calling Ticketmaster. The concert will be a private affair for BowieNet members, who can purchase their ducats at www.davidbowie.com. The exclusive offer, which allows members to sign up for a shot at free tickets and a meet-and-greet with Bowie before the show, ties in with the launch of BowieNet V2. Earlier this month, Bowie revealed in a BowieNet chat that there would also be non-exclusive concerts at the Roseland on June 16 and 17, but further information on those shows is not yet available. "The Roseland shows will be something special I think, as they will feature songs that I haven't sung in years and a couple that I've never done live," said Bowie, adding that he won't be touring much for the rest of the year due to "the imminent arrival of a new family member"...

From RollingStone.com.

Similar news items at:
DotMusic.com | SonicNet.com | SpinOnline | Q Online
---
WHO WILL LOVE ALADDIN LES... MILLIONS WEEP A FOUNTAIN
13th May 2000


It's a fairly well known fact in certain circles, i.e. the BowieNet chatroom, that DAVID BOWIE is an avid watcher of top UK TV soap EastEnders. He once stated not so long ago "I LOVE Eastenders. Next best to Chekov." He very nearly got into a handbag fight with Boy George during a special guest BowieNet chat, when George claimed the show was the most miserable programme on TV. Even Iman proclaimed: "That's our favourite show. We watch it religiously. David a little more religiously than me. But we've not yet had the honour to be invited."

When David was asked in the chatroom if he would ever consider doing a one-off episode, he responded with the tongue in cheek reply "I have just written a spin-off... where I star as the bartender, Sakamoto. This spin-off is called... Far-EastEnders. Please watch out for it."

EastEnders' only rival is Coronation Street, the "Up North" based soap opera who between themselves desperately try to outdo each other in the ratings war. Word surely must have reached the script writers at Coronation Street that a certain rock god wanted to get in on the act and appear on the rival show.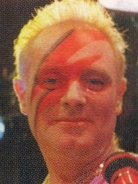 Clutching at sad remains, the Corrie Street writers presumably tried to get there first by forcing lovable rogue LES BATTERSBY find his alter ego.

Millions of viewers, along with his wife Janice, must have wept a fountain when Les set up his 70s glam mobile roadshow dressed up as ALADDIN SANE.

The sight of Les prancing and dancing while making a complete fool of himself just to make some beer money on the side was more than his wife could take. Janis remarked: "Les was gyrating like nothing I have ever seen before. He was strutting around like a demented chicken with piles. He was nothing whatsoever like that Alvin Stardust guy. Although I did think the red microphone looked real classy."

In a strange coincidental twist of fate, his eldest daughter, Leanne turned into a cocaine addict and Toyah dumped Spider.

Members of the cast were left devastated including Kevin Webster, the motor sensational mechanic who said: "It was hell. After seeing Les in his outfit I very nearly left the series. If it weren't for our Sally and the kids I'd be in Paris by now."

Gail Platt confessed that she accidentally saw Les' right nipple peep out over his bare off the shoulder satin top... "I nearly threw my guts up. No joking. I was retching for half an hour at least. Martin was lovely, he held the bucket for me."

The only cast member with anything positive to say about the whole sorry episode was Bet Gilroy. She revealed: "I sneaked back into Coronation Street for one show. I found a gorgeous pair of earrings on the bar. I automatically presumed they were a welcome back gift off my colleagues. I've just realised they must have belonged to Les. Sod it, they look better on me anyway."

A spokesman for EastEnders said: "Cor blimey! David Bowie! There is no truth whatsoever in the rumour that he plans to play a warm up gig in the Queen Vic before Glastonbury 2000. You could try asking them up North."

Granada TV responded by saying: "David Bowie playing a secret gig at The Rovers Return? Erm I wouldn't hold your breath on that one. Hmm... maybe Les might do it. In fact you've just given me a bloody good idea there, cheers mate! By the way, Mr. Bowie WAS joking wasn't he... about that script he's written... the EastEnders spin off?... Please say it was all a joke... please.").

(Ed. I've waited months for a photo of Aladdin Battersby... in typical soap opera mode that was the story to go with it.)

---
DAVID, MICK AND PETE BUY ERIC'S GUITAR FOR TONY
12th May 2000


PETE TOWNSEND has generously set up an auction of guitars and pop memorabilia which will help pay for Oxfam's emergency work in Mozambique and Ethiopia.

In Mozambique people are starting to rebuild their lives following the devastation caused by floods earlier this year. Oxfam's help includes providing clean water and repairing sanitation systems to avoid the spread of disease, giving people seeds and tools to enable them to replant their crops, and getting children back into school by equipping and reopening schools. Just £23.00 could buy 100 sweet potato plants to cultivate.

In Ethiopia where drought and food shortages threaten millions of lives a terrible disaster is looming but there is still time to prevent it. Oxfam is helping by providing clean drinking water and setting up feeding centres in the worst hit areas. Each £25 raised can provide enough clean drinking water for 1,500 people.

"This is an incredibly generous gesture by Pete Townshend and we hope the public will be equally generous in bidding to raise as much money as possible to help the people in desperate need in Mozambique and Ethiopia" Simon Collings, Head of Appeals, Oxfam.

Eric Clapton's 1957 Fender Stratocaster has been withdrawn from the auction. It has been purchased for an unspecified, but astronomical, price by a syndicate of buyers. DAVID BOWIE, Mick Jagger and Pete Townshend have bought the guitar and given it to TONY BLAIR the British Prime Minister. The Prime Minister is said to be over the moon about his latest acquisition.

Check out the items in the online auction here. If you don't want to bid for any items but would still like to give a donation to this cause please click here www.oxfam.org.uk.

---
EMM SET TO PLAY FRANK PLANK'S DISCO THIS WEEKEND
11th May 2000


EMM GRYNER has announced another 'Living Room Show', this time in San Francisco, California this coming Sunday 14th May at 3.00 pm..

She has also confirmed that she is one of the band members for DAVID BOWIE'S Glastonbury 2000 Festival appearance on June 25th.

Visit the Emm Gryner web site.

---
BOWIENET ANNOUNCES SPECIAL MEMBERS ONLY SHOW
10th May 2000


On Monday, June 19th, DAVID BOWIE will perform a special concert for BowieNet MEMBERS ONLY in New York City at The Roseland Ballroom, 239 W. 52d St., New York.

No tickets will be sold to the general public for this show. This will be the final US performance before David headlines the day 3 of the 2000 Glastonbury Festival this summer. David's first performance at the Glastonbury Festival was in 1970, almost 30 years ago to the day.

David will be performing songs recorded throughout his entire career! In addition to the special set list, those in attendance can expect a free gift, drawings, door prizes, and more.

PLEASE NOTE: This offer IS ONLY AVAILABLE FOR ORIGINAL V1 MEMBERS (eligible to members who signed up prior to May 8th). So, If you try to sign up for a second account today, and try to get a second pair of tickets, the database won't let you.

So, how do YOU get to go?

HOW TO GET TICKETS: 2 WAYS

1. Purchase Tickets: As an original member of BowieNet v.1 we are making a special offer available just for you!

While tickets last, current BowieNet Members who respond to this offer can buy 2 individual tickets (one pair) for this special David Bowie performance. Ticket Price is $40.00 per ticket (plus a $4.50 service charge per ticket). Tickets are limited.

2. Extend your Current Membership: Those existing members of BowieNet who extend their current membership for an additional 36 months will get a pair of tickets FREE!

36 months of Premium BowieNet $214.20.
36 months of ISP Service / BowieNet $538.20.
To extend your membership and sign up for this limited offer, click here. Tickets are limited.

Whether you purchase tickets or extend your current membership you and your guest will be eligible to win a special meet and greet with David Bowie before the show.

And the answer to the question is YES, you can take us up on both offers if you feel compelled to have 4 tickets to this show.

Information from BowieNet.

---
HOLLY PALMER'S GROCERY GIGS GET WEBCAST
9th May 2000


Hey folks, great news, HOLLY PALMER'S shows at Arlene's Grocery in NYC tonight and next week (16th) will both be webcast live at http://www.digitalclubnetwork.com

NY-area peeps are encouraged to come out in person though!

May 9, 9:00pm - New York, NY
LIVE WEBCAST at digitalclubnetwork.com at 9pm!

From Steve webmaster@hollypalmersinger.com

---
BowieNet V2 UP AND RUNNING
9th May 2000


The new all singing and dancing version of BowieNet V2 is now up and running. There are some exciting and great new features including new 'points' system accumulator, new message boards, Beatnik enhanced pages, web based email for all members, 10 meg of free web space, your personal profile, your own account section, etc, etc, plus lots more.

Check it out now at davidbowie.com

BowieNet reports today that the forthcoming NYC gig information will posted at the end of the day.

---
RICKY MARTIN REVEALS HIS BURNING AMBITION
7th May 2000


Salsa singer RICKY MARTIN has revealed his burning ambition is to stage another Live Aid concert. Ricky has worked very closely with children suffering from Aids for many years now. Speaking exclusively to Jon Barnsley at The News Of The World he reveals:

"It is very rewarding for me to put a smile on the face of a little child who is dying. It has taught me a lot of things.

"I would like to do something major like Live Aid, where no one complains about performing first or last. "People say I am crazy to even think of doing something that big, but a lot of people in the business have the same concerns as me.

"My schedule is tight until the end of next year, but I started working on the idea a couple of months ago. So far I have only shared it with a few people.

"I want to produce the show myself. I want to create it and get stars like DAVID BOWIE, Elton John and Sting involved. We have to help these children."

From News of the World.

---
NYC BOWIE GIGS: OFFICIAL CONFIRMATION
7th May 2000


Expect the official confirmation and details of DAVID BOWIE'S three New York City gigs to be announced by BowieNet this Monday 8th May.

(Ed. Note it's not necessarily ticket details - just official confirmation of gigs).

---
STRANGE FASCINATION SOFTBACK REVISED AND UPDATED
5th May 2000


Strange Fascination
DAVID BOWIE: The Definitive Story
by David Buckley
Publication Date: 8th June 2000
Priced: £10.99 or less
Paperback - 608 pages
Virgin Publishing; ISBN: 075350457X

Over 11,000 copies sold in hardback

David Bowie is about to enter his fifth decade of making music. Thirty years on from his first hit single, Space Oddity, he remains the most influential rock star from the post-Woodstock generation. His is a story of amazing creativity, of huge, showboating theatricality, and of an almost pathological quest to remain relevant and at pop's cutting edge.

Strange Fascination chronicles Bowie's career in exhaustive and spectacular detail. Unlike previous Bowie books, Strange Fascination focuses on Bowie's extensive musical output. Interviews with collaborators such as long-time guitarist Carlos Alomar and producer Tony Visconti reveal the processes behind some of the most celebrated pop of the last fifty years. By examining Bowie's ability for re-inventing both his music and his image, author David Buckley emerges with the most detailed and accurate assessment of Bowie's incredible survival.

With exclusive photographic material, an unrivalled degree of access to the main players, and a genuine enchantment with Bowie, Strange Fascination is the most complete picture of this rock idol that has ever been written.

'As a critique-cum-re-establishment of the David Bowie character, 'definitive' is pretty much it.' The Guardian.

Strange Fascination is the last word on David Bowie; a unique and peerless biography. Not since Ian MacDonald's Beatles study, Revolution In The Head, has a rock superstar been placed under such unflinching and intensive scrutiny. It has been fully updated to include the latest details from the Bowie camp, including the shock departure of long-time collaborator Reeves Gabrels and Bowie's headline appearance at Net Aid.

About the author

In 1993 David Buckley was awarded a doctorate from the Institute of Popular Music at Liverpool University (his birth town) for his thesis on David Bowie. He is the author of The Complete Guide to the Music of David Bowie, which was repackaged at Bowie's request as part of the media pack accompanying the star's 1997 album Earthling. He lives in Munich with his family.

You can pre-order Strange Fascination here

---
TO THE SEAT WITH THE CLEAREST VIEW...
4th May 2000


Here's a sneak preview for the forthcoming theatre production FROM IBIZA TO THE NORFOLK BROADS which opens on 28th August - 16th September at the Camden People's Theatre in London.

The play centres on a young guy called Martin who is in a hospital (of sorts) for assorted problems, and shares a room with two other girls. It becomes apparent that some time ago he had lost his father through suicide, and his father was a huge Bowie fan, so much so that he risked his family, health, money and eventually life for David. Unable to deal with the loss, his son Martin takes on the Bowie obsession in order to deal with the loss. He determinedly tries to seek approval from all those around him and incredibly fanatical - his hospital bed is a shrine to David.

He has a disfunctional relationship with his sister (Angie) and his alcoholic and selfish mother. He has one friend, but all others mock him. His only solace is his imagined communication with Bowie and a fantasy world where the hospital becomes a fantasy land in which he is Bowie and the room transforms into a Bowie gig, with Martin as David. This is where the play really comes into its own, with dream-like scenes using 'Little Wonder', 'Starman', 'Lady Grinning Soul' and finally (obviously) 'Rock 'N' Roll Suicide'.

The comedian Rob Newman is also providing an uncanny Bowie voice-over! 'From Ibiza' is funny, deeply moving and a true rock 'n' roll experience!

Thanks to Adrian Berry for this taster.

---
DAVID CONTRIBUTES TO 'TAKE HOME A NUDE' AUCTION
4th May 2000


DAVID BOWIE has again been asked to contribute a piece of artwork towards the 'Take Home A Nude' auction for the New York Academy Of Art. David has completed three simple pieces of work based around 'pregnancy'. The auction takes place on 8th June in New York, USA.
---
HOW MANY DAVID JONES' DO YOU KNOW?
4th May 2000


DAVID JONES and Margaret Smith are the most popular names in the UK, a report has revealed. According to the Office for National Statistics' survey the most common male name is David Jones, shared by 15,763 people.

The most common female name, Margaret Smith, is shared by 7,640, with Margaret Jones, Susan Smith and Susan Jones hard on its heels. Other famous names in the top 100 are singers Paul Jones, James Brown, Robbie Williams, James Taylor and top of the list David Jones - before he changed it to David Bowie, that is.

From Office for National Statistics.

---
DAVID BOWIE COLLECTIBLES FOR SALE - URGENT
4th May 2000


I'm selling some of my Bowie 'collectable' cd's. All are in mint condition. Please view my web page for cover scans and information.

This little 'fund raiser' is to help get me to the NY shows in June. Needs must and all that! The CD's are all in MINT condition and are being sold at the original cost (or less!) They will be mailed to you in protective packaging and delivered by your choice of Recorded Delivery/next day. Special Delivery to addresses in the UK.

From GWTMH.

(Ed. You can place your "Bowie" advertisements on the BowieWonderworld Trading Post completely FREE of charge).

---
ZIGGY GOES TO AMERICA... CARNEGIE HALL 72 REVISITED
3rd May 2000


This month's feature article on the Ziggy Stardust Companion is all about DAVID BOWIE'S famous Carnegie Hall concert on 28th September 1972. This was the one which broke him into the American market for the first time. You can read about it and also period reviews of the same at www.5years.com/carnegie.htm

From Mike Harvey @ The Ziggy Stardust Companion.

---
FROM IBIZA TO THE NORFOLK BROADS... TO CAMDEN
2nd May 2000


From August 28th to September 16th, 2000 the Camden People's Theatre in London, (Warren Street tube) will be hosting 'FROM IBIZA TO THE NORFOLK BROADS', a brand new DAVID BOWIE-themed play featuring the man's music, about a Bowie-obsessed adolescent.

If you are interested in receiving details in the future about this production please e-mail ade.berry@virginnet.co.uk - details/pictures will be available from mid-June.

From Adrian Berry.

---
CONFIRMATION OF NEW YORK CITY DATES!
1st May 2000


As reported here a few weeks back and now confirmed by DAVID BOWIE himself last night in the BowieNet chatroom... the three New York City gigs are to be held on 16, 17th, 19th June.

Therefore expect the 19th June to be the "Special BowieNet Members" gig, with all three performances at the Roseland Ballroom. I would advise on waiting for official confirmation via BowieNet before finalising your flights and accommodation. The official announcement should hopefully be made some time this week.

Information from David Bowie ;)

---
THE MANISH BOYS: A TEN PAGE SPECIAL FEATURE
1st May 2000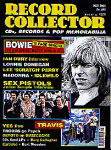 This months edition (No. 249) of RECORD COLLECTOR features an eye opening ten page special covering THE MANISH BOYS. Written by Mark Paytress, Record Collector were granted exclusive access to the personal archive of BOB SOLLY ex original band member of R 'n' B group The Manish Boys, which DAVID BOWIE joined up with in 1964.
The original Manish Boys were previously known as Band Seven, they consisted of: John Watson (original vocalist, guitar), Johnny Flux (lead guitar), Bob Solly (organ), Paul Rodriguez (bass guitar, tenor saxophone, trumpet), Woolf Byrne (baritone saxophone, harmonica) and Mick White (drums). During August 1964, Davie Jones joined the band on vocals and saxophone.
Besides some excellent previously unseen photographs, memorabilia and press cuttings, there are pages from Bob's diary listing various Manish Boys appearances during May through to December 1964. Before David joined the band, Bob also informs us that the band passed an audition for ITV's talent show 'Opportunity Knocks' on 14th June, with legendary compere Hughie Green. Alas the band turned down the opportunity of appearing on the show on the grounds of being 'uncool'.
Amazingly, Bob also brings to light, a previously unknown David Bowie self penned song entitled "So Near To Loving You", which was one of a handful of songs that David worked on with Bob Solly and Paul Rodriguez.
Another exclusive is the fact that David also wrote a series of jingles for Johnny Flux to feature on his 'Johnny Flux Show' and Radio City shows. Tantalisingly, these jingles are apparently still in Johnny's possession.
During November 1964, The Manish Boys secured a deal with the Arthur Howes Booking Agency, and the following month they were booked to appear on a package tour with Gerry And The Pacemakers, The Kinks, Marianne Faithfull and Bobby Shafto. The band's set list included 'Last Night' a instrumental opener, 'I Ain't Got You' (The Yardbirds), 'Duke Of Earl' (Gene Chandler), 'Mary Ann' (Ray Charles), 'Watermelon Man', 'Louie Louie' (The Kingsmen), 'Stupidity' (Solomon Burke), 'Little Egypt' (The Coasters), a James Brown medley and David's own self penned 'Take My Tip'.
Two other set lists from 1965 are also featured. One lists the following songs:
'Last Night', 'I Ain't Got You', 'Duke Of Earl', 'Love Is Strange', 'Mary Ann', 'Watermelon Man', 'Louie Louie', 'Hoochie Coochie Man', 'Take My Tip', 'I Pity The Fool', 'Don't Try To Stop Me', 'Little Egypt', 'Night Train', 'If You Don't Come Back', and 'Big Boss Man'.
The second set list contains:
'Brown' (James Brown medley), 'Louie Louie', 'Block', 'Watermelon Man', 'Stupidity', Hoochie Coochie Man', 'Take Me Tip', 'Can't Nobody Love', 'Nite-Train', 'I Pity The Fool', 'If You Don't Come Back', 'Hallo Stranger', 'Liza Jane', 'Can't Sit Down', 'Believe To Myself' and 'What'd I Say'.
On 6th October at 7.00 p.m., the band were invited to record for Decca Records at Regent Sound Studios in Denmark Street, they did three covers: 'Hello Stranger' (Barbara Lewis), and two of David's suggestions 'Duke Of Earl' and 'Love Is Strange' (Mickey and Sylvia). This wasn't the first Manish Boy studio session... they recorded 'Stupidity', 'She Said Yeah' and 'The Hoochie Coochie Coo' for Joe Meek shortly before David joined them.
---
Q UP WITH 'CASH FOR QUESTIONS' WITH DAVID BOWIE
1st May 2000


'Cash For Questions' the monthly feature in Q magazine finally gets around to DAVID BOWIE in their July edition. (On sale next month).

Here's the deal. Only the sharpest, funniest, questions will be put to the Dame. £25 for each one printed - so include your name and address. Label all correspondence 'Cash For Questions: David Bowie'. Mail to:
Q Magazine, Mappin House, Winsley Street, London W1N 7AR.

Fax: (44 171) 0171 312 8247.

Email: q@ecm.emap.com
Q web site.

---
HOLLY PALMER'S NYC GIGS THIS MONTH
1st May 2000


Singer HOLLY PALMER who sang backup vocals on DAVID BOWIE'S mini 'hours...' promo tour, as well as appearing on the album, has concert dates lined up in New York City this month.

Here's the concert schedule for May:
May 2nd - Arlene's Grocery, New York City, NY.
(95 Stanton St. between Ludlow and Orchard).
May 9th - Arlene's Grocery, New York City, NY.
May 16th - Arlene's Grocery, New York City, NY.
Enjoy the shows. More information as it becomes available.
From webmaster Jason at Holly Palmer's web site

---
OLDER NEWS
April | March | February | January

1999 Bowie News Archives | 1998 Bowie News Archives






| | |
| --- | --- |
| Created: May 2000 © Paul Kinder | Last Updated: 31/5/00 |