BOWIE TV and WHAT'S REALLY HAPPENING IN DECEMBER - MONTHLY PLANNER

[BOWIEWONDERWORLD SHOP] [LATEST DAVID BOWIE ITEMS ON eBAY]

[Get your @bowiewonderworld.com email address HERE]







Have YOU got some DAVID BOWIE related news or a hot scoop?
Well don't just sit there keeping it to yourself - send it in to
All news items are credited if you so wish

[BW POLL: FAVOURITE INSTRUMENTAL TRACK? - VOTE HERE]


---
NOT JUST A PRETTY THING
31st December 2006

Today's OBSERVER newspaper in the UK features an interesting DAVID BOWIE article entitled 'Not just a pretty thing... Bowie at 60' by Lynsey Hanley. The article also contains several comments from various celebs and collaborators.

Millions spent their formative years idolising David Bowie. As he starts his seventh decade, we salute Britain's most dazzling pop star.

When I was four, I was convinced that David Bowie was from outer space. He was number one with his single 'Ashes To Ashes', the video for which featured his haunted, feline form in a number of settings: crouching in a padded room, hanging mid-air in a dungeony purgatory, sitting helpless and miniaturised in a Formica kitchen. I watched that clip on Top of the Pops and couldn't believe he was real. Since then, that's been pretty much my definition of a great pop star.

It took me years to register Bowie as someone fully human: so strange were his looks, mannerisms, songs and general way of being that even now I find myself wondering about him. For this man, who spent years of his life single-nosedly supporting the Bolivian economy and subsisting on small pieces of cheese, to reach 60 - which he does in eight days' time - makes you wonder whether some people really are immortal, or simply not of this world.

Bowie was the first star to make idolisation - the idea that his fans would place him on such a high pedestal that he could never again be 'one of us' - part of his act. It began in 1972 with Ziggy Stardust, a character whose rise, fall and rapid obsolescence was built by Bowie into the very songs his alter-ego sang. He had witnessed the hysterical fandom inspired by Elvis and the Beatles and saw that a single inspired creation could make people believe that he was like no one else on earth. Which is more than can be said for Ronan Keating.

Ziggy, channelled through Bowie, was the ultimate pop star: he was polymorphously perverse, had a messiah (or, more precisely, a Nietzschean superman) complex, and was convinced the world was about to implode. A more combustible mixture of teenage preoccupations is hard to imagine. He represented all the parallel universes you could step into just by listening to a record and turning your hair an unnatural shade of orange. Which I did, though not until I was 18.

The 14 years that had lapsed between my early sighting of him and my adolescent obsession were spent loving acts that were indebted to the flame-haired apparition: Duran Duran, Japan, the Pet Shop Boys, and later Suede, the Britpop-inventing band who started out brilliantly, but alas - unlike Bowie - got worse, not better, the more drugs they took. (Another reason to wonder whether he was made of actual human flesh.) What these bands shared with their hero was a love for making pop as elevated and dramatic as any opera, and the knowledge that style meant nothing without content.

The sheer speed with which he passed through his later incarnations - a pirate from space in 1974, a bequiffed soul boy in '75, a creepy Thin White Duke the following year, an adoptive Berliner the year after that - and musical styles suggest a man of superhuman imagination. One year he was an acoustic-strumming hippy, the next he would corral the Spiders From Mars as his band and create some of the most explosive rock'n'roll of the 1970s. I often wonder what it must have been like to have been a Bowie fan at the time that he was releasing an album every year and, seemingly, changing the course of music with every record. He was, in his own words, 'a fly in milk', absorbing influences and throwing them back out, which is why he made a soul album, the wonderful Young Americans, within months of moving to the US in 1975 and used the bleak sights of divided Berlin to create his introverted masterpiece Low. All the while looking and sounding not quite human, he managed to write hits that weren't only memorable but had mass pop appeal: 'Life On Mars?', 'The Jean Genie', 'Fame', "Heroes" and 'Ashes To Ashes' - the strangest number one ever released.

He seemed to be able to change his very being just by changing his clothes and hairstyle, which suggests to anyone that they can do the same thing to the same effect. I can't say I developed immortal powers by having my hair styled in the same way as his character Thomas Jerome Newton in his one good film, The Man Who Fell To Earth, but it gave the experience of selling doughnuts in a Birmingham branch of Greggs in the early 1990s a subversive frisson. The customers would peer at the bright-red strands poking out of my hygienic hair-cap and wonder what sort of weirdy was serving them a steak bake. I felt as though I'd been touched by the hand of Bowie, which gave every second of my life a special significance.

Since the 1990s Bowie has been less of a trendsetter and more of a mentor and icon to the many who took his cue and decided to invent and reinvent themselves: not so much out of the loop as existing in a loop he created all of his own. It was Suede who sent me headlong into an obsession with their forebear that - at the risk of sounding like a prime candidate for psychological help - has made a large segment of my adult life feel like one endless, excitable daydream. My parting gift to my parents as I left home for London was a colourful mural of Bowie's various phases along one side of my bedroom wall. It's still there: every time I visit, a little more poster paint has cracked off the lightning flash across Aladdin Sane's face, which I trace with my finger for good luck. What makes this Pooterish story slightly more credible is that, unbeknown to me, the man who was to become my husband was painting exactly the same thing on his bedroom wall 200 miles away. How many pop stars are there, truly, who have inspired such feats of devotion?

We weren't so unusual. A litany of Bowie fans, their lives and careers transformed by his music, turn up on Mark Radcliffe's Radio 2 documentary, which airs next Saturday at 8pm, two days before Bowie's 60th. Its title, Inspirational Bowie, sums up everything about a man who, in his own words, was long troubled by 'a repulsive need to be something more than human'. Bowie's youthful belief that he felt 'puny as a human' ended up persuading not only himself but millions of others that they could be touched by a bit of space-dust and make anything seem possible.

You're not going to become a better person by listening to someone who, raddled by cocaine and sent to the edge of madness by his fans ('We're just the space cadets, and he's the commander,' said one wide-eyed LA girl in Cracked Actor, Alan Yentob's 1974 film about Bowie), started talking up Hitler as 'the first great rock star'. Neither would it be a good idea always to take Nietzsche literally. But what Bowie did, and continues to do, is to exert a hold over people who are open to the idea that you can go far beyond what is expected of you in life. It's not an exaggeration to say that I owe the life I have now to him and to the artists he inspired. It's a lot to ask of our pop stars, but in my experience it's what they've proved to be best at. Inspiring others to try and fulfil their potential isn't superhuman: it's mere, mortal humanity at its best.


Famous fans on Bowie

He exerted a strange influence on us 13-year-old boys. We started wearing make-up and telling everyone we were gay, while all the time being obsessed with lasses. - Irvine Welsh.

My first crush was on Bowie in the movie Labyrinth. When I eventually met him, I couldn't tell him he was my first love because I couldn't speak. - Scarlett Johansson.

Bowie's management said he only flew in a blue helicopter - blue on the inside - and we managed to find one. I said, 'Look at the inside of this helicopter!' He looked at me as if I were mad. He didn't give a shit what colour the helicopter was. - Noel Edmonds on travelling with Bowie to Live Aid, 1985.

He's a funny, dry, erudite bloke. I imagine him in a nuclear bunker in New York surrounded by TV screens like in The Man Who Fell To Earth. Most of all he is sweet. - Ricky Gervais, after Bowie appeared in Extras this year.

Before he met me he was into Zen Buddhism. He would explain it to anyone willing to listen. That's David! He's still wide-eyed, still thinks things are awesome, and he is a knowledge junkie, which is amazing for a 55-year-old man. - Tony Visconti (in 2002).

Then Bowie came along. David bloody Bowie. I remember sitting with the sleeve of Ziggy Stardust, staring as I sucked in the music, perched on the end of my bed as a kid. If [meeting Bowie] is going to be topped, someone's going to have to exhume John Lennon. - Franz Ferdinand's Alex Kapranos on meeting his hero in 2004.

There's no actor who'll ever come close to influencing me as much as Bowie. - Clive Owen.

[In the 1970s] he had movie-star glamour, that unbuyable, untouchable sheen which fame, style and a certain self-consciousness bestow on few people ... Bowie was a man constantly bursting with ideas. - Hanif Kureishi.

· Research by Emily Sokes

Check out observer.guardian.co.uk website.


---
RICK RECALLS EARLY SESSIONS
30th December 2006

The rather fab CLASSIC ROCK magazine features Yes Keyboardist RICK WAKEMAN recalling his early session work with DAVID BOWIE.

RW:I was very fortunate to have worked as a session musician during four of the most productive years of music, 1968-1972. In that time I worked with some of the all time greats such as Alice Cooper, Lou Reed, T. Rex, Elton John, John Williams and Cat Stevens to name but a few.

Of all the people I worked with, though, one person stands out a mile: David Bowie. David was the consummate professional in every respect. I can honestly say that I learned so much from him, both in the studio and just through spending time with him. He always knew what he wanted and would not be influenced by managers, record companies or, in fact, anybody whom he thought had not got genuine musical knowledge or ability. I watched him firmly, but politely tell people around him what he was going to do, and if they disagreed, then he politely put them in their place.

I recall vividly, at the recording of the Space Oddity song, the representative from the record company, Philips, asking why he was mixing the single in stereo, as all juke boxes were still mono players. David said that very soon they would all be stereo, and he wanted to be ahead of the game. The record label guy was not happy, and said it was pointless as they wouldn't agree to Bowie's approach. "Then you don't have the single, then," said David.It was eventually released as a stereo single, and the rest is history as they say.

He was always under control in the studio, and knew how to get the best out of musicians. Working on the Hunky Dory album, from the moment he played me the songs at his house in Beckenham, to the time spent in the studio, was undoubtedly a high point of music for me.

I have watched David produce character in music, the like of which no one else has ever managed to achieve. He's a 'doer', as against a 'thinker'. By this I mean he has to experience all the thoughts that he has, and everything he has done has a meaning.

For me, David could well go down in rock history as the not only the man who sold the world, but bought it back in order to give it the music he had collected along the way.

Check out the classicrockmagazine.com website.


---
MUSIKLADEN EXTRA ON DB's BD
30th December 2006

DAVID BOWIE fans in Germany and not forgetting people with big satellite dishes get the chance to celebrate David's birthday and watch a repeat broadcast of the MUSIKLADEN EXTRA on 3sat at 1:25 CET.

Musikladen extra: David Bowie: 1978 war das Jahr, in dem David Bowie seine wohl kreativste Phase hatte. Die Alben "Heroes", Diamond Dogs, Aladdin Sane und Station To Station sind Meilensteine der Rockmusik.

In einem exklusiven Concert im legendären Radio Bremen Studio 3 präsentierte David Bowie im Sommer 1978 die besten Songs aus diesen Alben, darunter Beauty and the Beast, Sense of Doubt, "Heroes" und TVC 15.

Mit Musikladen extra: David Bowie gratuliert 3sat dem britischen Rocksänger zum 60. Geburtstag am 8. Januar.

Erstsendung: 4.8.1978.


---
DAVID GRACES RS COVER IN ITALY
29th December 2006



The Italian edition of the ROLLING STONE magazine for January 2007 features DAVID BOWIE on their front cover. Inside there are ten pages, which includes thirteen photographs.

My Italian is about as good as my Icelandic but for those of you who can translate... the cover reads: David Bowie L'Alieno Compie 60 Anni. La sua storia attraverso le interviste di Rolling Stone.

David Bowie: L'8 gennaio 2007 l'alieno entra nella terza età. Abbiamo ripercorso la sua carriera attraverso 30 anni di interviste con RS e i racconti di due testimoni (diciamo) oculari.

More details and information can be found at rollingstonemagazine.it

The Spanish issue features a different cover - see below for details.


---
ARNOLD LAYNE NUMBER ONE?
29th December 2006

Taking a glance over at the FUTURE CHART.CO.UK website they are prediciting something rather interesting for all us DAVID BOWIE and David Gilmour/Pink Floyd fans.

Based on the past three weeks - from a variety of sources - here are their "suggested" results...

Week 52: 25th December
3rd Week Placement
Possible Chart Position: 1
Arnold Layne - David Gilmour (EMI) Released: 25/12/2006

Week 51: 18th December
2nd Week Placement
Possible Chart Position: 9
Arnold Layne - David Gilmour (EMI) Released: 25/12/2006

Week 50: 11th December
1st Week Placement
Possible Chart Position: 25
Arnold Layne - David Gilmour (EMI) Released: 25/12/2006

Don't forget - these are " estimated positions" based on a number of informaton sources indicating public interest in new and upcoming releases.

If you've not gone out yet or bought your copies online or downloaded get a move on! You can Purchase NOW


Also you can digitally Download from iTunes
starting from Christmas Day until 14th January 2007.


---
BUT THE SOLDIER SAID...
29th December 2006

Published this month is 'The Autobiography' by NED SHERRIN from Time Warner Sphere.

Ned Sherrin has long been popular on television and radio and in the theatre, so it seems surprising that he has waited until he is 75 to write his autobiography. In self-effacing style he implies that he entered broadcasting as a result of a chance encounter in the Strand.

He writes of his relationships with some of the twentieth century's leading entertainers, from Frankie Howerd to DAVID BOWIE, whom he met while Sherrin was producing the film, The Virgin Soldiers.

Written in a breezy, matter-of-fact manner that still allows for some excellent one-liners and witty analyses of the birth and decline of ITV, these memoirs are a pleasure to read.

You can purchase Ned Sherrin: The Autobiography
here and save a massive 40% discount.


---
TAKE A QUICK BUTCHERS...
28th December 2006

The WHATEVER IT TAKES charity now has available a new batch of DAVID BOWIE charity 'Peace Thru' Art' mugs. Each mug comes in a gift-box with a photograph of the artisit/celebrity and a personal message from them. The price is a mere £9.99 with all the proceeds going to David's chosen charities - namely Trade Plus Aid and Save The Children. More details and purchase information can be found at the whateverittakes.org website...

All set for publication next month is 'Oh! You Pretty Thing - 60 Years of Bowie' - a special birthday Classic edition from MOJO MAGAZINE. His life and times in words and pictures. On sale 24th January in all good newsagents, supermarkets, garage forecourts and via their website at mojo4music.com - (from Steve)...

IMAN guests on US ABC show The View on Friday 29th December. Guest co-host is Renée Goldsberry, Josh Duhamel. Recaps are posted daily at 4 p.m. E.T. - (from Annette)...


---
MERRY CHRISTMAS 2006 EVERYONE!!!
25th December 2006



WISHING EVERYONE EVERYWHERE A VERY MERRY CHRISTMAS

Have a Cool Yule! I hope you all receive everything you ever wish for

Very Best Wishes from Paul (aka Rednik)

Click here for a special message



---
ARNOLD LAYNE ON BBC TV
23rd December 2006

BOWIENET have revealed that the DAVID GILMOUR / DAVID BOWIE promo video of 'Arnold Layne' (live from the Royal Albert Hall) is to be shown on terrestrial UK TV on BBC TWO Top Of The Pops 2 at 5:05pm GMT on Saturday 6th January.

The European limited edition CD single and 7" vinyl versions are released by EMI on Boxing Day 26th December, followed by the North American 10" vinyl release on 16th January via Sony BMG.

If you've not ordered yours already I'd get your a into gear to be certain of getting your copies. This will be a strictly limited release and obviously expect loads of Gilmour and Floyd fans to snap up their fair share, besides all of us lot.

I'm led to believe that all releases will be deleted after the first week of release.

The limited edition 'Arnold Layne' will be released in the following formats:



Europe: Limited Edition Promo CD Single: Card Slipcase (Cat. No. CDEMDJ 717)
Release Date: December 2006
1. Arnold Layne - David Gilmour, featuring David Bowie (live)
2. Arnold Layne - David Gilmour, featuring Richard Wright (live)
3. Dark Globe - David Gilmour (live acoustic version)

Europe: Limited Edition CD Single: Slim Jewel Case (Cat. No. CDEM 717)
Release Date: 26th December 2006
1. Arnold Layne - David Gilmour, featuring David Bowie (live)
2. Arnold Layne - David Gilmour, featuring Richard Wright (live)
3. Dark Globe - David Gilmour (live acoustic version)

Europe: Limited Edition 7" Vinyl: Picture Sleeve (Cat. No. EM 717)
Release Date: 26th December 2006
1. Arnold Layne - David Gilmour, featuring David Bowie (live)
2. Arnold Layne - David Gilmour, featuring Richard Wright (live)
3. Dark Globe - David Gilmour (live acoustic version)

North America: Limited Edition 10" Vinyl: Picture Sleeve (Cat No. Columbia 88697050251)
Release Date: 16th January 2007
1. Arnold Layne - David Gilmour, featuring David Bowie (live)
2. Arnold Layne - David Gilmour, featuring Richard Wright (live)
3. Dark Globe - David Gilmour (live acoustic version)

You can Purchase NOW


Also you can digitally Download from iTunes
starting from Christmas Day until 14th January 2007.

(Ed. Note: You can hear Gilmour introducing David Bowie onto the stage on the vinyl versions, but NOT on the CDs).


---
SIXTY YEARS IN STYLE
21st December 2006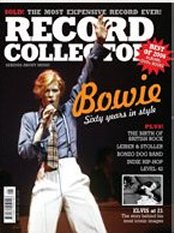 DAVID BOWIE graces the front cover of the latest RECORD COLLECTOR magazine for their January edition (Issue 332).

Inside features a 60th Birthday celebration: The making of 'Young Americans', Neil Tennant and other star fans on Bowie, and Bowie Collectables. Also the birth of British Rock: Soho, 1956: The story of the 2 'i's Coffee Bar.

The magazine is on sale now in all good newsagents and magazine shelves in supermarkets, garages.

More details can be found at RecordCollectorMag.com

Thanks to Snowdrop for the pointer.


---
BING AND BOWIE
20th December 2006

Today's WASHINGTON POST published an article covering the story of how DAVID BOWIE and BING CROSBY ended up performing together on the 'Peace On Earth'/'Little Drummer Boy' duet.

The article written by Paul Farhi entitled 'Bing and Bowie: An Odd Story of Holiday Harmony' can be viewed and read online via their website.

The notion of pairing the resolutely white-bread Crosby with the exquisitely offbeat Bowie apparently was the brainchild of the TV special's producers, Gary Smith and Dwight Hemion, according to Ian Fraser, who co-wrote (with Larry Grossman) the song's music and arranged it.


---
BOWIE MANIFESTO
16th December 2006



The current issue of UK ESQUIRE magazine (January 2007) features DAVID BOWIE in their Manifesto section, with the article penned by Graeme Thomson.

The front cover blurb reads: David Bowie: Ziggy at 60 and features Scarlett Johansson on the cover.

Ziggy at 60? Say it ain't so! But, says Graeme Thomson, we should be thankful he's made it and grateful for all he's given us. Yes, maybe even 'Tin Machine'.


---
BIG SCREEN DOLLS
16th December 2006

Former employees of NBC's Saturday Night Live were asked to send in precious anecdotes to Gawker.com - one particular piece that stood out was when DAVID BOWIE appeared on the programme in December 1979.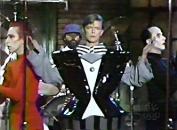 David performed three songs... 'The Man Who Sold The World' where he was carried to front stage by backing singers Klaus Nomi and Joey Arias, whilst inside a costume (which was a nod to Dadaist Tristan Tzara - or if you've done your homework Sami Rosenstock).

The second song was 'TVC15' with Bowie dressed more conventionally as a Chinese airline stewardesses dress and lastly 'Boys Keep Swinging' complete with a puppet body.



The photograph right shows a scene from 'The Gas Heart' by Tristan Tzara. Costumes designed by Sonia Delaunay, Theatre Michel, Paris, July 6-7, 1923.

Tzara introduced the first performance as follows: "It is the only and greatest three-act hoax of the century. It will satisfy only industrialized imbeciles who believe in the existence of men of genius.".


SNL Employee: David Bowie and I manhandle his life-size plastic punching doll into the elevator. The next night, NBC's costumers will bolt David into this rigid contraption so he can spin and wobble across the stage on live television, while lip-synching one of the songs that made him into the icon known as Ziggy Stardust.

For a second, I gaze into Bowie's left eye and notice his famous blown pupil. "Why drag this all the way back to your hotel? The Props department could lock it up for you."

He laughs. "Nothing personal, but if it goes missing, I can't just buy another one down at the corner shop."

I giggle. "Good point."

I still look back on this comment as my best shot at the Melonhead Hall of Fame.

Nobody gives us a second glance as we struggle outside to the Plaza. The Thin White Duke and an anonymous melonhead are trying to stuff a six-foot-tall, brightly-colored punching doll into the back seat of a stretch limo, but New Yorkers, true to form, don't even notice this singular tableau. David turns, to say thanks for the help. Polite guy. My brain is churning at light speed, searching for another bon mot.

So I bring out the big guns: "Break a leg!" When David looks puzzled, I rush to explain: "Not now. Tomorrow night." He smiles and thanks me again.

Then his limousine is gone, and I'm left alone to compose my Hall of Fame acceptance speech.


---
IF THERE WAS ONLY SOME KIND OF FUTURE
16th December 2006

As you may already know UK band THE FUTUREHEADS recorded a version of DAVID BOWIE's classic 'Let's Dance'.

If you're quick you can download their version for free via the Pitchforkmedia website.

The four-piece band line-up features: Barry Hyde (vox/gtrs), Dave Hyde (vox/drums), Ross Millard (vox/gtrs) and Jaff (vox/bass).

You can find out more about the band on their official website or via their MySpace pages, where you can sample more of their music.


---
NEW JARETH ACTION FIGURE
16th December 2006



NECA (aka National Entertainment Collectibles Association) are to produce a highly detailed 7" tall action figure of Jareth the Goblin King, portrayed in the classic fantasy film Labryinth by DAVID BOWIE.

The figure is set to hit the shop next year in April 2007. Expect to pay somewhere between $14 and $15.

The figure comes with interchangeable hands, a crystal ball, and a little goblin figure accessory.

Check out the NECA online website for more details.

Thanks to 96dbFreak for the pointer.


---
TAKE A QUICK BUTCHERS...
15th December 2006

Americans finally get to see the brand new series of EXTRAS by Ricky Gervais and Stephen Merchant. This new second series kicks off 14th January on HBO. DAVID BOWIE appears on the second programme which airs Sunday 21st January at 10:00pm ET...

Someone with incredibly good taste at the BBC decided to use DAVID BOWIE's 'Warszawa' as the background music for their new advertising trailer for their brand new Dracula TV series shortly starting on BBC One. Originally shown last week as a 10-ten second trailer, you can now enjoy the full length version trailer. The new drama starring Marc Warren starts 28th December is a terrifying new version of Bram Stoker's classic tale of sex, death and desire. Jonathan Harker, a young solicitor, travels to Transylvania to meet a mysterious new client. The nightmare that unfolds threatens not only the lives of everyone who knows of Harker's visit, but also the future of the world...

DAVID BOWIE's 1983 worldwide smash hit 'Let's Dance' is featured in the brand new NINTENDO DS game ELITE BEAT AGENTS - the game is a rather surreal experience but totally addictive. Best described as a kind of digital comic book cartoon music video game where you have to dance to save the world...


---
BERLIN SOUNDZ DECADENT
14th December 2006

Essential listening on BBC RADIO 2 at the beginning of the new year is BERLIN SOUNDZ DECADENT.

Here's what the programme is about - over to writer and director Grant Gordon...

On the 8th January DAVID BOWIE turns 60 years old. In recognition we celebrate with a new programme focussing on Bowie's remarkable Berlin period and the city's influence, past and present, on him, his music and others in the city. From Cabaret to Krautrock and beyond, Berlin...Soundz Decadent is presented by Mark Radcliffe.

"Between 1975 and 1985 West Berlin was the most unique place in the universe." - Blixa Bargeld, Nick Cave collaborator and Berlin noise pioneer.

It is 30 years - half a lifetime - since Bowie arrived in West Berlin and set up a quirky houseshare arrangement with Iggy Pop. Once there Bowie would write and record with Brian Eno the landmark albums Low, "Heroes" and Lodger, and produce and co-write Iggy's The Idiot and Lust For Life. We hear from David Bowie, Brian Eno, producer Tony Visconti and guitarist Ricky Gardiner about what it was like to record that music in the bombed out, cut off hedonistic arts ghetto that was West Berlin in the Cold War.

The recordings were centred around a legendary studio - Hansa Ton, the "Hall by the Wall" where armed East German borders standing on the Wall would watch Bowie's recordings taking place. Berlin Soundz Decadent visits the studio today to do a sound check to see what all the fuss was about.

Berlin Soundz Decadent looks at why Bowie came to Berlin - the city's party reputation was obviously a pull, but Bowie and Eno were big fans of the early 70s Krautrock music of Can, Tangerine Dream and Neu! Klaus Dinger - a member of both Kraftwerk and Neu! - tells us where his influences came from - surprisingly a mix of Mozart, Elvis and The Beatles - while rock chronicler and Ultravox founder John Foxx traces where the roots of this music, and how its influence spread.

But Bowie was already very aware of another period in Berlin's creative history - the Weimar Republic of the 1920s when the city was as artistically creative, and as decadently loose as it was to become in the 70s. Jazz, Jewish music, sex, cabaret and satire all mixed together in one of the greatest artistic melting pots in history. Weimar diva Ute Lemper talks about Kurt Weill, Marlene Dietrich and the Cabaret scene, and Anna Maxwell Martin - Sally Bowles in the current London production of Cabaret - discusses the heady mix of sex, music, poverty and politics that created the Weimar scene.

Bowie, through his musical explorations in Berlin helped shape a generation of young musicians who wanted to be different. And once Bowie had conquered Berlin, many other bands followed in his footsteps, right up to U2's recording of Achtung Baby in Hansa Ton as the Wall was being dismantled not 100 yards away. We hear from Mick Harvey of Nick Cave and the Bad Seeds and Blixa Bargeld of Einsterzunde Neubauten, the godfathers of industrial music, a form that seemed to emerge from the very fabric of the city. Katharine Blake of goth madrigal noise terrorists Miranda Sex Garden recalls 24 hour parties, stoned audiences at Classical music concerts and the darker side of West Berlin's decadence.

The party came to an abrupt end in 1989 of course when the Wall came down. Suddenly West Berlin was just a memory. We hear from British ex-pats musician Adam Butler and Turner Prize nominee Tacita Dean about the decadent sounds of the city today.

Berlin Soundz Decadent is a CSA Word Production, written and directed by Grant Gordon.

From Grant Gordon.

Berlin Soundz Decadent will be broadcast on 2nd January 2007 at 20:30 GMT on BBC Radio 2.

Tune in on 88-91 FM or listen in at the BBC Radio 2 website from anywhere in the world.


---
BOWIE MINI VINYL RELEASES
11th December 2006

The second batch of six DAVID BOWIE mini vinyl releases from EMI are scheduled for release on 5th February 2007.

5th February 2007:
Lodger (TOCP 65316)
"Heroes" (TOCP 65315)
Low (TOCP 65314)
Station To Station (TOCP 65313)
Young Americans (TOCP 65312)
Diamond Dogs (TOCP 65311)

The first batch of six are scheduled for release on 8th January 2007 and are available for pre-ordering now.

8th January 2007:
Pin Ups (TOCP 65310
)
Aladdin Sane (TOCP 65309
)
The Rise And Fall Of Ziggy Stardust And The Spiders From Mars (TOCP 65308
)
Hunky Dory (TOCP 65307
)
The Man Who Sold The World (TOCP 65306
)
Space Oddity (TOCP 65305
)

4th December 2006:
David Bowie - Mini Best Of (iTunes exclusive bundle) (Cat No 381 5845)

Available for Download iTunes
---
FROM STATION TO STATION
6th December 2006



There's a brand new DAVID BOWIE publication in the pipeline from Genesis Publications... 'From Station To Station' by GEOFF MacCORMACK is listed in their forthcoming releases.

"During the early part of 1973, I had two huge strokes of luck and good fortune.

Firstly, while working in a London office I got a call from a childhood friend called David Jones. David Jones was now David Bowie and he invited me to join his band, The Spiders, as a backing vocalist and percussionist, for a tour of the USA, Japan and the UK.

The second piece of luck was that David had a fear of flying. Thus we would have to travel the thousands of miles around the world by ship, train and road.

At the end of the tour David, surprisingly, announced his retirement. Nevertheless I stayed with him for another two years, travelling and working on other tours - Diamond Dogs and Young Americans - and six albums, from Aladdin Sane to Station To Station.

From Station To Station is the story of those three amazing years, together with my previously unpublished photographs of Bowie at work and at play." - Geoff MacCormack (aka Warren Peace).

For more information, to register your interest and receive advanced information please visit genesis-publications.com website.


---
TAKE A QUICK BUTCHERS...
5th December 2006

DAVID BOWIE was spotted 'In The Attic' at Joe's Pub in New York City last Wednesday (29th November). The Rachel Fuller 'In The Attic' event featured PETE TOWNSEND performing with guests Mikey Cuthbert, Ryan Adams, Martha Wainwright and Sean Lennon. You can watch video clips and read the diaries @ InTheAttic.tv - (from Christ)...

THE BEATSTALKERS concert last December at The Barrowland Ballroom in Glasgow is now available on DVD and is available from the 8th December. If you are interested in checking it out, or wanting to buy a copy please go to fieldofone.com for more details and information...

DAVID BOWIE tribute band DAVID BOWEE AND BAND are to perform at the Springhead pub, Aston Road, Willerby, Hull, England on 8th December - More details...


---
CATCH A FALLING STAR
4th December 2006



'Catch a Falling Star' is the debut novel written by PETER HAYWOOD which basically tells the tale of a DAVID BOWIE-obsessed young man named Nicholas Walpole growing up in Melbourne in the early '80's.

He moves into a dilapidated inner-city share house with a bunch of musician friends, forms a band, and dreams of emulating the feats of his hero. But things go awry. As you can imagine, there are many references to Bowie, in particular the Let's Dance album, and Serious Moonlight tour which coincide with the time the novel is set in.

The novel is finally online at lulu.com. You can either search by title, or tab down to the Literature and Fiction section, where it is available as either a paperback, or a download. You can also read a sample of the first ten pages online.

From Peter Haywood.


---
...MORE THAN A HUMAN
2nd December 2006



DAVID BOWIE complete with the Aladdin Sane lightning flash appears on the front cover of the ROLLING STONE magazine in Spain for their December issue.

The front cover blurb states: 'Siempre he necesitado ser algo más que un humano.' - which translates in English to 'I have always needed to be something more than a human.'

Inside there is a twelve-page special feature.

Thanks to Ardent / LunaMagic for the pointer.


---
COMING OUT AS A BOWIE FAN IN LEEDS
2nd December 2006



Author MICK McCANN has a new publication out very shortly entitled 'Coming out as a Bowie fan in Leeds, Yorkshire, England'.

Published by Armley Press (ISBN: 0955469902), this 216 page publication covers topics such as: 'Boys in make-up, Punk, football, childhood, DAVID BOWIE, mad nuns, girls, life, hot wheels, Leeds, cross country, obessesion, violence, sex, the 70's, adolescene, my death.'

So, something in there for iterally everyone.

You can order Coming Out as a Bowie Fan in Leeds, Yorkshire, England
NOW.


---
DAVID CLOCKS THE VERTICAL HOUR
1st December 2006



Last night DAVID BOWIE checked out 'The Vertical Hour', at its world premiere at the Music Box Theatre in New York City.

Written by David Hare and directed by Sam Mendes, the plays stars Julianne Moore and Bill Nighy.

Nadia Blye is a young American war correspondent turned academic who now teaches Political Studies at Yale. A brief holiday with her boyfriend in the Welsh borders brings her into contact with a kind of Englishman whose culture and beliefs are a surprise and a challenge, both to her and to her relationship. David Hare's new play, about the interconnection between our secret motives and our public politics, seeks to illustrate how life has subtly changed for so many people in the West in the new century.

A whole host of celebs turned up at the event including: Lauren Bacall, Kate Winslet, Diane Von Furstenberg, Kathleen Turner, Ellen Barkin, Rufus Sewell, Alice Eve, Kate Bosworth, John Shea, Jennifer Jason Leigh, Barry Diller and Joan Rivers.


---
DB'S ARNOLD LAYNE OUT THIS MONTH
1st December 2006



Released this month on 26th December is the DAVID BOWIE / DAVID GILMOUR Limited Edition CD from EMI Records.

You can Pre-Order NOW
it might be a good idea to get your orders in now to be certain of getting copies.

Also for a limited period over the Christmas holidays - and dedicated to the memory of SYD BARRETT, who passed away in July - will be the 'Arnold Layne' single featuring two live versions of the song: one with DAVID BOWIE on vocals, the other with Richard Wright (both from the Royal Albert Hall performances).

Poignantly, it will also include a live acoustic cover of 'Dark Globe', from Syd's debut album, 'The Madcap Laughs'.

There will be a limited pressing of European only Limited Edition CD Single and 7" singles in Europe and 10" singles in North America.

The tracks will also be available for download from Christmas Day.

The track got it's first airing today on the Radio Two Ken Bruce show at around 11.15am - that's 1hr 45min into the show. You can listen in here and Ken also announced that the video for Arnold Layne will be exclusively revealed on the Radio 2 site from 6:00pm this evening, GMT time. [View here]

The single has been added to Radio 2's B list. This means that you can expect to hear it about ten times during the course of the week. The more requests it receives, however, the more chance the single has of making it on to the A list, which means it will be played more often. Tracks on the A list receive the most plays (about 20 a week) compared to the B list's ten and the C list's five.


---
WITH MY SHOES ON THE STREET
1st December 2006

Update #2: Bidding has now ended and the total realised was an amazing £1,320 (that's approximately US $2,600). David's donated footwear is a pair of white Italian leather ankle boots.

A whole host of celebs including DAVID BOWIE, Chris Martin, Ringo Starr, Nina Persson, Johnny Marr and Lily Allen are to auction off their shoes for charity.

A number of pop stars have agreed to contribute trainers, high heels and boots to an online sale to raise money for the Mines Advisory Group (MAG) which takes a stand against the spread of small arms and light weapons in Africa.

MAG executive director Lou McGrath said: "The support from celebrities for the shoe auction has been fantastic and resulted in an impressive collection of footwear.

"The money raised will play a vital role in clearing the remnants of conflict, preventing injuries and deaths and regenerating communities. The money is especially needed for our work in Lebanon, where the UN estimates there are around 100,000 unexploded bombs at 359 separate sites."

The shoes are to be auctioned on eBay until 8th December.

For more information visit the magclearsmines.org website.


---
SOUND & VISION BOWIE PHOTO EXHIBITION
1st December 2006



Sound & Vision's DAVID BOWIE photo exhibit will be inaugurated on Wednesday 20th December at h. 22, within an exclusive entry only with invite.

The exhibit 'Excerpt of Passenger' will be inaugurated, an expo dedicated entirely to David Bowie, at the Jam Cocktail Bar in via Gamba a Bassano del Grappa.

It's a photo exhibit two years after the release of 'Passenger' - the White Duke Pictures by Philippe Auliac edited by Sound and Vision Editions.

Philippe Auliac, named the paparazzi of rock, decided to become a star photographer after seeing a Mick Rock snapshot from the final Ziggy Stardust concert. As a movie director, in 2000, he also filmed George Harrison's last appearance 'All Things Must Pass'.

The creation the photographic book 'Passenger', Auliac and Sound and Vision reopened the archive of the photographer in Paris, custodied for almost 30 years and denied to many editors, selecting the 75 unreleased photos which would later be published.

Speaking of the most creative period of Bowie, Auliac states: "I believe, that the period from Station to Station up to Scary Monsters is the most creative interesting one, for this reason I've declined the offers of many editors who wanted to publish all of my Bowie pictures. I have them from all the periods yet I didn't want to have a supermarket book. I therefore decided to publish with Sound and Vision, since the small editior has guaranteed me the maximum freedom. 'Passenger' is a photograph book on a specific character, not just another book on Bowie."

Beside the gorgeous pictures, the venue will tribute the White Duke, projecting videos and proposing the whole repertory of the end of 70's Berlin where Bowie and Brian Eno, wrote one of the most innovative and interesting periods in the history of rock.

The exhibit will remain open till the 7th January 2007.

More information can be found at moonagedaydream.it

From Philippe.


---
UPCOMING EXHIBITION AT BROMLEY MUSEUM
1st December 2006

Update: A saxophonist who walked on the wild side and a group of punks that made TV history are all to feature in a new exhibition.

The borough's rock history will be charted in the 'Suburban Daydream' exhibition at Bromley Museum, due to open on December 11th.

A display charting DAVID BOWIE's early years in Bromley and Beckenham, where he invented his alter ego Ziggy Stardust, will feature in the exhibition.

It will include a jacket, as featured in the Bromley Times, which Bowie wore when performing with The Konrads and later The Riot Squad in 1967.

Other music heroes, including Peter Frampton, Billy Idol, Siouxsie Sioux and Bill Wyman, and Ronnie Ross (David's sax teacher from Orpington) - who played the solo in Lou Reed's 'Walk On The Wild Side' - will also feature.

Also at the exhibition in The Priory will be photographs and memorabilia from the punk movement, including information about the first Sex Pistols gig at Ravensbourne College in 1975.

The exhibition, at the museum in Church Hill, Orpington, runs from Monday, December 1th1, to Saturday, March 24th, 10am to 5pm Monday to Saturday. For more details, telephone 01689 873826 or go to bromley.gov.uk


---
OLDER NEWS

November | October | September | August
July | June | May | April | March | February | January

2005 Bowie News Archives | 2004 Bowie News Archives
2003 Bowie News Archives | 2002 Bowie News Archives
2001 Bowie News Archives | 2000 Bowie News Archives
1999 Bowie News Archives | 1998 Bowie News Archives