BOWIE TV and WHAT'S REALLY HAPPENING IN MARCH - MONTHLY PLANNER

[BOWIEWONDERWORLD SHOP] [LATEST DAVID BOWIE ITEMS ON eBAY]

Have YOU got some DAVID BOWIE related news or a hot scoop?
Well don't just sit there keeping it to yourself - send it in to
All news items are credited if you so wish


---
2005 AMSTERDAM ODDITY
26th March 2005

On Sunday May 29th International DAVID BOWIE Fan Club THE VOYEUR are to hold their 2005 fan(club) meeting at the AMP Studio's in Amsterdam.

Next to a fantastic live performance by the David Bowie coverband 'Echo Bowie' there will be a photo exposition by Philippe Auliac and a painting exposition by Hans Oldenhof.

Exclusive video's on widescreen and of course you can buy rare Bowie vinyl, cd's, dvd's and other merchandise from national and international sellers.

All details can be found at The Voyeur's website at http://go.to/bowiefanclub

You can also email them for more information at - Don't miss it... be there!

From Peter Smit.


---
UNDOCUMENTED 1965 GIG UNEARTHED
24th March 2005

Another previously undocumented DAVY JONES gig advertisement from 1965 has been discovered residing in the local Brighton newspaper The Evening Argus.

The discovery was made by Trevor Duplock whilst researching information for his excellent website www.brightonbeat.com

The gig advert announces that 'EMI Recording Artistes' Davy Jones and The Lower Third are to perform at The &quotNew&quot Barn in Brighton, East Sussex on Saturday November 13th 1965.

The evening is listed as an unbelievable '6pm till 2am' and was slap bang in the middle of their residency at The Marquee which started in September 1965 and ran until the end of the year.

Coincidentially, four months later, David returned to the same venue at 75a West Street, Brighton on Saturday March 12th 1966. Billed as an &quotAll Nite Rave&quot show featuring 'Dave Bowie and The Lower 3rd' although it was actually The Buzz who backed him. By this time the venue's name had changed to 'Club One-O-One'.

Trevor also fills in some background information on the listed gig on 11th June 1965. The Starlight Rooms were the &quotCavern of the South Coast&quot and therefore a very important gig for David. At the other end of the club in the &quotPop Inn&quot a band called John Brown's Bodies were playing at the same time. The keyboard player in that band was Keith Emerson, in his first band, two months later he joined Gary Farr and the T-Bones as featured on Brightonbeat.com - so you had two emerging superstars at either end of the club on the same night.

Check out the David Bowie Concerts from the 60s to see the gig advertisements.

Big thanks to Trevor @ www.brightonbeat.com

(Ed. Obviously there are many many unlisted shows from around this period. If you come across any previously undocumented gigs please send them in).


---
AND THE BITS FLEW FAR AND WIDE
23rd March 2005

The forthcoming EMI Gold compilation release DAVID BOWIE - THE COLLECTION has now been officially rescheduled for release on 2nd May 2005...

Due for release next month on 4th April 2005 is the DAVID BOWIE: MUSIC BOX BIOGRAPHY COLLECTION DVD release on Region 2. According to the review: The 'Music Box' collection presents the complete story of David Bowie. We follow Bowie's rise to stardom, featuring rare and archive footage courtesy of private collectors from around the world. This documentary provides a fascinating insight into Bowie's remarkable career to date, and is a must for any fan of this talented star. The only place I can find information on this DVD release is via Play.com...

GLAMDAMMIT - Twig The Wonderkid and The Astronettes put their arms around your head whilst spinning early-Seventies glam accompanied with video-projections... special screening of 'Roxy Music' concert-footage at 10pm!! On Saturday March 26th @ 10pm at Cinema Classics, 332 E 11th St, New York City [Click for flyer]...


---
BOY... KEEP SWINGING
19th March 2005

Tongue-twisting storm BOY GEORGE who has just released part two of his best-selling autobiography, entitled 'Straight', is interviewed by Chris Sullivan in today's Guardian newspaper... the highlights include:

Q: You turned down I'm a Celebrity Get Me Out Of Here, even though they offered you £300,000.

I turned them all down, The Farm, Celebrity Big Brother. I'm a hideous snob. You wouldn't have seen Ziggy Stardust on The Farm. Old Bowie stomping around the thoroughfare with his platforms - I don't think so, and if it's not good enough for Ziggy then they can f**k off. I'm not good in the morning. I don't do casual. The idea of a jungle is hideous enough but especially stuck there with a load of twats I have absolutely no respect for. It was a bad move for Lydon, a good move for Jordan and Janet Street-Porter belongs there.

Q: Who for you was the most important artist of our time?

David Bowie. He was just everything for me. He was and still is so important. He is a genius.

You can read the full article @ the Guardian Unlimited website.


---
THE COLLECTION FROM EMI GOLD
18th March 2005

Scheduled for release next month is DAVID BOWIE - THE COLLECTION. Released by EMI Gold (Cat. No. 8734962), this low priced compilation CD is scheduled for release on April 18th. The tracklisting runs as follows:

01. Unwashed And Somewhat Slightly Dazed - from Space Oddity
02. The Width Of A Circle - from The Man Who Sold The World
03. Andy Warhol - from Hunky Dory
04. Soul Love - from The Rise and Fall Of Ziggy Stardust and The Spiders From Mars
05. Cracked Actor - from Aladdin Sane


06. Sweet Thing/Candidate/Sweet Thing (Reprise) - from Diamond Dogs
07. Somebody Up There Likes Me - from Young Americans
08. Word On A Wing - from Station To Station
09. Always Crashing In The Same Car - from Low
10. Beauty And The Beast - from "Heroes"
11. Repetition - from Lodger
12. Teenage Wildlife - from Scary Monsters

You can pre-order David Bowie - The Collection now!

Update: Release now put back to 2nd May 2005.

Tracklisting and album cover artwork courtesy of BowieNet


---
DAVID CHECKS OUT SPAMALOT
18th March 2005



DAVID BOWIE and his wife IMAN turned up last night at the Shubert Theatre for the opening of the Monty Python musical 'Spamalot'.

Directed by Mike Nichols, the £6 million show stars Tim Curry, David Hyde Pierce and Hank Azaria as King Arthur and the Knights of the Round Table. The show opened on Broadway to rave reviews, a star-studded audience and £19 million in advance ticket sales.

Eric Idle, one of the original members of the Python comedy troupe, wrote the script and co-wrote the music and lyrics. &quotI always wanted to do a musical,&quot Idle said. &quotWe were looking for a suitable subject.&quot Nichols, who directed the award winning film Closer, said he was dragged into the project, but was glad he was. &quotI never wanted to do another musical, but they trapped me,&quot he said. &quotWe had a reading and I laughed my arse off.&quot

Tim Curry plays a jolly King Arthur, and Hank Azaria - better known as the voice of Moe in The Simpsons - plays a metrosexual Lancelot and sneering Frenchman.

Set designs, based on Python original sketches, have been adapted by newcomer Tim Hatley, who has &quotcaptured the special wit of Terry Gilliam's animated drawings&quot, according to New York Daily News critic Howard Kissel.

Joining Idle on the red carpet were a host of celebrities and fellow Pythons John Cleese, Michael Palin, Terry Jones and Terry Gilliam.

Among the stars in the audience besides David and Iman, were Meryl Streep, Steve Martin, Candice Bergen, Whoopi Goldberg, Wendie Malick, Lauren Hutton, Ellen Barkin, Cicely Tyson and Carly Simon.

After the performance, the Pythons gathered together with an urn representing Graham Chapman, the original Python member who died in 1989.

&quotAdvance ticket sales stand at more than £20 million yesterday, making Spamalot the indisputable box-office champion of Broadway's 2004-2005 season. The show sells $250,000 worth of tickets a day, and is almost completely sold out through the fall.&quot.

New York Post theatre critic Clive Barnes called Spamalot &quotbloody fantastic&quot and said: &quotThis is one of those Broadway shows of shows. Steal a ticket, even if you have to get a killer rabbit to help.&quot

Check out the official Spamalot website @ montypythonsspamalot.com


---
UPDATE ON OMIKRON II
18th March 2005

Update: French developer Quantic Dream has denied reports suggesting that Omikron II is currently in the design phase of development. However, a representative did confirm that the title is &quotunder discussion&quot as a potential project.

The original game, Omikron - The Nomad Soul, appeared on the Dreamcast and PC back in 1999 and sold more than 600,000 copies. It combined RPG, FPS, beat-'em-up and exploration elements with a story about demons nicking peoples' souls, and featured an overly-ambient soundtrack by David Bowie (who also appeared in the game).

The developer says it has not yet approached the Goblin King to see if he'd be interested in a sequel.

From Eurogamer.net


---
AND THE BITS FLEW FAR AND WIDE
16th March 2005

The recently released Down Under DVD of LABYRINTH starring DAVID BOWIE as Jareth the Goblin King is the eighth best-selling DVD in Australia - from 96dbFreak...

If you're up for a good chuckle make sure you check out the online BOWIE AND ME comic photo book stories by MATTHEW HADDON-BROWN and DANIEL NORTH.

The story follows the adventures of struggling author Matthew Haddon-Brown and his lodger David Bowie. Matthew has inherited a static caravan off his dead grandmother. Finding it hard to pay the bills Matthew advertisers for a lodger. Who should move in but non other than space oddity David Bowie. Matthew is though blissfully unaware of his new flat mates superstar status!

[Bowie and Me - Part 1] - [Bowie and Me - Part 2] - [Bowie and Me - Part 3]...


---
OMIKRON II CONFIRMED
16th March 2005

&quotI have many things to tell you and very little time...&quot QUANTIC DREAMS have confirmed to Total Video Games that a sequel to its stylish adventure starring DAVID BOWIE is in development.

Omikron: The Nomad Soul was missed by many when it found a release on the Dreamcast and PC back in 1999 courtesy of Eidos and Quantic Dream, and whilst the adventure feared numerous qualities it was the appearance of David Bowie within the game that generated most of the hype.

Whilst waiting for Quantic Dreams long-overdue Fahrenheit, TVG learnt that the French developer is currently in the design phase of Omikron II, although whether or not it will star a certain timeless rocker remains to be seen.

David Cage the Quantic Dream Founder confirmed during an interview that development would begin on the Next-Gen consoles, although he refused to go into specifics.

Quite a while back the creators of Omikron: The Nomad Soul, said they would like to see David Bowie return in the sequel set for release on the PS2. CEO David Cage said, &quotWe would like to keep him [Bowie] because he played an important role in the game. But we would also like new contributions from musicians and actors, and even directors.&quot

Not much is known about Omikron 2... &quotWe're still in the concept stage at the moment, so I can't really tell you a lot about it,&quot says Cage, but he revealed, &quotWe'll work on new concepts and try to go even further because for us we see The Nomad Soul as just the first step in the direction of using more virtual actors, with more movie-like feeling. We'll try to go forward in one direction, by improving each part of the game, improving the action sequences, improving the freedom, improving the artificial intelligence.&quot

From Derek dela Fuente via totalvideogames.com


---
A WELL I BLESS MY SOUL
15th March 2005

According to NY Daily News DAVID BOWIE caught a preview of the ELVIS PRESLEY musical, 'All Shook Up,' at the Palace Theatre in New York City last week.

Inspired by the music of Elvis Presley, the musical tells the story of a guitar playing man who brings romance, rebellion, and rock 'n' roll into the life of a small town girl.

The new musical comedy had its pre-Broadway, world premiere in Chicago. This is not an autobiographical review, but rather a new book musical set in 1955, somewhere in middle America - in a roadside honky-tonk. A surprise visit from a mysterious, leather-jacketed stranger leads a small town to discover the freedom of dance, the magic of romance, and the power of rock and roll.

Check out the rather nifty official All Shook Up website @ www.allshookup.com

From New York Daily News.


---
ACOUSTIC BOWIE EXPERIENCE TOMORROW NIGHT
15th March 2005

UK based tribute band BOWIE EXPERIENCE are to perform an acoustic show tomorrow night in Poole, Devon at Mr Kyps.

Unlike their usual shows, The Bowie Experience will on this night be playing a special unplugged 'in the round' (on Mr Kyps' 2nd stage) performance of the music of David Bowie. The band explain: &quotWe have had the privilege of many successful gigs at Mr Kyps and whilst we endeavour to portray Mr Bowie as faithfully as we can we are well aware that it all begins and ultimately ends with the brilliant music that we all enjoy, so before we kick off in May with our new for 2005 show we're just gonna get down 'n' dirty and play the music.

&quotAlso because we don't have plans to do this anywhere else we intend to capture this unique event by recording it and putting it out on CD... those who ask questions will be able to get their hot paws on this rare commodity at a heavily discounted price!

It's been a stimulating and eventful eight years since The Bowie Experience began, a journey that has taken us to all four corners of this fair isle, and has seen many highlights, and due to its purity of theme, this event promises to rank among the most exciting.&quot

Venue: Mr Kyps 8a Parr Street, Lower Parkstone, Poole, Dorset. Tel: 01202 748945.


---
BRENT, I'M ONLY DANCING
15th March 2005

UK comedian and actor RICKY GERVAIS teamed up with DAVID BOWIE for the Comic Relief special which was broadcast last Friday evening on BBC One.

For David Brent, Red Nose Day was the highlight of the year. It was the day he could be the centre of attention, parading around Wernham Hogg in his Bernie Clifton ostrich costume. But this Red Nose Day Ricky Gervais himself is almost as excited, as he got to record a video diary in New York featuring his musical hero, David Bowie.

The comic, who was once in small-time New Romantic band Seona Dancing, said: &quotBowie has been my musical idol for nearly 30 years and we met and became friends a couple of years ago. &quotHe is a fan of The Office and we started e-mailing each other about music, comedy, pop idol, whatever.

&quotHe's also a very funny, very clever and very nice bloke. Maybe you shouldn't refer to The Thin White Duke as a 'bloke'. I'm more your Short Fat Duck&quot.



(Ed. Thanks to EmmyLou for the screen grabs)
---
MOTLEY CRUE TOUR THANKS TO BOWIE
11th March 2005

Heavy metal band MOTLEY CRUE have been inspired to reform and tour by DAVID BOWIE - because the singer looks great as he approaches 60.

Crue drummer Tommy Lee told an American TV show that music icons like David and The Rolling Stones prove that older stars can still rock.

He said: &quotI just recently saw David Bowie at the Hard Rock in Vegas and that guy still looked amazing. He looked ridiculously young and he was up there doing his thing and it's so cool to see that, and that guy will be rocking for years to come.&quot

From The Sun [Read here]

Bowie Inspires Crue Reunion - Contact Music [Read here]


---
GADZOOKS! IT'S ALL HAPPENING FORTY YEARS AGO!
8th March 2005



Forty years ago to this very day, DAVID BOWIE performed for his first ever musical television appearance. Davy Jones and the Manish Boys appeared on 'Gadzooks! It's All Happening' on BBC2 on March 8th 1965. The band performed their debut single 'I Pity The Fool'.

Other guests on the show included: Peter Cooke, Dorris Henderson, The Three Bells, Adrienne Poster and The Mike Leander Combo featuring The Beat Girls.

In the Radio Times dated 8th March 1965 it stated: The Producer of Gadzooks, Barry Langford, is taking great care to keep his show up to date. &quotI'm not booking far ahead,&quot he explains. &quotI'm waiting to hear the releases before I engage the artists. The scene is changing so fast that some of the guests will come as a 'complete surprise.' Davy Jones and the Manish Boys, who are appearing tonight, are likely to come into this category.&quot

Little known outside the London clubs, they cut their first disc on March 5th, and their main claim to fame at present is that they have produced another 'new sound.' It is the 'sax sound,' and the group contains two tenor saxophones (one played by Davy Jones himself), a baritone sax, a lead guitar, bass guitar, organ, and drums. All the boys come from Maidstone in Kent - except for eighteen-year-old Davy, who hails from Bromley.

David's then manager Les Conn got some excellent wide press coverage with a spoof publicity story about the BBC not allowing David to appear on the show without him first getting his hair cut.

The story, some complete with photos David in a hairnet got national coverage and appeared in The Daily Mail, The Daily Mirror, Daily Telegraph, The Sun and local press Kent Messenger.

For those of you old enough not to remember... 'Gadzooks! It's All Happening' was a sequel to producer Barry Langford's 'Beat Room' and offered top pop acts as well as the dance troupe The Beat Girls. The show presenters were Alan David and Christine Holmes. The title changed five months or so later to 'Gadzooks! It's the In Crowd' when I'm reliably informed that Lulu co-presented the show for a short while. Later it was shortened to just Gadzooks!.

... and here's one for the real trivia buffs out there... actor Robert Powell's wife was one of the original Beat Girls dancers.


---
OFFICIAL DAVID LIVE AND STAGE PLAYER
3rd March 2005

Check out a rather nice official DAVID BOWIE online 'David Live' and 'Stage' Player. You can listen in to some song samples, post a live ecard, download buddy icons, album information and enter a contest to win copies of the albums.

Click on the player below to launch or via http://www.filtermmm.com/david_bowie/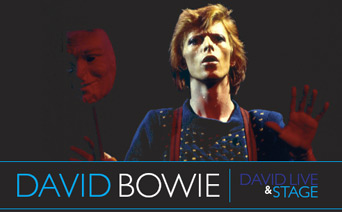 The online contest being run by Filter Magazine - which the winner receives 15 albums from the extensive Bowie catalogue - ends on 31st March 2005 at 11:59pm ET. Open to US residents only.


---
&quotAND TONIGHT CAT... I'M GOING TO BE...&quot
3rd March 2005

Next Saturday sees another DAVID BOWIE sound-a-like performing on STARS IN THEIR EYES. Cat Deeley presents the show in which five more fearless individuals are transformed into their singing idols. On the show will be: Bonita Knowles gets jiggy as Shakira, Wayne Harrison is Don Williams, David Dixon is sparky as Neil Diamond, Shelley Gould does Carly Simon, and ED BLANEY goes to space and back as David Bowie.

Ed Blaney is an ICT and music teacher, from Seaham, County Durham, who says: &quotThere isn't a day goes by without the pupils asking me when I'm going to appear on the show,&quot said Ed, who teaches at Sandhill View School, Grindon in Sunderland.

His road to mass television exposure began when Ed aged 46, was a teenager and became a serious fan of Bowie. The first album he bought was Bowie's Ziggy Stardust and his admiration for the performer has continued to grow.

Ed has worked part-time as a guitarist and vocalist for many years, performing not only in this country, but all over the world. It was his wife, Christina, who persuaded him to send off a demo tape to the Stars In Their Eyes show last March.

He had forgotten all about the show until he heard from the production team last July inviting him for an audition. He was then asked to go back for a second audition after which he was told he was to appear on the show which airs this Saturday at 17:45 GMT in all ITV regions.

As far as the future is concerned, Ed is busy putting together a Bowie tribute band - all he needs is a keyboard player. Any keyboard player interested in joining the group can contact him on 07789 236533.


---
CAN'T BUY ME LUNCH
2nd March 2005

Yesterday finally saw the DVD release from Warner Home Video eagerly awaited THE RUTLES 2 - 'Can't Buy Me Lunch' by Eric Idle which features none other than DAVID BOWIE.

Synopsis: Dirk. Nasty. Stig. Barry. Perhaps you've forgotten how unforgettable they are. Well, forget that. Intrepid host/interviewer Melvin Hall is here to refresh the recall of all Rutlemaniacs! Eric Idle (Monty Python) portrays Hall plus writes, produces, directs and, rumour has it, prepares off camera some well-received bangers and mash for the crew in a sequel to 'The Rutles: All You Need Is Cash'.

From concerts to backstage moments, from successes (A Hard Day's Rut) to misunderstood flops (Tragical History Tour), from familiar tunes to those that make you wonder if you left the kettle on, the whole great, hilarious tale is here.

With special appearances by David Bowie, Billy Connolly, Jimmy Fallon, Mick Jagger, Jewel, Steve Martin, Bill Murray, Conan O'Brien, Bonnie Raitt, Robin Williams, Carrie Fisher, Garry Shandling and many more. Loaded with special features including a never-before-seen Alternate ending.

Check out the official website @ warnervideo.com where you can watch a couple of clips.

You can purchase The Rutles 2: Can't Buy Me Lunch now and receive a 25% discount. Alternatively if you've never seen these absolutely fabulous spoof Beatles documentaries before you can purchase both titles for a ridiculously good price of only $33.72.


---
YOUNG AMERICANS SPECIAL RELEASE
1st March 2005

You may of read quite a while back that DAVID BOWIE's 'Young Americans' is all set get the 30th Anniversary treatment with a new 2CD release in 5.1 Surround Sound, complete with bonus tracks and a surprise in store.

Producer TONY VISCONTI has elaborated on this special release on his website @ tonyvisconti.com...

&quotI've just finished mixing the amazing Young Americans in 5.1 Surround Sound, for its 30th anniversary. The release will be in a few months. There will be bonus tracks and a surprise.&quot

&quotAll the tracks have been mixed from the master tapes to 96khz high definition digital audio. That translates to 'freakin' scary' quality. Mr. Bowie is front and center, but the backing is now spread 360º with Mr. Vandross hovering over your left shoulder for most of the album. John Lennon's six string acoustic is almost entirely in the right rear speaker on 'Across The Universe' and you just might hear a comment from him when the song is over. What really brought it home to me was how great David's vocals were, and a lot of them were live takes with him standing in the same room as the band at Sigma Studios in Philadelphia.&quot

Pop on over to tonyvisconti.com and read the full article.


---
MOONAGE DAYDREAM BOOK ON THE WAY
1st March 2005

There is to be a cheaper hardcover version of the MICK ROCK publication Moonage Daydream: The Life and Times of Ziggy Stardust. Publication date is scheduled for 20th September from Universe. The 320-page publication is available to - Order NOW at around £25.

Synopsis: In 1972, talented photographer Mick Rock spent 2 years as David Bowie's official photographer. Rock accompanied Bowie on tour to the US and the UK, capturing his life both on stage and behind the scenes at the height of his Ziggy Stardust period. During this time Rock documented the rise and descent of Ziggy Stardust, and shot promotional films, album jackets, posters, artwork, videos like Life on Mars and Space Oddity and thousands of photographs. Rock's camera caught more of the Ziggy legend than any other and followed Bowie into hotel rooms and dressing rooms, on the road and socialising with musicians and friends including Lou Reed, Iggy Pop and Mick Jagger. The results are shown in this extraordinary book. The parties, costumes, hair-styles, photo shoots and concerts are all pictured in a fantastical style that sums up the spirit of the time. Bowie provides a fascinating running commentary to Mick Rock's photographs, recalling his personal memories of life as Ziggy. A must-have for any David Bowie fan.

An American version with 348 pages is scheduled for publication on 13th October and published by Cassell Illustrated .


---
AND THE BITS FLEW FAR AND WIDE
1st March 2005

The new releases of DAVID BOWIE's 'David Live' and 'Stage' on DVD-Audio are now set for release next month. You can pre-order both titles now: David Live [DVD Audio] and Stage [DVD Audio]. You can read the official press release here...

Check out some more online reviews from the recent MARK WHEELLER play &quot(We Were) Ziggy's Band&quot...


---
ON THE LOOK OUT SOME FOR PYE
1st March 2005

Can't help thinking about me? I don't normally do this on the news pages but here goes... have any fellow DAVID BOWIE fans out there, (or even record dealers/traders) got a copy of the original 1966 UK 7&quot release of 'Can't Help Thinking About Me' by David Bowie and The Lower Third on the Pye label (Pye 7N 17020) available for purchase?

Needed in 'mint' or 'excellent condition' only and at a sensible price please, no silly money. If you can help, please email me at


---
WIN A BOWIE PRESENTATION DISC FROM EMI
1st March 2005

Last month on 21st February saw the release of two live recordings from key turning points in DAVID BOWIE's career: 1974's 'David Live' and 'Stage' from 1978.

Think you're a Bowie expert? Take part in the quiz and win yourself a Bowie presentation disc engraved with your name.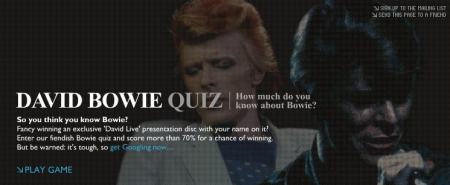 'David Live', recorded in Philadelphia sees Bowie in transition between the glam rock of Diamond Dogs and the soul of Young Americans.

'Stage', part of David's 1978 world tour, was a set largely comprised of 'Low' and "Heroes" material, but Bowie surprised fans by performing Ziggy Stardust tracks with re-arrangements reflecting his new futuristic synthesizer sound.

CLICK HERE TO ENTER THE QUIZ!

The David Bowie David Live/Stage competition takes place from 15.02.2005 until 31.03.2005. The closing date by which entries must be received is midnight on 31.03.2005.


---

OLDER NEWS


February | January

2004 Bowie News Archives | 2003 Bowie News Archives
2002 Bowie News Archives | 2001 Bowie News Archives
2000 Bowie News Archives | 1999 Bowie News Archives
1998 Bowie News Archives