SEPTEMBER 2000 - DAVID BOWIE NEWS

WHAT'S REALLY HAPPENING IN SEPTEMBER - MONTHLY PLANNER


---

EMI: FREE REPLACEMENT BOWIE CD
30th September 2000



IMPORTANT UPDATE: Would people emailing EMI for their FREE replacement David Bowie CD - please make sure that you INCLUDE your full snail mail address including your country.

You can claim your 1 track replacement CD by sending an e-mail to: martin.nutley@emimusic.com

You can also send your inquiry along with proof of purchase to:

UK Consumer Information
EMI Records Group UK and Ireland
43 Brook Green
London, W6 7EF
United Kingdom
W6 7EF
Please include your FULL postal address (including country) to receive a 1 track CD containing the missing version. The replacement CDs are due to be ready to be sent out the week ending Friday 6th October.

From Martin Nutley (EMI).

---
DAVID REPEATED ON LATER WITH JOOLS TONIGHT
29th September 2000



Tonight at 1:30 a.m. on BBC2's LATER WITH JOOLS HOLLAND there is a repeat showing of DAVID BOWIE'S appearance on the show from November 1999.

The show will air four of the five and a bit songs performed: 'Ashes To Ashes', the interview with Jools, 'Something In The Air', a beautifully sung 'Survive' and a rocking version of 'Cracked Actor'.

You can check out some photographs from inside and outside the BBC studios during David's visit).

---
DAVID BOWIE STORE NEW MERCHANDISE
29th September 2000



This Just In.... DAVID BOWIE'S new 3 CD release - Bowie At The Beeb: The Best of The BBC Sessions 68-72 CD Set is now on sale at David Bowie Store. Order yours now and we'll include a special FREE David Bowie collectible Pin Set! This incredible new CD set is a must have for every Bowie fan... we'll ship it right to your door anywhere in the world!

LABYRINTH - Now available on DVD! If you've been waiting and searching like so many other Bowie Fans, you can now get the movie with a bunch of incredible added features! Journey into the fantastical world of LABYRINTH, starring David Bowie as the wicked Goblin King and a cast of incredible creatures created by Jim Henson and produced by the Master of Myth George Lucas! LABYRINTH - Where everything seem possible and nothing is what it seems. This DVD includes an "Inside The Making-Of Documentary", and many special features including Dolby Surround, Optional Sub Titles in English and Spanish, Scene Selections, Wide Screen Format, Theatrical Trailers, Talent Files, and Interactive Menus.

Visit David Bowie Store for the largest selection of Official David Bowie merchandise available online!

---
BECK NEWSLETTER BOWIE INFO
29th September 2000



From the BECK newsletter 27/9/00... He just got done with the Midnite Vultures World Tour last month then went into the studio for 3 days with producer Timbaland, where they did a cover of DAVID BOWIE'S "Diamond Dogs" and Beck laid down vocals for a Timbaland song. You can look for "Diamond Dogs on the soundtrack to Baz Luhrmann's flick "Moulin Rouge" coming out December 25th.

From SimonG.

---
Q BEEB REVIEW AND FREE COVER CD
28th September 2000



The November issue of Q magazine (number 170) features a half page review by David Quantick on DAVID BOWIE'S latest album 'Bowie At The Beeb', complete with nice full colour Ziggy photo in his dressing room. Quantick gives the album a 4 star rating which translates as "Excellent. Definitely worth investigating". And indeed it is.

Hang on there's more... this issue also includes a free cover mounted CD entitled: "Chill Out", which contains the awfully brilliant Bowie track 'Art Decade'.

Apparently, 'Chill Out' is the first of Q's occasional series of mood-elevating functional CDs that takes the listener on a horizontal journey to a well-stocked beach bar on Planet Relaxo. Here are soothing nuggets of acoustic folk, brain-stroking modern electronica and the most sublime in classic ambient rock. All in all, it's a beautiful thing. So dim the lights, unscrew that jar of cocktail olives and relaxez-vous in the company of Q's Essential Chill Out. Mmm...

The promotional side to this CD is based around the fact that HMV Records have arranged cut-price deals on albums by the featured artists. Therefore, by visiting your local HMV store or by visiting HMV.com
you can purchase 'Low' by David Bowie for the absolutely incredible bargain price of just £6.99!
Chill Out tracklisting:
..1. Moby: Novio.
..2. Groove Armada: At The River (Radio Edit).
..3. Kinobe: Slip Into Something (Radio Edit).
..4. Fairport Convention: Who Knows Where The Time Goes?
..5. John Martyn: Solid Air.
..6. Underworld: Push Downstairs.
..7. Moloko: Sing It Back (Album Version).
..8. Oasis: Half The World Away.
..9. Nick Drake: River Man.
10. Grandaddy: Underneath The Weeping Willow.
11. Garbage: Milk (The Classic Mix by Massive Attack).
12. Goldfrapp: Utopia.
13. Talk Talk: Inheritance.
14. Depeche Mode: Useless (The Kruder & Dortmeister Session - Edit).
15. DAVID BOWIE: ART DECADE.
16. Mercury Rev: Holes.

DAVID BOWIE: Art Decade, from Low (EMI).

The elegant bleakness of a train journey through Commie-era Eastern Europe is hauntingly captured via some delightfully squiggy synths and a continual, distant rattling sound. By this stage in the Bowie/Eno relationship, the bald one was becoming interested in music that doesn't so much go anywhere as just be. Bowie was going mad and took him to Berlin to produce music far stranger than either had made before. The first side of Low had the tunes but the second side (which features Art Decade) was the one that had the cogniscenti noting that "it's influenced by Kraftwerk, you know". Settle in for a long journey.

Review: Bowie At The Beeb (EMI 5289582).

The BBC's decision to let its many sessions go free has been the curse of the bootlegger and the delight of the rock fan who wants to hear great old music from his/her record collection in a raw, tinny fashion. Bowie's BBC sessions have long been available illegally, but now these reasonably cleaned-up recording - from 1968 to 2000 - are available to all.

The early tunes are a strange mix of Scott Walker-influenced pop (In The Heat Of The Morning, Let Me Sleep Besides You), hippy-pop (Memory Of A Free Festival, Unwashed And Somewhat Slightly Dazed) and the partially formed rock of Width Of A Circle, recorded within a few days of guitarist Mick Ronson joining Bowie's band, and Bombers a song that sounds like a template for the imminent Ziggy Stardust And The Spiders From Mars album.

CD1 is thus the sound of Bowie working out who he's going to be (and also the sound of John Peel talking like Price Lord Hippy Arse). By CD2, Bowie is both sucking up to DJ Brian Matthews like a good 'un and sandpapering the face off rock 'n' roll. Here we have the best of both the Ziggy Stardust album (two crunching version of the title track) (Ed. doh!) and Hunky Dory, plus a brilliant, Lou Reed namechecking White Light / White Heat. The songs here are rougher, louder and often more exciting than their "official" versions, not least Moonage Daydream where Ronson's guitar sounds like it's ripping transatlantic cable out of the seabed.

Disc Three, a limited (yeah right) edition item, features a Bowie show from the BBC Radio Theatre earlier this year, meaning that guitarist Earl Slick may well have played to some old ladies who thought they had tickets for News Quiz. (Ed. Watch it sunshine). Songs as old as Fame and new as the superb Seven are featured and Bowie's current punter-wowing tour is thus captured for ever - albeit without all the bits between songs faded out for some reason, like on Stage. ****

By David Quantick.

(Ed. Re-review: "Two crunching versions of the title track" - he listened to it properly then didn't he).

---
BOWIE TRACKS ON TWO FREE PROMO SAMPLERS
28th September 2000



In France, the 19th-25th September issue of Les Inrockuptibles (number 257), includes a free cover mounted CD entitled 'Une Rentrée 2000' which contains 'The Man Who Sold The World' (live BBC 2000) track taken from the Bowie At The Beeb album.

In the UK, the October issue of Q magazine will contain a free cover mounted CD entitled "Chill Out" which will include one db track. There will also be a major feature review of the album. More details to follow.

---
1971 'STAR' DEMO SELLS FOR £1,527
28th September 2000



Lot number 8 - the previously unheard demo recording of 'Star' by DAVID BOWIE which was under the hammer at CHRISTIE'S auction house in London on Tuesday, realised a total of £1,527.

The previously unheard ½ inch reel-to-reel studio 1971 demo recording, which is quite different in style and content to the familiar Ziggy Stardust album version, was given to singer Les Payne for him to cover.

You can read more details about this recording further down this page... 'Who The Hell Is Les Payne?" and "Star Demo Up For Grabs.

---
DAVID RIGHT ON CUE
28th September 2000



Yet another piece of DAVID BOWIE memorabilia can be had in the next sale at CHRISTIE'S auction house in South Kensington, London.

Included in their forthcoming sale '19th and 20th Century Photographs' on 20th October is lot number 286, which as you can see is an amazing photograph of David by Norman Parkinson from 1982, looking rather splendid with his ash snooker cue.

Christie's estimate a price of around £1,000 to £1,500 for this dye-destruction colour print, size 19 x 19¼ inches, signed on image and reverse, matted and framed. Photograph from 1982 and printed later.

Christie's, 85 Old Brompton Road, South Kensington, London SW7 3LD. Visit their web site at www.christies.com.

---
PAGE HAMILTON GUESTS ON BOWIENET TODAY
28th September 2000



Tonight's special chat guest on BowieNet is lead guitarist from the 'hours...' mini tour PAGE HAMILTON at 6:00 p.m. EST, that's 11:00 p.m. GMT. Other special guests lined up for their chatroom are:
Debbie Harry - COMING SOON - date and time to be announced.
Mick Rock - COMING SOON - date and time to be announced.
Holly Palmer - COMING SOON - date and time to be announced.
You can read past BowieNet and other chat transcriptions here.

Information from BowieNet.

---
BOWIEART.COM GRAND OPENING
28th September 2000



You are cordially invited to attend the grand opening of BOWIEART.COM. The new splendid looking site has been revamped, reframed and relaunched.

Besides featuring new unseen pieces of David's artwork, bowieart.com now also houses a special area for several graduating student artists who attend London's Royal College of Art and Assembly 4 graduates.

Each student now has their own individual free web pages on bowieart.com where you can view their work along with their contact number.

Click to visit www.bowieart.com.

---
EMI ANNOUNCEMENT: FREE REPLACEMENT CD
27th September 2000



UPDATE: Re the mispressing of 'Bowie At The Beeb'...

EMI are already on the case and they have suggested a neat solution that should keep everybody happy. The plan is that anybody who has purchased a copy of this initial batch will be able to claim a free single-track replacement CD containing the missing version of Ziggy. Hey Presto!... Instant collector's item. Future pressings of the set will contain the proper versions.

Anyone who wishes to obtain more information on how to obtain a copy of the missing version should send an e-mail to: martin.nutley@emimusic.com

You can also send your inquiry along with proof of purchase to:
Consumer Information
43 Brook Green
London
United Kingdom
W6 7EF
Please include your full postal address to receive a 1 track CD containing the missing version.

Replacement information via Total Blam Blam on BowieNet.

---
BOWIE BEEB BOOB
27th September 2000



Oops! Fans who have purchased the latest DAVID BOWIE 3CD set 'Bowie At The Beeb' are unwittingly now the proud owners of a undoubtedly soon-to-be highly sought after piece of Bowie memorabilia.

Tracks 4 and 12 on the second disc, 'Ziggy Stardust' are identical. EMI have mistakenly used the version from Sound Of The 70s: John Peel sessions from the 16th May 1972 TWICE.

When the limited edition 3CD set has been sold out, I presume EMI will correct the mis-pressed disc and low and behold you've got yourself an instant Bowie collectors piece.
---
ZOOLANDER: JUST FOR ONE DAY
26th September 2000



Actor/Comedian/Writer/Director BEN STILLER is currently working on a new movie entitled "Zoolander". So what you might ask? Well guess who he called to ask if he would like make an appearance? Yep you guessed. DAVID BOWIE.

David mentions in his journal on BowieNet that "The script is hilarious"... "there is a 'fight-club' style 'walk-off' between the two star models and I act as the ref.". The movie is expected to be released sometime next year.

---
BOWIE AT THE BEEB: REVIEW
26th September 2000



THE Seventies and early Eighties were great for the Bowie collector. Life was simpler then - cheaper, certainly - and many of the great artefacts that we take so much for granted today could still be filed under "hot poop".

Newbies might find it hard to believe that Santa Monica 72 was ever UNofficial. Or that we used to salivate over the recurring rumours that maybe - just maybe - the Hammersmith 73 or Love You Till Tuesday films might just see the light of day.

Back then - when "box set" could only have meant a clique of inhabitants of a village near Bath and "compact disc" would have required six months of lying motionless on a plank - we were grateful for whatever titbits could be squeezed, stolen, co-erced or even faked from the seemingly bottomless (and certainly always double-locked) vaults.

Pride of place in my collection of such naughty things, sandwiched between my official RCA LPs and Dollars In Drag, were Ziggy 2 and My Radio Sweetheart.

Inauspicious and inappropriate in design, bloody expensive and tough to track down, these illicit LPs were scratchy, tinny and hissy as hell - but lovely for it. Pressed into their grey-black grooves, somewhere under the copious surface noise, were exciting off-air recordings of some of Bowie's early radio sessions - glamorously stripped versions of the tracks we already knew off-pat from Ziggy Stardust and Hunky Dory, with the occasional guest vocalist and frequent flashes of brilliance from the Spiders.

As time rolled on, more and more of these bizarre rush-recorded sessions would come to light, usually with conflicting theories about recording dates and sources. A 1969 session with Junior's Eyes was a hell of an eye-opener when it cropped up on a Radio One nostalgia programme, and the emergence of a 1970 session with the heaviest, hardest and sexiest version of Waiting For The Man to ever grace a bootleg LP surprised everyone - even David Bowie, who admitted at the time that he had forgotten even recording it!

Every now and then Tommy Vance or John Peel would repeat a track or two from a 1972 sesh, giving us hope against hope that maybe we would get something we hadn't already heard and catalogued on tape.

Occasionally, Tommy would strike a rich seam - but more often than not it'd be the same old version of Ziggy Stardust and the same old version of White Light White Heat.

Undaunted, we forged on into the 80s. Collectors gagging for more and more BBC stuff swopped tapes with like-minds until, ooh, a whole C90 could be filled up with scruffily edited, variable quality tracks. Somewhere in there, a boot called "No More Sleeping With Ken Pitt" threw the collecting community into understandable panic, giving us as it did almost a whole live set from 1970 and an absurdly early (almost straight off the Hull train) appearance by Ronson - albeit in barely listenable quality and cruelly clipped between each and every damn song.

The CD generation moved the session obsession up a (top) gear. For the first time, this stuff was available in knocking-on pristine quality, and a Bowie at the Beeb broadcast gave us a handful of dates to be going on with and a dribbly taste of the previously unheard bookend sessions from December 67 and June 72.

And so we plodded, happy as pigs in proverbial, until a few years back when the whisperers started to mutter stuff about an official set. The thing was shelved, of course - but not before a very tasty taster could leak onto the market with a couple of unheard June 72 tracks "to be going on with".

That was that, then. Right up to today, September 25, 2000.

Now we have Bowie at the Beeb. Two CDs worth of stunning archive material from three decades ago. Where does it leave us? Apart from feeling old, that is?

In a word, sated. From an anorak's point of view, this great new collection - as well as upgrading that iffy-sounding 1970 stuff by about a million per cent - succeeds in filling each and every hole in the "collector's collection". We had been missing the 68 session, with the exception of When I'm Five. Bowie at the Beeb gives us every last missing peep and squawk. The 1970 concert special had been missing Memory Of A Free Festival. Here ya go, fella. Indeed, the public domain now has every session song recorded by DB at the BBC - even (if you look hard on your Radio Hype bootleg CD) the Oh! You Pretty Things live version chopped out of the June 71 buddy-bash.

Aesthetically, the set is more than delightful. Luckily for us, Bowie and Visconti are better at looking after their stuff than Auntie - whose regular spring cleans through the years have meant the wholesale wiping and slinging of important video and audio archive material. Indeed, it's the stuff that the BBC hasn't deemed important enough to keep that holds the most interest for yer actual Bowiephile.

The experimental nature of the 68 material, from a super-swinging London Bye Ta Ta to an ethereal Silly Boy Blue and a cosmic-karmic Karma Man, makes for essential listening. And while the proficiency and confidence of the 1970 live set is astonishing considering the speed of turnaround, a simply sensational standout recording of Wild Eyed Boy From Freecloud shows how the young Bowie had - by the tender age of 23 - already honed the performance magic that would soon propel him beyond the beyond.

It's CD2 that will get the most attention, understandably. Kicking off with two songs from a wonderful but shortlived Bowie-Ronson acoustic duo period, it quickly slips into Ziggy overdrive with a heap of searing, fun-filled blasters from the first half of 72 that defy their in-and-out-again enforced immediacy.

There's nothing the collector hasn't heard before on this disc, but boy does it sound great in this ultimate quality. Moonage Daydream, always a favourite track anyway, is a sensational foil for Mick Ronson's finger-slashing axework. If anything on this album conjures a picture of the Spiders in full-throttle, it's this. Especially when played, as the saying goes, at maximum volume.

By June of 1972, of course, Bowie was earning a decent crust as a full-time alien and the Beeb were unable or unwilling to drag his god-given ass and carrot frightwig back into the studio. Which is a shame in a way. Can you imagine what sort of miracles could have emerged from a 73, 74, 76 or 77 session? Exactly.

As a stand-alone artefact, then, Bowie at the Beeb is a cracking piece of work and wickedly good fun. Take it in the context of the RCA recorded work from the same time, and you've got yourself a cogent and clear picture of the artist in action and in development.

Whatever purpose these recordings originally served (shifting units - or records, as we used to call them - presumably), their position in the 21st century is no less important. These are confusing, fractured times - and up close and personal at the birth of Ziggy is as good a place as any to lose oneself.

By Andy Barding.

---
JUST A QUICKIE....
25th September 2000



Sorry but this is gonna be quick. I've got three new albums to listen to, Bowie at the Beeb concert to watch for the 4th time and another sneak at Cracked Actor again. Bowie Beeb concert well that was just awesome... for me Cracked Actor shone through. I was amazed how easy it was to spot everyone in the audience.

The 3CD set. Well what can one say? The packaging is wonderful. An excellent write up in the linear notes as ever from Blam. Isn't it better reading when a massive db fan actually writes it. :) Mark. Kevin Cann has done a great job with the research, along with BBC insiders. There's lots of unseen photos and information.... great for us anoraks.

I just remembered - don't forget the special Bowie micro mini site from dotmusic at www.bowieatthebeeb.com/dotmusic/. There is a great competition to win lots of prizes including a signed print of the cover art, albums, t-shirts, posters and subscriptions to www.davidbowie.com and not forgetting you can download for free a Bowie screensaver, a Bowie at the Beeb winamp skin, plus lots of Ziggy photos including one of Henry. Hands up who remembers who Henry was?


Well I'm off to listen to stuff I've wanted to hear from nigh on thirty years ago... ahh what a great day today is...

From Rednik - (positively dribbling with anticipation).

---
BOWIE ON THE BEEB... TONIGHT!
24th September 2000



Not that anyone will be reminding but DAVID BOWIE is to be honoured on BBC2 TV tonight with a "David Bowie Evening". Not only can you see the secret show David performed at the BBC Radio Theatre back in June, you also get to see (at long last) the legendary Alan Yentob documentary "Cracked Actor", which followed David around the US during his 1974 Diamond Dogs tour.
TONIGHT - Sunday BBC2 10:00 p.m. DAVID BOWIE - CONCERT
(1960)
TONIGHT - Sunday BBC2 11:00 p.m. CRACKED ACTOR (336705)

Also next Friday evening at 01:30 a.m. on 29th September (30th), again on BBC2, sees a repeat of David's performance on LATER WITH JOOLS HOLLAND (36769) from 1999.

---
BOWIE, 3D GLASSES AND A CD
24th September 2000



I have created an abstract visual CD for computers called Unauthorized Duets that includes an interpretation of DAVID BOWIE'S "The Wedding" (from Black Tie/White Noise).

It includes 3D glasses and you can get it for $10 right now at http://RhythmicLight.com.

From Fred Collopy.

---
UNOFFICIAL LIMITED LIMITED BOX SET
24th September 2000



On sale at ESPRIT on the KMK label is DAVID BOWIE Bowie At The Beeb (New UK unofficial but limited edition box set, cube shaped silk screen printed box including embroidered t-shirt, metal key ring, car sticker and numbered certificate, due 15th October) £32.99 ($52.78).

From ZigDust.
(Ed. Please note the word "unofficial").

---
BOWIE AT THE BEEB... AND ON DOTMUSIC
23rd September 2000



DAVID BOWIE releases a triple-CD collection of unreleased recordings next week and dotmusic been asked to host an exclusive micro-site to mark the occasion.

dotmusic, in association with EMI and the BBC, will launch the site on Monday, the same day as the release of 'Bowie At The Beeb'. The collection, recorded between 1968 and 1972, includes tracks chosen personally by Bowie, the majority of which have been taken from the albums 'Space Oddity', 'Ziggy Stardust', 'The Man Who Sold The World' and 'Hunky Dory'.

Other than stable Bowie acts of genius such as 'Rock 'n' Roll Suicide', 'Changes', 'Ziggy Stardust' and 'Five Years', there are non-album tracks and covers, including The Velvet Underground's 'Waiting For The Man'. The collection also includes his first-ever live performance with guitarist Mick Ronson and his 1968 session with the Tony Visconti trio. Artwork for the album is by Guy Peellaert, responsible for the design of the seminal 'Diamond Dogs' album. The third CD included with the compilation captures Bowie's performance at the BBC Radio Theatre in June earlier this year.

dotmusic will also be giving away a host of exclusive prizes as part of the micro-site, which includes sound samples, a gallery, screensavers and the full lowdown on 'Bowie At The Beeb'. The prizes include a signed print of the cover art, albums, t-shirts, posters and subscriptions to www.davidbowie.com.

Return to dotmusic.com for the micro-site on Monday.

---
I HAD TO PHONE SOMEONE...
22nd September 2000



DAVID BOWIE will make an appearance today via the telephone on Radio One's Top DJ duo MARK 'N' LARD aka Mark Radcliffe and Marc Riley to announce the winner of their Bowie At The Beeb artwork competition.

The lucky winner will take part in a three-way telephone conversation with all three DJ's as well as receiving the signed print and album. Four runner-up prize winners will also be announced.

Go listen to the Mark and Lard Radio One Show in RealAudio every weekday between 2:00pm and 4:00pm (GMT) on Radio One by clicking here. If you've never heard them in action before I recommend you check them out, without doubt it's the best radio show there is.

Update: Rob Hughes from up 'ere in Altrincham was the lucky winner of the signed limited edition print. You can listen to a real audio file of the phone conversation at TW.

---
BOWIE SNIPPETS ROUND-UP
20th September 2000



This week's New Musical Express has a full page colour advertisement for 'Bowie At The Beeb' on the back page featuring a HUGE photograph of the album cover artwork.

David appeared on TOTP2 tonight - they broadcast 'Queen Bitch' from February 1972 off The Old Grey Whistle Test shown on BBC.

David's official art web site BowieArt is nearly ready for a new take off. The new version differs from the current site in the fact that it now features graduating students from London's Royal College of Art, all of whom have been given free pages on the site. It also includes the artists run initiative Assembly (Goldsmith's and RCA graduates), which brings the total number of featured artists on BowieArt up to about 150 - and of course the site also features some never before seen art from David as well!

The all new BowieArt version 2 opens early next week.

---
ULYSSES (DELLA NOTTE) DUE OCTOBER
20th September 2000



Guitar virtuoso REEVES GABRELS releases his first album Ulysses in more than five years on October 3rd! This Grammy-nominated guitarist/songwriter/producer's new solo release, Ulysses (della notte), was nominated for 'Best Internet Album' at the Yahoo! Online Music Awards and includes vocal cameos by DAVID BOWIE, Dave Grohl and Frank Black, plus "Yesterday's Gone" featuring Robert Smith from The Cure. A guitar work of the highest standards with very accessible melodies, this record will be well received by music lovers from all genres!

The track which features David is entitled "Jewel", you can this, plus 7 other RealAudio samples from the album by visiting www.emaginemusic.com.

.

---
MARK 'N' LARD DB COMPETITION QUESTION
19th September 2000



You have the opportunity to win the double signed DAVID BOWIE and GUY PEELLAERT Bowie At The Beeb limited edition artwork print as well as a 3-way phone conversation with David, Mark and Marc next Friday. Even the four runners-up get a copy of the album... here's what you have to do...

Finish off the following statement in no more than 15 words...

"David Bowie could do a lot worse than support The Shirehorses on their forthcoming UK tour because... ?"

You can send your answer via e-mither to mark.radcliffe@bbc.co.uk or send a snail mail postcard to:

Mark 'n' Lard, Radio 1, BBC Oxford Road, Manchester M60 1SJ.

The dates for The Shirehorses forthcoming UK tour are:
Fri 22nd September - Manchester, Academy.
Tues 26th Sept - Leeds, Metropolitan Uni.
Wed 27th Sept - Bangor, University.
Thu 28th Sept - Oxford, Brookes.
Fri 29th Sept - Liverpool, John Moores.

Sun 1st October - Sheffield, Octagon.
Tues 3rd Oct - Preston, University.
Wed 4th Oct - Stafford, Harper Adams .
Fri 6th Oct - Lancaster, University.
Sat 7th Oct - Aberystwyth, University.
Sun 8th Oct - Birmingham, University.
Tues 10th Oct - Coventry, Coliseum.
Sat 14th Oct - Keele, University.
Fri 27th Oct - Huddersfield, University.
You can listen to the Mark and Lard Show in RealAudio every weekday between 2:00pm and 4:00pm (GMT) on Radio One by clicking here. If you've never heard them in action before I recommend you check them out, without doubt it's the best radio show there is.

---
THIRD INTERNATIONAL BOWIE SWOP
19th September 2000



The 3rd International Fan Chat And Bootleg Swap (live via your internet connection) will be held this Friday 22nd September 10:00 p.m. GMT at britpop.napster.com (server). All the information including local time zones, software setup and site updates can be attained from http://bowie.netfirms.com. Mac users are now able to join.

Cheers Adam.

---
MARK 'N' LARD'S DAVE COMPETITION TODAY!
18th September 2000



BBC Radio One's top DJ duo MARK 'N' LARD (aka Mark Radcliffe and Marc Riley) are to host a special DAVID BOWIE competition TODAY Monday 18th Sept, with one lucky winner receiving a signed print, as well as a three-way conversation on the dog and bone with David, Mark and Lard on Friday 22nd September. There are also other prizes to win.

I believe the competition question will be repeated Tuesday and Wednesday - email your answer via the BBC web site on the link below.

You can listen to the Mark and Lard Show in RealAudio every weekday between 2:00pm and 4:00pm (GMT) on Radio One by clicking here. If you've never heard them in action before I recommend you check them out, without doubt it's the best radio show there is.

---
DAVID APPEARS IN FANTASTIC PRAYERS
16th September 2000



'FANTASTIC PRAYERS' is a collaboration of writer Constance DeJong, artist Tony Oursler, and musician/composer Stephen Vitiello, is a work that has had three unique incarnations. The project was originally conceived as a live performance which took place in Dan Graham's Rooftop Urban Park Project in Spring of 1995. Simultaneous to developing the performance, the artists created Fantastic Prayers, a web project, for Dia's then brand new web site which launched March 31, 1995. This project was developed for Netscape 1.1.

Fantastic Prayers has since evolved, through the continued collaborations of the three artists, into one of Dia's most experimental and innovative initiatives. Fantastic Prayers, the CD-Rom, was completed in June, 2000.

Culminating a five-year collaboration by three artists to produce an experimental work of art in digital media, Dia Center for the Arts announces the release of Fantastic Prayers, an interactive CD-ROM. Created by writer-performer Constance De Jong, artist Tony Oursler, and composer Stephen Vitiello, Fantastic Prayers offers a mesmerizing series of illusory environments explored through text, image, and sound. The artists' use of CD-ROM technology allows an art-viewing experience unlike that of any other media; the artwork is ever-changing, individualized for each viewer and visit, and independent of the limits of time and location.

Fantastic Prayers features appearances by Vito Acconci, DAVID BOWIE, Kim Gordon, Mike Kelley, Tracy Leipold, Julia Scher, and many others. It was produced by Dia Center for the Arts and Prop Foundation.

Fantastic Prayers examines an urban landscape redolent with memories of people, places, and objects. As its eight magical environments open up on a viewer's personal computer, the CD-ROM provides an experience that is both intimate and gamelike. Like a game of Solitaire, Fantastic Prayers can unravel in a multitude of variations unconstrained by skill or intention.

Specifically, the CD-ROM invites the user to uncover fragmentary narratives laden with physical and psychological histories. In one environment, a virtual Graveyard, excavation with a computer mouse reveals a screaming ghost played by Kim Gordon of Sonic Youth, while an accidental click of the mouse uncovers David Bowie in a cameo appearance as the "flower director." Rolling one's mouse through the scene "Ludlow Street" exposes a series of snapshots of a New York City street where daily routines unfold as mini-dramas. In "Empathy Wheel," the viewer plays a video game with the emotions of actress Tracy Leipold. In the segment named "Jacket," a simple charcoal drawing "cuts" to vivid stories of lives past and present, including a cinematic collage narrated by a young Indian boy who loves film. Interwoven with these sections are others entitled "The Place Where Lost Things Go," "Hair," "Natatorium," and "Walls That Speak." Videos, animations, sounds, activities, words, subscreens, and links layer these immersive environments, ensuring a complex and often accidental array of opportunities and juxtapositions.

Dia and the artists will celebrate the publication of the Fantastic Prayers CD-ROM on October 5th at 7:30pm with a party in Dia's 545 West 22nd Street gallery in New York City. The artists will present an arcade of video projections of the CD-ROM with which partygoers will be invited to play; Stephen Vitiello will accompany these scenes with music. The public is invited free of charge.

Fantastic Prayers was released in July 2000. It retails at $39.95 and may be purchased at Dia Center for the Arts or on the web at www.diacenter.org/fprayers/.

Thanks to Tom Boom from EnoWeb for the pointer.

---
JOHN, I'M ONLY LEARNING
15th September 2000



This month's MoJo magazine features a review of the new Bowie At The Beeb album, along with rather nice black and white Ziggy 'Starman' shot from Top Of The Pops from 1972.

Grand Dame's route to Stardust by Andy Gill.

David Bowie
Bowie At The Beeb (EMI)

Compilation of Ziggy's early BBC in-concert and studio sessions.

TEMPORARILY BULKED out with a third disc of the recent BBC Radio Theatre show that effectively reprised his headlining Glastonbury set, this 2-CD compilation collects Bowie's earliest sessions from various Top Gear, In Concert, Johnnie Walker and Sounds Of The Seventies shows recorded between May 1968 and May 1972, tracking his progress from Anthony Newley wannabe to the brink of Aladdin Sane, offering a handy aural frieze of his surprisingly arduous climb to superstardom, culminating aptly in the Ziggy-killing Rock 'N' Roll Suicide.

It's interesting to recall Bowie's callow beginnings. The poppy organ and ambitious arrangements of In The Heat Of The Morning and London Bye Ta-Ta are redolent of the Swinging '60s, as are lyrical references to "the ragged soldier catching butterflies". The prissy strings of Karma Man further expose the earnest nature of the hippy years, while solo acoustic versions of God Knows I'm Good and Jacques Brel's Port Of Amsterdam capture the future progenitor of glam in a rather ill-fitting Euro-Dylanesque mode.

Other Space Oddity material finds him in transition: the urgent vocal style and rough, spindly guitar work makes Unwashed And Somewhat Slightly Dazed sound like Dylan with a Diddley beat, which wins the praise of laid-back John Peel. He is rewarded with a balls-aching eight minutes of wordy Cygnet Committee, complete with flamenco flourishes and "I want to live" drama queen finale.

A 1970 Sunday Show performance of The Width Of A Circle captures a pivotal moment in Bowie's early career: the first public appearance of Mick Ronson. It's not an exceptional performance. But he gets into his stride on the disc two which, apart from pulsating covers of I'm Waiting For The Man and White Light/White Heat, focuses almost entirely on Bowie's last few rungs up the stardom ladder with Hunky Dory and Ziggy Stardust, including two virtually indistinguishable takes each of Hang On To Yourself and Ziggy itself.

The quality of both performances and recordings is exceptional for the time, with elegant versions of Starman and Oh! You Pretty Things affirming the confident new direction of Bowie's pop sensibility, and muscular renditions of Suffragette City, Queen Bitch and Changes. It wouldn't all be downhill from here on, but Bowie had clearly reached a rarefied plateau from which further ascent would prove difficult.

By Andy Gill (MoJo).

The album is now available for pre-ordering. Sssshhhh only $18.88 at CDNow - 30% discount for 3CD set. Click here to pre-order.

Click or scroll down to see full tracklisting.

---
DAVID BOWIE: ARTIST OF THE MONTH
15th September 2000



Artist of the month for October at MVC Entertainment Music Store is non other than DAVID BOWIE. Their special Bowie offers for October include Bowie At The Beeb 3CD for £15.49, Aladdin Sane at £9.99, "Heroes" at £9.99, Low at £7.99, Pin Ups at £8.99 and 'hours...' at £9.99.

There is also the opportunity win a signed 'Bowie At The Beeb' artwork - ask in store for details.

There are 88 stores nationwide - for your nearest store call: 0541 525 520 or click here.

---
MINIATURE HUNKY DORY FOR SALE
15th September 2000



For sale: Very rare DAVID BOWIE album Hunky Dory, only a handful made it measures around 1sq inch and has a little album inside of a little inner record sleeve and also the minature poster of the album cover. Best offer will be accepted.

Send email to Andy.

Check out the Little Wonderworld Trading Post pages for latest FREE advertisements and new additions.

---
BOWIE TRACKS ON TWO FREE PROMO SAMPLERS?
15th September 2000



To promote DAVID BOWIE'S forthcoming album 'Bowie At The Beeb' released on 25th September, sampler tracks are to appear on several cover mounted CDs from various magazines.

In the UK, the October issue of Q magazine will contain a free cover mounted CD entitled "Chill Out" which will include one db track. There will also be a major feature review of the album. More details to follow.

In France, the 19th-25th September issue of Les Inrockuptibles (number 257), includes free cover mounted CD entitled 'Une Rentrée 2000', again this CD sampler includes one db track. More details to follow.

(Ed. No doubt there will be a few more free sampler CDs from around the globe).

---
MARK 'N' LARD TO DO DAVE COMPETITION!
15th September 2000



BBC Radio One's top DJ duo MARK 'N' LARD (aka Mark Radcliffe and Marc Riley) announced on their radio show yesterday that they are to host a special DAVID BOWIE competition this coming Monday 18th Sept, with one lucky winner receiving a signed print by David and Guy Peellaert of the 'Bowie At The Beeb' album cover, as well as a three-way conversation on the dog and bone with David, Mark and Lard on Friday 22nd September. There are also other prizes to win.

You can listen to the Mark and Lard Show in RealAudio every weekday between 2:00pm and 4:00pm (GMT) on Radio One by clicking here. If you've never heard them in action before I recommend you check them out, without doubt it's the best radio show there is.

---
REVIEW: DANCING ABOUT ARCHITECTURE
15th September 2000



Dancing about Architecture - a review of 'From Ibiza to the Norfolk Broads', a new play written and directed by Adrian Berry, by Marcus Reeves.

Stepping into the small studio space of Camden People's Theatre, I was transported for two hours into the twilight world of Martin, a teenage Bowie obsessive who lives in a hospital for people with eating disorders. The set itself simply consists of three beds, Martin's strewn with Bowie memorabilia, mainly consisting of some very tasty posters and some well placed 'intellectual' tomes, books that Martin has only read (if he has) because Bowie did.

The play itself is gripping and has some very moving moments, coming mostly from Martin's relationship with Nancy, a maternal nurse played to tear-jerking perfection by Margaret Campbell. Her scenes were genuinely touching (she is one of the only truly pleasant characters) and she and Alex Clarke (Martin) have a genuine on-stage rapport.

A young cast cope ably with what is at times a very wordy script, with Laura Churchill stealing the show as the bitchy nurse Alex, with a pair of natty red shoes (one of many witty in-jokes for hardcore Bowie maniacs to get). It is through her character that we see Berry's real questions; are Anorexia and Bulimia real illnesses, or simply ways of getting attention?

He goes on to suggest that the responsibility for young people's problems lies squarely with their parents and their screw-ups; the emotionally retarded Simon stating that he can't help it "It's the way I was brought up". This is Berry's finest moment; he strikes right to the heart of the matter and pulls no punches.

Lynne Austin shines as Martin's ruined, alcoholic mother, giving one of the show's funniest speeches about her husband's Bowie obsession which any Bowie obsessive would cringe at in recognition of themselves. Here, Berry shows a true understanding of the completely irrational nature of an obsession and the bizarre extremes obsessives go to.

Martin's relationship with his sister is portrayed as having a slightly sinister undercurrent as the play progresses and Katie Lewis and Alex Clarke work well together. They are both off to study Drama and should succeed with the talent they obviously have already.

The show did seem slightly hurried and perhaps could slow down a little; it could also benefit from more scenes outside Martin's room (although the claustrophobic atmosphere works very well), perhaps seeing Martin and the other patients in their therapy group. Rob Newman's Bowie voice-over is truly creepy and Stephanie Marshall's sometimes hilarious choreography works very well, the end sequence evoking the hysterical atmosphere of the retirement gig perfectly.

The rest of the current London run is sold out, but Tiny Dynamite's production will return briefly run next year and is an absolute must for any Bowie fan. Hopefully the play will be put on in a larger space as it really deserves it and I'm sure it will mature greatly with a second run.

By Marcus Reeves.

---
BOWIE AT THE BEEB TV SHOW DATE!!
14th September 2000



The waiting is over... the date for the broadcasting of DAVID BOWIE'S special performance at BBC Radio Theatre back in June is to be screened on SUNDAY, 24TH SEPTEMBER at 10:00 p.m. in the UK which is the eve of the 'Bowie At The Beeb' 3CD release.

The hour-long show will be immediately followed by the legendary and superb documentary 'Cracked Actor'. If you haven't previously seen this documentary from the 1974 tour by Alan Yentob you are in for a special treat... it is simply without doubt the best TV documentary ever made.

From TBB at BowieNet.

---
UPCOMING BOWIENET SPECIAL CHAT GUESTS
14th September 2000



Tonight's special chat guest on BowieNet is keyboard extraordinare MIKE GARSON at 1:00 p.m. EST, that's 6:00 p.m. GMT. Other special guests lined up for their chatroom are:
Mike Garson - Thursday, September 14th at 1:00pm EST (6:00pm GMT).
Page Hamilton - Thursday, September 28th at 6:00pm EST (11:00pm GMT).
Debbie Harry - COMING SOON - date and time to be announced.
Mick Rock - COMING SOON - date and time to be announced.
Holly Palmer - COMING SOON - date and time to be announced.
Information from BowieNet.

---
CHECK OUT SAM'S BODY TO BODY
14th September 2000



Sneak hearing... the soon-to-be released single "Body To Body" from Irish singer SAMANTHA MUMBA, which samples DAVID BOWIE'S "Ashes To Ashes"heavily can be heard at popworld.com.

Are you sitting comfortably? 'Cos this takes some explaining...

Go to popworld.com... click on 'take a look'... enter as a GUEST... click on popworld today globe... a channel guide appears... click left arrow... click on Samantha Mamba Pop School to watch and hear Sam Mumba Vid Secret: Behind the scenes of Sam's 'Body II Body' video on popworld TV.

Samantha is also set to appear on CBBC TV (Childrens BBC) later today, expect a video showing and a short interview. Another appearance is this Saturday morning on FBi (74498887) at 9:15am and changed to BBC2 channel because of the Olympics. The single is released on October 9th on the Polydor Records label.

---
HOLLY DOES LOS ANGELES!
14th September 2000

Hey all you's... Holly Palmer's first gig after her trans coastal migration is today Thursday at 9:45 at Luna Park in West Hollywood. That's at 665 North Robertson blvd. Robin MacAtangay, her inimitable guitar man, will be on the job as well as fabulous drummer, Jay Bellerose.

Come on and bring your mama... buy her a copy of 'Tenderhooks'... New York dates are coming up!

Holly and trio will be playing at the Dark Star on Wednesday 27th and at the Bottom Line on the Thursday 28th...

From Holly Palmer Newsletter @ www.hollypalmersinger.com.

---
HERO DAVID IS JUST DANDY
13th September 2000

In this week's issue of NME Courtney Taylor, lead singer with THE DANDY WARHOLS is asked in the "Heroes And Villains" section to name his heroes and shame is villains. Named in his heroes section are DAVID BOWIE along with Spock, David Geffen, Superman and his Dad. Courtney had this to say about David...
"David Bowie's a superhero because he always did it better and farther than everybody else. He always gets accused of never having done it his way; like Mick Jagger saying, 'Don't wear a new pair of shoes around David because next week when you see him he'll be wearing the exact same pair of shoes, and he'll have his picture taken first in them.' That's what they say, which is without a doubt a kind of genius I don't seem to be able to get to happen, you know? To be that obviously self-conscious and self-aware, still to be able to create really beautiful and personal music and still be dramatic... that's a toughie. And today he's just as unbelievable and irresistibly beautiful as ever."
From NME web site at www.nme.com.

---
HELLO! MAGAZINE WEB SITE
13th September 2000



Check out the HELLO! magazine web site at www.hello-magazine.co.uk for photographs of Alex, Iman and David, as well as extracts from the exclusive interview.

Hello! Exclusive interview and photographs.

---
LIVEANDWELL CD RELEASE INFORMATION
13th September 2000



Here's the tracklisting and information of LIVEANDWELL the free 2CD given out to members of BowieNet.

Disc 1:


..1. I'm Afraid Of Americans (NYC 15-10-97).
..2. I'm Deranged (Amsterdam 10-06-97).
..3. Heart's Filthy Lesson (Phoenix Festival 19-07-97).
..4. Hallo Spaceboy (Rio 02-11-97).
..5. Telling Lies (Amsterdam 10-06-97).
..6. The Motel (Amsterdam 10-06-97).
..7. Voyeur Of Utter Destruction (Rio 02-11-97).
..8. Battle For Britain (NYC 15-10-97).
..9. Seven Years In Tibet (NYC 15-10-97).
10. Little Wonder (NYC 15-10-97).

Disc 2:


..1. Fun (Dillinja Mix).
..2. Little Wonder (Danny Saber Dance Mix).
..3. Dead Man Walking (Moby Mix 1).
..4. Telling Lies (Paradox Mix).

Artwork and liner notes are done by BowieNet members. Note that the "live version" (from Amsterdam) on the liveandwell.com site has been replaced by the otherwise unavailable Dillinja Mix on the bonus disc.

The set has been issued by Risky Folio under license to Virgin, but there's no catalogue number whatsoever.

From Ruud Altenburg Illustrated db Discography.

---
THE TEMPLE OF FASHION
13th September 2000



The first edition of the BIENNALE DI FIRENZE took place in Florence and Prato from September 21st to December 15th 1996. The idea was to explore and describe the interaction between fashion and visual arts,design, architecture,cinema, photography, customs, history.

DAVID BOWIE took part with an installation composed of a dummy hanging from a box which enclosed a shiny U.F.O.; it was all set in a softened and dark environment. The dummy is the same that was used for the cover of Earthling. David took part to the opening gala (held in the Sala d'arme of Palazzo Pitti).

Velvet Goldmine managed to get some photos of David's exhibit inside the Leopolda station and others (never seen so far) which portray David at the opening gala with Iman and Dolce&Gabbana. A very special thank you to Tania Bucci who kindly allowed to use her photographs!

For more details and photographs see the English version.

From Velvet Goldmine web site.

---
UPDATE ON 'STAR' DEMO
13th September 2000



As I am sure you are aware a DAVID BOWIE demo version of 'Star' recorded at the Radio Luxembourg Studios, in Hertford Street, has surfaced.

The tape was given to a member of the band Chameleon who recorded the song but it was not released. The lyrics on the tape differ from the Ziggy Stardust version...

In the chorus 'I could make it all worthwhile as a rock 'n 'roll star... and ... "I could make a big time noise as a rock 'n' roll star' becomes... 'I could make a transformation... and I could make a big time noise as a rock 'n' roll star'. The opening lines change from 'If someone had the sense to hear me, if someone had the time to see'... .to 'Tony went to fight in Belfast, Rudi stayed at home to starve'.

You can read more details about the 'Star' demo on offer at Christie's auction sale further down this page...

'Who The Hell Is Les Payne?" and "Star Demo Up For Grabs.

Thanks to Martyn H. for the extra information.

---
ALMOST FAMOUS SOUNDTRACK OUT!
13th September 2000



The Cameron Crowe movie 'ALMOST FAMOUS' soundtrack, released on Dreamworks includes a DAVID BOWIE version of Lou Reed's "Waiting For The Man".

The movie is a semi-autobiographical story of a journalist on tour with the fictional band 'Stillwater'. Pearl Jam's Mike McCready stars as one of the Stillwater members, while Philip Seymour Hoffman plays Crowe's mentor, legendary music critic Lester Bangs. Peter Frampton (the film's music director), Heart's Nancy Wilson (Crowe's wife) and Red House Painters' Mark Kozelek also make brief appearances.

Tracklisting:
The Beach Boys: "Feel Flows".
Simon and Garfunkel: "America".
The Who: "Sparks".
David Bowie: "Waiting for the Man".
Rod Stewart: "Every Picture Tells A Story".
Thunderclap Newman: "Something In the Air".
Lynyrd Skynyrd: "Simple Man".
Stillwater: "Fever Dog".
Elton John: "Tiny Dancer".
Todd Rundgren: "It Wouldn't Have Made Any Difference".
Nancy Wilson: "Lucky Trumble".
Yes: "Your Move".
Cat Stevens: "The Wind".
The Allman Brothers Band: "One Way Out".
The Seeds: "Mr. Farmer".
Clarence Carter: "Slip Away".
Led Zeppelin: "That's The Way".
You can purchase the soundtrack album here.

---
BABY ALEXANDRIA PHOTOGRAPH GALLERY
12th September 2000



Check out the new photographs of Alex, mum and dad in the photograph gallery. More to follow.
---
DAVID BOWIE BREAKS THRU'
12th September 2000



DAVID BOWIE appears on the front cover of BREAKTHRU. Breakthru is the bi-monthly magazine about people making it in music and has therefore been designed first and foremost, to give the reader an insight into how the music business works, what the people who control it want, and most importantly, to enlighten readers about the legal technicalities associated with the business.

Issue 11 of Breakthru Magazine is out NOW don't miss it! Order your copy at WH Smiths or from all other good newsagents.

Breakthru Magazine is Published bi-monthly by Sequel Publications. PO Box 723. Windsor Berkshire, SL4 1GP. Tel: 020 7900 3101.

Check out their web site and see the cover at breakthru-magazine.com Thanks to EB for the pointer.

---
DADDY STARDUST IT'S BOWIE'S LATEST NO. 1
12th September 2000



His days as way-out Ziggy Stardust are long gone. Now David Bowie is playing a more down-to-earth role - as the doting new dad.

These are the first pictures of the 53-year-old rock hero with model wife Iman and their three-week-old daughter, Alexandria Zahra. Bowie, say friends, has been "bubbly with joy" and helps with feeds.

In an interview in this week's Hello! magazine, the proud singer says: "It's amazing how a new child can refocus one's direction seconds after its birth. Everything falls into a feeling of 'rightness'.

The ageing rocker was so excited about the birth he even helped cut the umbilical cord. Since marrying Bowie in 1992, Somalian-born Iman, 44, had said that if she failed to fall pregnant, the couple would adopt. She even went to the extraordinary lengths of cradling fellow model Christie Brinkley's baby for a day after hearing it helped women having difficulty conceiving. Now, they finally have the child they longed for. Bowie intends to put his singing career on hold for two years to spend time with the baby at his luxury Manhattan home.

The couple both have children from previous relationships. Iman has a daughter, 22-year-old Zulekha, from her marriage to a US basketball star. And Bowie has a 29-year-old son, Zowie, who was the product of his zany open marriage to Angie Barnett.

Zowie has since changed his wacky name to Duncan. But at least Alexandria should be able to live with hers...

From The Mirror.

---
HELLO! BABY ALEXANDRIA PHOTOGRAPHS!
11th September 2000



Out now in the latest issue of HELLO! magazine (number 629 - 19th Sept.) features world exclusive photographs of the incredibly proud parents MR AND MRS DAVID JONES' and their gorgeous new baby daughter ALEXANDRIA ZAHRA.
Alexandria was born on 15th August 2000 at 5:06 a.m. in New York. David assisted with the delivery and cut the umbilical cord. She weighed in at 7lbs 4.6oz (3.28 kilogrammes) and her length was 20.5. Her christian names were chosen for their real meanings - Alexandria means "defender of mankind" and Zahra is Arabic for "inner light".
Check out some more photographs of Alex, mum and dad in the photograph gallery.
(Ed. What an absolutely gorgeous photograph).
---
DAILY RECORD: DAVID AND IMUM
11th September 2000



Proud pop icon DAVID BOWIE and model wife IMAN yesterday revealed their baby joy as they showed off new daughter Alexandria Zahra. Pals say rocker David, 53, has been "bubbling over with joy" since her birth. Now he has put his singing career on hold for two years and created a nursery at the couple's luxury Manhattan home.

And in an interview with Hello! magazine he said: "It is amazing how a new child can refocus one's direction seconds after its birth. Everything falls into a feeling of 'rightness.'"

Alexandria is the latest celebrity baby to be born this summer along with Madonna's son Rocco and Catherine Zeta-Jones's baby boy Dylan. Dylan and Alexandria were born six days apart and the two mothers apparently compared 'bump' sizes during pregnancy. Iman said: "No doubt we'll run into each other again and then the babies can compare mothers."

Extract from Daily Record. Full story here.

---
HEDWIG AND THE ANGRY INCH HITS UK
11th September 2000



Described by Time Out as One third Ziggy Stardust, one third Marlene Dietrich, one third Farah Fawcett, Headwig and the Angry Inch is all glamour - 100% trash-glam scuzz! Headwig opens at the Playhouse Theatre from 8th September. To see what David Bowie calls The most captivating piece of rock theatre we've ever seen call the box office on +44 (0)20 7316 4747.

New rock horror of a musical - by Donald Hutera.

Hedwig, the title character of the American rock musical Hedwig and The Angry Inch, is no lady. Neither is actor Michael Cerveris, who'll be playing her in the West End. But fuse this unlikely duo together and you have one of the most combustible combinations of performer and part since Tim Curry donned heels, slap and scanties as Rocky Horror's transvestite Dr Frank N Furter.

With a mountain of Farrah-Fawcett-meets-Dolly Parton fake hair, and a red-white-and-denim mini-dress (complete with cape and pink fringe), Hedwig is a waydown-at-heel semi-transsexual German rock-diva. Think Marlene Dietrich crossed with Ziggy Stardust.

From London Evening Standard.

---
REMINDER: SAMANTHA MUMBA "ASHES" ON TV
9th September 2000



New chart R 'n' B Irish star SAMANTHA MUMBA looks set to have another big hit with her latest single "Body II Body" which samples DAVID BOWIE'S 1980 number one smash hit 'Ashes To Ashes' due for release on 9th October.

Samantha is to appear on ITV's SMTV LIVE this morning at 9:25 a.m. (S) (21088248) performing the single and also an interview.

The 17-year-old Dublin-born singer said: "We recorded the original track and then the producers sent it off to Bowie's management to see if we could use a sample of Ashes To Ashes. "They came back and told us he absolutely loved it, I had never heard the original song before and when they first player it to me, I said, 'Can't you get rid of the twiddly bit," she laughs. "But then they played me the video and I saw how it all fitted together," she says.

"That was a bit mad. I actually thought it a bit strange when I heard it the first time, because I think it was about three or four years before I was born when that song was released, so I didn't get the whole thing at all. But I've got into the David Bowie world and I really like it now. It's really good that he'd approved it. I wasn't too sure that he would, but he has. Sure, I'll let him on Top Of The Pops with me!"

Update: Samantha Mumba appeared on SMTV Live this morning miming to the track. The track borrows heavily from Ashes To Ashes and also sounds somewhat similar to Cameo's 'Word Up'.

The chorus goes a little something like this:
"Body to body,
Fun to funky,
We know how to rock your party".
---
ILLUSTRATED db DISCOGRAPHY UPDATED
8th September 2000



v 11.4: added Bowie At The Beeb (plus its promo), the Rarest Live and little known Superstar compilations, the Best Of The Best, Best and Greatest Hits pirates, and the Yahoo Internet Life and Maximum '65 giveaway CDs. In Real Audio you are treated to no less than 11 rare recent tracks (a/o Trying' To Get To Heaven, Seven from the Omikron game, and several promo-only remixes). Due to a lack of server space some files will have to be removed in the next update, so come have a listen before they're gone!

From Ruud Altenburg Illustrated db Discography.

---
GQ EXCLUSIVE BOWIE INTERVIEW
8th September 2000



Out now is the October issue of GQ magazine. DAVID BOWIE, who this week won "The Most Stylish Man Of The Year" at the GQ Awards 2000 in London features as one of the four collector's covers: Liz Hurley, David Bowie, Richard Ashcroft and Johnny Vaughan.

The four page exclusive interview by Dylan Jones features some tasty insights into David plans over the next few years.

Interview extracts:

(Glastonbury)... "I was quite overwhelmed to see so many people singing the songs," he says. "And they were such a young crowd, younger than most of my fans. Some of my recent albums have been picked up by the Nineties generation, but then they don't know the early stuff. I think it's a surprise when they hear them all at once and think, 'Did he write that?' I know that because, in America especially, when I do 'The Man Who Sold The World' the amount of kids that come up afterwards and say, 'It's cool you're doing a Nirvana song.' And I think, 'F**k you, you little tosser!'"

He's still an influential clotheshorse, too, which is why GQ readers have voted him the Most Stylish Man Of The Year.... "The question I always ask is: would I have been given this award if I didn't do the interview and photo session?" he says quizzically. "I'm not one for awards at all. Most of the music awards are on the basis of, if you turn up, you'll get it. And I say, fine, I don't want it. If you want me to have it, give it to me and I might surprise you and turn up. Otherwise, f**k off! But if your readers have chosen me... then I feel privileged, it's pretty marvellous."

The most significant event in his life this year has been the arrival of the new Bowie offspring. So giddy with excitement is he that he intends to move his family back to Britain. "There is no way I'm bringing up my child in America. No way. We'll be back over to London, without a doubt. 'Right, darlin', we better look around for the English House!'"

The rest of the year is frantic. First he's recording his own version of Pin Ups, reclaiming around a dozen of his very obscure, very old and, in some cases, really very naff songs and re-recording them. The highlights include a new version of the first single he ever released as David Bowie - "Can't Help Thinking About Me", from 1965 - as well as "I Dig Everything" and "The London Boys" from the same period. "A lot of them were so cheesy," he says. "I said to Goldie we should do a drum'n'bass version of 'The Laughing Gnome' but he didn't seem up for it." After that comes Bowie At The Beeb, a double CD of the material he recorded for the BBC between 1967 and 1972. The album will be accompanied by a DVD featuring the showcase he gave at the BBC's Portland Place studio this summer.

(About the Ziggy 2002 project)... "I won't be in it, let's make that clear. Not me, mate! I won't even be Ziggy's dad!"

So, this won't be Ziggy Stardust And The Last Crusade? "Yes! Indiana Stardust! But unfortunately, no."

Nor is Bowie writing new songs for the Ziggy project. "I've pulled out a good deal of scraps that were never used at the time. Some of them are only 30 seconds long, but I'm extending those. I thought, 'OK, is this crap and is that the reason why it never appeared on the first one or is it OK and should I try and do things with it?' So I've taken those six tracks and thrashed them out and made them into songs that will support the original. One's called the 'Black Hole Kids' which is fascinating."

Bowie found all this stuff languishing in one of the many boxes of archive material he keeps at his home in Switzerland. He has over 800 cassettes of recordings, including dozens of conversations with Incredibly Famous People, hundreds of concert recordings ("I found virtually the whole of the soundboard tapes for the '74, '76, '78 tours. Every f**king one!"), superstar jams with the Stooges and the Stones and some other stuff he would prefer we didn't go into (including a visit to see Iggy Pop in hospital in LA). Most of it was recorded during Bowie's infamous "Warholian" period, when he would record and Polaroid everything that happened to him, including, it's alleged, the odd sex session. One of the funniest recordings involves Rolling Stone Ronnie Wood visiting Bowie in LA. The duo are sitting in the den, idly playing "Golden Years" while, every so often, Ronnie stops to hoover up huge lines of Gianluca. "It's hysterical," says Bowie. "Very rock'n'roll."

How does he feel about the "new Sinatra" tag? Can he easily hang it on himself?. "Oh, he would not be happy with that!' Sinatra's daughter, Nancy, once stupidly suggested that I play him in a movie. God, he hated that. 'I don't want a fag playing me!' He was absolutely terrified that I might be taken seriously. He hated long hair, hated anything limey! I do relate to Sinatra in that my tours are getting fewer and fewer. I don't tour just for the sake of touring any more. If you see me live these days you know I want to be doing it. I don't need to tour for money. And I know that people feel like that when they go and see me. They may not even like the material but they'll say, 'F**k me. He's prancing about, isn't he?' Because I am. I love it.

Trivia: For the anoraks and collectors amongst you, if you buy the Liz Hurley cover the db cover photograph shot by Craig McDean also appears as part of the fold out. (Click on magazine cover). The photograph was taken in New York on 18th July 2000. Styling by Jo Levin, grooming by Herve Leferve. David wears black cotton shirt by Agnes B, priced at £58. (Tel: 020-7379 1992).

GQ Magazine web site.

---
INTRODUCING... 'THE COMPLETE DAVID BOWIE'
7th September 2000



Due for publication next month on 2nd October is THE COMPLETE DAVID BOWIE written by NICHOLAS PEGG and published by Reynolds & Hearn. (ISBN: 1903111145).

The press release announces that the 448 page paperback is the first book to cover every facet of David's career in revealing depth and detail. In his research for this benchmark book, Nicholas Pegg has used a host of sources, many of them previously unpublished. Every recording is analysed from a technical and musical point of view, as well as being judiciously placed in the context of Bowie's mercurial career moves and constantly refined creative intentions. The A-Z of songs and the day-by-day dateline of Bowie's career are the most complete yet published.

To give you a brief insight and "feel" for the publication, I've managed to obtain the actual introduction to the forthcoming publication:



INTRODUCTION : THE MUSIC IS OUTSIDE

"The piece of work is not finished until the audience come to it and add their own interpretation - and what the piece of art is about is the grey space in the middle."

David Bowie, December 1999.



On 8 January 1947 Elvis Presley celebrated his twelfth birthday and Stephen Hawking his fifth. In New York, Jackson Pollock made his first drip-painting. In London the day began with a portent, when freezing conditions caused the Lambeth Town Hall clock to strike thirteen times at midnight. Less than half a mile to the south, at 40 Stansfield Road, Brixton, Peggy Burns gave birth to a baby boy.

This book is about that boy, but it is not a biography. It's a reference work which, it is to be hoped, will satisfy the enthusiast and inform the newcomer. To both I implore: if you want to enjoy David Bowie's work to the full, keep an open mind. What makes Bowie such a supremely fascinating artist is that his career presents an implicit challenge to conventional notions of creative continuity. He has repeatedly confounded attempts to pigeon-hole him as this or that kind of artist, and the result has been one of rock music's longest and most successful careers. "People would like artists to be expendable, to fit into one generation or another," said Bowie's painter friend Julian Schnabel in 1997. "They don't like it when somebody keeps going." Bowie himself is fond of quoting a maxim of Brian Eno's, as he did on Radio 2's Golden Years documentary in March 2000: "In art you can crash your plane and walk away from it. If you have that chance, you should take it. The worst thing would be to maintain a particular kind of celebrity and commercial success for the entire career, and then look back and think of all the things that one could have tried and could have done, and think - why didn't I do that?"

There will always be those who mistrust Bowie because he borrows other people's ideas. Serious glam-rockers will state a preference for Marc Bolan, advocates of synthesizer minimalism will go straight to Kraftwerk, soul-boys grimace at Young Americans, Prodigy lovers have no time for Earthling. Bowie's ability to remake his music, his appearance and even his personality has prompted some to accuse his work of a kind of fundamental dishonesty. The charge frequently levelled against Bowie throughout his career is that he is a dilettante, a style vampire who has his finger on the pulse but never his hand on his heart. "Some people say Bowie is all surface style and second-hand ideas," said Brian Eno in 1999, "but that sounds like a definition of pop to me. It's a folk art. It's only in the conceited fine arts that we're supposed to be totally original and pretend that it came out of nowhere, straight from God to us. In pop music, everyone is listening to everyone else." A decade earlier Bowie had told Melody Maker that "There's no point in just ripping something off, but if you hear something and think, 'I like what that guy is doing; I know what I can do with that', it's like having a new colour to paint with, and I think it depends very much on what you do with that colour once you've found it."

The not uncommon hypothesis that the Ziggy Stardust period is Bowie's only true moment of relevance is based on the circumstantial fact that that's when the public at large happened to start buying him. "I know that they were decisive years for me," David said in 1998, "because for the first time I had a real audience. But at the same time, I really worked hard before 1970." Glam rock was merely the latest idiom of an artist who had already worked though the guises of R'n'B frontman, Mod, psychedelic balladeer, Dylanesque protest singer and embryonic prog-rocker. Bowie has attributed the long years of his pre-fame struggle to the very fact that he was unwilling to nail his colours to one stylistic mast: "At that point, particularly, it wasn't 'right' to have an interest in all areas," he said in 1999. "It was make-your-mind-up time. You were either a folk singer or a rock singer or a blues guitarist... I felt: well, I don't wanna be like this. I wanna keep my options open; there's lots of things I like." Commercially Ziggy Stardust was of massive significance, but artistically it was just another milestone on the meandering road. Bowie may not have invented glam, but the point is that he conquered it. Unlike Bolan, he then escaped it. A few years later he repeated the same pattern with synthesizer pop, dropping a few classic albums our way and leaving behind another trail of imitators who failed to move on. That's what makes him David Bowie.

And that's why, despite the occasional commercial jackpot, Bowie's music has never been wholly accepted in America, where honesty and denim and Bruce Springsteen are what rock music is all about: "I'm not a guy that gets on stage and tells you how my day's just gone," he once remarked. Bowie's work is about artifice, about allusion, about signifying the enactment of rock music. "I feel like an actor when I'm on stage, rather than a rock artist," he told Rolling Stone in 1972. Twenty-five years later he informed another interviewer that "Bertolt Brecht believed that it was impossible for an actor to express real emotion in a natural form every night. Instead, you portray the emotion symbolically. You don't try to draw the audience into the emotional content of what you're doing, but give them something to create their own dialogue about what you're portraying. You play anger or love through stylistic gesture. The voice doesn't rise and fall and the face doesn't go through all the gambits you would portray as a naturalistic actor. I've done that an awful lot throughout my career. A lot of what is perceived as mannered performance or writing is a distancing from the subject matter to allow an audience to have their own association with what I'm writing about."

This sort of assertion creates a problem only for those who consider theatre to be somehow synonymous with insincerity. Working within an art form which jealously guards its stylistic boundaries and stigmatizes those who fail to define their artistic allegiances, David Bowie has made a career out of playing counter to the unwritten rules of rock. Many of the major artists he has professed to admire - people like Lou Reed, Bob Dylan, Iggy Pop and Joni Mitchell - have won respect precisely because they have stuck to their guns, devoting whole careers to the meticulous exploration of a carefully defined musical landscape. By contrast, Bowie delights in presenting a moving target. Making no attempt to conceal his own short attention span and his assimilation of new enthusiasms, he constantly challenges our complacency as consumers, writing and rewriting the parameters of his work on the tabula rasa he calls David Bowie. Warning against autobiographical readings of his 1999 album 'hours...', he told Q that "I am only the person the greatest number of people believe I am. So little of it has anything to do with me, so I just have to do the best I can with what I've got [a close paraphrase of the album's opening line] - knowing that it has a complete second life by the time it leaves me."

Undoubtedly, a crucial part of Bowie's enduring appeal is his ability to shed skins: "I find that I am a person who can take on the guises of different people that I meet," he told Russell Harty in 1973. "I can switch accents in seconds of meeting someone... I've always found that I collect. I'm a collector, and I've always just seemed to collect personalities and ideas." In 1997 he reflected that "I create something out of my enthusiasms of that particular moment. I get re-enthused by something else, and suddenly I don't see that any more, and I'm over here. And that's the way I am. I have no apology."

Any attempt to pry beneath the theatrical guises would be hugely missing the point, but it does not follow that Bowie's music is therefore without substance or continuity. Collaborators, influences, hairstyles and even accents have come and gone, but as far as the essence of the work is concerned, rather too much has been made of Bowie's "changes". There's an obvious blood relation between Hunky Dory, Low and 1.Outside, or any other random batch of albums you care to pick. "The reinvention thing, I don't buy into that at all," said David in 1997. "I think there's a real continuity with what I do, and it's just about expressing myself in a contemporaneous fashion." In the same interview he mocked the facile commentaries all too frequently trotted out about his career: "I'm probably the chameleon of rock because what I do is all about ch-ch-changes! The clichés are a stack high."

There are, however, deeper resonances at play. Central to Bowie's habit of dismantling his music and himself, and reassembling them in unexpected ways, is the recurring motif of a quest for the authentic self. His lyrics disclose an abiding preoccupation with burrowing through the layers of pretence to discover who is, in the words of 'Wild Eyed Boy From Freecloud', "really you and really me". In 'Changes' he "turned myself to face me" only to find that to do so was to "turn and face the strange". There are encounters with sinister doppelgängers in countless songs. Bowie's constant refrain in interviews throughout the 1970s and 1980s was that each new album or tour was about to unveil "the real me". It's a subject that has clearly concerned David throughout his career: "I'm not sure if that's really me coming through in the songs," he said in 1972. "They come out and I hear them afterward and I think, well, whoever wrote that really felt strongly about it. I can't feel strongly. I get so numb."

The constantly shifting "me", like the masks and mirrors that litter his lyrics, videos and concerts, are all part of Bowie's galvanizing restlessness. As he said in 1976, "The minute you know you're on safe ground, you're dead. You're finished. It's over. The last thing I want is to be established." Twenty years later he commented that "not knowing where you're going is what makes it exciting for me. It leaves a permanently open landscape." As he proved so (un)spectacularly with Tin Machine, Bowie is at his least interesting when he abandons the quest and tries to ape the rootsy authenticity of the rock'n'roll band. In a rare piece of pro-Bowie press in 1997, the NME's Stephen Dalton summed up the situation succinctly if hyperbolically: "Hating Bowie in 1997 means hating everything overblown, theatrical, pretentious, pseudo-intellectual and jarringly progressive in the past 25 years of pop. In other words, everything great about pop. It also means hating yourself."

Bowie's early manager Kenneth Pitt wrote in his memoir that those who judge Bowie and "take as their yardstick rock and roll, fail to understand that David never was a devotee or exponent of rock and roll. Whenever he rocked and rolled he did so in the context of theatre, as an actor. It has been his most successful role to date." The accepted wisdom of the rock fan - and of many Bowie fans - is to cast the eyes skyward and groan with embarrassment at Labyrinth and the Bing Crosby duet and all those silly early songs about gnomes and bombardiers, because they don't fit in with our narrow preconception of what a credible rock singer should be doing. Why do we punish ourselves like this? Station To Station is a great rock album, but that doesn't stop Labyrinth being a great children's movie. They are different things, and Bowie excels at doing different things. No other artist of his stature straddles and thereby defies the conflict between the opposing camps of "rock" and "pop". Bowie enjoys the rare ability to appeal to fans of both Led Zeppelin and ABBA, of both Frank Zappa and Duran Duran. Those who take their "rock" too seriously have a problem with this, but it's a problem of their own making; Bowie challenges the tribalism of such allegiances. "I never, ever wanted to be regarded as the leader or the forefront of any movement," he said in 1983. "Never wanted it. I did want to be regarded as an individualist. But that's about it." Leading by example, his career actively encourages his followers to reject uniforms and movements, to shed their skins, to revel in the transience of musical and sartorial fashion: in doing so he has cannily avoided locking his own fan base into an ephemeral time frame, but more significantly it has enabled his music to defy categorization: was there ever a better example than Ziggy Stardust of an album that is simultaneously pure rock and pure pop?

In any case, Bowie's muse operates outside rock's accustomed frames of reference. We can and must point to Little Richard, Lou Reed, Kraftwerk, Marc Bolan and countless other crucial role-models from within the world of rock, but to form a proper understanding of what makes Bowie tick as a creative artist it is equally important to consider the influences of an altogether different sphere. The fusion of rock music with pantomime, science fiction and nursery rhyme, which remains a constant from 'The Laughing Gnome' to 'Thursday's Child' and from 'Space Oddity' to 'Looking For Satellites', is inextricably linked with the imaginative framework of Bowie's childhood universe. "He is the only person who I have met who brings nursery rhymes and fairy stories to the foreground of my mind," wrote one of his earliest profilers for Chelsea News in 1967, and it remains a perceptive observation. Time and again Bowie's music has raised the ghosts of his suburban childhood in the 1950s and 1960s: fairy stories like Snow White and Aladdin, radio comedies like The Goon Show and Hancock's Half Hour, nursery rhymes like 'Inchworm', 'Lavender Blue' and 'London Bridge Is Falling Down', popular television classics like Quatermass, Doctor Who, Not Only... But Also and, as repeatedly quoted in interviews, The Flowerpot Men. The rock critic who pooh-poohs such texts as being beneath the dignity of his subject or of himself will never get to the bottom of David Bowie's work.

If one element above all others recurs throughout Bowie's career, it is the ongoing sci-fi shtick that infuses his most celebrated characters, from Major Tom and Ziggy Stardust to The Man Who Fell To Earth and Earthling. He has always professed to believe firmly in the existence of extraterrestrial life, and his fascination with everything from UFO sightings to Ridley Scott's Blade Runner is well documented. Even so, as Bowie has often insisted, the alien characters of his early songs merely exploit outer space as a metaphor for his own inner space: "They were metaphysically in place to suggest that I felt alienated," he explained in 1997, "that I felt distanced from society and that I was really in search of some kind of connection."

This distance - the "otherness", contrived or otherwise, that has defined so much of Bowie's work - is perhaps the keynote in any attempt to appreciate his creative priorities. Time and again it is the vessel which articulates an apparent dread of time, mortality and oblivion that runs like a seam through Bowie's songwriting. It's detectable in the Blakeian cries for lost childhood that riddle his earliest compositions, it's there in the chilling mortal angst of Scary Monsters, and it's there in the middle-aged regret that infuses the melancholic 'hours...'. Perhaps most obviously it rampages through his early 1970s work, a darkening force that looms over a whole parade of famous songs.

Much of Bowie's methodology as an artist derives not from music or theatre, but from a third art form that has long informed his creative sensibility. "I see the whole of what I do in terms of painting," he once explained. "I've always thought they were very close. A lot of the songs I've written are, for me, paintings in words. A lot of the more embellished pieces, the ones really loaded with sound, where there are lots of things to listen to on repeated play, came from the idea of building up layers of paint so that you see something new each time." Inevitably, just as rock music jealously guards the battlements of its fragile edifice, so too does the rarefied world of fine art. The attempts of a rock musician to be taken seriously as a painter are ripe for attack by the snob element within both establishments, and Bowie has been predictably ridiculed by those who believe that he should only be permitted to be one or the other. The notion that he could be both, or neither, is apparently just too complicated to consider.

The assimilation of different media is at the heart of Bowie's creative pursuit. His best music is often organically and inextricably linked to his painting, his writing, his stage presentations and his trailblazing video work. In 1996 he told an interviewer that "because I didn't have any real training in any [artistic media] it didn't occur to me that you were supposed to only stay in one of them. So for me it was quite appropriate that if I'm doing music, then I should also actually design some scenery for the stage and probably the costumes, and I'll do some paintings while I'm at it. And it just never stopped."

In the recording studio, Bowie has little interest in adhering to the accepted grammar of rock music. His best work is founded on the pursuit of unlikely juxtapositions and unorthodox frictions in style, instrumentation and tempo. He delights in demolishing his own musical vocabulary and thrives on the uncertainty of the new idea. He has a penchant for collaborators who are prepared to scrap the rule-book and establish alternative methodologies, whose very rejection of conventional notions of "efficiency" creates the necessary stimulus: Tony Visconti, Mike Garson, Brian Eno, Robert Fripp, Reeves Gabrels and many others. Even among more conventional players he has always favoured those whose technical dexterity and melodic instincts are matched by a willingness to step off the creative brink: Earl Slick, Herbie Flowers, Carlos Alomar, Gail Ann Dorsey, Mick Ronson. "That's what I do as a producer," Bowie told Guitar Player in 1997. "I'm good at opening musicians to areas of their own technique or creativity that they might not have looked at before." In the same interview he offered a precise summary of his creative priorities: "A girl wearing a red dress in a forest will be some strange vision of unexpected eroticism, but a girl wearing a red dress on a catwalk will be highly predictable."

Bowie's career has been defined by a series of pendulum-swings and shifting compromises, and he has systematically surrounded himself with colleagues who exert conflicting gravitational pulls on his own strongly vaudevillean instincts. Figures like Iggy Pop, Pete Townshend and Tin Machine's Sales brothers have popped up over the years to inject into Bowie's work the kind of authentic rock'n'roll street cred he has often craved, while the likes of Eno, Fripp and Gabrels have empowered his avant-garde ambitions. Bowie is blessed with the rare ability to synthesize what he wants from two necessarily confrontational approaches: it is his particular triumph that he is neither Lou Reed nor John Cale, but a bit of both.

There are certain challenges and pitfalls attendant on the Bowie chronicler. It is a venerable cliché that history is written by the winning side, but in the case of biographies of the rich and famous, the opposite tends to be true. Anyone who has read an unauthorized life of a successful actor, politician or rock star will be familiar with the parade of forgotten schoolmates, ex-lovers and fired colleagues who line up, not always in a spirit of generosity, to clutch at their moment of fame. Whenever a true story is told and re-told at second hand, a consensus begins to crystallize which can quickly distort the reality, as witnessed in some of the silly, hyperbolic mythologies that have been built up around Bowie's life and career. In particular, many of the key figures during David's breakthrough period - people like Kenneth Pitt, Tony Defries and Angela Bowie - have been painted in such brash primary colours over the years that they have been reduced to a series of grotesque caricatures that are unspeakably injurious to the individuals in question and entirely unhelpful to seekers of the truth. One only has to look at Todd Haynes's 1998 film Velvet Goldmine to see how reality has been transmuted into a colourful fantasia. The truth is less polarized, less sensational, and far more interesting.

Most unhappily of all, the misfortunes of David's family have often been cast in a nastily melodramatic light, a succession of darkly-whispered asylum secrets from some third-rate Hammer horror. The most sensitive and contentious element in any study of Bowie's work is the question of how far his songwriting is informed by his family history, in particular the mental illness of various relatives. These are deep waters, and have occasionally tempted biographers to write unpleasantly inflammatory and profoundly silly things. David has long since confirmed that much of his early writing was indeed concerned with such anxieties: "One puts oneself through such psychological damage in trying to avoid the threat of insanity," he said in 1993. "You start to approach the very thing that you're scared of. It had tragically afflicted particularly my mother's side of the family. There seemed to be any number of people who had various mental problems and varying states of sanity. There were far too many suicides for my liking, and that was something I was terribly fearful of... I felt that I was the lucky one because I was an artist and it would never happen to me. As long as I could put these psychological excesses into my music and into my work, I could always be throwing it off." The challenge confronting the responsible writer is that it would be priggish and precious to ignore the subject entirely, but the worst kind of gutter-sniping to start casting around for gory details. I have tried very hard to steer the right path between the two.

The fascination inspired by Bowie's often impenetrably cryptic songwriting has sparked an unending search for pattern and meaning in his work. The arch media-manipulator is famous for his ability to disarm journalists just when they believe they're on the point of getting a fundamental answer out of him. "He invariably agrees with opinions," wrote Scott Isler, who interviewed David for Musician magazine in 1987. "Like James Dean, one of his idols, Bowie prefers to mirror an interviewer rather than open a window to his own personality." When, on the Tonight show in 1979, Valerie Singleton attempted a probing question about whether David still felt there was anything he really wanted, he replied with absolute solemnity, "Yes, a train ticket to Penge."

The elusive charm of Bowie under interview conditions remains one of his most endearing and enjoyable talents. Sometimes, both frustratingly and amusingly, he is content to assimilate the prevailing critical opinion of his own history, praising and condemning exactly the same albums and tours as everyone else, despite what he may have said at the time. "When I think about the past these days it's through other people's eyes," he said in 1999, adding that his personal history "doesn't really exist. It's just circumstances that are vaguely remembered, often incorrectly, by both myself and other people."

By being such a slippery customer, Bowie has remained a past master at manipulating the cultivated mystery that surrounds his work. In 1973 he told Rolling Stone that fans "...will send me back their own kind of write-ups of what I'm talking about, which is great for me because sometimes I don't know." But it would be a mistake to assume that Bowie's songwriting is not precious to him. "My songs are all from the heart, and they are wholly personal to me and I would like people to accept them as such," he said in 1969. "I dearly want to be recognized as a writer, but I would ask them not to go too deeply into my songs. As likely as not, there's nothing there but the words and music you hear at one listening." Thirty years later, he gave perhaps his most cogent analysis of his own craft: "Let me say that my songs are a construction," he told Uncut in 1999. "It's very rare that they inherently have a particularly deep 'meaning'. Or if they do, it's a very personal thing which I wouldn't expect other people to perceive or understand. That's not why I write songs. I like the idea that they're vehicles for other people to interpret or use as they will. It's a device. That's what I do with songs, with art generally. Yes I have an interest in how an artist works, but I don't need to know what it's 'about'. I'm quite capable of reading the ciphers and symbols for myself. I think a lot of people these days have ended up cobbling together a belief system that works for them."

Ultimately, no book of this kind can achieve an adequate appreciation of music, which is not a form of expression to be broken down into its constituent parts by anything so clumsy as words. They, to quote the sizzlingly overheated sleeve-notes that appeared on RCA's reissue of Space Oddity, "cannot speak of music; they cannot elucidate nor illuminate. Both sounds enter through the ears, but only music travels throughout and animates the whole body. David Bowie has always known this." A book of this kind will always run the risk of over-emphasizing the lyrics at the expense of the music, and as Bowie told the NME in 1980, "music does have an implicit message of its own; it makes its case very pointedly. If that were not the case, then classical music would not have succeeded to the extent that it did... It makes me very angry... when people concentrate only on the lyrics because that's to imply there is no message stated in the music itself, which wipes out hundreds of years of classical music. Ridiculous."

Bearing that in mind, together with Bowie's more recent observation that "the image and the sound of a word hold as much inherent information as its dictionary meaning", it must be conceded that no amount of close textual analysis will ever provide an adequate or even a coherent alternative to the process of listening to the music itself. But then, that was never my intention. I just wanted to pull together the history behind David Bowie's work. Here it is.

You can read the official press release here.

You can pre-order The Complete David Bowie here at 20% discount.

Many thanks to Richard Reynolds and Nicholas Pegg.

---
STYLISH DAVID IS GQ MAN OF THE YEAR
6th September 2000



Rock star DAVID BOWIE was voted the most stylish man at GQ magazine's Men Of The Year Awards. The pop legend - whose baby daughter was born last month - beat off stiff competition from James Bond star Pierce Brosnan and Oscar nominee Jude Law.

Bowie has recently been wearing trendy frock coats at concerts, together with long wavy hair reminiscent of his Hunky Dory period.

The event, at the Royal Opera House in Covent Garden, London, also saw Ali G star Sacha Baron Cohen take best comedian award. GQ Readers voted Jamie Oliver TV personality of the year and Eddie Irvine most alluring man of the year. Actress and model Elizabeth Hurley was honoured for "services to mankind", while Sir Paul McCartney took his latest lifetime achievement award.

The full list of winners is as follows:
Most Stylish Man of the Year: David Bowie.
TV Personality of the Year: Jamie Oliver.
Lifetime Achievement Award: Sir Paul McCartney.
Designer of the Year: Paul Smith.
Comedian of the Year: Sacha Baron Cohen (Ali G).
Services To Mankind: Elizabeth Hurley.
Band of the Year: Travis.
Actor of the Year: Vinnie Jones.
Solo Artist of the Year: Richard Ashcroft.
Radio Personality of the Year: Chris Tarrant.
International Man of the Year: Tom Ford.
Politician of the Year: Ken Livingstone.
Sportsman of the Year: Lennox Lewis.
Entrepreneur of the Year: Guy Ritchie and Matthew Vaughn.
Most Alluring Man of the Year: Eddie Irvine.
Editor's Special Award: Johnny Vaughan.
David appears on pne of the front covers of the October issue of GQ Magazine, along with an interview - out soon.

---
BOWIE ACETATES FOR SALE OR TRADE
4th September 2000



I have 2 DAVID BOWIE Audiodisc Originals Acetates for trade or sale. A single cut 20cm of Space Oddity one side only and a complete Young Americans album cut 33 cm with Original Picture print and colour slide.

From Philipe Auliac @ auliactv@club-internet.fr.

---
HAPPY BIRTHDAY TOTAL BLAM BLAM!!!
3rd September 2000



TO MARK,
HAVE A WONDERFUL DAY!

Wishing you a very Happy Birthday
Lots of love and kisses in a very manly way
Very best wishes from Paul, Dawn, Michael and Jade xxxx
---
ZS COMPANION MONTHLY UPDATES
3rd September 2000



Mike Harvey webmaster at The Ziggy Stardust Companion web site has updated for the month. The Special Feature is another Angela Bowie Interview: Part 2 - An exclusive interview with Angela Bowie about her new paperback book release, her new CD, her replies to fan letters and best of all memories/recollections from her inspired by a number of Ziggy Stardust photographs. Some interesting stuff there! You can also win a copy of her new paperback on this page.

The Trident Piano - The piano used on the Ziggy Stardust album! A history and photo!

Links to these and more can be found on the WHAT'S NEW page.

From Mike Harvey.

---
'STAR' DEMO: WHO THE HELL IS LES PAYNE?
3rd September 2000



Quite a number of people have emailed and asked who LES PAYNE is? A demo version of 'Star' by DAVID BOWIE was given to him to record in 1971 which is currently up for grabs at Christie's forthcoming auction on 26th September.

Well I asked David, he didn't know... I asked a few specialists in 60s music, they didn't know... I even asked my mum, she didn't know... Anyway I did some surfing and came up with this...

Les Payne: 'Fully qualified survivor'.

Les Payne's rock 'n' roll story is probably one of the most remarkable struggles against adversity ever seen within the British music industry. For over 30 years Les has battled to make his mark on the British music scene without success. The late 60s and early 70s saw Les and his many bands supporting artists of the calibre of Genesis and Gary Moore. Publishing contracts were obtained but produced no results.

Les recorded David Bowie's 'Star' before it appeared on the Ziggy Stardust album. In 1971 Bowie offered to produce the single for Les. RCA turned down Bowie's offer, Les recorded the song with lyrics that differ from Bowie's later version but it was never released.

Les Payne's bad luck can be summarised by two incidents. In 1974 his first single was released on RCA. It quickly became Johnnie Walker's Record of the Week on Radio 1 and got lots of airplay. Just as it began to sell well the miners strike, three day week, vinyl shortage prevented re-pressing.

In 1982 Les secured a deal with Polydor. A single was released 'Who Will Be The Winner'. It was an anti-war song and just after the release the Falklands War started and the single got no airplay as a result.

Throughout his life as a professional musician Les Payne has never stopped gigging and trying to secure record deals. Failure has only resulted in him becoming more and more optimistic and doggedly persistent in his quest to succeed. In the early Nineties Les Payne was awarded a Harp Beat Rock Plague which was presented to him at the Pegasus Public House (now T.J.'s) in Marlow Bottom to mark his 5,100th gig. Harp Beat Rock plagues were put up all over Britain commemorating all kinds of rock events. Les was chosen for his persistence, continually gigging and organising gigs at the Pegasus. The award led to a brief set of invitations to sit on radio station sofas and even an invite from Diana Ross to come to a party.

Typical of Les Payne's down to earth approach to the rock business he has refused to change his name. He once explained it thus:
"I wrote a song called So Long. Johnny Ringo is the character in So Long. The song wasn't about Johnny Vincent (wild, horse riding, Island rock 'n' roll singer) but it was inspired by him. It's as much about the cowboys in the old Western black and white movies as it is about rock'n'roll singers with pseudo names. I never wanted that for myself. I've always wanted to go under my own name."
In 1991 Les released his first CD Forty Seven Summers which features fifteen originals. Clive Bunker of Jethro Tull is featured on drums. The title of the album indicates Les's fascination with the American Native Indian hence Forty Seven Summers is the way the American Indian speaks of their age. The album is chock full of great songs. 'Somewhere In The World' featuring the audience at the Pegasus.
In 1994 Les staged a Sergeant Pepper stage show complete with costumes. In the summer of 1995 Les organised another stage show called Yesterday which swept through the generations from skiffle to punk. Both shows were fund raisers for the Iain Rennie Hospice that cares for terminally ill patients in their own homes.
"My play starts is called Yesterday. I steer clear of the words rock'n'roll for my show. It's just become a term. My show will start with Buddy Holly. It is going to be the whole aspect of forty years of music, there's going to be a splash of everything. I hope. I thought I'd like to start the show quite moody and creepy. I listen to these Buddy Holly out takes. They quite haunt me. There's going to be a Buddy Holly band. I've take on a '2001' version of Losing Time. At the end as it dies away you can hear the Buddy Holly out-takes, my Buddy Holly will take over."
800 people packed The Swan Theatre in High Wycombe on Sunday, July 9th, 1995. The show, put together with hardly any rehearsal for the main performers, was still well organised and received with tremendous applause, particularly for the two choirs of schoolchildren who performed in front of these massive crowds. One choir did an amazing version of David Bowie's Space Oddity. Baz and Mick ably featued skit after skit between the various acts. The artists who came to play were drawn across the musical spectrum. Joe Brown, once ace gutiar player for Billy Fury and pop star in his own right, performed a stunning Summertime Blues. Rick Wakeman's former vocalist Ashley Holt left progressive rock behind and belted out a storming Mustang Sally.
Various 'Stars In Their Eyes' performers gave excellent renditions of artists such as Ray Charles and Billy Idol. There was even a Johnny Vincent look-a-like in Billy Gallagher who walked and talked and curled his lip to order. The fabulous Doris Brendell, daughter of classical pianist Alfred Brendell, did a Tina Turner party piece and soared away on backing vocals the rest of the night. Howard Jones performed solo at the event and he brought massive cheers from the crowd when he said: "I'd just like to say what a great guy Les Payne is to put this event on to raise money for such a cause."
In 1996 Les Payne was involved with the filming of an advert for Vesta Foods. As Wally Wallace, leader of a group called the Vestas, it was a marvellous send up of the sixties and seventies. A four track CD single Eat the Beat sounds like the Turtles meet Kula Shaker complete with an indepth family tree from the one and only Pete Frame. After filming the advert Les was given a flight to Los Angeles in thanks for his efforts. In January 1997 Les Payne took his first flight to America and in typical fashion met up with an old friend running a record studio just outside the airport.
In August 1995, on the anniversary of the Afton Festival, Les Payne came to Isle of Wight Rock's book launch at Northwood House, Cowes to perform a set of songs between which Isle of Wight Rock read out pieces of their work. One day maybe we will get him back to the Island for a gig which he has so dearly wanted to do for a long, long time.
Perhaps the last word must rest with Les Payne which sums up his approach to life. Les's mate the incomparable John Otway was approached by Radio Four for a programme called Failures. Otway declared that he knew someone who was a bigger failure than him in the rock'n'roll business and promptly put the producers onto Les Payne.
In a Bristol radio studio a presenter posed this question to Les Payne. "What's your definition of a failure?" To which Les Payne replied:
"My definition of a failure is someone who takes the train to the city each day to work in a bank."
Read the 'Star' demo details from Christie's auction here.

---
SAMANTHA SAMPLES "ASHES" ON NEW SINGLE
2nd September 2000



New chart R 'n' B Irish star SAMANTHA MUMBA looks set to have another big hit with her latest single "Body To Body" which samples DAVID BOWIE'S 1980 number one smash hit 'Ashes To Ashes'.

The 17-year-old Dublin-born singer said: "We recorded the original track and then the producers sent it off to Bowie's management to see if we could use a sample of Ashes To Ashes. "They came back and told us he absolutely loved it, I had never heard the original song before and when they first player it to me, I said, 'Can't you get rid of the twiddly bit," she laughs. "But then they played me the video and I saw how it all fitted together," she says.

"That was a bit mad. I actually thought it a bit strange when I heard it the first time, because I think it was about three or four years before I was born when that song was released, so I didn't get the whole thing at all. But I've got into the David Bowie world and I really like it now. It's really good that he'd approved it. I wasn't too sure that he would, but he has. Sure, I'll let him on Top Of The Pops with me!"

You can watch part of her interview here. She is set to appear live on UK's CD TV show next Saturday performing the song.
(Ed. I heard the track this morning - It sounds pretty damn good).
---
COMPLETE DAVID BOWIE COLLECTION FOR SALE
2nd September 2000



Up for grabs on the Trading Post is Patricia's complete DAVID BOWIE collection, and amongst the various items is a special item... a "strictly limited edition" CD box of "DB Press Conferences" from LA, Roxy; Press Conference Rainbow London, 23.1.90; Tin Machine Press Conference Paris 89 - this has been signed by David in 1991, when she met him at the stage door of the Brixton Academy in London.

She is offering to sell the complete collection for £50 plus postage and packaging, (apart from press conference signed box set) on a first come, first served basis!

Check out the full list of items in her advertisement on the trading post section.

From Patricia @ kaisgirl@cableinet.co.uk.

---
A REQUEST FROM MUM AND DAD
2nd September 2000



In lieu of sending gifts to IMAN and DAVID BOWIE for their newly born baby daughter ALEXANDRIA ZAHRA, the parents would prefer donations be made to their favourite cause, Save The Children.

Here is the background information as to how this came about: Back during the Roseland shows in June, you may recall that Terri Stiffler received word that in lieu of baby gifts, that David and Iman would prefer that people make a donation to Save The Children (an organisation which they both strongly support). Now, in honour of baby Alexandria Zahra Jones entering the world, some fans are working to make a mass donation to Save The Children as a sort of 'baby gift' from the fans.

If you woud like to contribute, they are suggesting a $5 contribution, but $1 or $2 is fine - or if you can do more, that's great too! Whatever you can contribute is wonderful. US checks made out to Save The Children (or if need be you can send cash) can be sent to:
David Emerson
791 Granite Street, Braintree
MA 02184, USA.
Email demerson@davidbowie.com.
For people in the UK, Celine is accepting UK pounds sterling and French francs. It is best for people to email her for her address at celine@davidbowie.com.
For people in Italy, Velvet Goldmine, the Italian Bowie fan club will be collecting donations in Italian lire up until September 10th at the following address:
Paola Pieraccini
Casella Postale 466, 50100 Firenze.
Email donazione@velvetgoldmine.virtualave.net
Or visit Velvet Goldmine web site
For those that are unable to send in either US dollars, pound sterling or French francs, they can of course contribute directly at www.savethechildren.org by clicking on the banner link.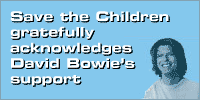 Donations are being accepted until September 12th, so that the collective donations can be sent in for the baby's first month birthday on September 15th. At that point, a card with the names of all the contributors will also be put together and the organisers will try and get it off to David and Iman. (Incidentally, 'Sailor' when hearing about this on the BowieNet message board replied "This is so very cool. Thank you very much indeed. Sailor and Mummy and Alex").

So here's your chance to share in the joy of this wonderful occasion, and help some children who are truly in need.

Check David Emerson's web site for more details and updates.

From David Emerson.

---
MOJO WINTER 2000 MAGAZINE: COLLECTIONS
1st September 2000



The current special issue of MOJO magazine (Winter 2000) 'Collections' is positively brimming over with DAVID BOWIE articles and features. Besides featuring a review on the 'Bowie At The Beeb' CD set written by Marc 'Lard' Riley, David also features as the opener in the 'Well Hung' photograph section.

OK calm down it's not what you're thinking. The Well Hung section is ten top photographers who were asked to rummage through their archives and select their favourite images. Plus you can win signed prints of them all. The excellent 1999 db photograph was taken by 'hours...' photographer Tim Bret-Day.

Elsewhere, Charles Kennedy the Liberal Democrats leader is outed as a closet Bowiephile, there's also write up on David's reworking on his some of his 60s recordings.

Pause... big breath... David features heavily in a two page investigation about genius William Burroughs... The Charlatans lead singer Tim Burgess bumps into Reeves Gabrels in a pub in Los Angeles... David Gray includes Hunky Dory as one of his all-time favourite albums...

Pause... bigger breath... The dress cover version of The Man Who Sold The World features in Mojo's 50 years - 50 records feature (1971) along with a write up... "Pillow Talk" an interview with Placebo's Brian Molko who mentions David throughout and says "If I were to describe where Placebo had come from, I'd be proud to say Iggy, Bowie and Lou."

Pause... even bigger breath... db snippet in the Pre-Rextasy! review of Marc Bolan collectibiles... The G-Spot: great gigs remembered where Gary Numan names the gigs that turned him on, one of which was The Thin White Duke at Wembley Empire Pool in 1976 as well as Mick Ronson at the Rainbow Theatre in 1974... "And Ziggy played kazoo" sometimes a song needs that little bit extra using rock's weirdest instruments: Stylophone: Space Oddity by David Bowie...
---
WELL HUNG AND SET ON FIRE
1st September 2000



David Bowie: 1999 by Tim Bret-Day.

"I don't consider myself a music photographer really, I'm a fashion photographer. The Bowie thing came about because he'd seen pictures I'd gone of Geri Halliwell and David Beckham in magazines, and the three of them share the same management company (Ed. PR company) in London. We had a day at the Big Sky Studios in Ladbroke Grove, with pyrotechnics and everything.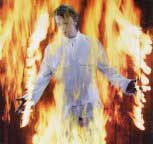 "He's a comic genius, really funny. He was open to suggestions and had some input - though not as much as he'd say! We came up with a few different concepts, all with a religious motif. This image is the strongest, as it symbolises the crucifixion.

We shot Bowie and then made a dummy of him and set the whole thing alight. Lee Stewart did the rest in post-production. It's the whole thing of burning the old - that was then, but this is what I'm doing now. Deep down, he doesn't particularly want to talk about the past or hear his old records. He's not interested in anything prior to what he's doing today. I think that's the best thing about him."

Tim Bret-Day's break with Bowie, which included the 'hours...' LP cover, has led to major commissions from Stephen Gately, B*Witched and Louise. Always one for keeping busy, in the last month alone he's shot the IKEA campaign, fashion mag Tank, Helena Christensen and Agent Provocateur at Dorothy Perkins. He's currently in the studio with Roni Size.

From Mojo.

---
£500 BOWIE POSTER AT HUNG UP
1st September 2000



A new memorabilia gallery has opened in the heart of London's Soho which offers some of rock's rarest posters. One of which is a DAVID BOWIE 1969 London appearance... "It was Larry Wallis from the Pink Fairies' band Entire Sioux Nation headlining. Bowie had just had a hit with Space Oddity and the record company wanted to get him on an underground bill."... Despite Bowie's tiny mention on the poster and the fact that he two other acts featured disappeared into obscurity, it still commands a figure of £500 by virtue of its scarcity.

'Hang Up' is located at 3 Green's Court, London W1, in the basement of Soho Jazz And Soul. Opening hours are Monday to Saturday 11:00 a.m. till 7:00 p.m. You can contact the gallery on 020 7437 7536 or email shop@sohomusic.com.

---
RADIO LARD GOES GA GA
1st September 2000



DAVID BOWIE fanatic and Radio One DJ Marc 'Lard' Riley examines a 3-CD set of the chameleon's airwave excursions.

David Bowie: Bowie At The Beeb (EMI).

- Much-delayed set featuring 10 BBC sessions 1968-72.
- Marks the first time Bowie's post-Space Oddity repertoire has been packaged with his '60s Mockney material.
- 4-LP vinyl version features two extra tracks.
- Cover art by Guy Peellaert, of Diamond Dogs fame.

Bowie At The Beeb.
Disc One:
In The Heat Of The Morning / London Bye Ta-Ta / Karma Man / Silly Boy Blue / Let Me Sleep Beside You / Janine / Amsterdam / God Knows I'm Good / The Width Of A Circle / Unwashed And Somewhat Slightly Dazed / Cygnet Committee / Memory Of A Free Festival / Wild Eyed Boy From Freecloud / Bombers / Looking For A Friend / Almost Grown / Kooks / It Ain't Easy.

Disc Two:
The Supermen / Eight Line Poem / Hang On To Yourself / Ziggy Stardust / Queen Bitch / Waiting For The Man / Five Years / White Light White Heat / Moonage Daydream / Hang On To Yourself / Suffragette City / Ziggy Stardust / Starman / Space Oddity / Changes / Oh! You Pretty Things / Andy Warhol / Lady Stardust / Rock 'N' Roll Suicide.

Limited Edition Bonus Disc:
Wild Is The Wind / Ashes To Ashes / Seven / This Is Not America / Absolute Beginners / Always Crashing In The Same Car / Survive / Little Wonder / The Man Who Sold The World / Fame / Stay / Hallo Spaceboy / Cracked Actor / I'm Afraid Of Americans / Let's Dance.
"TO SOME," a wise man once said, "David Bowie is a god, a genius, an androgynous changeling who bored of his own wonderful creations long before his disciples, leaving them in his wake to mourn the demise of yet another perfect shimmering rock star. To others, he's that bloke with the funny hair in Labyrinth, isn't he?"
This long-awaited selection of early BBC sessions documents skinny Dave's early transmogrifications, from Tony Newley clone to Ziggy Stardust, via his cocky Mod and Dylanesque excursions. It's by no means complete, but to this Bowie nut who's carefully guarded much of this material on dodgily recorded cassettes for 20 years or more, it still sounds like Christmas come early.
"I'm so much in love/Like a little soldier catching butterflies." That's the wet-behind-the-ears Bowie on opener In The Heat Of The Morning, recorded in May 1968 for John Peel's Top Gear programme, the source of much material here. Resembling a pastiche soundtrack for a film that was never made, it's a fine example of Bowie's wordy storytelling, and a notable early collaboration with Tony Visconti. Another early song, London Bye Ta-Ta, starts out like Ray Davies' David Watts but soon veers back into Philharmonic territory, while Karma Man and Silly Boy Blue are further examples of a style Bowie would eventually sacrifice for rock 'n' roll.
The second session here, from October 1969, reflects the Space Oddity era, with an intro interview by host Dave Lee Travis (DLT: "What's it called?" DB: "Let Me Sleep Beside You." DLT: "Can we hear it?" A coy DB: "Yes."). But it was one February evening in 1970 which provided the catalyst for future events. Frustrated by his lack of success, Bowie returned to the BBC - this time backed by The Hype, featuring Tony Visconti, John Cambridge and a youngster from Hull called Mick Ronson. Midway through a brilliant Width Of A Circle, Ronson's guitar suddenly sparks, gifting Bowie the elusive piece of the jigsaw that enabled the under-achieving singer-songwriter to realise his ambitions.
In one of several fascinating between-song segments, Bowie introduces Ronson as "Michael" and admits they only met two days earlier. If it's musical history you're after, it doesn't get much better than this.
Another crucial moment comes via the rarely heard David Bowie And Friends in Concert performance from June '71, featuring the classic Spiders line-up of Bowie, Ronson plus bassist Trevor Bolder and Mick Woodmansey on drums, along with various mates including life-long pal George Underwood, who adds vocals on Chuck Berry's Almost Grown and a brilliant version of It Ain't Easy.
Disc 2, though not quite as revealing as the first, chronicles the unfolding birth of Ziggy Stardust. Stripped-down versions of Supermen and Eight Line Poem from September 1971 kick off the first of four Sounds Of The '70s sessions here, but it's on the full-blown electric job of Hang On To Yourself (from January '72) that the touch-paper is well and truly lit. From that song's opening razor-sharp intro lick through Ziggy Stardust, Queen Bitch, Five Years and Lou Reed's Waiting For The Man, this is the sound of a force that has just found its feet and is ready for the kill. For the best-produced and most accomplished work, though, try the versions of Starman, Space Oddity, Changes and Oh You Pretty Things from May 1972, which were recorded for Johnnie Walker's Lunchtime Show.
For early comers, there's a bonus third disc that features over an hour's worth of live material specially recorded on June 27 at the BBC's Portland Place for inclusion here. It starts with a faithful version of what's possibly Bowie's greatest vocal performance, Wild Is The Wind, featuring original guitarist Earl Slick. It was the curtain-call for a greatest hits set that spanned 35 years and gave the specially invited audience, including me, a unique musical thrill.
This 3-CD limited edition package is, in my view, the only option. It traces the career of an intelligent young man, unaware of his importance in the future scheme of things, through to the proud strut of a still alive end well 53-year-old who is comfortable enough at last to rest, briefly, on his considerable laurels.
By Marc 'Lard' Riley for Mojo magazine.
---
EXILE ON VINE STREET
1st September 2000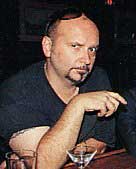 TIM BURGESS leader singer of The Charlatans and expatriate Los Angeles resident, took Mojo on a guided tour of California's commercial capital.

One of his stop off's was the Coach & Horses at 7617 Sunset Boulevard....

"We dropped into this British pub for a quick shandy or two to cool off from the heat (90 degrees and counting), and bumped into several mates, including former Bowie collaborator Reeves Gabrels and Kink's guitarist Dave Davies.

Photograph (left to right: Reeves Gabrels, Tim Burgess and Dave Davies).

(Ed. Trivia... Did you know that Tim Burgess went to school with baby Steve King?).

From Mojo magazine.

---
DAVID GRAY'S ALL TIME FAVOURITE ALBUMS
1st September 2000



Songwriter DAVID GRAY name-dropped DAVID BOWIE'S Hunky Dory as one of his all time favourite albums.
David Gray: "His vibe was getting the right people involved; he was a genius for getting a new sound or a new direction. He was the best - this is a brilliant record. Think of his records and how different they all were - how was he going to keep that up? For me, Bowie was pop music: he had his moment. I listened to all his records and would get dead excited because he's an enigma. He was in a rock band, and before that he was a folkie. Within 10 years he'd covered the lot. I loved him."
From Mojo magazine.

---
THE STEREO MP: LIB LEADER
1st September 2000



Liberal Democrats leader CHARLES KENNEDY is unmasked as a closet Bowiephile.

"Young Americans was a magical departure. David Bowie was the first major artist to get into black disco music and the title track has it all - superb rhythms - those drums! - and typically innovative lyrics.

"I had two hours in my schedule and managed to catch him again at Glastonbury this year. It was fantastic hearing all the old favourites from the side of the stage. But, no, once again, I didn't get to meet him. It was packed backstage and I was running against the clock. But it'll happen one day, I'm sure."

From Mojo magazine.


---
AND ZIGGY PLAYED KAZOO
1st September 2000



Pop history is littered with mavericks who wanted something more than just the latest mainstream instrumentation and technology on their records - the sounds that everyone else was using. Sometimes only futuristic, anachronistic, or just plain weird instrument would do. Surprisingly, some of the records even charted.

Sometimes a song needs that little bit extra... in 1969 one such song "Space Oddity" by DAVID BOWIE takes advantage of the STYLOPHONE.

The glissandi (fast series of notes) leading to the instrumental chorus was played on a new invention: a pocket-sized keyboard played with a stylus. Rolf Harris had demonstrated the instrument on his TV shows and, according to Rick Wakeman, Bowie picked one up from a demonstration on his way to the studio sessions. He describes its sound as like "a bee farting". Having seemingly been destined for obscurity, this curiosity has now been rediscovered by the likes of Pulp and Moloko.

(Ed. Hands up who's still got one?").

From Mojo magazine.

---
THE G-SPOT: GREAT GIGS REMEMBERED
1st September 2000



GARY NUMAN names the six London shows that turned him on...
Mick Ronson, Rainbow Theatre, 1974: "The weird thing about Mick Ronson is that the night I saw him at the Rainbow someone put a knife to my throat. A few years later I got beaten up in Soho when I was wearing his T-shirt. I guess it was Ronson's flamboyant image that wound people up, although he was actually a very down-to-earth Northerner."

David Bowie, Wembley 1976: "I dyed my hair orange with gold sprayed in the front and wore a waistcoat with Gitanes cigarettes in my pocket, even though I didn't smoke. I don't think I looked very cool. (Ed. You're right! I remember seeing you LOL) When I managed to get to the front, I was holding one of those glowing green sticks that you used to get at gigs. I lobbed it at Bowie during The Jean Genie and caught him in the chest - probably the greatest moment of my life at that point."
From Mojo magazine.

---
'STAR' DEMO UP FOR GRABS AT CHRISTIE'S
1st September 2000



The 'Pop And Collectible Guitars' auction at CHRISTIE'S auction house in South Kensington, London on 26th September at 2:00 p.m. features a DAVID BOWIE 1971 demo recording of 'Star' which is quite different in style and content to the familiar Ziggy Stardust album version. This ½ inch reel-to-reel studio tape demo recording was given to singer Les Payne for him to cover. Estimate: £1,000-£1,500.

Viewing Times: Sunday 24 September: 1pm - 4pm; Monday 25 September: 9am - 7.30pm and Tuesday 26 September: 9am - 12 noon.

Christie's, 85 Old Brompton Road, South Kensington, London SW7 3LD.

Check out their web site at www.christies.com.

---
THE MAN WHO FELL TO EARTH ON UK TV
1st September 2000



Tomorrow, Saturday 2nd September at 12:05 BBC2 television are showing DAVID BOWIE'S finest acting moment as Thomas Jerome Newton in Nic Roeg's 'The Man Who Fell To Earth' (1976, 15). (55958845).

A visually stunning fantasy in which an alien visits Earth in search of water for his dying planet. Unfortunately he falls victim to his hosts, becoming seduced by the industrial empire he creates to fund the building of a spaceship to return home.

---
BOWIE AT THE BEEB: ALBUM COVER
1st September 2000



Here's a sneak preview of the cover artwork for the 'Bowie At The Beeb' album due for release this month on 25th September, along with a special BBC TV screening performance the same month.
The artwork for the double CD was produced by artist Guy Peellaert, who you'll remember back in 1974 did the legendary painting for the Diamond Dogs album cover. The bonus CD artwork has been designed by Rex Ray who also produced the 'hours...' artwork, along with various single covers, posters and prints. All the photographs were shot by the inimitable Mr Blam who also wrote the comprehensive sleeve notes.
Format: Double CD album: Catalogue Number: 5289582. UPC No: 724352895823. The Japanese version catalogue number is: TOCP-65497/8, 2CD set.
The album is now available for pre-ordering. Sssshhhh only $18.88 at CDNow - 30% discount for 3CD set.
CD 1:
In The Heat Of The Morning / London Bye Ta-Ta / Karma Man / Silly Boy Blue / Let Me Sleep Beside You / Janine / Amsterdam / God Knows I'm Good / The Width Of A Circle / Unwashed And Somewhat Slightly Dazed / Cygnet Committee / Memory Of A Free Festival / Wild Eyed Boy From Freecloud / Bombers / Looking For A Friend / Almost Grown / Kooks / It Ain't Easy.

CD 2:
The Supermen / Eight Line Poem / Hang Onto Yourself / Ziggy Stardust / Queen Bitch / Waiting For The Man / Five Years / White Light White Heat / Moonage Daydream / Hang Onto Yourself / Suffragette City / Ziggy Stardust / Starman / Space Oddity / Changes / Oh! You Pretty Things / Andy Warhol / Lady Stardust / Rock 'N' Roll Suicide.

LIMITED EDITION 3CD SET (Includes the above 2 CDs and 3rd CD).
CD 3: (Bonus Disc).
Wild Is The Wind / Ashes To Ashes / Seven / This Is Not America / Absolute Beginners / Always Crashing In The Same Car / Survive / Little Wonder / The Man Who Sold The World / Fame / Stay / Hallo Spaceboy / Cracked Actor / I'm Afraid Of Americans / Let's Dance.
Check out the rare eight tracked promo CD 'Bowie At The Beeb/Sampler' in last month's news here.


---
GAIL ANN DORSEY DATES THIS MONTH
1st September 2000



Part way through her US tour, bassist and songbird GAIL ANN DORSEY has several gigs lined up for this month...

Tour schedule:
September 14th: Ira Allen Chapel, Burlington, VT.
15th: Lupo's, Providence, RI.
16th: Penn State, Alumni Hall, University Park, PA.
17th: Newton Colony Music & Arts Festival, Newton, NJ.
19th: Toad's Place, New Haven, CT.
21st: Kraushaar Auditorium, Baltimore, MD.
22nd: The Keswick, Glenside, PA.
23rd: 9:30 Club, Washington, DC.
24th: Ohio Theater, Cleveland, OH.
26th: Lee's Place, Toronto, CAN.
27th: Michigan Theater, Ann Arbor, MI.
29th: Vic Theater, Chicago, IL.
30th: Orpheum Theater, Madison, WI.
(Ed. David and Iman turned up at Gail's gig in New York at The Bottom Line venue).
---
OLDER NEWS
August | July | June | May | April | March | February | January

1999 Bowie News Archives | 1998 Bowie News Archives






| | |
| --- | --- |
| Created: September 2000 © Paul Kinder | Last Updated: 29/9/00 |
BowieWonderworld Reminders
NEW RELEASES:
Christiane F. DVD and video released.
Purchase here.


---

MAGAZINES AND BOOKS:
New book The Complete David Bowie
Pre-Order here.

GQ... Breakthru'... MoJo...

Nov issues Q with free sampler CD featuring Bowie.