BOWIE TV and WHAT'S REALLY HAPPENING IN APRIL - MONTHLY PLANNER

[BOWIEWONDERWORLD SHOP] [LATEST DAVID BOWIE ITEMS ON eBAY]

[@bowiewonderworld.com email addresses HERE]

Have YOU got some DAVID BOWIE related news or a hot scoop?
Well don't just sit there keeping it to yourself - send it in to
All news items are credited if you so wish

[DOWNLOAD DAVID BOWIE MUSIC from Amazon
]



---
D&I AT TRIBECA TONIGHT
30th April 2009

DAVID BOWIE and his wife IMAN attended the showing of son DUNCAN JONES' debut feature sci-fi movie 'Moon' at the 2009 Tribeca Festival.

The premiere at Tribeca Festival took place at the BMCC Tribeca Performing Arts Centre in New YorkCity.

Also in attendance were producer Stuart Fenegan, actor Sam Rockwell, actress Leslie Bibb and Sting.

Check out some photographs from the event over at GettyImages and WireImage


---
CLOTHES ALWAYS FIT YA
26th April 2009

The SPRING VINTAGE FASHION AND TEXTILE AUCTION auction takes place this Wednesday 29th April in New York City at St. Paul Auditorium.

Previews on 28th April at 3pm until 7pm and 29th April at 9am till noon.

There are several lots featuring David Bowie items:

LOT 96 - 2 DAVID BOWIE ROAD CREW GARMENTS, 1983
Both gray w/ embroidered on front 'David Bowie Serious Moonlight Tour '83': 1 cotton T-shirt, Ch 34", CBL 27.5"; 1 pair nylon satin running shorts, elasticized W 30-36", L 14"; excellent. All pieces only available to tour crew members; property of Jim Downey, head carpenter. $200-$300

LOT 97 - 2 DAVID BOWIE ROAD CREW T-SHIRTS, 1983
Both gray cotton knit w/ pink and blue stenciling on front 'Bowie Serious Moonlight Tour '83': 1 light gray w/ stenciled back 'Home Cookin' and 2 pinup girls holding pie, Ch 36", CBL 26", excellent; 1 dark gray, Ch 42", L 25.5", good. Pieces only available to tour crew members; property of Jim Downey, head carpenter. $100-$200

LOT 98 - 2 DAVID BOWIE ROAD CREW T-SHIRTS, 1980s-1990
1 black cotton w/ front stenciled in white, green and brown w/ gargoyle and angels and '1990 World Tour', Ch 46", CBL 28", good; 1 V-neck 3/4 sleeve cotton/poly knit, maroon sleeves, white body w/ flocked 'Showco' on front and 'David Bowie' on back, Ch 38", CBL 3 0", excellent. Property of Jim Downey, head carpenter. $100-$200

LOT 99 - 2 DAVID BOWIE ROAD CREW GARMENTS, 1983
1 olive poly filled bomber jacket w/ knit cuffs, collar and hem, 2 pockets w/ snap flaps, 1 zipper pocket on sleeve, back embroidered w/ 'David Bowie Serious Moonlight Tour '83' in pink, white and blue, orange lining, Ch 42", CBL 25", (zipper pull missing) ex cellent; 1 knit black fringed scarf w/ 'David Bowie Serious Moonlight Tour '83' printed in pink, blue and white, excellent. Rare 1st edition tour jacket, made in England - only available to touring crew; property of Jim Downey, head carpenter. $300-$400

Two other lots feature footwear. In Gallery Five there are a pair of boots that were apparently made for David in 1973 and also a pair of shoes obviously made by the same person. Both these items look remarkably similar to London shoe designer Terry de Havilland's work. His signature material was snakeskin, both natural and metallic and the Oxford platform shoes have the same red snakeskin pattern. They are the correct size for David, but the auctioneers didn't get the Bowie provenance with these so they are just calling them extremely cool platform shoes!

LOT 100 - PAIR OF PLATFORM BOOTS MADE FOR DAVID BOWIE, 1970s
Black leather w/ cutouts of red snakeskin crescents and red snakeskin applique star, lined in supple brown leather, 3" platform of 4 alternating bands of black leather and red snakeskin, 5" stacked wood heel, Heel-Boot Top 23", Top Circumference 12.5", excellent. Verbal Provenance: ordered by David Bowie from custom bootmaker and never picked up. $200-$300.

Spring Couture and Vintage Fashion
Date: Wednesday April 29th, 2009 - NYC
Venue: St. Paul Auditorium
Website: augusta-auction.com
Address: 60th Street and Columbus Avenue, New York City, USA

Pop on over to the augusta-auction.com website and check out galleries five and nine.


---
D&I HAPPY 17th ANNIVERSARY!
24th April 2009



Wishing a very Happy 17th Wedding Anniversary to DAVID and IMAN, who married during a civil ceremony in Switzerland, at the Lausanne Registry Office this very day seventeen years ago on 24th April 1992.

Then later they held their wedding ceremony in Florence, Italy on the 6th June 1992.

The contemporary or modern wedding gift for the 17th anniversary is Furniture.


---
SO HE LEAFED THROUGH A MAGAZINE
22nd April 2009



The current issue of HELLO! magazine (Number 1069) features an eight-page interview with IMAN where she gives a rare insight into life with her husband DAVID BOWIE. The article features exclusive photographs and interview - 'The trailblazing supermodel reveals her happiest assignment - being wife to pop icon David Bowie and mum to her two girls' - on sale now...

Next up is the current issue of UNCUT (June 2009) which contains a feature on the making of DAVID BOWIE's 'Starman' - the song that sent Ziggy Stardust into orbit. The article features contributions from Angela Bowie, Ken Scott, Mick Woodmansey and Mick Rock - (Bruce Springsteen features on the front cover and he selects the tracks on the freebie cover mounted CD)...

The America record collectors GOLDMINE magazine (Issue #748) had a DAVID BOWIE feature about his 'album art' - (Marillion on front cover)...

Better late than never with the next two... in Singapore the February issue of AUGUST MAN which featured Takeshi Kaneshiro on the front cover contained a DAVID BOWIE feature 'David Bowie has taken it to every extreme in his music personas, personal phases and film career'...

The SUNDAY TIMES magazine supplement from 1st March contained a DAVID BOWIE article 'How Ziggy Stardust was born' - (Shakira on front cover)...


---
ABSOLUTE BOWIE GIG
20th April 2009

DAVID BOWIE tribute band ABSOLUTE BOWIE are performing this Friday 24th April at the Hertford Corn Exchange.

Absolute Bowie are: Halloween Jack (vocals), Mick Ransom (guitar), Trevor Boulderdash (bass), Rick Fakeman (keyboards) and Weedy Woodmansey (drums).

Doors open at 7:00pm and tickets are price at £12.50.

Venue: Hertford Corn Exchange
Address: 39 Fore Street, Hertford SG14 1AL
Tel: 01992 442992

More details and information about the band check out their website @ absolutebowie.net


---
KEEP YOUR 'LECTRIC EYE ON EBAY
18th April 2009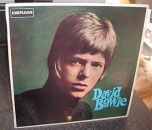 Currently up for grabs on eBay is a copy of the impossibly rare first DAVID BOWIE album released in New Zealand.

This particular pressing of the original Deram 1967 album (stereo SMLM 1007) only recently came to light and was totally undocumented until another copy came up for sale a few years back.

Some of you may have read the special report that Record Collector magazine published 'Diggin For Gold' by major Bowie collector Paul Woods.

It is now widely believed amongst collectors that this is probably the rarest David Bowie album you can own, obviously much rarer than the US, Canadian, UK or German releases the same year.

Check out eBay for more details and information or if you're loaded go bid on it.


---
BOWIE NIGHT AT RUE 13
17th April 2009



THAT 80'S CLUB held at Rue 13 in St. Louis, Missouri are holding a special DAVID BOWIE Tribute Night on Friday 24th April organised by Clockwork Productions.

Venue: Rue 13
Address: 1311 Washington Ave, St Louis, MO 63103
Tel: 314-588-7070
Entrance: $4-$6

For more details and information pop on over to their website at that80sclub.us where you can also download and print out a discount entrance voucher.


---
BOLT UP YOUR BOAT!
14th April 2009

Annie T who works over at the beauty website bellasugar.com created a fun Halloween DAVID BOWIE make-up look à la Aladdin Sane.






David Bowie Make-Over by BellaSugar from Vidiot on Vimeo.



Believe it or not I was supposed to post this up last November! I've just refound it again stored away in a wrong email folder. Ah well better late than never. You don't need Halloween as an excuse to "bolt up your boat".

Thanks to Annie T.


---
CHAIT BOWIE PROJECT
12th April 2009

The Daily Telegraph in Australia are reporting that Aussie composer MARK CHAIT is now involved on a DAVID BOWIE project.

It's reported he's producing and writing a children's album of Bowie's classics, following the success of similar releases of U2 and Bob Marley tracks.

"He (Bowie) might come and do one song with me," Chait said while in Sydney last week. "I'm on my 20th remix and I have to get his input, so it's a lot of work. I'm taking his famous music and doing my own African classical arrangements."

After the Bowie album, Chait will work on a similar release based on classic songs from The Clash.

From news.com.au


---
MICHAEL AND SPIDER
11th April 2009

PRESS RELEASE: MICHAEL AND SPIDER PUT THEIR UNIQUE SPIN ON CLASSIC BOWIE TRACKS

Michael and Spider, musicians known for four creative, vibrant, genre-defying world jazz-rock-ethno-ambient albums, have embarked on a new project, 'Diamonds,' a set of 10 covers of classic DAVID BOWIE.

The first two of these, 'Aladdin Sane' and 'Big Brother', are now available on iTunes, Rhapsody, and other online providers. Future tracks will be available as they are released, and when all 10 are completed, a CD version will be issued.

While the final track listing for 'Diamonds' has yet to be decided, it will feature primarily less well-known Bowie compositions such as 'Boys Keep Swinging', 'Starman', 'Queen Bitch' and 'Andy Warhol'. "We love early Bowie, and decided to focus on tracks from 1969-1979 for one thing, that's when Spider and I really came of age as musicians and partners, and additionally, we felt that now, 30 years later, would be a good time for a renaissance of sorts of Bowie's music," remarked Michael.

As to the decision to focus on lesser-known tracks, Spider added, "Tracks like 'Changes', 'Golden Years', 'Young Americans' are not just perfect, they're sacred in our eyes... they can't be improved upon, so we decided to work with tracks that today's audience are less likely to be familiar with - we really didn't want folks to dismiss the project as 'Here we go, another Bowie covers compilation'."

Michael Ely and Spider Taylor have been making music together since the late 1970s. In 1981 they founded L.A.'s first openly-gay post-punk alternative band, Red Wedding, and gained a loyal following until they disbanded in 1985. After stints with several other bands, Michael and Spider moved to Tucson in 1987 and retired from music for 16 years. The musical itch returned in 2003, and they began composing cinematic instrumental soundscapes under the name 'Smoke and Mirrors.' After three CDs as Smoke and Mirrors, they abandoned the name and now are simply 'Michael and Spider'.

Their latest CD, 'Iridescent Garden', was released in 2008 and is available from CD Baby, iTunes, and other digital resellers.

The first 50 BowieWonderworld visitors to contact Dave Wade-Stein at will get free copies of Aladdin Sane and Big Brother.

From Dave Wade-Stein.


---
AND THE BITS FLEW FAR AND WIDE...
10th April 2009

• Alter ego showdown between DAVID BOWIE and MILEY CYRUS over at CBC News in Canada. The strategy comparisons part really quite funny, got me all giggly. No point in explaining it here - just go and read it...

• ADRIAN BELEW and his Power Trio are about to undertake their 2009 US Tour. Gigs take place in Newport, St Louis, Milwaukee and Chattanooga. For full dates and venue information visit adrianbelew.net...

• REEVES GABRELS performs at Cafe Nine, 250 State St, New Haven, CT 6511, USA on Friday 12th June at 9pm. Tickets $12 - [More details]...

• DAVID BOWIE tribute act JEAN GENIE are performing at the Buxton Opera House on Friday 24th April at 7:30pm. Tickets are priced at £12 and the gig takes place in the Paxton Suite - [More details]...


---
OFFICIAL 'MOON' MOVIE TRAILER
10th April 2009

The official 'Moon' movie trailer from director DUNCAN JONES is now available for your online viewing pleasure.







---
BOWIE BUZZ AT THE PLACE
8th April 2009

This is why I love the Internet... a recent posting on the BW Forum concerning a 1966 DAVID BOWIE gig got me digging around to do a little more detective work.

It turns out that this previously unknown gig info was actually documented in a rare, hard-to-find publication about a nightclub in Hanley, Stoke-on-Trent called The Place.

On page 125 of The Place (Part One) it shows a photograph of the young David and the caption underneath states: 'Debut and last appearance at The Place on Friday 16th September 1966'.

Also on page 117, on describing acts, it states 'David Bowie and The Buzz - a white, quiet, self involved and motivated person who had recently changed his name from Davy Jones'.

There's some nice background information about this venue over on the bbc.co.uk website covering Stoke and Staffordshire, along with a streaming one-hour interview with a former manager Martin Donovan. The interview briefly mentions him seeing Ziggy at Top Rank and Victoria Hall.

Many thanks to for the pointer and to Dave F for owning this hard-to-find book, looking in his attic and kindly supplying all the info.


---
MOON SHOWING AT TRIBECA 09
7th April 2009

Director DUNCAN JONES' debut feature Sci-Fi movie MOON starring Sam Rockwell will be showing at The 2009 Tribeca Film Festival.

The film festival kicks off in New York starting on 22nd April and runs until 3rd May.

'Moon' will be showing on the three dates below:

Thursday 30th April at 6:00 pm
BMCC Tribeca PAC (BMCC)
West Side Highway @ Chambers Street

Friday 1st May at 12:15 am
AV 7-07
66 3rd Avenue @ 11th Street

Saturday 2nd May at 11:00 am
AV7-06
66 3rd Avenue @ 11th Street

Tickets go on sale from Tuesday 14th April - please visit tribecafilm.com for more details and information.


---
THE UNTITLED TRIBUTE TO DAVID BOWIE
3rd April 2009



LA-based record label MANIMAL VINYL RECORDS are all set to release THE UNTITLED TRIBUTE TO DAVID BOWIE in the Fall. That's around end of September for us Autumn types.

Looking at their past tribute releases namely from The Cure and Madonna, the only instructions that Manimal kingpin Paul Beahan gives potential coverers is 'to avoid copying the original' which tends to make for unusual versions of the original songs.

The two CD set tracklisting will be announced next month.

Update: Check out the tracklisting confirmed so far...

EXITMUSIC: 'Space Oddity'
VIVIAN GIRLS: 'John, I'm Only Dancing'
MEGAPUSS (Devendra Banhart): 'Sound and Vision' (In Spanish)
CARLA BRUNI: 'Absolute Beginners'
LIGHTS: 'World Falls Down'
VOICESVOICES: "Heroes"
DURAN DURAN: 'Boys Keep Swinging'
MGMT: 'To be announced'
CHAIRLIFT: 'Always Crashing In The Same Car'
ASKA (with MOON and MOON): 'African Night Flight'
A PLACE TO BURY STRANGERS: 'Suffragette City'
POLYAMOROUS AFFAIR: 'Cat People'
KEREN ANN: 'Life On Mars?'
SWAHILI BLONDE (featuring John Frusciante): 'Red Money'
MARCO BENEVENTO: 'Art Decade'
CORRIDOR: 'Be My Wife'
AQUASERGE: 'The Supermen'
WARPAINT: 'Ashes To Ashes'
RAINBOW: 'ARABIA 'Quicksand'
WE ARE THE WORLD: 'I'm Afraid Of Americans'
LACO$TE: 'Within You'
ARIANA DELAWARI: 'Ziggy Stardust'
PIZZA!: 'Modern Love'
ST. CLAIR BOARD: 'Secret Life Of Arabia'
CAROLINE WEEKS: 'Starman'
AMANDA JO WILLIAMS: 'The Man Who Sold The World'
MICK KARN: 'Ashes To Ashes'
SOULWAX: 'To be announced'

The album is now expected to be released next year around springtime with all net profits going to the Warchild charity.

More details and information can be found over at manimalvinyl.com website.


---
MORE UNDOCUMENTED GIGS UNEARTHED
1st April 2009

Several previously undocumented DAVID BOWIE performances from the 60s have come to light - all with documented proof. Highlight performances include:

On 14th December 1963 at the Hillsiders Youth Club, Women's Institute Hall, Biggin Hill in Westerham The Konrads perform at the Christmas party.

David and The Manish Boys performed at the 21st birthday party for producer Shel Talmy's then wife. Shel stated in an interview that this was the one and only free gig that David ever did for him! It took place on 8th March 1965 at The May Fair Hotel in Westminster, London.

David Bowie and The Buzz performed two 45 minute sets at the Guildhall in Thetford on 9th April 1966 and also performed at the same venue on 18th June.

There are four previously undocumented performances from The Marquee Club in Soho, London two in 1966 and two in 1968 and two more late 1969 performances at The Three Tuns in Beckenham.

Last but not least is a 1969 solo performance that took place at The London Hospital Medical College in Whitechapel. Tim Goffe who had previously been the DJ at the Beckenham Free Festival on 16th August was social secretary for the medical college and recalls booking David for their College Hop event. Unfortunately the day and month is unknown and still under investigation.

Other interesting pieces of concert information that have come my way recently...

David Bowie and The Buzz performed at The Lion Hotel in Warrington on 2nd July 1966. One of the family members looked through 'The Lion Diaries' which contain notes of the many bands and artistes who played there told me that the original booking was made under 'David Bowie and The Lower Third' for the princely sum of £30. On the supporting bill were The Powerhouse who starred Eric Clapton (guitar), Pete York (drums), Jack Bruce (bass), Steve Winwood (vocals/organ), Paul Jones (harmonica), and Ben Palmer (piano). They were only paid £25!

Also a fully unused concert ticket has turned up from a gig in Rochester, New York, USA at the Silver Stadium from the 1987 Glass Spider Tour on Saturday 26th September, but upon further investigation it's apparent that this performance was cancelled.

Thanks to Nelson, Vicki and Jeff W for the info.


---
DAVID BOWIE SAYS: 'STEAL THIS BOOK!'
1st April 2009



RADIO 2 DJ MARK RADCLIFFE has dedicated a full chapter to DAVID BOWIE in his soon-to-be published autobiography 'Thank You For The Days: A Boy's Own Adventurers In Radio and Beyond'.

Mark managed to get David to pen a piece for the book which published by Simon and Schuster on 6th April.

Product Description: Approaching 50, Mark Radcliffe decided to write about his life, most importantly, his time in music. But crucially, he only wanted to write about the most interesting days and not the dull ones in between. With predictable good taste, Mark takes his title from the Kinks' song and has written an entertaining, funny book worthy of such a pedigree. Mark's family life is covered by 'The Day My Mother Hit Me With a Golf Club' , his school life by 'The Day I Ruined a Perfectly Good Suit' and 'The Day I Got My First Guitar'; through his epiphany of the power of music in 'The Day I Met the Band Who Changed My Life' and his star struck meeting with childhood hero, David Bowie. Many other stars are covered too, for example in 'The Day I Went to Kate Bush's House for Cheese Flan', and 'The Day Mick Jagger Was Taller Than Me'. He's very funny when recounting his days working at the BBC in '80s and '90s (how, when bored, he and colleagues invented a fictional department), winning Stars in Their Eyes as Shane MacGowan and so on. Yet, among the laughter are more sober days, such as the one when he learned John Peel had died.A cracking read and a potted history of both one man's life and his love affair with music, 'Thank You For The Days' is a uniquely entertaining memoir that will appeal not just to music fans but to connoisseurs of British popular culture.

About The Author: Mark Radcliffe was born in Bolton and attended Manchester University. He has been employed by the BBC to talk in between records for over twenty years, many of these with Lard (aka Marc Riley) and currently with Stuart Maconie on Radio 2. He has won 6 Gold Sony Awards and has recorded five albums with two bands. He has three daughters and lives in Cheshire.

Last weekend The Daily Mail published an hefty extract read here at dailymail.co.uk

You can purchase Thank You For The Days: A Boy's Own Adventures In Radio and Beyond
for only £7.79 saving a massive 40%.


---
TV ON THE RADIO... LITERALLY!
1st April 2009

Legendary producer TONY VISCONTI has been interviewed on WNYC for Soundcheck where he talks about working with DAVID BOWIE and T. Rex, his life in music, as detailed in his recent excellent memoir 'Bowie, Bolan and the Brooklyn Boy'.

Best of all you can hear a snippet of the original first recording of Scary Monsters (And Super Creeps) - thank God David changed the lyrics of the chorus!

You can listen to the whole show here via the wnyc.org website.


---

OLDER NEWS

March | February | January
2008 Bowie News Archives | 2007 Bowie News Archives | 2006 Bowie News Archives
2005 Bowie News Archives | 2004 Bowie News Archives | 2003 Bowie News Archives
2002 Bowie News Archives | 2001 Bowie News Archives | 2000 Bowie News Archives
1999 Bowie News Archives | 1998 Bowie News Archives | 1997 Bowie News Archives