WHAT'S REALLY HAPPENING IN MAY - MONTHLY PLANNER

[BOWIEWONDERWORLD SHOP] [LATEST DAVID BOWIE ITEMS ON eBAY]
[@bowiewonderworld.com email addresses HERE]
Have YOU got some DAVID BOWIE related news or a hot scoop?
Well don't just sit there keeping it to yourself - send it in to
All news items are credited if you so wish
---
HOPEFULLY THE STARS WILL ALIGN
31st May 2015
As Hannibal season 3 arrives, Den of Geek! chat to showrunner BRYAN FULLER about origin stories, Francis Dolarhyde, DAVID BOWIE and more...
I have to ask because it's such a great idea, how far did you get in discussions with bringing David Bowie in to the cast?
The trick with David Bowie right now is that he is so incredibly busy. He's got a new musical that he's plotting, he's got new albums that he's plotting, so he's simply not available right now. We've reached out and he knows that we would love to do something the moment he has any room to do something. We just hope our calendars schedule. We've had several conversations with his people and the feedback is always that David loves that we're approaching him and to keep approaching, and hopefully the stars will align. Right now, between his new musical and new batch of songs, he is maintaining radio silence as far as any other projects are concerned, which I applaud because I can't wait to see the musical and I can't wait to hear his new music because he continues to be a vibrant and modern voice in song.
So you'd be flexible about which character he could play should he become available in future?
Even if he has a day... What I would love to do is collaborate with him and craft a role that uses his skillset as a comedian, because his comic timing is so good. I would love to write a very dark comedic role for him.
You can read the whole interview over at the denofgeek.us website.
---
DIAMOND DOGS RULE OK
31st May 2015
On this day, 41 years ago, DAVID BOWIE released his 'Diamond Dogs' album.
With controversial artwork by Guy Peellaert, and inner sleeve photo by Leee Black Childers, the album entered the UK charts straight in at number one on 8th June 1974 and stayed in the chart for 14 weeks. As for the US, the album eventually reached number 5 position.
I know there's speculation on which release date is correct. I'm going with my memory, my own diary notes and chart information from Melody Maker.
---
HAPPY BIRTHDAY TO DUNCAN JONES!
30th May 2015
Wishing you a very Happy 44th Birthday

Have a wonderful day and I hope you get everything you wish for

Many happy returns and best wishes from

Rednik and everyone at Wonderworld
---
THERE'S NOTHING MORE I NEED
29th May 2015

Twilight Time are now taking pre-orders for their 9th June Blu-ray release of ABSOLUTE BEGINNERS - which will be a Limited Edition of 3,000 units.
Starring: Steven Berkoff, James Fox, Patsy Kensit, Eddie O'Connell, DAVID BOWIE, Ray Davies, Anita Morris.
Directed By: Julien Temple.
Composed By: Various.
"An inventive, slangy, poetic celebration of youth and jazz and London... The film has a glossy immediacy, and you can feel the flash and determination that went into it." - Pauline Kael, The New Yorker.
"Absolute Beginners is a movie about style... it has endless flair with no self-importance... high pop culture." - Caryn James, The New York Times.
"A terrifically inventive musical for the screen. Daring attempt to portray the birth of teenagedom in London 1958, almost exclusively through song." - Variety.

Director Julien Temple's free-form rock musical adaptation of Colin MacInnes' cult-fave book about life in late-1950s London, Absolute Beginners (1986) offers music and performance by the likes of David Bowie, Sade, Ray Davies, The Style Council and Gil Evans. Focusing on the British music scene on the cusp of the 1960s, the film features a breakout performance from Patsy Kensit and a fabulously stylized visual élan.
Language: English.
Video: 1080p High Definition / 2.35:1.
Audio: English 5.1 and 2.0 DTS-HD MA.
Subtitles: English SDH.
1986 / Color.
107 Minutes
Rated PG-13.
Special Feature: Isolated Score Track.
Twilight Time are a US company specialising in releasing limited edition classic films on DVD and Blu-ray. All titles are sold online exclusively through Screen Archives Entertainment
Thanks to Dean B for the heads up.
---
SPACE WEIRD THING
28th May 2015
Check out Space Weird Thing - a Sweded parody of DAVID BOWIE's classic 'Space Oddity' - the song and the original promotional film.
The lyrics contain only the thousand most common words in English...
---
AND THE BITS FLEW FAR AND WIDE...
28th May 2015
• DAVID BOWIE tribute band Absolute Bowie playing this Friday and Saturday at The Half Moon in Putney, London - [More details]...
• There's a DAVID BOWIE Night at Gerry's Club in Soho, London on 11th June - [More details]...
• The MICK RONSON Legacy 2015 event takes place on Saturday, 8th June at The Fruit in Hull - [More details]...
• WOODY WOODMANSEY interview... 'Seven Things you learn when you're DAVID BOWIE's drummer' - [Read here]...
• On Friday (29th May) BBC 4 TV are rebroadcasting Storyville: ZIGGY STARDUST and The Spiders from Mars, the D.A. Pennebaker documentary at 23.00 and later at 2.30am...
• It's the final week of the DAVID BOWIE Is exhibition in Paris. New extended opening hours! Ends 31st May - [More details]...
---
DAVID BOWIE BOOKS IN THE PIPELINE
21st May 2015
Here's a round-up of other DAVID BOWIE books in the pipeline due for publication towards the end of this year...

Due in October 2015, is DAVID BOWIE in Darkness: A Study of 1. Outside and the Late Career by author Nicholas P. Greco.
Published by McFarland & Company and available to pre-order
NOW.
Now scheduled for 26th October is DAVID BOWIE: THE GOLDEN YEARS by Roger Griffin.

Synopsis: David Bowie's career is defined by the 70s, his golden years. This book chronicles Bowie's creative life during that decade in a year by year, month by month, day by day format, placing his works in their historical, personal and creative contexts. Every live performance: when and where and who played with him. Every known recording: session details, who played on it, who produced it and release details.
Every collaboration is also covered, including production and guest appearances. Film, stage and television appearances: Bowie brought his theatrical training into every performance and created a new form of rock spectacle. Follows Bowie on his journeys across the countries that fired his imagination and inspired his greatest work. A detailed illustrated discography documenting every Bowie recording during this period, including tracks he left in the vault. Many of these ended up on reissues and compilations, which are covered comprehensively - an invaluable reference work.
Roger Griffin is a graphic designer, artist and music researcher. He has authored several music websites since 2000 including bowiegoldenyears.com - having followed Bowie's career ever since hearing him in 1973. He lives in Sydney with his partner and their two children.
David Bowie: The Golden Years is available now to pre-order
Scheduled for a November release is EXPERIENCING DAVID BOWIE: A Listener's Companion by Ian Chapman.

This hardcover, 234-page book is to be published by Rowman & Littlefield.
Synopsis: In Experiencing David Bowie: A Listener's Companion, musicologist, writer, and musician Ian Chapman unravels the extraordinary marriage of sound and visual effect that lies at the heart of the work of one of the most complex and enduring performers in popular music. Still active in a career now well into its fifth decade, Bowie's influence on music and popular culture is vast. At the height of the "glam rock" era, Bowie stood head and shoulders above his peers.
His influence, however, would extend far beyond glam through successive changes of musical style and stage work that impacted upon wider popular culture through fashion, film, gender studies, theatre, and performing arts. As Chapman suggests, Bowie recognised early on that in a post-war consumer culture that continued the cross-pollination of media platforms, the line between musician and actor was an ever-thinning one. Opposing romantic notions of authenticity in rock, Bowie wore many faces, challenging listeners who consider his large body of work with a bewildering array of musical styles, covering everything from classic vaudeville to heavy metal, glam rock to soul and funk, electronic music to popular disco.
In Experiencing David Bowie, Chapman serves as tour guide through this vast musical landscape, tracing his development as a musical artist through twenty-seven studio albums he generated. Pivotal songs anchor Chapman's no-nonsense look at Bowie's work, alerting listeners to his innovations as composer and performer. Moreover, through a close look at Bowie's "visuals" - in particular his album covers, Chapman draws the lines of connection between Bowie the musician and Bowie the visual stage artist, illuminating the broad nature of his art. This work will appeal to not only fans of David Bowie, but anyone interested in the history of modern popular music, fashion, stage and cinema, and modern art.
Ian Chapman is a senior lecturer in music at the University of Otago, New Zealand. A music iconographer and specialist in glam rock, he is a former professional musician and the author of several books, including Kiwi Rock Chicks, Pop Stars & Trailblazers (2010).
Experiencing David Bowie: A Listener's Companion
is available for pre-ordering NOW.
---
ENCHANTING DAVID BOWIE
21st May 2015

Scheduled for 30th July is ENCHANTING DAVID BOWIE: Space/Time/Body/Memory by Toija Cinque (Editor), Christopher Moore (Editor) and Sean Redmond (Editor).
Available in 3 different formats: Hardcover / Paperback / Kindle, contains 368 pages and published by Bloomsbury Academic USA.
Synopsis: A longstanding, successful and frequently controversial career spanning more than four decades establishes David Bowie as charged with contemporary cultural relevance. That David Bowie has influenced many lives is undeniable to his fans. He requisitions and challenges his audiences, through frequently indirect lyrics and images, to critically question sanity, identity and essentially what it means to be 'us' and why we are here. Enchanting David Bowie explores David Bowie as an anti-temporal figure and argues that we need to understand him across the many media platforms and art spaces he intersects with including theatre, film, television, the web, exhibition, installation, music, lyrics, video, and fashion. This exciting collection is organised according to the key themes of space, time, body, and memory - themes that literally and metaphorically address the key questions and intensities of his output.
Reviews: This scintillating collection considers David Bowie's contemporaneity, showing how the star looks very different today - and how every different Bowie is a hero, if just for one day. With each chapter like a crystal ball ricocheting around a multi-level labyrinth, Enchanting David Bowie is full of surprises and delights for the fan and scholar alike. - Christopher Schaberg, Associate Professor of English, Loyola University New Orleans, USA, and author of 'The Textual Life of Airports' and 'Deconstructing Brad Pitt'.
Consider for a moment, David Bowie's extraordinary body of work, not just the music, but also his assimilation of different media practices: writing, painting, performance, film and video. This volume coheres around four thematic vectors - space, time, body and memory - to interrogate Bowie's remarkable corpus of cultural production. In the process, Enchanting David Bowie - itself a standout work - not only illuminates but also construes 'Bowie' - or versions of Bowie - that are at once compelling and fascinating. - Constantine Verevis, Associate Professor of Film and Screen Studies, Monash University, Australia.
You can pre-order Enchanting David Bowie: Space/Time/Body/Memory
NOW.
---
THE RISE OF DAVID BOWIE
20th May 2015

The brand new DAVID BOWIE / MICK ROCK signed collectors publication from TASCHEN is now ready for pre-ordering. The Rise of David Bowie. 1972-1973 will be available in THREE versions: Collectors' Edition and Art Editions A and B.
The Rise of David Bowie. 1972-1973. Collectors' Edition (Limited to a total of 1,972 numbered copies. No. 201-1,972).
Mick Rock, Barney Hoskyns, Michael Bracewell.
Hardcover volume with 3 foldouts in clamshell box, lenticular cover, 12.4 x 17.3 inches, 310 pages.
Price: $700 - More details
Multilingual editions in French and German are set for publication in September 2015.
The Rise of David Bowie. 1972-1973. Art Edition A. (Limited to 100 copies).
Pigment print, 30 x 40 cm (12 x 16 in.), hardcover volume with 3 foldouts in clamshell box, lenticular cover, 31,5 x 44 cm (12.4 x 17.3 inches), 310 pages.
Price: $1,800 - More details
The Rise of David Bowie. 1972-1973. Art Edition B. (Limited to 100 copies).
Pigment print, 30 x 40 cm (12 x 16 in.), hardcover volume with 3 foldouts in clamshell box, lenticular cover, 31.5 x 44 cm (12.4 x 17.3 inches), 310 pages.
Price: $1,800 - More details
REBEL. REBEL. BETWEEN A ROCK AND A GLAM PLACE.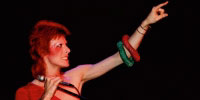 In 1972, David Bowie released his groundbreaking album The Rise and Fall of Ziggy Stardust and the Spiders from Mars. With it landed Bowie's Stardust alter-ego: A glitter-clad, mascara-eyed, sexually-ambiguous persona who kicked down the boundaries between male and female, straight and gay, fact and fiction into one shifting and sparkling phenomenon of seventies self-expression. Together, Ziggy the album and Ziggy the stage spectacular propelled the softly spoken Londoner into one of the world's biggest stars.
A key passenger on this glam trip into the stratosphere was fellow Londoner and photographer Mick Rock. Rock bonded with Bowie artistically and personally, immersed himself in the singer's inner circle, and, between 1972-1973, worked as Bowie's official photographer.

This limited and numbered edition brings together the best of Rock's Bowie portfolio with spectacular stage shots as well as intimate backstage portraits. Pictures for press, album jackets, and stills from promo movies sit alongside around fifty percent previously unseen images, offering unprecedented access to the many facets of Bowie's personality and his fame. With a hologram cover of different head-shots, the book rejoices in Bowie's experimentation and unpredictability. Through the aloof and approachable, the playful and serious, the candid and contrived, this tribute bursts with the daring and energy of its unique and flamboyant star who defined, and defied, a generation.
Limited to a total of 1,972 numbered copies signed by David Bowie and Mick Rock, this book is available as Collectors' Edition (No. 201-1,972), and also in two Art Editions of 100 copies each, with a pigment print signed by Mick Rock.
The photographer:
Mick Rock was born in London in 1948 and is known as "The Man who shot the seventies". As well as David Bowie, he has photographed Lou Reed, Queen, Iggy Pop, Roxy Music and Blondie. He also produced and directed music videos for the classic Bowie songs: 'John, I'm Only Dancing', 'The Jean Genie', 'Space Oddity' and 'Life On Mars?'. Rock has had major exhibitions in London, New York, Los Angeles, Tokyo, San Francisco, and Las Vegas.
The authors:
Barney Hoskyns was born in London in 1959. He is the editorial director of Rock's Backpages, the online library of pop writing and journalism, and a former staff writer at the New Musical Express, contributing editor to Vogue, and U.S. correspondent for MOJO. He is the author of the Tom Waits biography Lowside of the Road (2009), and Trampled Under Foot, the oral history of Led Zeppelin (2012).
Michael Bracewell was born in London in 1958 and has written widely on modern and contemporary art and culture. His more recent publications include Richard Hamilton: Late Works, and Damien Hirst: The Complete Psalm Paintings. He has contributed to The Faber Book of Pop and The Penguin Book of Twentieth-Century Fashion Writing.
Full details and ordering information can be found over at the taschen.com website.
(Ed. Tip: Subscribe for their newsletter and FREE printed magazine. You never know what might come through your letterbox).
---
VINYL RELEASES FOR HEATHEN, REALITY AND 'hours...'
20th May 2015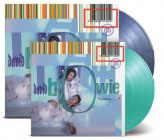 A limited edition blue vinyl pressing of DAVID BOWIE's Heathen
is scheduled for release next month.
Scheduled for release on 23rd June via Friday Music, the album will be housed in a tri-fold cover.
You can pre-order Heathen
NOW.
davidbowie.com report that Friday Music are also set to release his 2003 REALITY album, again as a limited edition and pressed in a clear vinyl.
Music On Vinyl are to release 'hours...' album on 15th June (Cat. No. MOVLP1400).
Released on vinyl officially for the first time ever, this 180 gram audiophile vinyl will also contain a twenty-page booklet.
This first pressing is available in two different colours: 2,500 numbered copies on mint green vinyl and 2,500 numbered copies in blue / purple mixed vinyl.
Full details are available over at the musiconvinyl.com website.
---
THE MUSIC AND THE CHANGES
19th May 2015

Just published is DAVID BOWIE: The Music and The Changes by author David Buckley via Omnibus Press.
The indispensable consumers' guide to the music of David Bowie. An album by album, track by track, examination of every song released by Bowie from his early singles, through the Ziggy Stardust era, the Eno/Berlin trilogy, the solo years, Tin Machine and his most recent work, including The Next Day.
Features Include:
- A detailed album by album, track by track analysis...
- A separate section on compilations of early material and hits collections...
- Eight page colour section.
- A David Bowie timeline.
- Everything you need to know about the music of David Bowie is here!
About the Author: David Buckley has a doctorate from Liverpool University and is the author of six music books, including David Bowie: Strange Fascination. An earlier edition of this guide to David Bowie's music was personally chosen and reprinted by Bowie to promote his albums Earthling and 'hours...' - In 2012, The Guardian called him 'the best of his [Bowie's] umpteen biographers.'
You can purchase David Bowie The Music and The Changes
NOW.
---
RONNO AT THE MARQUEE
18th May 2015
In between THE HYPE and the recording of DAVID BOWIE's 'Hunky Dory' there was RONNO.
Check out this wonderful footage filmed on 3rd March 1971. Gus Backus, Zurich. B&W (SRG+NDR) Einsfestival.
Joe Berger introduces Ronno performing '4th Hour Of My Sleep'. Filmed at The Marquee, Soho, London. Featuring Mick Ronson, Woody Woodmansey, Trevor Bolder, Tony Visconti and Benny Marshall on vocals.
---
LET'S DANCE DOWNUNDER
18th May 2015

davidbowie.com have announced details of a special 7 inch coloured vinyl release for the opening of the DAVID BOWIE Is exhibition opening at the ACMI in Melbourne.
Scheduled for release via Parlophone on 16th July this limited edition yellow vinyl contains remastered versions of the single edit and the live version recorded in Vancouver, Canada back in September 1983 during The Serious Moonlight World Tour.
This release is exclusive to ACMI and limited to just 550 copies.
A-Side: Let's Dance (Single Version).
(David Bowie).
Produced David Bowie and Nile Rodgers.
AA-Side: Let's Dance (Live).
(David Bowie).
Mixed by Bob Clearmountain.
Recorded live at Pacific National Exhibition Centre, Vancouver, British Columbia, Canada, September 12th, 1983.
(Note: Also available in Melbourne will be a further 500 copies of iSelect red vinyl limited edition LP).
ACMI Update: The ACMI shop will be stocking this exclusive, limited edition yellow vinyl available from Thursday 16th July, this rare collectors' item will retails for $40 (AU) but if you're an ACMI Member, discounts apply. It's only ONE vinyl per person and there's limited stock of 500, so be sure to get in quick!
---
DAVID BOWIE IS VISITING DUNDEE
18th May 2015
As mentioned previously on here quite a while back, the DAVID BOWIE Is exhibition will be heading for Dundee in Scotland.
Although the V&A Dundee museum will not open for another three years, plans are already being drawn up to bring some of the Victoria and Albert Museum in London's most popular recent exhibitions to the banks of the River Tay.
These include its David Bowie exhibition, which features more than 300 objects and costumes from the singer's personal archives.
More than 300,000 visited the exhibition in London before it went on international tour.
The Scotsman and The Courier newspapers have both published articles about this forthcoming event.
---
DAY IN, DAY OUT
18th May 2015
• On this day, 32 years ago, DAVID BOWIE played warm-up show at Vorst - Forest Nationaal in Brussels, Belgium in 1983 as part of his Serious Moonlight World Tour...
• On this day, 37 years ago, DAVID BOWIE performed at Grugahalle, in Essen, Germany during his 1978 World Tour...
• On this day, 39 years ago, DAVID BOWIE performed the closing gig of his 'On Stage' tour at the Pavillion in Paris, France in 1976...
• On this day, 42 years ago, DAVID BOWIE performed two shows at the Green's Playhouse in Glasgow, Scotland during his 1973 UK Tour...
• Happy Birthday wishes to RICK WAKEMAN, who as you know played piano on DAVID BOWIE's Hunky Dory album released in 1971...
• On this day, 46 years ago, DAVID BOWIE performed at The Three Tuns Public House, in Beckenham in 1969...
• On this day, 52 years ago, THE KONRADS performed at the Hillsiders Youth Club, Womens' Institute Hall, in Biggin Hill, Westerham in 1963...
At the Hillsiders Youth Club show, DAVID JONES sang Joe Brown's 'A Picture Of You' and Bruce Chanel's 'Hey Baby'. George Underwood took the vocals on 'It's Only Make Believe' and 'A Night At Daddy Gees'.
Mrs Orme, set up The Hillsiders Youth Club which met every Friday in the Womens' Institute Hall at 4 Lebanon Gardens, Biggin Hill in Westerham. It got a lot of support from the local youth and also from those of Westerham.
---
'DAVID BOWIE IS' ITEMS UP FOR GRABS
15th May 2015
I have several DAVID BOWIE Is collectors items available... including the 'David Bowie Is Walking In Soho' Fold-out Maps... 'David Bowie Is Missing' Print Poster (10x15 inches, rare and never on sale to the general public)... and a complete 'David Bowie Is' Press Kit.




If anyone is interested in any of the items, please email me for more details and information.
All monies raised go directly towards the upkeep and running of this website.
---
LINDSAY KEMP'S LAST DANCE
14th May 2015
The documentary maker Nendie Pinto-Duschinsky has spent eight years working on a film about the performer and director LINDSAY KEMP, who turned 77 earlier this month.
In these clips, Lindsay talks about watching soulful Ballet Rambert productions in his youth and his subsequent time dancing with the company. He also remembers hanging out in Soho with DAVID BOWIE and their collaboration on 'Pierrot In Turquoise', as well as meeting Kate Bush when she took his classes at the Roundhouse in London.
You can watch the whole interview HERE via The Guardian website.
The film, Lindsay Kemp's Last Dance is still in production.
From The Guardian.
---
UK BOWIE BALL IN JUNE
13th May 2015
Divine Trash & Panda Productions presents: BOWIEBALL taking place on 20th June - Stage 3 at Northern Stage, Barras Bridge, Newcastle-upon-Tyne NE1 7RH, England.
There's always an anniversary celebrating something about the life of 'The Dame', so we're throwing a party to celebrate YOUR Bowie.
Major Tom, Ziggy, Aladdin Sane, The Thin White Duke... come as the Bowie you love the most.
We'll be joined by Bowie covers band The Ronson-ettes, we'll have Lindsay Kemp-era mime, our tribute to Space Oddity and dancer Voodoo Tuesday.
DJ Sheena Revolta will be playing dancing and posing tunes by T.Rex, Roxy Music, Kraftwerk, Donna Summer, Sparks, New York Dolls, Iggy, Lou, Eno and of course, tons and tons of Bowie himself.
There'll be a Bowie facepainting and photobooth, and enough depravity and decadence to make you think you're in New York circa 1973, LA 1975 or Berlin in 1977.
Early bird tickets are only £10 with standard prices at "12. Don't miss out.
More details and information can be found over on their Facebook events page.
---
AND THE BITS FLEW FAR AND WIDE...
13th May 2015
• Calling all DAVID BOWIE fans who live in India... Check out the #TheRealBowieFan t-shirt contest from @GasJeansIndia on Twitter or via their website gasfordavidbowie.in...
• DAVID BOWIE Is Around The World... Film 8mm - Official Tribeca Teaser #1 - [View here]...
• Have you heard DAVID BOWIE's 'Time' covered by THE HARSH BLUE? - [Listen here]...
• Next stop for the DAVID BOWIE Is exhibition is Melbourne, Australia at the ACMI. Opens 16th July until 1st November 2015. Tickets are on sale NOW - [More details]...
• "I'm certainly not DAVID BOWIE but I'm having a fantastic time singing his songs." - Glenn Gregory. Read the whole interview over at huffingtonpost.co.uk...
---
BOWIE ON BOWIE: INTERVIEWS & ENCOUNTERS
12th May 2015

About to be published by Souvenir Press on 28th May is BOWIE ON BOWIE: Interviews & Encounters (edited by Sean Egan).
In 1973 Martin Amis wrote, in the New Statesman, "Bowie himself is unlikely to last long as a cult". The 'cult' of David Bowie has now lasted for several decades, and while Amis's piece is not included in Bowie on Bowie there are over 30 interviews and profiles that document Bowie's changes, as well as his wide-ranging influence over writers, fashion, art and film as well as music, over the decades.
Despite his reputation as the most elusive musician of his generation David Bowie has always been remarkably open in interviews and, as he came to fame simultaneously with the emergence of rock journalism, Bowie has viewed interviews as another opportunity for expression.
"I realised that what I had to do was experiment. To discover new forms of writing. To evolve, in fact, a new musical language. That's what I set out to do." - David Bowie.
Sean Egan has compiled Bowie's most revealing interviews into a riveting commentary on 50 years of personas and styles, tracing each step from Ziggy Stardust, Aladdin Sane to The Thin White Duke and into the elder statesman that Bowie has become. Some of rock's greatest writers are included in this collection, Robert Hilburn and Charles Shaar Murray to Allan Jones and Steven Wells alongside an interview with Alexander McQueen, the fashion designer, all of which reveal the extent of Bowie's interests over the decades with a rare articulacy and thoughtfulness.
This essential collection of 50 years of interviews from Rock's most restlessly creative spirit is as close to an autobiography that Bowie has come. Here is the ultimate introduction to Rock's most distinctive voice.
Londoner Sean Egan has contributed to, among others, Classic Rock, Record Collector, Total Film, Uncut and RollingStone.com. He has written or edited two dozen books, including works on The Beatles, The Rolling Stones, Bob Dylan, Manchester United Football Club, Coronation Street, and William Goldman. It is his considered opinion that Bowie's 'Five Years' is the best song ever written about humanity having only five years left to live.
Bowie on Bowie: Interviews and Encounters
is available to pre-order NOW.
---
AND THE BITS FLEW FAR AND WIDE...
11th May 2015
• DAVID BOWIE's 'Moonage Daydream' is being using for CHANNEL 4 TV trailer for the upcoming show 'Grayson Perry's Dream House'...
• The DAVID BOWIE Is exhibition in Paris has only 20 days remaining before it moves onto Melbourne. Don't miss out on this international event; take advantage of their new longer opening hours! From May 22nd to 31st, the exhibition is open from 10am to midnight. (Note: closed on Monday, May 25th) - [More details]...
• DAVID BOWIE's 'Queen Bitch' is currently being used on the trailer for the ITV sitcom 'Vicious'. The series stars Ian McKellen and Derek Jacobi as Freddie and Stuart...
• What is the enduring appeal of an artist like DAVID BOWIE? - [Read here]...
---
DAY IN, DAY OUT
9th May 2015
On this day, 45 years ago, DAVID BOWIE was awarded an Ivor Novello Award for best original song with 'Space Oddity' in 1970.
---
LABYRINTH: HOT TUB CINEMA
8th May 2015
So how about watching DAVID BOWIE starring in Labyrinth whilst you're sat in a hot tub drinking champagne?
Two events are taking place at Hot Tub Cinema, Shoreditch, London on 13th May and in Bristol on 8th June.
---
AND THE BITS FLEW FAR AND WIDE...
6th May 2015
• Very Happy Birthday wishes to CARLOS ALOMAR for tomorrow...
• Revisiting a Classic: TONY VISCONTI talks about taking DAVID BOWIE's The Man Who Sold The World on the road - [Read here]...
• A newly curated 2nd special edition of DAVID BOWIE is Personal Portfolio, Black Edition, will be available via the V&A shop later this year...
• On this day, 2 years ago, DAVID BOWIE released the Zeit! 77-79 Box Set in 2013...
• 96 drawings of DAVID BOWIE by the World's Best Comic Artists - [View here]...
• DAVID BOWIE talks to Molly Meldrum back in 1997. Three interview sections - [View here]...
---
I MUST BE ONLY ONE IN A MILLION
5th May 2015
The ONE MILLIONITH visitor to the DAVID BOWIE Is exhibition got a nice surprise in Paris earlier today.
You can read the whole story over at the davidbowie.com website.
Whilst you're there, be sure to the read the full press release, which informs that a newly curated, second special edition, the David Bowie is Personal Portfolio, Black Edition, will be available from the V&A Shop later this year.
---
OFFICIAL TMWFTE TRADING CARDS - NOW SOLD OUT
5th May 2015
The recently released Official THE MAN WHO FELL TO EARTH trading cards from Unstoppable Cards are now completely sold out.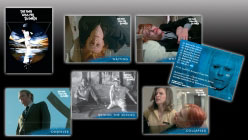 There are TWO diferent DAVID BOWIE cards signed in 2013, limited to 50 of each, along with signed cards from Candy Clark, Rip Torn and Bernie Casey.
The 54-card Base Set can be picked up now for around £5 over on eBay.
---
AND THE BITS FLEW FAR AND WIDE...
4th May 2015
• The DAVID BOWIE classic 'Space Oddity' closed episode 12 of the MAD MEN season 7 TV series...
• Check out an exclusive interview with Ziggy Stardust-era DAVID BOWIE guitarist MARK PRITCHETT who speaks to MaltaToday about his five-year stint with Bowie, his subsequent career away from the spotlight, and his enduring love for Malta - [View Video]...
• MARC ALMOND will be performing several songs at the following HOLY HOLY gigs: Oxford, Bournemouth, Liverpool, Leeds, Colchester, Birmingham and London - [More details]...
---
DAY IN, DAY OUT...
3rd May 2015
• On this day, 39 years ago, DAVID BOWIE began his six-night run at the Empire Pool, Wembley in 1976.
• Happy Birthday wishes to drummer STERLING CAMPBELL.
• Happy Birthday wishes to LINDSAY KEMP.
---
'DAVID BOWIE IS' IN PARIS
1st May 2015

There's only ONE MONTH remaining to catch the DAVID BOWIE Is exhibition in Paris before it moves onto Melbourne.
The Paris exhibition ends on 31st May 2015. Full details, information and ticket bookings can be found over at davidbowieis.philharmoniedeparis.fr - note to change the language on their webpage click in top right hand corner.
Forthcoming dates for David Bowie Is...
Philharmonie de Paris, Paris, France from 2nd March to 31st May 2015 - More details and book tickets.
Australian Centre for the Moving Image (ACMI), Melbourne, Australia from 16th July to 1st November 2015 - More details and book tickets.
Groninger Museum, Groningen, The Netherlands from 15th December 2015 to 15th March 2016 - More details.
---
DAVID BOWIE 2015 UK CONVENTION
1st May 2015

Tickets are on sale for the DAVID BOWIE 2015 UK Convention in Derby, which takes place next weekend.
A celebration of the life and music of David Bowie, the most influential artist to walk this planet and many other planets too...
Featuring a selection of brilliant live music, from tribute bands to Steampunk and many other genres doing Bowie their way... and a warm gathering of David Bowie fans and music fans, Ziggy Kids, Dukes and Dudes... so much love in the room, it makes life wonderful.
Friday 8th May - The Fringe Gig - 6pm 'til Midnight.
Simon York (Acoustic Set) / Aladdinsane (Bowie Tribute Band) / Baz Dedhevan (Heroes Indie DJ set).
Saturday 9th May - David Bowie Convention - 12 'til Midnight.
BowieD / Ritchie Blount / The Featherz / Luxury Stranger / Paul Henderson / Birthrite / Rebel Rebel / Baz Dedhevan Heroes Indie DJ set.
Tickets: £8 for the fringe gig (Fri 8th May 6pm-midnight), £25 for the Main Day (Sat 9th May midday til midnight), or £30 for both events.
On Saturday (9th), CLIFFORD SLAPPER will be giving a presentation of his book 'Bowie's Piano Man: The Life of Mike Garson', on the schedule for late afternoon. This presentation will give you a greater insight into Mike Garson's work with David Bowie over the decades. Clifford will also be staying on after his talk to chat and sign copies of his book (hardback, signed, £20 each, cash only).
Check out the Facebook events page for more details and information.
---
DAVID BOWIE WONDERWORLD NEWS ARCHIVE
April | March | February | January
2014 Bowie News | 2013 Bowie News
2012 Bowie News | 2011 Bowie News | 2010 Bowie News | 2009 Bowie News
2008 Bowie News | 2007 Bowie News | 2006 Bowie News | 2005 Bowie News
2004 Bowie News | 2003 Bowie News | 2002 Bowie News | 2001 Bowie News
2000 Bowie News | 1999 Bowie News | 1998 Bowie News | 1997 Bowie News






| | |
| --- | --- |
| Created: May 2015 © Paul Kinder | Last Updated: 31/5/15 |