BOWIE TV and WHAT'S REALLY HAPPENING IN JUNE - MONTHLY PLANNER

[BOWIEWONDERWORLD SHOP] [LATEST DAVID BOWIE ITEMS ON eBAY]
[@bowiewonderworld.com email addresses HERE]
Have YOU got some DAVID BOWIE related news or a hot scoop?
Well don't just sit there keeping it to yourself - send it in to
All news items are credited if you so wish
---
AND THE BITS FLEW FAR AND WIDE...
26th June 2011
• PHIL LANCASTER former bandmate of DAVID BOWIE who was the drummer with THE LOWER THIRD is interviewed today by the Sunday Mercury talking about their early days. There is also a slideshow with a couple of previously unseen photographs - [read and view here]...
• Festival organisers are already starting to think about the Glastonbury Festival 2013, after Worthy Farm takes a break next year. Rumour has it that DAVID BOWIE who last headlined in 2000 is high up on the wish list of Michael and Emily Eavis...
• The current issue of MOJO magazine (July) has a two-page feature listing DAVID BOWIE's top ten albums as chosen by their readers...
---
HAPPY FATHERS DAY
19th June 2011
In celebration of Fathers Day DUNCAN JONES has been interviewed in Los Angeles by the Philippine Daily Inquirer by Ruben V. Nepales.
LOS ANGELES - On this Father's Day, we feature filmmaker Duncan Jones, whose reminiscences about growing up with dad DAVID BOWIE and being mentored by director Tony Scott are apt tributes to fathers and men who devote time to, and thus inspire, their kids.
Q: How did you avoid the pitfalls of having a famous dad?
I've seen a lot of people in similar positions who crashed and burned. The big benefit I had was that I was never into that. I was never into the cool social scene stuff. I was always a bit of a geek, always a bit of an outsider. So I never felt a particular desire to go down that fast-burn route.
You can read excerpts from the interview here
Happy Fathers Day to all fathers out there.
---
ECHO BOWIE SUMMER FESTIVAL SHOWS
18th June 2011

Dutch DAVID BOWIE tribute band ECHO BOWIE have three Summer Festival Shows lined up.
Echo Bowie's singer Hans: "We're really looking forward to the festival season. We can't wait to play our mix of Bowie classics like 'The Jean Genie' and 'China Girl' with more obscure stuff like 'Breaking Glass' and 'Hallo Spaceboy'.
"We've played the legendary Parade Theatre Festival in Amsterdam before a great audience for the last two years and look forward to bring the audience something new again this year. The Reuring and Blommenkinder Festivals are debuts for us, which makes these gigs very exciting too."
Reuring Festival - Purmerend on July 2nd at 20.30 hrs. CET
Blommenkinders - Roosendaal on July 24th at 14.30 hrs. CET
De Parade - Amsterdam on August 9th at 22.30 hrs. CET
From Echo Bowie (Hans).
---
AND THE BITS FLEW FAR AND WIDE...
17th June 2011
• Interviewed in the Philadelphia Citypaper is MICHAEL LESSNER for an article on photographers... "I do miss it, as I had to get used to going to shows without three cameras on me at all times. I feel guilty watching shows and missing all the great shots I could have had. I remember a gift we gave DAVID BOWIE at the Tower - a James Brown doll that sang and danced. We handed it to him just before he went on stage and, of course, midway through the show he brings it on stage, hits the button, holds it up to a mic and lets it sing and dance. Funny. Problem was, no one could take a shot of him doing that on stage. I feel for today's photographers, as they are only allowed to shoot two or three songs at the beginning of a show, have to sign their lives away to shoot, then they're asked to leave. I could do whatever I wanted." - [Read full interview]...
• RICK WAKEMAN is interviewed by the North West Evening Mail today... As well as being a very talented musician, Rick is a very funny and witty man, and held the audience with his stories and anecdotes, the entire audience laughed out loud, then became mesmerised by his immaculate piano playing, as he selected various pieces from throughout his career, stripped down to their original format - a trait that he acquired from the great DAVID BOWIE.
As Rick explained: "I was sat down in David Bowie's living room, and I had the great honour of being one of the first people to hear the tracks for his forthcoming album, 'Hunky Dory'. David was playing these wonderful songs on an old battered 12-string guitar. I enquired about the state of the instrument he was playing, David replied, 'Rick, very soon you too will be recording music, and you will realise if it sounds good on rubbish like this, then it will sound amazing when it is completed in the studio.'" - [Read full interview]...
---
STARDUST MEMORIES
16th June 2011
PAUL TRYNKA author of Starman: DAVID BOWIE
has been interviewed by Chris Moss over on the TIME OUT Hong Kong website.
Forty years on, is there anything we still don't know about David Bowie? Chris Moss meets his latest biographer...

Paul Trynka used to edit the UK music magazine Mojo, and is the author of Iggy Pop: Open Up and Bleed. His latest book, Starman, is a biography of David Bowie which takes the titular jangly pop song as its opening tune before riffing on the usual Bowie themes - with cocaine addiction, his friendship with Mr Pop and Bowie-as-husband and-dad getting more attention than usual - as well as plenty of musical archaeology. The last two decades are chronicled in detail, despite Trynka's admission that Bowie's most recent creative high was his rendition of The Little Fat Man (with the Pug-Nosed Face) in Ricky Gervais' sitcom Extras. We asked him if there was anything new to be discovered about rock's most famous chameleon.
Did you interview Bowie?
I did 'hire' him to guest-edit Mojo. Sadly, we didn't debate cover shots over the lightbox: it was all done via email, which was efficient, but hardly a meeting of minds.
At least ten Bowie songs are seminal. Why Starman?
Starman has special resonance. The song, and its performance [on 6 July, 1972] on [UK music show] Top of the Pops, is about transcendence - and the book is about how one boy, David Jones, transcended his own limitations. The fact the melody is lifted from Judy Garland also invokes another theme.
Bowie often goes quiet - was there any new material to work with?
I did more than 200 interviews, used maybe 100 new sources. My problem wasn't so much finding new material as fitting it all in.
But what's your killer hook?
Plenty of people have written about Bowie - mine's the first book to track how Bowie became Bowie. Not how he redesigned himself on the outside, but what happened within.
It's often remarked Bowie peaked for a short period. Is that fair?
I reckon he had 12 years of influential albums, arguably more. Who else has managed that?
Unlike many rock stars, Bowie is discreet. Is he cool, or just old?
He's old school in many ways, and understands that elusive balance of publicity hound and enigma.
Bowie seems to age gracefully - what's his trick?
Hang out with older people: it makes you look younger.
You portray Bowie as an astute wheeler-dealer. Was he the Simon Cowell of 1970s rock?
No - he was cut-throat but rarely a control freak. The image of him as considered is wrong - above all, he's a risk-taker, and maybe a chancer.
You rate highest the albums where Tony Visconti and Brian Eno were at the helm. Did Bowie need controllers?
He's 'himself' the most when he relies more on others. But he can get things out of them that they can't get on their own.
Your other biographical project was Iggy Pop. At the apocalypse, with just one track before the End, would you choose Iggy or Bowie?
If oblivion awaits, I'd go for Iggy's Success - a Bowie tune, tee-hee - for its irrational belief that things will turn out okay.
STARMAN: DAVID BOWIE The Definitive Biography by Paul Trynka was published by Sphere in March - purchase NOW
- The USA version
is published on 18th July.
From TimeOut Hong Kong
---
IF YOU WANT IT...
16th June 2011

The Popular Culture: Rock and Pop Memorabilia auction was held at CHRISTIE'S in London this week, which saw the set of working lyrics handwritten by DAVID BOWIE for his medley 'Sweet Thing/Candidate' up for grabs.

The estimate was £2,000-£3,000 GBP ($3,230 - $4,845 US).

The price realised wiped the floor with the estimate, reaching a grand total of £8,750 GBP ($14,350 US).
Lot Notes: The medley of 'Sweet Thing', 'Candidate' and 'Sweet Thing (reprise)' was the centrepiece of Bowie's 1974 album, Diamond Dogs, and it remains one of his most highly regarded recordings, by critics, fans and the singer himself. The two sheets of handwritten lyrics were used during the recording sessions for the medley at Olympic Studios in Barnes, South-West London during the early weeks of 1974.
On this album, Bowie was experimenting for the first time with the use of the 'cut-up' writing technique made famous by the American author William S. Burroughs, in which passages of prose or orthodox lyrics were literally cut up by the artist and then reassembled. Bowie created the lyrics of this medley using a mixture of 'cut-up' and phrases taken from the notebooks which he carried with him, containing lines or combinations of words that he was keen to use in his work. As these manuscript pages demonstrate, he would then piece together a set of lyrics from these various sources, before making amendments during the recording session.
One sheet (beginning "it's safe in the city") contains the lyrics - without the chorus - for both 'Sweet Thing' and 'Sweet Thing (reprise)', the latter being added in felt-tip pen at the bottom of the sheet. The other (beginning "It's a street") is a draft of 'Candidate', with some sections marked to be moved around, and others replaced. Most notably, the four first lines of this draft (two of which Bowie had already crossed through) were completely rewritten when he recorded the song.

These manuscripts provide a rare insight into Bowie's creative methods at a key moment in his career, when he had abandoned his Ziggy Stardust character and was about to move to America. In particular, it is fascinating to see that he appears to have added the most personal and revealing lines of the song, which formed the climax of the medley, as a spontaneous decision - in keeping with the almost intuitive way in which he created his material during this period.
The lyric pages were acquired by Producer Jon Astley, while he was working as a sound engineer at Olympic Studios in January 1974 on the sessions for Sweet Thing and Candidate. He asked Bowie if he could keep the discarded lyric sheets, which he agreed to in a trade for Astley... to stay behind that evening to engineer Lulu singing The Man Who Sold The World, which he happily obliged to do.
Christie's are grateful to Peter Doggett
for his assistance with this catalogue entry.
You can view enlarged versions of the two sheets here via the Christie's website.
---
I'M LOOKING FOR A BOOK
14th June 2011
Update: Many thanks to Liz and Nicholas for supplying the info. The book is entitled Dependence Day
by Rob Newman.
Can anyone help with this? I've been trying for years now to help this guy and still can't resolve this. Even I now want to desperately read it! If anyone out there knows the title of this book please get in touch.
Back in England, when I worked in this warehouse filled with books, I used to take breaks and read first pages. Sometimes the first pages became the first chapters, and then I knew I just had to take the books home with me.
But one book got away. I read the first chapter and thought it was really funny, and then I put it down and continued working, and then I just forgot about it. But I've been thinking about it a lot since then. About ten years now. I've tried every possible Google search, but nothing. So, sounds familiar? (and forgive me - it's a ten-year-old memory).
This guy is in a party. I think it's on a boat. He tells a story about a friend of his who runs into DAVID BOWIE on the street. He's a big fan, so he stops Bowie and tells him how great he thinks he is. Bowie is actually surprisingly happy to talk to the fan. But he also looks depressed. Anyway, the guy runs into David Bowie the next day, and this time Bowie comes up to him and starts talking. He's wearing this baseball cap because he doesn't want people to recognise him. And they chat for a while, and it's great that a fan can just talk like that to the great David Bowie.
Anyway, the next day David Bowie calls him and tries to meet up. He is just interested in this guy's company, but then he starts harassing him all day and all night, to the point where the guy doesn't sleep. He doesn't answer his calls. He feels he's going insane trying to avoid David Bowie.
Then one morning an electrician comes over. He's wearing a baseball cap. This guy's roommate lets him in. The electrician opens the small door under the staircase, bends over, and starts reading the meter. Now, this guy is about to walk downstairs and he sees a guy with a baseball cap who seems to be hiding under his staircase. So he runs down and starts beating up the electrician.
So he beats him up for a few minutes before he suddenly realises it's just an electrician. And he says to the electrician who's lying there on the floor (and this punchline has been haunting me for ten years), "Sorry, I thought you were David Bowie."
---
SPEED OF LIFE
11th June 2011

GENESIS PUBLICATIONS have released a news update on their forthcoming publication SPEED OF LIFE by DAVID BOWIE and MASAYOSHI SUKITA.
Masayoshi Sukita visited the Genesis publishing house in England this week to develop work on the forthcoming limited edition Speed of Life (working title) - a new publishing collaboration with Sukita and David Bowie.
Mr. Sukita reviewed the photo sequence that he and David Bowie have created so far. Small changes were made to the running order and various anecdotes and details added to the book's text which is to be narrated throughout by both authors.
Readers interested in their co-signed limited edition, Speed of Life by David Bowie and Masayoshi Sukita, can register their details today for further details and updates by clicking here
Please note: Registrants will also receive the opportunity to pre-order at a pre-publication discount.
---
NEW LIFE ON MARS? VIDEO
10th June 2011
Legendary photographer MICK ROCK has teamed up with film director BARNEY CLAY and THE MILL NY in New York.
The first chapter of this collaboration is a re-imagination of Mick's complete footage - including outtakes - taken during the shooting of the DAVID BOWIE promotional film for 'Life On Mars?'
Rock and Clay decided to focus on the outtakes and raw footage because of "its iconic, pure, simple, and memorable qualities."
Passing off the dusty and antiquated original film and negatives to The Mill, one of the world's premiere post-production houses, they began to shape their new vision for the track, adding visual effects and experimental flair to the piece.
David Bowie has requested that the piece only be shown in galleries and museums, and The Creators Project are honoured to premiere the final film and sound installation during their Paris event at La Gaîté Lyrique on 9th-11th June 2011 in France.
Barney is also currently working on a full length documentary on Mick Rock.
---
REBEL, REBEL - ROCK FOR PUSSY
9th June 2011

89.3 THE CURRENT presents REBEL, REBEL - ROCK FOR PUSSY VIII A Tribute to DAVID BOWIE on Friday 10th June at First Avenue Mainroom in Minneapolis, USA.
All proceeds benefit the Feline Rescue charity.
Performing at this event are: John Eller, Ciaran Daly, Liám Pádraig Watkins, Chris Perricelli, Chris Pavlich, Reed Wilkerson, Jim Walsh, Venus DeMars, Sam Keenan, Lori Barbero, Laurie Lindeen, Matt Coffee, David Campbell, David J Russ, Janey Winterbauer, Christian Erickson, Orion Treon, Michelle Massey, Chris Koza, Dan Israel, Adam Levy and more.
Venue: First Avenue.
Location: 701 First Avenue North, Minneapolis, MN 55403-1327, USA.
Phone: 612-332-1775.
More details and information can be found @ first-avenue.com
---
"THAT'S THE FINAL WORD"
8th June 2011
After soundchecking for their first gig for almost two years in Falmouth yesterday, the KAISER CHIEFS gave an interview to What's On competition winner AJ Salisbury.
The inevitable question raised was: There has been some controversy surrounding the album, with reports saying that the Kaisers had turned down lyrics by DAVID BOWIE on one song.
Drummer Nick Hodgson explained: "Basically what happened is the words came out of my mouth and have gone round the Internet and they've now become something that isn't the case.
"We had one line with two words missing, we were asking everyone 'what do you think we can do'. We asked Tony Visconti, who was producing us at the time, can you send him [Bowie] an e-mail with just the sentence but with the blanks. This is why he is telling the truth, because at no point did he ask David Bowie to write lyrics for us."
Hodgson continued: "He did send the e-mail and he did come back and we did read it and we didn't use it because we didn't use that section of the song. That's the final word so stick it on the Internet."
Ricky Wilson added: "Between two opposing tabloid stories the truth is always somewhere in the middle and always a lot more boring than either of them."
Hodgson concluded, laughing, that: "I read a headline that said 'The Kaiser Chiefs say Bowie collaboration was not good enough'. No, that's not it at all."
You can read the whole interview over on ThisIsCornwall website.
---
HEAVEN AND HULL REISSUE
7th June 2011

This month sees the first reissue of legendary musician MICK RONSON's third solo album HEAVEN AND HULL (CDLEM 193) via Cherry Red Records.
The album features contributions from DAVID BOWIE, Joe Elliott, Chrissie Hynde, John Mellencamp, Peter Noone, Phil Collen, Brian May, John Deacon and Roger Taylor from Queen.
This eleven-track CD features the ten songs of the original album plus one bonus track 'Don't Look Down - Edit', the only single taken from the album. Other featured tracks include a brilliant cover of Bob Dylan's 'Like A Rolling Stone' and a live version of Mott The Hoople's Bowie penned classic 'All The Young Dudes', recorded at the Freddie Mercury Tribute Concert at Wembley Stadium. This was to be Mick Ronson's final live performance.
This CD follows on from the successful Lemon Recordings reissues of Mick Ronson's previous solo albums 'Slaughter On 10th Avenue' (CDLEM 145) and 'Play Don't Worry' (CDLEM 146).
The new CD booklet features a solo UK discography featuring many original single and album sleeves and liner notes.
The tracklisting runs as follows:
01. Don't Look Down
02. Like A Rolling Stone (with David Bowie)
03. When The World Falls Down
04. Trouble With Me
05. Life's A River
06. You And Me
07. Colour Me
08. Take A Long Line
09. Midnight Love
10. All The Young Dudes (Live Freddie Mercury Tribute Concert)
11. Don't Look Down (Edit) (Bonus track)
Scheduled for release on Monday 20th June - you can pre-order
Heaven and Hull now.
---
MAJOR TOM: A TRIBUTE TO DAVID BOWIE
7th June 2011
Something that maybe of interest to Belgian, Dutch and German fans out there... happening this month on Friday 24th June in Antwerp, Belgium is Major Tom: A Tribute to DAVID BOWIE.
For more details and information please visit deroma.be where there are several video clips to give you a taster.
From Erik V.
---
GOLDEN YEARS... WHOP WHOP WHOP!
6th June 2011
Today saw the release of The Golden Years David Bowie Vs KCRW EP
via EMI.
The various format tracklistings are as follows:
David Bowie vs KCRW Golden Years EP.
CD and Digital Download
1. Golden Years (Single Version) (2002 Digital Remaster).
2. Golden Years (Anthony Valadez KCRW Remix).
3. Golden Years (Eric J. Lawrence KCRW Remix).
4. Golden Years (Chris Douridas KCRW Remix).
5. Golden Years (Jeremy Sole KCRW Remix).
12"
Side 1
1. Golden Years (Single Version) (2002 Digital Remaster).
2. Golden Years (Anthony Valadez KCRW Remix).
3. Golden Years (Eric J. Lawrence KCRW Remix).
Side 2
1. Golden Years (Chris Douridas KCRW Remix).
2. Golden Years (Jeremy Sole KCRW Remix).

To celebrate the release of the remastered 'Station To Station' album, four Los Angeles KCRW station DJs - Jeremy Sole, Anthony Valadez, Eric J. Lawrence and Chris Douridas - each remixed the album's lead single 'Golden Years'.
You can purchase NOW
. Also the remix app available at the iTunes
store is similar to the 'Space Oddity' iKlax app release back in August 2009. The GY app utilises eight 'stems' giving users the opportunity to access original multi-tracks, allowing them to remix, create and share their very own versions of 'Golden Years'.
The stems were specifically created by Station To Station's original producer, Harry Maslin and feature David's lead vocal, 12-string guitar, bass, drums, guitar, harmonium, percussion (including blocks, congas, claps) and backing vocals.
---
DAVID AND IMAN ANNIVERSARY
6th June 2011

Today marks the 19th anniversary of DAVID and IMAN's wedding ceremony at Saint James Episcopal Church, in Florence, Italy.

The best man was David's son Duncan with chief usher Alan Edwards. Iman's maid of honour was her best friend Bethann Hardison.

Besides their immediate family, among the sixty-eight invited guests were Yoko Ono, Brian Eno, Bono, Eric Idle, Geoff MacCormack, George Underwood, Herve Leger and Thierry Mugler.

You can click here to read an article from Hello! magazine entitled 'The Wedding of David Bowie and Iman' in the BW archives.

Today also marks the 39th Anniversary release of the immortal 1972 album 'The Rise and Fall of Ziggy Stardust and The Spiders From Mars'.
---
MORE FAKE BOWIE ACETATES FROM ITALY
5th June 2011
Just in case some of you collectors out there aren't aware a record seller in Italy is attempting to sell two more FAKE DAVID BOWIE acetates on eBay. They have 'Buy It Now' prices of £499 and £99 respectively.
Just listed are Little Bombardier / Rubber Band on a metallic 10" one side and also a 7" acetate of Karma Man
Please be warned: THESE ARE BOTH FAKES!


The same seller (vinylkiller2010) has already sold other fake Bowie acetates in the past including: 'Love You Till Tuesday', 'Over The Wall We Go' and 'After Today'.
---
AND THE BITS FLEW FAR AND WIDE...
5th June 2011
• DAVID BOWIE celebrates forty-seven years of recording this very day. The 5th June 1964 saw the release of 'Liza Jane' by Davie Jones with The King Bees on the Vocalion Pop label. At a mere seventeen years of age David on vocals and saxophone, along with George Underwood (guitar), Roger Bluck (guitar), Francis Howard (bass) and Robert Allen (drums) got their first single out on vinyl backed with 'Louie Louie Go Home'. Both songs were recorded in a seven-hour session at Decca Studios in Broadhurst Gardens, West Hampstead. If you want own a mint copy of this single it'll set you back around £2,000 these days...
• More revelations from the KAISER CHIEFS on recording their new album 'The Future Is Medieval' in the studio with TONY VISCONTI. The band revealed to British newspaper The News of the World that they asked TV to contact DAVID BOWIE to help them finish off a lyric for a particular song. David kindly obliged, but unbelievably the band rejected David's contribution! Drummer Nick Hodgson said: "Tony texted David asking for his suggestions to finish off a verse [on 'Man On Mars'] and he came up with a couple of lines. I'm such a big Bowie fan I can't believe I'm saying this, but they just weren't right, so I've missed out on a Hodgson/Bowie writing credit. Gutted!" (Ed. WTF. Are you mental?)... Update: Tony Visconti has denied such an exchange ever took place, telling the NME that he never approached Bowie on the band's behalf - [Read here]. Then later Nick wrote on his Twitter: 'David Bowie doesn't know he was asked to write a line for us. Visconti emailed him with no explanations. He asked him to finish a sentence.'...
• ITV are currently using DAVID BOWIE's anthemic "Heroes" on a TV commercial trailer to promote their new season of programmes...
• MIKE GARSON appears on the new album from Brazilian dance rockers CSS who release their third album 'La Liberación' in August. The record also features collaborations with Primal Scream frontman Bobby Gillespie and Ratata...
• Check out an interesting interview with IAN HUNTER by Robert Chalmers over on The Independent website. 'The truth about Mott The Hoople, the drugs and the manager with a death wish. 'All the Young Dudes' brought Ian Hunter to the brink of 1970s superstardom - then he walked away from it all.' There are obviously several references to DAVID BOWIE and MICK RONSON - [Read here]...
• At the Central Saint Martins BA Graduate 2011 show last week in London DAVID BOWIE's classic 'Changes' took on poignant meaning. The song was used as a soundtrack to a film directed by student Danny Vaia. The movie detailed places where generations of designers, stylists and fashion writers learnt the fashion trade. When the final line of Bowie's 1971 classic rang out and the famous brown doors shut with the caption, 'Central Saint Martins' Charing Cross 1939-2011 RIP' ("Time may change me, but you can't trace time") there were lumps in the throats of many attending. The famous art college on Charing Cross Road, near Soho, will close for the last time in next month, before moving to a new purpose-built site in Kings Cross. Check out a nice review of the evening over on The National website by Julia Robson...
---
ZIGGY REALLY SANG
4th June 2011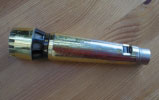 As mentioned last month up for grabs in the forthcoming Entertainment Memorabilia Auction at Bonhams is the AKG microphone that DAVID BOWIE used at the beginning of his Ziggy Stardust shows.
The Ziggy mic which is Lot 212 has an estimate of £800 to £1,200 GBP.
Bonhams now have their online catalogue for their Sale 19036 available to view here.
A statement confirms that this mic was given to the sound engineer at the first Ziggy Stardust and The Spiders From Mars rehearsal at Beckenham Rugby Club in January 1972. As David's favourite mic at the time it was then used for the first 25 shows.
The 'Entertainment Memorabilia' auction takes place in Knightsbridge, London on Wednesday 29th June at 13:00 GMT.
---
AND THE BITS FLEW FAR AND WIDE...
2nd June 2011
• New music game from UBISOFT 'Rocksmith' will feature 'Rebel Rebel' by DAVID BOWIE. The game launches this Autumn for PC, Xbox 360 and Playstation 3. Rocksmith allows players to plug any real guitar into their consoles or home PC and play along...
• The current issue of CLASSIC ROCK UK magazine (158) June features the piece 'DAVID BOWIE the lost and leaked album' reviewed by Paul Trynka...
• DAVID BOWIE with Elizabeth Taylor from 1974 features in the June issue of UK Harper's BAZAAR magazine...
• Leeds band KAISER CHIEFS who recorded their new single 'Little Shocks' with the legendary producer TONY VISCONTI say that whilst in the studio "We did waste a hell of a lot of time asking questions about DAVID BOWIE." - you can read the complete article here...
---
'BOWIE BY SUKITA' UPDATE
2nd June May 2011

Update: David Bowie by Masayoshi Sukita.
We are delighted to announce that 'BOWIE BY SUKITA', our forthcoming title featuring photographs by Japanese photographer Masayoshi Sukita of David Bowie throughout his career, is coming along very nicely.
At present David is composing his text and Masayoshi is supplying us with his beautiful photographs. What we've read and seen so far is brilliant.
We are delighted that Masayoshi is travelling to visit the Genesis offices in the next couple of weeks and we will, of course, bring you more information as it happens.
The best way to keep up to date with all the developments on this signed and strictly limited title is to register your interest on our website, simply enter your contact details on the book's forthcoming page here...
From Genesis Publications.
---
MICK RONSON LEGACY CONCERT
1st June May 2011

This coming weekend on 4th June is the second annual MICK RONSON Legacy Concert in his hometown of Hull.

There is a host of local and out of town acts including many who played with Mick and some with DAVID BOWIE in the 60's and 70's including: The Black Pearls, The Nicol Blues Band, David Bowee, Ronson Kiplin, MG Greaves and The Lonesome Too, Roland Lee Gift, Wild Mutation, Kiria, John 'Hutch' Hutchinson, MCC, Things Change, Kevin Everett, Visual Thinktank, plus more to be announced.

This year's event proceeds will be going to cancer charities namely Teenage Cancer Trust, Macmillan Nurses, who looked after Mick in his last few months and a local cancer charity Dove House.

Venue: The Springhead
Address: Aston Road, Willerby, Hull, England
Time: 12 noon till 12pm
Website: thespringhead.com

More details and information can be found at Mick's official website @ mickronson.com

From John B.
---
SOURCE CODE BLU-RAY RELEASE
1st June 2011

The second major movie directed by DUNCAN JONES Source Code sees its release on Blu-Ray DVD on 15th August via Optimum Home Entertainment.
This excellent gripping suspense sci-fi thriller stars Jake Gyllenhaal and Michelle Monaghan, Vera Fariga and Jeffrey Wright.
Synopsis: Filled with thrilling twists and heart-pounding suspense, Source Code is directed by Duncan Jones (Moon) and stars Jake Gyllenhaal (Donnie Darko, Prince of Persia). Captain Colter Stevens (Gyllenhaal) awakens on a speeding commuter train with no idea how he got there. Seeking refuge in the bathroom, he's shocked to see another man's reflection in the mirror. Suddenly a massive explosion rips through the train. Almost instantly, Colter is transported to a high-tech isolation unit where he discovers he is on a high-priority mission to identify a bomber who destroyed a train just hours earlier and who plans to kill thousands more with a much larger explosion in the heart of Chicago.
A top-secret programme, named 'source code', allows Colter to exist briefly as another man in the parallel reality of the doomed commuter train. Each time he returns to the train, Colter has just eight minutes to uncover the bomber's identity. The more he learns, the more convinced he becomes that he can prevent the deadly blast from ever happening... unless time runs out first.
You can pre-order Source Code - Double Play (Blu-ray + DVD)
NOW.
---
GOLDEN YEARS... WHOP WHOP WHOP!
1st June 2011
Next Monday sees the release of The Golden Years David Bowie Vs KCRW EP
via EMI on Monday 6th June.
The various format tracklistings are as follows:
David Bowie vs KCRW Golden Years EP.
CD and Digital Download
1. Golden Years (Single Version) (2002 Digital Remaster).
2. Golden Years (Anthony Valadez KCRW Remix).
3. Golden Years (Eric J. Lawrence KCRW Remix).
4. Golden Years (Chris Douridas KCRW Remix).
5. Golden Years (Jeremy Sole KCRW Remix).
12"
Side 1
1. Golden Years (Single Version) (2002 Digital Remaster).
2. Golden Years (Anthony Valadez KCRW Remix).
3. Golden Years (Eric J. Lawrence KCRW Remix).
Side 2
1. Golden Years (Chris Douridas KCRW Remix).
2. Golden Years (Jeremy Sole KCRW Remix).

To celebrate the release of the remastered 'Station To Station' album, four Los Angeles KCRW station DJs - Jeremy Sole, Anthony Valadez, Eric J. Lawrence and Chris Douridas - each remixed the album's lead single 'Golden Years'.
You can pre-order NOW
in anticipation of the release date.
So whilst we're waiting for the release... you can listen to each of the DJs remixes over at blogs.kcrw.com
The remix app available at the iTunes
store is similar to the 'Space Oddity' iKlax app release back in August 2009. The GY app utilises eight 'stems' giving users the opportunity to access original multi-tracks, allowing them to remix, create and share their very own versions of 'Golden Years'.
The stems were specifically created by Station To Station's original producer, Harry Maslin and feature David's lead vocal, 12-string guitar, bass, drums, guitar, harmonium, percussion (including blocks, congas, claps) and backing vocals.
---
DAVID BOWIE WONDERWORLD NEWS ARCHIVE
May | April | March | February | January
2010 Bowie News | 2009 Bowie News
2008 Bowie News | 2007 Bowie News | 2006 Bowie News | 2005 Bowie News
2004 Bowie News | 2003 Bowie News | 2002 Bowie News | 2001 Bowie News
2000 Bowie News | 1999 Bowie News | 1998 Bowie News | 1997 Bowie News






| | |
| --- | --- |
| Created: June 2011 © Paul Kinder | Last Updated: 30/6/11 |