NOVEMBER 2000 - DAVID BOWIE NEWS

WHAT'S REALLY HAPPENING IN NOVEMBER - MONTHLY PLANNER


---

VOYEUR ISSUE OUT NOW
30th November 2000



The November issue of "The Voyeur" is out now. In this issue: It's a girl, Welcome to Holland part 3, The European canon is here, The Beeb complete, Book review, CD review, adverts and more.

For more info go to: http://go.to/bowiefanclub.


---

ANOTHER TWO DB FAN SITES
30th November 2000



Two more DAVID BOWIE fan sites have been set up this week. Check out Piia's DB Page and Simone's Bowie Advent calendar. Starting from today December 1st people can open up one door each day to see a different Bowie pic, up to Dec 24th...

From Piia and Simone.


---

COMPETITION 7 ENDS AT MIDNIGHT
30th November 2000



The current BOWIEWONDERWORLD.COM competition number 7 is now on its final day. The competition closes tonight at 12 midnight (GMT). Good luck and thank you to everyone who has already sent in their answers. Go to the competition page for full details.

ONE Grand Prize winner (@bowiewonderworld.com members only) plus TWO runners-up prizes using your own email address. If you want the chance to win the first prize - be quick and sign up for your FREE email address here.

(Ed. Please note: Major prize only available to people with @bowiewonderworld.com email address).


---

NME POLL PLACES BOWIE NO. 1
28th November 2000



NME POLL PLACES BOWIE AS MOST INFLUENTIAL ARTIST OF ALL-TIME:

NME.COM will exclusively present a minisite dedicated to the 20 most influential artists in history, as voted for by the rock stars of today.

The list was compiled by NME over the period of a year, during which some of the most important contemporary artists of today gave their opinions on which musicians had exerted most influence over the current music scene - with interesting results.

David Bowie leads the list, followed by Radiohead, who have pipped The Beatles into third place.

Read the full story here at nme.com.

(Ed. Make sure you buy this week's NME - you won't regret it).


---

REEVES LIVE CHAT TOMORROW
28th November 2000



Wanna chat with the Grammy-nominated guitarist/songwriter/producer/computer jockey, best known for his work with legendary David Bowie? Join LAUNCH.com to chat with REEVES GABRELS on November 29th Wednesday @ 8pm EST/5pm PT.

Just click onto http://www.launch.com/music/interact/pvn_chat/ or http://chat.yahoo.com/ and bring in your questions!


---

NO WAY OUT TONIGHT IMAN
25th November 2000



Tonight on Granada ITV TV in the UK NO WAY OUT (1987) at 10:55 pm - a political thriller about a murder and subsequent cover-up within the inner circles of federal government which leaves an innocent CIA officer under suspicion. Stars Kevin Cosner and IMAN (T) (S) (20214421).

Other TV programmes this weekend... Sunday 10:00 pm Granada ITV UK is SMASH the influence of British hit singles with sexual connotations (T) (S) (80201).(Ed. I've just noticed David as Ziggy appear on the trailer for the show).


---

HISTORIC TOTP BOWIE PERFORMANCES
25th November 2000



In the spirit of the Bowie At The Beeb album, the Top Of The Pops web site (www.beeb.com/totp) will be posting exclusive Quicktime footage of DAVID BOWIE'S performances on the TOTP TV show from over the past 30 years.

Starting on Monday November 27th, each day of the week will see a different Bowie performance being posted up on the site:

Monday - Dead Man Walking
Tuesday - "Heroes"
Wednesday - Fashion
Thursday - Thursday's Child
Friday - Starman
Saturday - Fashion (Legs & Co)
Sunday - Space Oddity (Pan's People)

TOTP will also have an online Bowie fan quiz and those who successfully complete it will be eligible for a draw to win a complete CD set of his albums released on RCA between 1969 and 1980 plus a T-shirt and poster. Runners up can win one of five signed Bowie At The Beeb CDs.

Of particular note for Bowie fans is the Heroes footage which features a great live vocal, along with Starman which features Bowie dressed as Ziggy Stardust with Mick Ronson on guitar.

From Greg Jarvis @ bbc.co.uk. and thanks to Inger on the Message Board.


---

DAVID'S "HEROES" TOPS BDBs LIST
25th November 2000



Also from the TOTP web site... Another Mancunian with great taste... BADLY DRAWN BOY chooses his Top Five Favourite Albums:

1. David Bowie: "Heroes"
2. Black Grape: It's Great When You're Straight, Yeah!
3. OST: Pulp Fiction
4. Bob Marley and the Wailers: Exodus
5. Daphne & Celeste: We Didn't Say That

From TOTP web site.


---

BRACE YOURSELF FOR BOWIE!
25th November 2000



Our DAVID BOWIE Extravaganza begins on Monday with daily video clips of the man himself on TOTP through the years. You can marvel at his ever-changing image with clips like 'Starman' and "Heroes"! Watch out for the Bowie Quiz too - prove your hardcore fan status and be in with the chance of winning every Bowie album released on RCA between 1969 and 1980! Excited? You should be!

From TOTP web site.


---

DAVID AND IMAN DO POLLOCK
24th November 2000



DAVID BOWIE and IMAN were spotted at the Guggenheim Museum in New York last Monday evening for a screening of the movie "Pollock". Directed by Ed Harris, who also plays the lead, the movie stars Marcia Gay Harden, Val Kilmer, Jennifer Connelly, John Heard, Stephanie Seymour and Amy Madigan.

"For the movie the paintings were reproduced," said Ms. Harden, who played Lee Krasner. "They had a big studio and some artists who came in and copied the paintings. They had to look real, you know. There were five artists, and we all called them the Jackson Five."

Elsewhere in the crowd at the Guggenheim were the actors Chazz Palminteri and Joe Panteliano.

The movie is based on the Pulitzer-Prize-winning biography, Jackson Pollock: An American Saga, by Steven Naifeh and Gregory White Smith.


---

SPOOKY GHOST IN THE LIVING ROOM
24th November 2000



Happy trails everyone on this here holiday. Yes a blatant reminder that SPOOKY GHOST will perform again on Monday November 27th... The Living Room... 10 pm. Once again there will be special guests Paul Bryan (bass and chamberlin), Jay Bellerose (world's smallest drumset), and Duncan Sheik to sing a Nick Drake song.... as well as: Cartoons, Refreshments, Music. Doo come.

Best to you all, Mr. Ghostly.

The Living Room (corner of Stanton and Allen), NYC. Web site www.livingroomny.com.

For more information on Spooky Ghost aka Gerry Leonard, who is to appear on David's next album 'Toy' click here.


---

EXCLUSIVE UNSEEN DB PHOTOS
24th November 2000



Check out the latest previously unseen DAVID BOWIE photographs taken by Philippe Auliac at his web site at www.multimania.com/auliac.

Best wishes from Philippe.


---

REMINDER: STELLA STREET BACK TONIGHT
23rd November 2000



The excellent comedy spoof STELLA STREET makes a welcome return to UK screens tonight Thursday on BBC2 at 9:50 pm. In the opening episodes of this third series Mick 'n' Keef go off on a world tour leaving DAVID BOWIE to enjoy temporary tenancy of their corner shop.

Click here for some background about the series.


---

YOU SAW HIM HANGIN' ON THE NME
23rd November 2000



Don't miss next week's issue of the NEW MUSICAL EXPRESS which will contain a mouth-watering feast for DAVID BOWIE fans everywhere. Included in the next issue is a free cover mounted CD: NME presents "Under The Influence", the CD containing tracks by David Bowie, Iggy Pop, Scott Walker, T-Rex, The Sex Pistols, Miles Davis, Nick Drake, Mos Def, The Beta Band and many more.

The main feature next week: "The Most Influential Bands In The World Ever!", which contains the acts who shaped today's music. They list the twenty most influential artists, as chosen by the all biggest acts around: Radiohead, Blur, Travis, Marilyn Manson, The Spice Girls, Oasis, Coldplay...

Along with the free CD and the feature there is also an exclusive interview with the "chosen" most influential artist of all time....

If you haven't sussed out yet who the chosen one is - trust me just buy it next week. (Ed. Thanks M).

Check out the excellent all shiny new nme.com web site.


---

I'LL REPLY WITH A POSTCARD
23rd November 2000



BOWIEART.COM are delighted to be sponsoring the Royal College of Art's Secret postcard exhibition and sale. This annual event gives the public the possibility of owning the work of an internationally renowned artist for just £35. Artists who have participated in previous years include David Hockney, Tracey Emin, Eduardo Paolozzi, Chris Ofili, Paula Rego and Peter Doig and DAVID BOWIE.

The secret from where the event takes its name will only be disclosed after the exhibition closes on December 2. At this point the artist of each card will be revealed. The chance to spend £35 and acquire either an original work by an established artist - Damien Hirst has contributed for the first time this year - or the work of a student who one day may be even more famous attracts huge crowds each year.

Bowieart however is able to give you the opportunity to enter into the spirit of the event while avoiding the queues of bargain hunters and the £35 purchase fee and, on top of that land yourself an original work of art by....... well that would be telling. All you have to do to have the chance of winning the unique postcard is name the artist of the postcard shown on our site. In accepting our challenge you will be following the trail of the thousands of people who roam around the Royal College each year in an attempt to spot the famous artist and walk home with a miniature masterpiece.

Best wishes www.bowieart.com.

Click here for opening times and more details.


---

I COULD DO WITH THE MONEY
23rd November 2000



The annual survey published this week by Business Age magazine placing the wealthiest top UK rockers in order reveals the following top ten earners.

..1. Sir Paul McCartney, 57 - £500m
..2. Sir Elton John, 53 - £156m
..3. Mick Jagger, 56, - £145m
..4. Keith Richards, 56 - £125m
..5. Tom Jones, 60 - £100m
..5. Englebert Humperdink, 64 - £100m
..7. DAVID BOWIE, 53 - £96.5m
..8. Gordon Sumner (aka Sting), 48 - £96m
..9. Phil Collins, 49 - £95.9m
10. George Harrison, 57 - £86.9m
The report states being a rock star isn't like being an overnight dot.com millionaire, with most income coming from royalties. It explains why the survey is dominated by the elder statesmen of the rock business.
(Ed. Take all figures with a large pinch of salt).
---
CH-CH-CH-CH-CHANGES
22nd November 2000



Check out and download the DAVID BOWIE full length 'live' video of 'Changes'. The video has been made available on the net via David Bowie, Throttlebox.com and Lightyear.com

Throttlebox.com are a multi-media web site that focuses mainly on music - video and audio. They have their own format and player that can put all media into one file... text, hyperlinks, audio, video and still images. Yeah and it's pretty cool.

David Bowie: Changes (Live) Complete Music Video. Download size: 5.7 MB. Running time: 3:37.

Click here to visit their web site.

---
COMP 7: JUST OVER A WEEK LEFT
21st November 2000



The current BOWIEWONDERWORLD.COM competition number 7 is now well underway. All three questions are now online and you can send in your answers in. Good luck and thank you to everyone who has already sent in their answers. Go to the competition page for full details.

ONE Grand Prize winner (@bowiewonderworld.com members only) plus TWO runners-up prizes. If you want the chance to win the first prize - be quick and sign up for your FREE email address here.

(Ed. Please note: Major prize only available to people with @bowiewonderworld.com email address).

---
I LIVE ABOVE THE GROCER'S STORE
19th November 2000



The excellent comedy spoof STELLA STREET makes a welcome return to UK screens this coming Thursday on BBC2 at 9:50 pm. In the opening episodes of this third series Mick 'n' Keef go off on a world tour leaving DAVID BOWIE to enjoy temporary tenancy of their corner shop.

New residents of the street include Marlon Brando, Jimmy Saville and Patrick Moore who becomes Jimmy Hill's lodger.

Click here for some background about the series.

---
OH DRESS YOURSELF, MY URCHIN ONE
18th November 2000



This awesome, unusual skirt is made by Tripp NYC, a company that specialises in rock 'n' roll clothing.

The skirt is made of a satin type pink fabric with a DAVID BOWIE-like alien print all over it. The skirt sits low on the hips, and has a zipper in back. There is also a slit at the hem in the back that's about 12 inches long.

The auction is for a size MEDIUM but I have other sizes if you're interested. All items are BRAND NEW and have never been worn. They're being cleared out from my boutique.

Contact bbvirgo@hotmail.com for more details or bid at eBay.

Tripp N.Y.C. is at 188 Culver Avenue, Jersey City, NJ 07305 (201) 333-5873.

---
CLOTHES ALWAYS FIT YA
18th November 2000



The Hard Rock Cafe in Orlando, Florida, USA have on display this piece of Ziggy Stardust fashion.
DAVID BOWIE wore this black and white striped jacket during his Ziggy Stardust period. The stripes run horizontally across the body, while the stripes on the giant lapels form sort of a diamond pattern. Black velvet lines the neck and white shiny crepe material is woven into the stripes. A big white button fastens the waist-length jacket. At the waist, to each side, two vertical pleats are sewn in for a custom fit. This piece of rock music history is currently displayed at Hard Rock Cafe Orlando along with a photograph of Bowie wearing the jacket.
Also on display at the same HRC in Orlando is a letter from db to Dell Furano of the Winterland t-shirt company granting them the rights to sell db t-shirts.
Other HRCs that have David Bowie items on display include: Cabo San Lucas in Mexico which have David's blouse and hat from Space Oddity (1972) and the HRC in Ankara, Turkey also have authentic pieces of Bowie memorabilia.
www.hardrock.com
---
I DUCK AND I SWAY - WHAT'S MY LINE?
17th November 2000



American artist T.J. WILCOX who specialises in film and video as his medium of choice has just exhibited at Gavin Brown's Enterprise on 436 West 15th Street in Chelsea, New York. Two of his short films were shown, one entitled "The Little Elephants" merges 'Barbar' and 'The Elephant Man' to tell the story of a traumatised ugly duckling who, in a charming passage of film animation, travels from the jungle to the big city. Once there he is transformed into DAVID BOWIE and, it seems clear, will live happily ever after, with the support of an elderly patroness Wendy Hiller, who has lots of money, a sly smile and likes his style.

Wilcox's art form is a labour-intensive method which transforms his film into an almost physical object, similar to flickering, kinetic paintings. Each piece of film or animation, whether vintage or newly shot clips, are process-pasted together. By copying the film onto video and back again, it establishes a generational distance between the sources and the projected 16mm film feels almost like a physical object.

Wilcox graduated in 1989 with a BFA from the School of Visual Art in New York and completed his MFA at Art Center College of Design in Pasadena, California in 1995. Most recently, his work has been featured in a solo exhibition at Gavin Brown's Enterprise in New York, the 1997 Biennial Exhibition at the Whitney, and at the 1997 Venice Biennale.

T.J. Wilcox @ artnewyork.com.

---
EMM GRYNER LINES UP GIGS
16th November 2000



EMM GRYNER has several gigs lined up for this month including tonight and tomorrow Nov. 16th MONTREAL Club Zone and tomorrow Nov. 17th OTTAWA Zaphod Beeblebrox. Then follows several acoustic dates with Ron Sexsmith during November and finally during December 5 gigs with her band, (Fil Bucchino 'Flashlight') on bass, Dean Stone (Howie Beck) on drums and Vincent Spilchuk (Dalai Lamas) on keyboards, violin and other mischief).

See monthly planners November and December for all Canadian gig dates.

---
THIRD QUESTION FOR COMPETITION 7 UP!
15th November 2000



The latest BOWIEWONDERWORLD.COM competition number 7 is now underway. The third of three questions is now online. You can now send in your answers. Go to the competition page for full details.

ONE Grand Prize winner (@bowiewonderworld.com members only) plus TWO runners-up prizes. If you want the chance to win the first prize - be quick and sign up for your FREE email address here.

(Ed. Please note: Major prize only available to people with @bowiewonderworld.com email address).

---
INTERNATIONAL BOWIE CHAT AND SWOP
14th November 2000



The International Bowie Fan Chat and Music Swap is on again this weekend.

The meeting time is Saturday, November 18th at 11:00 pm (GMT) at a new independent location: johnmerricks@squidcafe.com. The new server provides full support for Macintosh users. All details including local time zones and software set up can be attained from http://bowie.netfirms.com.

Thanks Adam.

---
SPOOKY GHOST NYC GIG TONIGHT
13th November 2000



SPOOKY GHOST aka guitarist GERRY LEONARD who is to appear on DAVID BOWIE'S next album 'Toy' plays a gig tonight at The Living Room (corner of Stanton and Allen) in New York City at 10.00 pm.

According to the newsletter from www.spookyghost.com the gig will be graced by special guests, Susan McKeown on vocals, Paul Bryan on bass and Chamberlin and Jay Bellerose on drums. And there may be some other surprises (Nick Drake... hint hint). It seems also that the show will be webcast live on night. You need to register to view the free web cast.

You can read about Gerry and how he got involved in David's latest recording here.

From Mr. Ghostley @ www.spookyghost.com

(Ed. For everyone who emailed and asked me - I don't understand the "hint hint" comment either. But on his web site on the gigs page it says... "Paul Bryan Bass / chamberlin, Jay Bellerose / Tiny drums, Susan McKeown / Vocals. Maybe somebody else.)".

---
SECOND QUESTION FOR COMPETITION 7 UP!
13th November 2000



The latest BOWIEWONDERWORLD.COM competition number 7 is now underway. The second of three questions is now online. Please wait for all 3 questions to appear before sending in your answers. Go to the competition page for full details.

ONE Grand Prize winner (@bowiewonderworld.com members only) plus TWO runners-up prizes. If you want the chance to win the first prize - be quick and sign up for your FREE email address here.

(Ed. Please note: Major prize only available to people with @bowiewonderworld.com email address).

---
GRANDADDY ON JOOLS TONIGHT
11th November 2000



If you want to see and hear DAVID BOWIE'S latest favourite band GRANDADDY you can catch them TONIGHT on LATER WITH JOOLS HOLLAND on UK TV at 11:30 pm on BBC2.
---
COMPETITION NUMBER 7 NOW ON
10th November 2000



The latest BOWIEWONDERWORLD.COM competition number 7 is now underway. The first of three questions is now online. Please wait for all 3 questions to appear before sending in your answers. Go to the competition page for full details.

ONE Grand Prize winner (@bowiewonderworld.com members only) plus TWO runners-up prizes. If you want the chance to win the first prize - be quick and sign up for your FREE email address here.

(Ed. Please note: Major prize only available to people with @bowiewonderworld.com email address).

---
LAWRENCE KIRSCH PHOTOGRAPHY
9th November 2000



You are invited to view these truly amazing photographs of DAVID BOWIE available for purchase exclusively at MUSICFOTO.COM. Superb live concert photographs from the 1974 Diamond Dogs tour, 1976 Station To Station, 1983 Serious Moonlight and the 1987 Glass Spider tours.

Lawrence Kirsch photographs have appeared in more than 75 magazines, as well as books, posters, concert programmes, gallery showings, and on record sleeves in London, Berlin, Rotterdam, Los Angeles, New York, Montreal and Toronto. The native Montrealer has worked with David Bowie, the Rolling Stones, Genesis, Phil Collins, Bruce Springsteen and many other artists.

These signed, original Lawrence Kirsch photographs should not be confused with machine or production-grade press prints. Each Lawrence Kirsch photograph offered here is one of a limited edition series and each is individually custom printed according to your order from the original negative, under Kirsch's direct supervision. All materials and processes employed are state-of-the-art. Each photograph is signed in ink by Lawrence Kirsch, just below the image.

Visit www.musicfoto.com to view a whole range of different artists.

---
SPOOKY GHOST: TWO NYC GIGS
9th November 2000



SPOOKY GHOST aka guitarist GERRY LEONARD who is to appear on DAVID BOWIE'S next album 'Toy' has announced two evenings of music this month.

The two shows are both at The Living Room (corner of Stanton and Allen) in New York City on Monday, 13th November at 10.00 pm and Monday, 27th November at 10.00 pm.

This coming Monday will be graced by special guests, Susan McKeown on vocals, Paul Bryan on bass and chamberlin, and Jay Bellerose on drums. And there may be some other surprises (Nick Drake... hint hint). It seems also that the show will be webcast live on night. Link to follow.

You can read about Gerry and how he got involved in David's latest recording here.

From Mr. Ghostley @ www.spookyghost.com

---
LW COMPETITION STARTS FRIDAY
8th November 2000



Starting this Friday... the new BOWIEWONDERWORLD.COM competition. Details on Friday.

One major prize winner (@bowiewonderworld.com members only)
plus two runners-up prizes.

If you want the chance to win the first prize - be quick and sign up for your FREE email address here.

(Ed. Please note: Major prize only available to people with @bowiewonderworld.com email address).

---
REBEL REBEL RIFF OF THE MONTH
7th November 2000



The December issue of TOTAL GUITAR magazine features 'Rebel Rebel' by DAVID BOWIE as their 'riff of the month' which also appears on the cover mounted free disc.

Rebel Rebel was the highlight of Bowie's Diamond Dogs album, his first post-Ziggy album without Mick Ronson on guitar. Based around a simple two bar riff, which plays throughout the verse and chorus, with only the bridge between them providing a respite, he plays in a very loose way, seldom playing the same phrase twice.

(If you don't play guitar - stop reading here)... they've tabbed the first four bars to show two variations, but don't just copy them as if they were the only four he plays. To get the tone, use a bridge humbucker pickup, through some rich value-style distortion. Add a touch of delay at around 100ms, with the dry and wet signals panned to opposite sides to get the double-tracked effect.

Use a downstroke for the first beat and then upstrokes for the rest of the first bar. Use the thumb of your picking hand to damp the strings for the quaver rests after the E chord stabs. Use your third finger for the pulloffs.

Check out the www.totalguitar.co.uk website.

---
HOLLY AT CB'S GALLERY
7th November 2000



HOLLY PALMER will be singing at CB's Gallery in New York City this Friday 10th November at 10 o'clock.

Wednesday's gig, the 8th, in Cali at Luna Park is NOT happening. The election, crossed wires, the stars, Jesse Jackson saying, "stay out da bushes", Christopher Walkden in The Deer Hunter... a lot has been going on lately. Order shall not be restored shortly.

CB's Gallery is at 313 The Bowery.

---
CIAO 2001 db PHOTOS
7th November 2000



In 1977 as part of the promotion for the release of "Heroes", DAVID BOWIE visited Rome for a short promo tour with a couple of interviews and a wonderful TV appearance on the TV magazine "Odeon". The 15 minute TV appearance has gone, lost in the Italian TV archives, but we have found 5 unedited pictures of a very young Sailor during the interview with Aldo Bagli for the weekly music magazine "Ciao 2001". Aldo Bagli is now dead, but he has been very active in the 70s in promoting Bowie in our country and all the Italian old fans will always be very thankful to him for his great articles on Bowie at that time.

We'd like to share those unedited pics with all the Bowie Fans, you can watch them clicking on "BOWIE IN ITALIA" "ODEON 1977" We hope you enjoy them, as much as we do!

From Velvet Goldmine Fan Club website.

---
PHOTOGRAPH KING, WATCHES YOU GO
6th November 2000



DAVID BOWIE has contributed a piece towards a charity photographic book entitled 'Life's Ups And Downs'. The 5,000 limited edition book is published by Big Issue In The North Trust in partnership with Communication & Trade Book UK on November 22nd, priced at £25 (inc. p&p).

A host of celebrity entertainers, writers and artists were asked to take photographs with the theme 'looking up and looking down', what would they see, and how would they see it? And might it change our own perspective of the world we live in?

David's rather excellent photograph is entitled 'East Side Other'. Other contributing celeb photographers include: George Michael, Kylie Minogue, Nick Park, Keith Branagh, Damien Hirst, Tracey Emin, Terry Gilliam, Brian Eno, Mick Hucknall, Gail Porter, Sandro Sodano and Elvis Costello.

The proceeds from this book will go to help place homeless people into good homes, good jobs, good health, good life. The book is available from:
The Big Issue In The North
135-141 Oldham Street, Manchester M4 1LL.
Tel: 0161 834 6300,
or from
Trebruk/Monken Paper Ltd
Quadrant House, 47 Croydon Road, Surrey CR3 6TD.
Tel: 01883 331 816.
---
TOY STORY: THE JIGSAW PIECES
5th November 2000



Update: DAVID BOWIE is this week finalising the mixing of his next studio album at the Looking Glass Studios, which is tentatively entitled TOY. The 12-tracked album recorded at Sear Sound in New York, is a "remake and remodel" on some of his back catalogue of Sixties songs, along with totally unreleased demo's that never saw the light of day. Plus he has written some new songs in the style of that period. David also says he has some great 'extra's' for this album and it's singles.

By scouring through the comments made so far in the journals and chat logs, eight of the twelve tracks mentioned are: Uncle Floyd / Afraid / The London Boys / I Dig Everything / Can't Help Thinking About Me / Conversation Piece / Let Me Sleep Beside You / Silly Boy Blue / along with Untitled and Gail's favourite 'Secret 1'. Apparently Karma Man was dropped for this one.

Commenting on the album David says "...it really has surpassed my expectations already. The songs are so alive and full of colour, they jump out of the speakers. It's really hard to believe that they were written so long ago." He describes the music as "dreamy, a little weird at times, it rocks, it's said, it's got passion, it... it... it's really good".

The album's cover artwork is to be produced by David himself, which he described as "very odd".

The musicians that appear on 'Toy' include Earl Slick, Mark Plati, Sterling Campbell, Gail Ann Dorsey, Mike Garson, Emm Gryner, Holly Palmer, Lisa Germano, Gerry Leonard and on trumpet Cuong Vu. Mark Plati suggested that they work with multi-instrumentalist Lisa. Recording at Mark's home studio, she played recorder, electric and acoustic violin, mandolin and accordion.

Toy is scheduled for release in March 2001. Read more about the 'Afraid' track and corrected lyrics below (3rd Nov).

---
GERRY LEONARD UNCOVERED
5th November 2000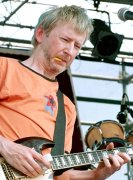 Accomplished Irish guitar player GERRY LEONARD currently playing with Duncan Sheik, has done session and tour work with a host of top artists that include: Sophie B. Hawkins, Paula Cole, Laurie Anderson, Donna Lewis, Jonathan Brooke, Chris Botti and Cyndi Lauper).

Spooky Ghost is the name given to Gerry Leonard's solo recordings and compositions. The name derives from the nickname given by Donal Coghlan (the other half of the duo Hinterland) regarding the ambient nature of Leonard's guitar playing.

Leonard grew up in Dublin, Ireland. He left school and worked in a recording studio recording and mixing a lot of bands from the local Dublin scene. Highlights were recording a demo with Sinead O'Connor when she was 16 and giving the Edge from U2 a ride home in his tiny rusty Morris Minor Car.

He then started studying classical guitar in order to explore the harmonic possibilities of the instrument and spent 5 years learning and teaching. He left Ireland to live in Copenhagen, Denmark, where he played guitar on the streets and met Donal Coghlan. Donal and Gerry formed Hinterland in 1989 and were signed to Island records on the strength of a 12 song demo recorded in their own 8 track cassette studio.

Hinterland recorded one album 'Kissing The Roof Of Heaven' and toured in Ireland, Scotland and England, Germany, Switzerland, and showcased in New York. This finally led Leonard to move to New York to work as a freelance guitar player/writer/producer.

The Spookyghost record was started in '96 in a tiny apartment in the Lower East Side of New York. The "Studio" (a Mackie 1202 and an Adat) was right beside the bath tub which was right beside the cooker which was right beside the phone. The possibilities seemed endless.

Gigs were booked in the hippest east village coffee house Sin E. Shortly afterwards the club closed down. Operations were moved to Brooklyn and with the help of friends the Spooky record was finished in March 98. Through the support of artists such as Duncan Sheik the Spooky Ghost has been touring the United States and performs regularly in NYC with a trio (Jay Bellerose / Drums and Paul Bryan / Bass). Spooky has also guested at Mike Rivards 'Club d'Elf' in Boston. More live shows in NYC and Boston are coming up.

When performing live Leonard uses far too much equipment for his own good but says that he is comforted by all the flashing lights. Through a combination of textures sampled from the recordings and a variety of loops created and triggered live a backdrop of sound is created and improvised over. The idea used in Celtic and Indian music of the drone is evident here. As opposed to the music coming out of silence now the music seems to rise out of the drone which in itself contains all the music.

Another concept is the idea of using texture in the same way one might paint, and so the space is the canvas; the textures become the colors; and the melodies and motifs become the images. This is often the starting point for the architecture of the spooky compositions. The recordings then come from improvisations captured and threaded together into longer form compositions.

Check out Gerry's spookyghost.com website where you can even listen to samples of his music.

---
HAPPY BONFIRE NIGHT EVERYONE!!!
5th November 2000



Be careful with those bangers... Make SURE your bonfire is outside... DON'T throw fireworks... and DON'T use gasoline to put out your fire... it's dangerous and it's not clever.

Remember what happened to Tommy and that field.
---
MIKE GARSON ON VH-1 WITH PUMPKINS
4th November 2000



MIKE GARSON appears with the Smashing Pumpkins on a new episode of VH1 Storytellers (which debuts tonight). If you have missed it, VH1 is showing it several more times during the month. Please click the link below for dates and showtimes (which appear to be Eastern Standard Time, so be sure to do the appropriate time conversions).

STORYTELLERS SCHEDULE @ VH1.COM.

From Matthew Gilbert @ www.mikegarson.com.

---
THE EUROPEAN CANNON IS HERE
3rd November 2000



In a recent online chat transcription with CHRIS WILSON from PageSix.com he was asked the question:

Millie180 asks: Who's the nicest most down to earth celeb you know?

p6_Chris_Wilson: answers: Millie, I'd have to say David Bowie is at the top of the list... He's a really gracious, cool guy - and he told me he loves PageSix.com!

Talking of chats... DAVID BOWIE has announced that he will organise a 'Euro Chat' later on this month, that's an official BowieNet chat to enable European's to take part at a normal time to suit everyone... i.e. around 8:00 pm GMT (that's 3:00 in the afternoon for EST).

From PageSix.com and BowieNet.

---
DAVID PREVIEWS AFRAID OFF TOYS
2nd November 2000



DAVID BOWIE has previewed on BowieNet one of the tracks off his next album entitled "Toy" scheduled for release around March 2001. The recording of the album is now complete and final mixing should be completed around the 10th of this month.

David announced in the Yahoo! Chat "...that there will be definitely be some supporting gigs. No tour, mind. But definitely some supporting gigs. At least in New York. And if I can get a tuneup on the car, we may even stretch to Boston and Philly." And when asked about a European BowieNet concert next year he said "I can seriously say we're considering it."

The recording and footage on BowieNet shows David and Mark Plati in the studio performing a demo version of "Afraid". Although not necessarily the completely finished lyrics here are the demo lyrics:
I wish I was smarter
I got so lost on the shore
I wish I was taller
Things really matter to me

And I put my face in tomorrow
I believe we're not alone
And I believe in Beatles
Believe my soul has grown
And I'm still so afraid
Yes I'm still so afraid
Yeah I'm still so afraid
On my own

What made my life so wonderful?
What made me feel so bad?
I used to wake up the ocean
I used to walk on clouds

If I put my faith in medication
If I can smile a crooked smile
If I can talk on television
If I can walk an empty mile
Then I won't be afraid
No I won't be afraid. I won't be... be afraid
Anymore
Anymore
Anymore
David also that there will be twelve songs on the forthcoming album. He says "...some of the songs from the 60s were never recorded, let alone released. So will be as new to you as any of the new ones that I've written..."
Other gems and announcements from David during the two Halloween chats, which by the way were incredibly funny, included:
News flash: "Eric Idle just wrote to me, and told me he's going to be filming Rattles 2, which is going to be called "All You Need Is Lunch" and has asked me if I'll participate and be interviewed about the Rattles' influence about my music. I obviously have said "yes!" This should be an absolute laugh." (Ed. Beatles spoof The Rutles).
When asked if liveandwell.com would be released to the masses... "liveandwell.com was strictly for the BowieNet members. It's still available upon membership to BowieNet. It will not be available at any future point for the general public. We hope to continue this practice with future albums, tee-shirts and underwear, unique to BowieNet."
You can read both chat transcriptions here.
(Ed. Update: Corrected lyrics sent from DavidB).
---
MARK.PLATI.COM REVAMPED
1st November 2000



MARK PLATI'S newly redesigned website has just been launched!! Brand new news, and bits and pieces section! Plus, tons more photos, and a message board!

Go check it out - looks cool. Make sure your read the latest diaries... www.markplati.com.

From Carla.

---
BOWIE COVERS AND THE LIKE
1st November 2000



The Bowie Covers and the Like web site has been updated after a long hiatus. One of the new features is a link to the 6 Degrees of Bowie an internet streaming audio station on "Live365.com" that showcases over six hours of Bowie covers, originals of songs Bowie has covered, songs he collaborated on or contributed to, plus a few by artists he has worked with.

From David Brechbiel.

---
BOWIE OUTTAKES TO BE RELEASED ON DVD
1st November 2000



Due for a DVD release 19th December is TWIN PEAKS: FIRE WALK WITH ME by David Lynch. In March of 2000, New Line DVD approached Lynch and asked him if he would be willing to allow the release of some of these deleted scenes to be included with their upcoming release. David gave the thumbs up, but only to add these scenes as a supplement at the end of the disc. Mr. Lynch also personally hand picked the scenes that he wished to be released with this DVD.

One of the outtakes picked is a much longer scene with Phillip Jeffries, which includes some material set in Buenos Aires. DAVID BOWIE plays Agent Phillip Jeffries, whom Gordon Cole introduces to Cooper as "long lost". The shooting script reveals that Jeffries has been missing for two years, but also that moments before stepping off the elevator in the Philadelphia FBI offices, he was checking into a Buenos Aires hotel. The Buenos Aires scene was cut from the film.

Synopsis: David Lynch's prequel to his cult television series "Twin Peaks" concerns the last seven days in the life of Laura Palmer (Sheryl Lee), whose plastic-wrapped corpse, found floating in a river, was the fulcrum for the television series. During the day in the town of Twin Peaks, Laura is a top honours student at the local high school. By night, she is a sex-crazed cokehead, prostituting herself at a sleazy sex club to get money to feed her drug habit. Her race to oblivion is fueled by her father, Leland (Ray Wise), who, as his alter ego Bob (Frank Silva), has been sexually abusing Laura since she was a child. But Laura has an attack of conscience when she realises that she is leading her best friend Donna (Moira Kelly) down the same rocky road. Leland, however, discovers Laura's nocturnal debauchery when, during a business trip out-of-town, his mistress for a sexual tryst sets him up with his own daughter. In a fit of jealous rage, Leland follows Laura as she travels to a sex party in an abandoned railroad car. Consumed by insatiable longing, Leland transforms himself into Bob, with tragic results for Laura and her friends.

You can pre order the DVD release at $17.49 (30% off), expected release date 19th December 2000. There's also a special offer on now whereby if you spend $19.99 you get $5 back.

You can read the filming script here. Scroll down to Scene 46 to read the missing script and direction.

---
BOWIE TV FOR THIS MONTH
1st November 2000



In case you missed it (yes I did) SKY TV are repeat showing DAVID BOWIE in Mr. Rice's Secret on the following dates:

1st November, Sky Premier 1, 10.30 and 16.00.
4th November, Sky Premier 3, 12.45 and 04.00.
9th November, Sky Premier 4, 10.55 and 17.15.
12th November, Sky Premier 2, 07.00 and 15.00.
20th November, Sky Premier 3, 07.50 and 14.30.
28th November, Sky Premier 4, 17.15 and 05.00.

And if that wasn't enough Sky are also showing EVERYBODY LOVES SUNSHINE on these dates:

8th November, Sky Premier 2, 03.40.
13th November, Sky Premier 2, 03.25.
23rd November, Sky Premier 2, 00.45.

From Spidey/Don.

---
MISSING ZIGGY NOW ON DIGITAL DOWNLOAD
1st November 2000



You can now also digitally download the missing 'Ziggy Stardust' track from the 'Bowie At The Beeb' via MUSICMATCH and GRACENOTE. You need to download and install the MusicMatch 6.0 Jukebox software available from their site. Then simply pop your Bowie At The Beeb CD in, wait for verification, then download the correction version.

DOWNLOAD THE MISSING TRACK HERE

(Ed. Make sure you click on the link above and scroll down the page. There's also the great opportunity to sign up for BowieNet and get one month FREE... as well as being able to view the 'I'm Afraid Of Americans' video, samples of David's journals and 'Pretty Things' remix project.

---
BOWIENET TO SPONSOR RCA SECRET 2000
1st November 2000



This year's ROYAL COLLEGE OF ART 'Secret' exhibition is to be sponsored by BOWIEART.COM.

The annual postcard exhibition is called RCA SECRET. The secret is that they're all signed by the artist but only on the back, so you don't know what you're buying. Students at the college provide most of the pieces but mixed amongst them are cards by famous artists whose identities will be revealed once buying has closed.

On the surface this exhibition is a fun idea but it also has a serious purpose. It encourages appreciation of fine art for its own sake and gives everybody a chance to a own a masterpiece in miniature but more importantly all monies raised helps provide much needed bursaries for the students of the college.

The exhibition opens next month on 22nd November through to 2nd December 2000 at The Royal College of Art, Kensington Gore, London SW7 2EU.
Exhibition Open:
22nd-29th November 10am-6pm.
Late Opening 23rd November 10am-8pm.
Cards on sale: 30th November 8am-8pm.
1st December 10am-6pm.
2nd December 10am-6pm.
Royal College of Art and BowieArt.com.

---
CREATIVE BOWIEART COMPETITION
1st November 2000



Bowieart.com invites you to re-work the brand new print by DAVID BOWIE that was created specially for our re-launch. Simply download the print from the site and let your imagination run wild. Play around with the print in any way you wish and let us see the results of your creative energies.

By simply emailing your entries to creative@bowieart.com famous British artist Gavin Turk, Shez 360, a graduate from the RCA featured on the site and David himself will judge their favourite entry.

Bowieart will have the print made into a double-signed edition of three, an artist's proof and one for each artist in the collaboration; David and the winner. Could another art star be born through Bowieart?

Our only stipulation is that the print is supplied in jpeg, gif or bmp format and is no bigger than 100k; any other file types or sizes will not be entered.

All entries must be emailed to creative@bowieart.com marked Competition Entry no later than Friday 13 November.

Go and visit BowieArt.com and download your FREE David Bowie artwork.


---
OLDER NEWS
October | September | August | July
June | May | April | March | February | January

1999 Bowie News Archives | 1998 Bowie News Archives






| | |
| --- | --- |
| Created: Nov 2000 © Paul Kinder | Last Updated: 30/11/00 |
BowieWonderworld Reminders
LATEST RELEASES AND PRE-ORDERS

Christiane F. DVD/Video Purchase here.

New book The Complete David Bowie
Purchase here.
New book GQ Cool featuring db foreword and portrait. Purchase here.