BOWIE TV and WHAT'S REALLY HAPPENING IN AUGUST - MONTHLY PLANNER

[BOWIEWONDERWORLD SHOP] [LATEST DAVID BOWIE ITEMS ON eBAY]

[@bowiewonderworld.com email addresses HERE]

Have YOU got some DAVID BOWIE related news or a hot scoop?
Well don't just sit there keeping it to yourself - send it in to
All news items are credited if you so wish

[DOWNLOAD DAVID BOWIE MUSIC from Amazon
]



---
COMPLETE BOWIE BOOK SIGNING
28th August 2009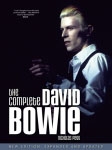 REYNOLDS & HEARN LTD are pleased to announce a signing and launch party for THE COMPLETE DAVID BOWIE by NICHOLAS PEGG Revised and Expanded New Edition on Saturday 26th September 2009 at 12.00 till 5.00pm.

Nicholas Pegg will be signing from 2.00 till 5.00pm in the basement room at:

The Corner Store, 33 Wellington Street, Covent Garden, London WC2E 7BN, England.

Nearest tube stations: Covent Garden (Piccadilly Line), Leicester Square (Northern & Piccadilly Lines), Temple (Circle & District Lines).

Directions: The Corner Store is on Wellington Street, on the same side and just a few doors up from the Lyceum Theatre.

Admission is free. The book will be available to buy, and the author will be in attendance to sign copies.

The bar will be open of course, and there's even a (very tiny!) dance floor, so feel free to pop in for a drink, a chat and a boogie. You can guess what the music will be...

We hope to see you there! With best wishes

From Richard Reynolds @ Reynolds & Hearn Ltd.


---
WE CAN GIVE YOU SWEET HEAD
28th August 2009


An advertisement on the back of this months MOJO magazine points to sweethead.co.uk

Sweethead are proud to present a limited edition of 300 DAVID BOWIE Life Masks originally used as a make-up tester from the 1983 film 'The Hunger'.

Reproduced by the international Sculptor Nicholas Boxall, all Life Masks are signed and numbered, ready to wall mount and made in toughened plaster, amazingly detailed with every wrinkle and pore evident.

Limited edition of 300 / Life size / Introductory price: £95.00 plus £10.00 post and packing.

Visit sweethead.co.uk for more details and information.

Thanks to Stephanie M for the pointer.


---
THE COMPLETE DAVID BOWIE v5
27th August 2009



OFFICIAL PRESS RELEASE
Reynolds & Hearn Ltd announces
THE COMPLETE DAVID BOWIE
by Nicholas Pegg

Expanded and Updated Fifth Edition
Publication date: 26th September 2009



'I can't imagine how this book could be better... the definitive read for Bowiephiles' - Uncut

'Absolutely thorough, absolutely definitive and absolutely entertaining' - BBC Radio 5 Live

'An indispensable guide for all serious collectors of David Bowie's music' - BowieNet

'This is not just a trainspotter's manual - Nicholas Pegg has a keen critical intelligence' - Sunday Telegraph

'The Complete David Bowie certainly lives up to its title... Pegg's opinionated and witty prose turns it into that rare thing: a reference book that sparkles' - MOJO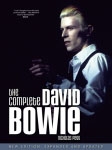 Critically acclaimed in its previous editions, Nicholas Pegg's ground-breaking reference book The Complete David Bowie has been widely recognized as the foremost source of detailed information and perceptive critical analysis of every aspect of David Bowie's career. It has won nominations as music book of the year from Uncut magazine ('I can't imagine how this book could be any better') and BBC Radio 5 Live ('Absolutely thorough, absolutely definitive and absolutely entertaining') among many other plaudits.

Reynolds " Hearn Ltd are now delighted to announce the publication of the fifth edition. Published on 28 September 2009, The Complete David Bowie has once again been fully revised and updated, expanding on previous editions to provide even more detail and discussion than before.

All the latest developments will be included in the new edition, ranging from David Bowie's recent studio collaborations with artists like Scarlett Johansson and TV On The Radio, to his latest forays into acting in productions as diverse as Extras, August, Bandslam and even SpongeBob SquarePants, and recent archive releases including the 5.1 remix of the classic Young Americans album and the VH1 Storytellers and Glass Spider DVDs.

As well as incorporating all the latest updates, the new edition includes substantial additions to the earlier chapters. 'The encyclopaedic nature of the book means that every chapter needs constant updating,' explains author Nicholas Pegg, 'and for this edition I've had the opportunity to add extensive new material to several chapters, particularly the A-Z of songs. Things might have been a little quiet on the Bowie front recently, but over the last few years a great deal of new information has emerged about the classic recordings, not to mention information about a host of little-known demos, out-takes, and rarities like the unreleased albums Leon and Toy. The result is a considerably bigger update than the previous one: for this edition I have added around 30,000 words of new material to the overall count, which is nearly twice as much "new stuff" as last time. There are fresh nuggets of information and insight scattered throughout the book.'

As before, The Complete David Bowie will include:

* The Albums - detailed production history and analysis of every album from 1967 to the present day.

* The Songs - hundreds of individual entries reveal the facts and anecdotes behind not just the famous recordings, but also the most obscure of unreleased rarities - from 'Absolute Beginners' to 'Ziggy Stardust', from 'Abdulmajid' to 'Zion'.

* The Tours - set-lists and histories of every live show.

* The Actor - a complete guide to Bowie's work on stage and screen.

* Dateline - the most exhaustive day-by-day calendar of Bowie's career ever published.

* Plus - the videos, the BBC radio sessions, the paintings, the Internet and much more.

From the 11-year-old's skiffle performance at the 18th Bromley Scouts' Summer Camp in 1958, to the 62-year-old's cameo appearance in Bandslam in 2009, The Complete David Bowie discusses and dissects every last move in rock's most fascinating career.

From Richard Reynolds @ Reynolds & Hearn Ltd.


---
'TEAM, MEET GIRLS; GIRLS, MEET TEAM'
25th August 2009

Various newspapers are running a story about a psychologist at Hatfield University of Hertfordshire who has written and recorded the "ideal" DAVID BOWIE song, based on theoretical analysis of his recorded work.

Nick Troop, principal lecturer in health psychology, who is a musician and a keen Bowie fan, analysed the singer's 26 albums and 266 recorded songs for links between the language used and success in the charts.

Using the Linguistic Inquiry and Word Count software, developed by a Texan psycholgist to analyse creative text, he then wrote what he considered to be the ideal song.

He said: "Although my interest in Bowie started as a hobby, I was motivated by studies which I and others have carried out that prove that writing about trauma and life goals have long-term benefits to health."

"The software provides a quantitative analysis of psychological processes reflected in the words Bowie uses rather than a qualitative interpretation of the meaning of his songs."

"I looked at the link between the language used and how long Bowie's albums had spent in the charts."

"I found that the songs with positive emotion and social processes were more successful than the songs that talked about mortality."

Nick, who calls his song 'Team, Meet Girls; Girls, Meet Team', plans to use some of the theories to work with his students on how different kinds of word usage can affect mood and health.

You can read the complete article by Alex Lewis here entitled 'Hatfield boffin records ideal Bowie song'.

Other articles: New Scientist and The Welwyn and Hatfield Times


---
THE TALE OF LADY STARDUST
24th August 2009

Currently running at the Edinburgh Film Festival until Saturday 29th August is 'The Tale of Lady Stardust' which is playing at the Smirnoff Underbelly in Edinburgh.

This new comic play by Bloody Lovely Productions tells the story of Ziggy and Gary wait for judgement day in a dingy flat in south London. Finally, today, there's someone at the door. The cautionary tale of a box, a believer, a dubious angel and DAVID BOWIE.

Tickets are priced at: £6.00, £9.50, £10.50, £6.50.

Venue: Smirnoff Underbelly, 56 Cowgate, Edinburgh, Scotland EH1 1EG.

For more details pop on over to edinburgh-festivals.com website.


---
HAPPY 9th BIRTHDAY ALEXANDRIA!!!
15th August 2009



Happy 9th Birthday Lexi!
Have a wonderful day!

Best wishes and lots of love
Paul and family xxxx
and everyone on Wonderworld



---
AND THE BITS FLEW FAR AND WIDE...
15th August 2009

• EMI have scheduled the date of 12th October for the release of DAVID BOWIE's 40th Anniversary release of 'Space Oddity'. They have also announced there will be a limited edition vinyl release alongside the 2-CD and digital download releases...

• Newly released movie BANDSLAM that features a DAVID BOWIE as 'himself' cameo and stars Gaelan Connell, Vanessa Hudgens and Lisa Kudrow is now showing in UK cinemas. Lead character 'Will' is an awkward, musically-obsessed teen who writes 'heartfelt' letters to David Bowie, which are, of course, unanswered. The movie soundrack includes three db songs namely 'Rebel Rebel', 'Star' and 'Changes'. Visit the official movie website at bandslam-movie.com for theatre showings...

• Actress LISA KUDROW who stars in 'Bandslam' is interviewed by The Examiner... "I knew about Velvet Underground and DAVID BOWIE. I didn't get to meet him. Isn't that tragic?" You can read the whole interview here...

• At the LOLLAPALOOZA FESTIVAL festival in the US, Georgia glam rockers OF MONTREAL took the stage, determined not to be outdone in terms of outrageous antics. Singer Kevin Barnes emerged in a cape and knee high boots, while guitarist Bryan Helium sported a pair of wings. As the band played, dancers dressed in gas masks, ninja suits, sumo wrestler outfits and tiger masks competed for the audience's attention. Halfway through the set, Barnes welcomed guest Janelle Monáe to perform a cover of DAVID BOWIE's classic Ziggy track 'Moonage Daydream'...

• FRANK BLACK interviewed in the The Herald (Monterey County)... When asked how he felt when megastar DAVID BOWIE chose to cover his song 'Cactus', he responded with audible emotion: "Well, let's start from the beginning here. 'Do I like David Bowie? A big yes. How do you feel when David Bowie covers one of your songs?" He takes a deep breath and replies with an incredulous, "Uh, really great. You know. It's like having Jesus Christ come out of the clouds and say, 'You have done well, my son.' It doesn't get any bigger than that." - [from JBK]...

• The release of the Helensburgh Heroes version of DAVID BOWIE's "Heroes" is available to download on iTunes etc and full details can be found here and you can view the full video recorded to accompany the release here (it recently featured on the main Scots News programme) - [from Phil]...


---
A NIGHT WITH THE THIN WHITE DUKE
14th August 2009

To celebrate the 40th Anniversary of DAVID BOWIE's 'Space Oddity' Bloomsbury Bowling are proud to present a night of Bowiecentric fun with live performances by The Thin White Dukes, cinema screenings of Bowies best films thought the night and much much more.

The usual Bloomsbury favourites of dancing, drinking and bowling will be enhanced with a 'strictly glam' dress code and music policy. Prizes for the best lookalike.

Kill Your Idols presents: 'A Night with the Thin White Duke: DAVID BOWIE' on Friday 28th August at Bloomsbury Bowling Lanes, Bedford Way, London WC1H 9EU. (Nearest Tube: Russell Square).

The night kicks off at 9pm till 3am / Admission: £3.

From Rene Symonds.


---
STATION TO STATION SPECIAL EDITION
12th August 2009

BowieNet have announced details of the upcoming four-disc special edition release of DAVID BOWIE's 1976 'Station To Station' album.

Scheduled for release in 2010 the CDs will feature:

Disc 1: CD Original stereo Station To Station album.

Disc 2: DVD 5.1 Station To Station surround sound mix and original stereo album. 5.1 - Mixed by Harry Maslin.

Discs 3 and 4: Live performance: Uniondale, Nassau Veteran's Memorial Coliseum 23rd March 1976 - Mixed by Harry Maslin.

The live gig performance tracklisting runs as follows:

01. Station To Station
02. Suffragette City
03. Fame
04. Word On A Wing
05. Stay
06. Waiting For The Man
07. Queen Bitch
08. Life On Mars?
09. Five Years
10. Panic In Detroit (partial drum solo edited)
11. Changes (with Band Introduction)
12. TVC 15
13. Diamond Dogs
14. Rebel Rebel
15. The Jean Genie

From BowieNet


---
KEANE ARE KEEN ON DB
8th August 2009

KEANE frontman TOM CHAPLIN was interviewed on Channel News Asia and was asked the question... who would he like to work with? His response:

Oh, yes, DAVID BOWIE would be cool! We heard that he was a fan of what we'd done! I can't think of many who've collaborated with him. But he did do that one with Bing Crosby! So maybe we'll be that bizarre coupling he'd be interested in working with.

So please, you can put it out: We'd love to work with David Bowie!

You can read the whole interview over at the channelnewsasia.com website.


---
COMMENCING COUNTDOWN...
8th August 2009

BowieNet have revealed details of the forthcoming DAVID BOWIE 40th Anniversary Edition
of 'Space Oddity'.

The two-disc edition is scheduled for release on 12th October.

The first disc contains the full original album 'David Bowie' first released on the Philips label in November 1969 and the US Mercury release 'Man Of Words, Man Of Music'.

The second disc contains fifteen tracks including eight previously unreleased versions.

The tracklisting for the DAVID BOWIE - Space Oddity 40th Anniversary Edition runs as follows:

CD 1:
01. Space Oddity (5.14)
02. Unwashed And Somewhat Slightly Dazed (incl Don't Sit Down) (6.51)
03. Letter To Hermione (2.32)
04. Cygnet Committee (9.31)
05. Janine (3.21)
06. An Occasional Dream (2.54)
07. Wild Eyed Boy From Freecloud (4.46)
08. God Knows I'm Good (3.17)
09. Memory Of A Free Festival (7.09)

CD 2:
01. Space Oddity (demo) (5.10) *
02. An Occasional Dream (demo) (2.49) *
03. Wild Eyed Boy From Freecloud (single B-side with spoken intro) (4.56)
04. Brian Matthew Interview/Let Me Sleep Beside You (BBC Radio session DLT Show) (4.45)
05. Unwashed And Somewhat Slightly Dazed (BBC Radio session DLT Show) (3.54) *
06. Janine (BBC Radio session: DLT Show) (3.02)
07. London Bye Ta-Ta (stereo version) (3.12)
08. The Prettiest Star (stereo version) (3.12)
09. Conversation Piece (stereo version) (3.06) *
10. Memory Of A Free Festival (Part 1) (single A-side) (4.01)
11. Memory Of A Free Festival (Part 2) (single B-side) (3.30)
12. Wild Eyed Boy From Freecloud (alternate album mix) (4.45) *
13. Memory Of A Free Festival (alternate album mix) (9.22) *
14. London Bye Ta-Ta (alternate stereo mix) (2.34) *
15. Ragazzo Solo, Ragazza Sola (full length stereo version) (5.14) *

Tracks marked * are all previously unreleased.

You can pre-order Space Oddity 40th Anniversary Edition
now.

Courtesy of BowieNet


---
2010 OFFICIAL BOWIE CALENDAR
2nd August 2009




You can now pre-order the 2010 DAVID BOWIE official wall calendar which is published this month.

The calendar features rare and unseen photographs taken by the legendary MICK ROCK.

Published this month by Slow Dazzle.

You can pre-order NOW
and save 10%



---
IN 41 DAYS, 9 HOURS AND 23 MINUTES... YOU'LL BE MINE
1st August 2009



Finally LABYRINTH gets the Blu-ray DVD treatment with a release at the end of the month on Monday 31st August courtesy of Sony Pictures Home Entertainment.

Obviously you'll be able to watch Jareth in glorious technical high definition detail and there's no need to tell you what the movie is about... but hey-ho here we go...

Synopsis: Jennifer Connelly plays Sarah, a young woman who wishes her baby brother would be taken away by goblins. She gets her wish and now she must rescue him by going through the forbidding passages of a magical labyrinth to reach the castle of the mighty Goblin-King.

A delightful rescue movie penned by Monty Python's Terry Jones and starring DAVID BOWIE as the Goblin King, Labyrinth is directed by the Muppet's own Jim Henson, whose team provide the goblin creatures, so who could fail to be transported to this magical adventure world of goblins.

You can Pre-Order NOW
and receive a massive 35% discount!


---
FROM NAKHODKA WESTWARD BY TRAIN
1st August 2009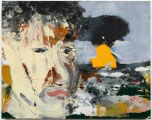 DAVID BOWIE and South African artist BEEZY BAILEY have donated a piece of their artwork for the 'Art for Africa ' auction' that takes place next month on 21st September at Sotheby's in London, England.

The collaborative piece is one of fifty such canvases they created in 1994 and is entitled 'From Nakhodka Westward By Train'.

The 'Art for Africa' charity auction is to raise monies for the Africa Foundation and Ikamva Labantu charities that fund the care of orphaned and vulnerable children in South Africa.

For more information on these charities please visit Africa Foundation and Ikamva Labantu websites.

Further reading: Independent.co.uk and artknowledgenews.com

(Ed. Nakhodka is the eastern terminus for passenger trains on the Trans-Siberian Railway which David took during his return journey home from Japan in 1973.


---
'BOWIE' EXHIBITION IN CANADA
1st August 2009



The inimitable DAVID BOWIE is the suitable subject of a wide-ranging group exhibition taking place in Toronto.

Clark and Faria is pleased to announce a group exhibition entitled BOWIE with works by Roy Arden, Romas Astrauskas, Tim Bavington, Call the City, Douglas Coupland, Dave Dyment, Derek Liddington, Will Munro and Jeremy Green.

The exhibition is now underway and runs until 6th September. Admission is free.

Gallery: Clark and Faria, 55 Mill Street, Building No. 2, Toronto, Canada. 416-703-1700.

BOWIE is a selection of works paying homage to the dynamic and extensive artistic career of David Bowie. Since his first major hit 'Space Oddity' in 1969 Bowie has had an undeniable influence on music, fashion and art. Constantly reinventing himself, he pushed the boundaries with gender bending flamboyant outfits, ever-changing hairstyles and his distinct voice. From the glam rock years of his alter ego Ziggy Stardust to the hard rock and electronic sounds of the late 80s and 90s, Bowie has defined moments in pop culture.

Fascinated by the sexual ambiguity of Bowie and his alter ego Ziggy Stardust, Roy Arden's 1973 collage 'Sun Machine' presents a variety of monochromatic images of the famed musician gleaned from magazine and newspaper publications from that time.

In a series of meticulously detailed graphite drawings Derek Liddington depicts the diverse hairstyles of Bowie. From punk, to glam, to maud, Liddington speaks to the transformative nature of the icon and his success at recreating himself and his music.

American artist Tim Bavington's abstract work translates the musical score of a Bowie song into a series of banded colours. Each note is represented by a distinct hue while the length of the note is reflected in the thickness of the strip.

More details and information can be found at monteclarkgallery.com website.


---

OLDER NEWS

July | June | May | April | March | February | January
2008 Bowie News Archives | 2007 Bowie News Archives | 2006 Bowie News Archives
2005 Bowie News Archives | 2004 Bowie News Archives | 2003 Bowie News Archives
2002 Bowie News Archives | 2001 Bowie News Archives | 2000 Bowie News Archives
1999 Bowie News Archives | 1998 Bowie News Archives | 1997 Bowie News Archives