WHAT'S REALLY HAPPENING IN AUGUST - MONTHLY PLANNER

[BOWIEWONDERWORLD SHOP] [LATEST DAVID BOWIE ITEMS ON eBAY]
[@bowiewonderworld.com email addresses HERE]
Have YOU got some DAVID BOWIE related news or a hot scoop?
Well don't just sit there keeping it to yourself - send it in to
All news items are credited if you so wish
---
DAVID TO WRITE SONG FOR SPONGEBOB MUSICAL
31st August 2015
Nickelodeon cartoon SPONGEBOB SQUAREPANTS is getting ready for its Broadway debut following its engagement in Chicago next year.
A whole host of artists have been signed up to write songs for the production including DAVID BOWIE, who apparently is writing ONE song, with additional lyrics by Jonathan Coulton.
The full list of composers announced today are: Steven Tyler and Joe Perry of the band Aerosmith, Cyndi Lauper, They Might Be Giants, Jonathan Coulton, Dirty Projectors, The Flaming Lips, John Legend, Lady Antebellum, Panic! At the Disco, Plain White T's, and T.I., with an additional song by David Bowie and additional lyrics by Jonathan Coulton.
The SpongeBob Musical will begin its tryout on 7th June 2016, at Chicago's Oriental Theatre until 3rd July. It will then move on to Broadway at a date and theatre to be announced.
Update: (8th October) David is contributing 'No Control' from his 1. Outside album.
---
TWINKLE SONG NAMEDROP
31st August 2015
MILEY CYRUS has released a free downloadable album 'Miley Cyrus & Her Dead Petz' which contains the track 'Twinkle Song'.
In the lyrics she namedrops DAVID BOWIE, with the line...
'I had a dream, David Bowie taught us how to skateboard, but he was shaped like Gumby.'
---
AND THE BITS FLEW FAR AND WIDE...
30th August 2015
• Inside THE TIMES newspaper yesterday there was a piece in the Saturday Review entitled 'The man who David Bowie trusted with his musical.' - IVO VAN HOVE who his directing the upcoming LAZARUS play written by DAVID BOWIE and ENDA WALSH, states there are 18 David Bowie songs: 14 rearranged and 4 brand new ones...
• At the cinema... LABYRINTH starring DAVID BOWIE is showing on Monday 7th September at The Printworks, Withy Grove, Manchester at 8pm - [More details]...
• Issue 53 of Netherlands magazine LUST FOR LIFE sees DAVID BOWIE's funky little boat race on the cover and features inside - [More details]...
---
DBI TICKETS ON SALE FOR GRONINGER
28th August 2015
Tickets are on sale NOW for the upcoming DAVID BOWIE Is exhibition at Groninger Museum, 9711 ME Groningen, Netherlands.
The exhibition opens 11th December through to 13th March 2016.
To book your online tickets and time slots simply visit tickets.davidbowie-groningen.nl website.
Check out the promotional trailer below...
---
SHOOTING FOR STARDUST
28th August 2015
Opening next month at the TASCHEN GALLERY in Los Angeles is MICK ROCK: 'Shooting for Stardust. The Rise of DAVID BOWIE & Co.'
Running from 9th September through to 11th October at the Taschen Gallery, 8070 Beverly Blvd, Los Angeles, CA 90048, United States.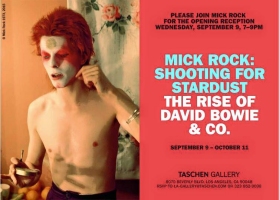 For more details and information please visit the taschen.com website.
---
AND THE BITS FLEW FAR AND WIDE...
22nd August 2015
• Happy Birthday wishes to GEORGE SIMMS, who as you know performed with DAVID BOWIE on his Let's Dance album and world tour, Tonight album, Black Tie White Noise album and the Outside world tour...
• Birthday memories of Anthony DeMassi (aka TONY MASCIA) who was born this day in 1933-1991...
• Even more of DAVID BOWIE's Barnet has appeared over on eBay - taken by his hairdresser Jac Colello, during 'The Year Of The Diamond Dogs' US tour. A ticket stub and hair is contained in a small plastic box which was how the original gift was presented...
• DISAPPEARS are to release their version of DAVID BOWIE's 'Low' album - [More details]...
• DAVID BOWIE tribute act THE BOWIE EXPERIENCE perform tonight at Branksome Liberal Club, Poole in England - [More details]...
• DAVID BOWIE tribute act ABSOLUTE BOWIE are performing tonight at Concorde 2, Madeira Shelter Hall, Madeira Drive, Brighton, East Sussex in England - [More details]...
---
AND THE BITS FLEW FAR AND WIDE...
20th August 2015
• Promotional items being produced for the upcoming DAVID BOWIE Five Years box set include: vinyl slip mat, album cover t-shirt, tote bag, mouse mat, album cover print and stickers...
• DAVID BOWIE appeared inside the MERCEDES-BENZ magazine (02-2015) in Australia. Inside there is a four-page article covering the David Bowie Is exhibition in Melbourne...
• The art exhibition FiftyOneBowie featuring DAVID BOWIE artwork by MARK DETHROW has been now extended until the end of September at Kranzberg Arts Center in St. Louis - [More details]...
• DAVID BOWIE appears on the front cover of CLASSIC ROCK magazine in Germany (No. 43 - September 2015). Inside there is a feature entitled: 'David Bowie: The wild rock years 1969-1973'. He is the man of many faces. For almost each of his works David Bowie created a new one. In our detailed history we trace his transformations - [More details]...
---
NEXT 40th ANNIVERSARY RELEASES
18th August 2015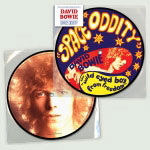 davidbowie.com have announced the next DAVID BOWIE 40th Anniversary Picture Disc 7" Single will be Space Oddity
scheduled for release on 2nd October.

As you can see, the A-side picture features the 1969 Philips French picture sleeve, complete with original typo error.

Tracklisting is as follows:

A-side:
Space Oddity (UK single edit).
(David Bowie).
Produced by Gus Dudgeon.
Arranged by David Bowie and Paul Buckmaster.

AA-side:
Wild Eyed Boy From Freecloud (single B-side with spoken introduction).
(David Bowie).
Produced by Gus Dudgeon.
Arranged by David Bowie and Paul Buckmaster.

The AA-side picture features a beautiful Vernon Dewhurst 1969 photograph.

This release is available to pre-order
NOW.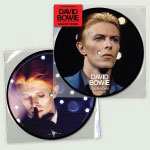 Then the following month on 13th November sees Golden Years
getting the 40th Anniversary treatment.
Tracklisting is as follows:
A-side:
Golden Years (Single Version).
(David Bowie).
Produced by David Bowie and Harry Maslin.
AA-side:
Station To Station (Single Edit).
(David Bowie).
Produced by David Bowie and Harry Maslin.
Both photographs appearing on the A and AA sides contain shots by Steve Schapiro.
This release is available to pre-order
NOW.
---
FREE DAVID BOWIE BOOK!
18th August 2015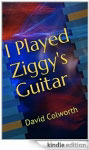 Just published is the Kindle edition of 'I PLAYED ZIGGY'S GUITAR' by David Colworth - and it's absolutely FREE to download!
Synopsis: It's England in the early 1970s. A nation engulfed by strikes, power cuts and endless economic crisis. The Beatles are gone, the Swinging 60s are a distant memory and the music scene is moribund. But help is on its way - far out in space, Ziggy Stardust is coming to save Planet Earth!
Read how a teenage fan follows Bowie from obscurity to international stardom, with a fascinating account of how he came face to face with Bowie just weeks before his breakthrough, at a crucial point in his career.
If you've ever wondered who was the boy in the bright blue jeans who jumped up on the stage to join Bowie and his band, this book will reveal all.
At last, the true story of how one fan achieved his dream - and played Ziggy's guitar!
Download your FREE Kindle version of I Played Ziggy's Guitar
NOW.
Talking of books... I'm sure everyone has seen David Bowie's Top 100 'Must Read' Books. I've now updated the list with a synopsis of each book and fixed the typos (yes there were several on the original list).
Take a look through his recommendations and see how many you have read. Personally, I'm nearly half way through and enjoying myself thoroughly.
---
DAVID BOWIE EXCLUSIVES AT THE GRONINGER
17th August 2015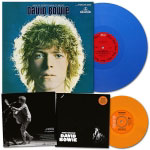 davidbowie.com have announced details of two new exclusive DAVID BOWIE vinyl releases to coincide with the opening of the David Bowie Is exhibition at the Groninger Museum, Groningen, The Netherlands.
The limited edition Parlophone releases are: David Bowie (aka Man of Words/Man Of Music) blue vinyl album and Amsterdam 7" orange vinyl single. Both of these will only be available at the exhibition and are scheduled for release on 11th December.
A-side (45 rpm).
Amsterdam.
(Jacques Brel/English lyrics: Mort Shuman).
Produced by Ken Scott and David Bowie.
B-side (33 1/3 rpm).
My Death (Live).
(Jacques Brel/Eric Blau/Mort Shuman).
Recorded live at Carnegie Hall, New York on 28th September, 1972.
The front cover photograph is a previously unpublished shot by Brian Ward, and the reverse cover is a live shot from Carnegie Hall, 1972 by David Gahr.
Update: Both releases will have 1,500 copies of each pressed.
---
AND THE BITS FLEW FAR AND WIDE...
16th August 2015
• Take a listen to 'Sonic Journey of DAVID BOWIE on 702 ABC Sydney. Roger Griffin a David Bowie aficionado takes us on a Sonic Journey through Bowie's transition from Glam Rock, to American Soul R&B. In a very short period of time, from 1971-1975, Bowie's music went through a dramatic evolution. During that period Bowie was prolific producing two albums a year. To Bowie, America was an adventure land, he made several trips to the US and returned with an idea for a rock archetype 'Ziggy Stardust' an amalgam of characters. He toured Ziggy Stardust and it was phenomenally successful. Listen his trajectory through his tracks - [Listen here]...
• There's a piece on THE DAILY BEAST entitled 'How 'Nat Tate' Hoaxed The Artworld, With Help From DAVID BOWIE'. Anthony Haden-Guest reminisces about the time novelist William Boyd and David Bowie attempted to hoax the art world back in 1998 (April 1st to be exact) - [Read here]...
• Reminder: Tickets for the forthcoming REEVES GABRELS UK tour in October are on sale now. Tickets are available via reevz.net...
• For those of you who like to keep track of official UK chart placings, DAVID BOWIE is currently filling the following 4 positions in the UK Official Vinyl Singles Chart: #2 Fame / #4 Side by Side: Kingdom Come / #27 Young Americans / #39 Knock On Wood - [View here]...
---
HAPPY 15th BIRTHDAY TO LEXI
15th August 2015
Happy 15th Birthday to Lexi
Wishing you a fabulous day!

Best wishes from everyone at Wonderworld
---
AND THE BITS FLEW FAR AND WIDE...
12th August 2015
• On Italian TV tonight is a 'DAVID BOWIE Night' on Sky Arte, starts at 21.12 CET... celebra una serata speciale del Duca Bianco - [More details]...
• Happy Birthday wishes to PAT METHENY - obviously 'This Is Not America' needs listening to - [Watch here]...
• On this day, 18 years ago, DAVID BOWIE performs the second of two nights at the Shepherds Bush Empire, London during his 1997 Earthling World Tour...
---
DAVID BOWIE CONVENTION IN SALFORD
12th August 2015
A DAVID BOWIE Convention is taking place on 29th August at The Kings Arms, in Salford, Greater Manchester.
The venue, located at 11 Bloom Street, M3 6AN is only a ten-minute walk from Deansgate from the centre of Manchester.
The Kings Arms are pleased to announce their 2nd ever convention - this time a David Bowie Convention! It will be a day full of all things David Bowie! Tribute band, The Bowie Experience will be performing a brilliant set of all the Bowie classics and more!
There will also be a Bowie inspired play, written by Mike Heath especially for the convention. Plus a special performance from the wonderful Die Hexen and the amazing Ed Glinert from New Manchester Walks will be doing a Bowie presentation.
Michael J. Dawson will be presenting a short video reading from the book 'Life on Mars' followed by a 15 minute Q&A with the author himself.
To end the day we'll be having a Bowie disco. Also, beer fans can indulge in their Bowie themed beers! Food for the day will be included.
For tickets and more information, pop on over to the kingsarmssalford.com website.
---
FAME HITS UK NUMBER ONE SPOT
10th August 2015

The DAVID BOWIE 40th Anniversary Limited Edition Picture Disc Single release of Fame
has hit the NUMBER ONE spot in the UK Official Vinyl Singles Chart.

It entered the UK charts at number two on the first week of release.

'Fame' was co-written with John Lennon and guitarist Carlos Alomar and originally it hit the U.S. number one spot back in September 1975. His first-ever US chart-topping single.

A-Side: Fame (Original single edit).
Produced by: David Bowie and Harry Maslin.

AA-Side: Right (Alternate Mix).
Produced and mixed by: Tony Visconti and Harry Maslin.

The alternate mix of 'Right' was previously released by Ryko/EMI in 1991, however, due to a mastering error it was released at the wrong speed. For this release that issue has been rectified.

As you can see, the A-side features a shot by Andrew Kent of David performing on Soul Train US TV, and the AA-side is a Tom Kelley outtake.
---
'FIFTYONE BOWIE' OPENS IN ST. LOUIS
7th August 2015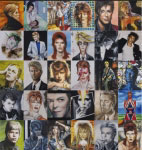 Update: Now extended until 30th September... Opening today at the KRANZBERG ARTS CENTER in St. Louis is Sound & Vision - An Art Tribute to Rock & Roll.
Part of this art exhibition is 'FiftyOneBowie' which contains 51 DAVID BOWIE portraits by artist MARK DETHROW.
Fifty-one years ago iconic rocker David Bowie released his first single, 'Liza Jane,' under the name Davie Jones with The King Bees. Since then, Bowie has proven himself to be one of the most visually fascinating figures of our time.
With FiftyOneBowie, artist Mark Dethrow draws inspiration from the wealth of source material that has captured the chameleon performer over the course of his career. Expertly "borrowing" from concert photography and album covers, Dethrow has created fifty-one portraits that honor both Bowie and the many artists who have immortalised him.
Open: 6pm-10pm. Admission FREE. Runs 7th August until 31st August.
Venue Address: 501 N Grand Blvd, St. Louis, MO 63103, USA.
More details and information can be found over at kranzbergartscenter.org website.
---
DAY IN DAY OUT RADIO BROADCAST OUT NOW
7th August 2015
Released today is DAVID BOWIE: DAY IN DAY OUT Legendary Radio Broadcast, Australia 1987 via Laser Media.
This 2CD is taken from the Australian FM radio broadcast during the Glass Spider World Tour at Sydney Entertainment Centre on 3rd November 1987.
You can pre-order Day In Day Out Radio Broadcast (2cd)
NOW.
(Ed. This radio broadcast is NOT the same as the official video. It is taken from the previous night on 3/11/87).
---
AND THE BITS FLEW FAR AND WIDE...
6th August 2015
• Released tomorrow is the new DAVID BOWIE Heathen limited edition blue vinyl album release in a tri-fold cover via Friday Music - [More details
]...
• Published in THE GUARDIAN is DAVID BOWIE: his style story, 1972-1973. A new book from Taschen is out next month, celebrating a short but highly memorable period in David Bowie's career. From his relationship with East End tailors and local hairdressers to Kansai Yamamoto and the creation of Ziggy Stardust, here is a potted history of Bowie's style from 1972-1973 by Paul Gorman - [Read here]...
• Test your DAVID BOWIE knowledge. Check out the 'Specialist Questions' from the 2006 UK BBC2 TV MASTERMIND Quiz - [View here]...
• The DAVID BOWIE HEROES exhibition by MASAYOSHI SUKITA at Charles Rose Gallery in Geelong, VIC, Australia. Opens 6th August through to 29th August - [More details]...
• Check out a rather nice blog: DAVID BOWIE: Creating a Middle-Class Dream for a Working-Class Fan by Sarah Attfield - [Read here]...
---
PICNIC AROUND THE BANDSTAND
3rd August 2015
Taking place on Saturday 15th August is a 'Picnic around the Bandstand' at The Croydon Road Recreation Ground in Beckenham.
From 1.00pm, weather permitting, please gather in small groups, but feel free to mingle. Acoustic instruments only. We need to be very well behaved in order not to upset The Friends of the Rec.
Check out the Beckenham Bowie Facebook page for more details.
Plans for Memory of a Free Festival 2016 are underway. As announced last month, legendary producer TONY VISCONTI will be the musical curator for this event.
We don't yet know which acts Tony will select, but with his connections he probably has some interesting artists in his address book.
From Mary Finnigan.
---
ON THE RECORD WITH MICK ROCK
2nd August 2015
Legendary rock photographer MICK ROCK (aka "The Man Who Shot the Seventies") is to host a brand new TV series.
Later today, ON THE RECORD WITH MICK ROCK premieres at 8.00 pm ET on OVATION.
Check out the trailer below, where Mick reminisces about one of DAVID BOWIE's best concerts...
From Carrie C.
---
ENCHANTING DAVID BOWIE
1st August 2015
Just published is the brand new title ENCHANTING DAVID BOWIE: Space/Time/Body/Memory by Toija Cinque (Editor), Christopher Moore (Editor) and Sean Redmond (Editor).
Available in three different formats: Hardcover / Paperback / Kindle, it contains 368 pages and published by Bloomsbury Academic USA.

Synopsis: A longstanding, successful and frequently controversial career spanning more than four decades establishes David Bowie as charged with contemporary cultural relevance. That David Bowie has influenced many lives is undeniable to his fans. He requisitions and challenges his audiences, through frequently indirect lyrics and images, to critically question sanity, identity and essentially what it means to be 'us' and why we are here. Enchanting David Bowie explores David Bowie as an anti-temporal figure and argues that we need to understand him across the many media platforms and art spaces he intersects with including theatre, film, television, the web, exhibition, installation, music, lyrics, video, and fashion. This exciting collection is organised according to the key themes of space, time, body, and memory - themes that literally and metaphorically address the key questions and intensities of his output.
Reviews: This scintillating collection considers David Bowie's contemporaneity, showing how the star looks very different today - and how every different Bowie is a hero, if just for one day. With each chapter like a crystal ball ricocheting around a multi-level labyrinth, Enchanting David Bowie is full of surprises and delights for the fan and scholar alike. - Christopher Schaberg, Associate Professor of English, Loyola University New Orleans, USA, and author of 'The Textual Life of Airports' and 'Deconstructing Brad Pitt'.
Consider for a moment, David Bowie's extraordinary body of work, not just the music, but also his assimilation of different media practices: writing, painting, performance, film and video. This volume coheres around four thematic vectors - space, time, body and memory - to interrogate Bowie's remarkable corpus of cultural production. In the process, Enchanting David Bowie - itself a standout work - not only illuminates but also construes 'Bowie' - or versions of Bowie - that are at once compelling and fascinating. - Constantine Verevis, Associate Professor of Film and Screen Studies, Monash University, Australia.
You can purchase Enchanting David Bowie: Space/Time/Body/Memory
NOW.
---
FIVE YEARS 1969-1973 BOX SET OFFICIALLY ANNOUNCED
1st August 2015
Official Press Release:
DAVID BOWIE 'FIVE YEARS 1969-1973' BOX SET RELEASED SEPTEMBER 25th
Commencing countdown, engines on, check ignition and may God's love be with you...
DAVID BOWIE 'FIVE YEARS 1969-1973'
The first in a series of David Bowie Box Sets to be released on September 25th.
June 23rd 2015 London.
On this day in 1971, David Bowie performed for the first time at what was then known as the 'Glastonbury Fair'. Today in 2015 as the Glastonbury Festival approaches once more Parlophone Records are proud to announce DAVID BOWIE FIVE YEARS (1969-1973)
the first in a series of box sets spanning his career.
The ten album / twelve CD box, ten album / thirteen-piece vinyl set and digital download featuring all of the material officially released by Bowie during the nascent stage of his career from 1969 to 1973. All of the formats include tracks that have never before appeared on CD/digitally as well as new remasters.
Exclusive to the box sets will be Re:Call 1 a new 2-disc compilation of non-album singles, single versions and b-sides. It features a previously unreleased single edit of All The Madmen, which was originally set for a U.S. release but was never actually released. Also included is the original version of Holy Holy, which was only ever released on the original 1971 Mercury single and hasn't been available on any release since.
Also exclusive to all versions of Five Years 1969-1973 will be a 2003 stereo remix of 'The Rise and Fall Of Ziggy Stardust And The Spiders From Mars' by the album's original co-producer Ken Scott, previously only available on DVD with the LP/DVD format of the 40th anniversary edition of the album.
The vinyl box set has the same content as the CD set on pressed on audiophile quality 180g vinyl.
The box set's accompanying book, 128 pages in the CD box and 84 in the vinyl set, will feature rarely seen photos as well as technical notes about each album from producers Tony Visconti and Ken Scott, an original press review for each album and a short foreword by legendary Kinks front man Ray Davies.
The CD box set will include faithfully reproduced mini-vinyl versions of the original albums and the CDs will be gold rather than the usual silver.
An alternate cover has been created for the 2003 mix of Ziggy Stardust by Ken Scott, which features an outtake from the original Heddon Street photo session. There is also newly originated artwork for Re:Call 1 featuring a 1973 in-studio image from renowned photographer Mick Rock.
DAVID BOWIE FIVE YEARS (1969-1973)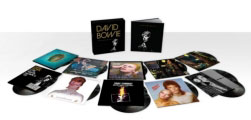 6 Original Studio Albums:
David Bowie (aka Space Oddity)*
The Man Who Sold The World*
Hunky Dory*
The Rise And Fall Of Ziggy Stardust And The Spiders From Mars
Aladdin Sane
PinUps*
*New 2015 Remasters.
2 Live Albums:
Live Santa Monica '72
Ziggy Stardust: The Motion Picture Soundtrack
Exclusive To All Sets:
Re:Call 1
The Rise and Fall Of Ziggy Stardust And The Spiders From Mars (2003 mix)
Re:Call 1 - Tracklisting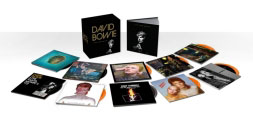 CD1
Space Oddity (original UK mono single edit)*
Wild Eyed Boy From Freecloud (original UK mono single version)*
Ragazzo Solo, Ragazza Sola
The Prettiest Star (original mono single version)*
Conversation Piece*
Memory Of A Free Festival (Part 1)
Memory Of A Free Festival (Part 2)
All The Madmen (mono single edit)*
Janine*
Holy Holy (original mono single version)*
Moonage Daydream (The Arnold Corns single version)*
Hang On To Yourself (The Arnold Corns single version)*
CD2
Changes (mono single version)*
Andy Warhol (mono single version)*
Starman (original single mix)
John, I'm Only Dancing (original single version)
The Jean Genie (original single mix)
Drive-In Saturday (German single edit)
Round And Round
John, I'm Only Dancing (sax version)
Time (U.S. single edit)
Amsterdam
Holy Holy (Spiders version)
Velvet Goldmine
All tracks stereo except *mono.
The vinyl box set has the same content as the CD box set pressed on audiophile 180g vinyl.
Formats:
CD Box Set
0825646284085 (UK Cat No: DBX 1)
Vinyl Box Set
0825646284092 (UK Cat No: DBXL 1)
Digital download 0825646070602
DAVID BOWIE 'FIVE YEARS 1969-1973' is released 25th September on Parlophone Records.
You can pre-order Five Years (1969-1973) CD
and Five Years (1969-1973) VINYL
NOW and receive guaranteed pricing.
---
'DAVID BOWIE IS' ITEMS UP FOR GRABS
1st August 2015
I have several DAVID BOWIE Is collectors items available... including the 'David Bowie Is Walking In Soho' Fold-out Maps and 'David Bowie Is Missing' Print Poster (10x15 inches, rare and never on sale to the general public).

If anyone is interested in any of the items, please email me at for more details and information.
Big thanks to everyone who have made purchases - it's much appreciated. All monies raised go directly towards the running costs of this website.
---
DAVID BOWIE WONDERWORLD NEWS ARCHIVE
July | June | May | April | March | February | January
2014 Bowie News | 2013 Bowie News
2012 Bowie News | 2011 Bowie News | 2010 Bowie News | 2009 Bowie News
2008 Bowie News | 2007 Bowie News | 2006 Bowie News | 2005 Bowie News
2004 Bowie News | 2003 Bowie News | 2002 Bowie News | 2001 Bowie News
2000 Bowie News | 1999 Bowie News | 1998 Bowie News | 1997 Bowie News






| | |
| --- | --- |
| Created: August 2015 © Paul Kinder | Last Updated: 31/8/15 |