BOWIE TV and WHAT'S REALLY HAPPENING IN OCTOBER - MONTHLY PLANNER

[BOWIEWONDERWORLD SHOP] [LATEST DAVID BOWIE ITEMS ON eBAY]
[@bowiewonderworld.com email addresses HERE]
Have YOU got some DAVID BOWIE related news or a hot scoop?
Well don't just sit there keeping it to yourself - send it in to
All news items are credited if you so wish
---
DUNCAN ON CARPOOL
24th October 2011
Movie director DUNCAN JONES was guest on Robert Llewellyn's 'CarPool' back in November 2009 when he was promoting his first major movie 'Moon'.
The interviews take place whilst the actor/comedian drives around in an eco-friendly car usually a Toyota Prius.
The former Red Dwarf actor linked up with Duncan via Twitter. The show is online at llewtube.com and also broadcast on UK TV.
First time I've seen this... very funny and well worth viewing.
Thanks to Ant for the pointer.
---
PRESS RELEASE: A 2001 ODDITY
23rd October 2011
A 2011 Oddity - cinematic solitude in a new photographic series by Dutch photographer Mark Janssen.

In the new series 'A 2011 Oddity', photography meets musical legacy in a highly cinematic epic story. With DAVID BOWIE's classic 'Space Oddity' as a direct inspiration, the photographic series 'A 2011 Oddity' takes the legend one step further, into a dark and gloomy place of lush landscapes and barren solitude.
A special selection of the work will be presented at BLOOM, the insiders off fair at Art Cologne.
With a modern classic at the heart, the team created an extensive series of photographs exploring the life after the Bowie doom scenario. 'A 2011 Oddity' goes beyond the story and focuses instead on those who stayed behind. Major Tom seems lost and his family foresees, finds and tumbles into the abyss that is grief.
A 2011 Oddity was initiated by photographer Mark Janssen. As a whole it is a work in chapters each portraying the separate lives in the aftermath of the tragic event, and was produced by Mark with a team of young creatives working on and off in the fields of commercial, fashion and high art fields of contemporary photography. With backgrounds combining editorial work for upscale fashion magazines, advertising campaigns and art projects. 'A 2011 Oddity' is their first personal collaboration.
For photographer Mark Janssen this is his second large series, having completed his work 'The Misery Trip' in 2009, which since toured international art fairs and galleries.
About: Mark Janssen (1975) graduated at the Academy of fine arts St. Joost in 1999. After working in several fields of photographic expertise he now has found his muse and specialises in largely scaled, staged, theatrical photography.
His clientele consists of, multinationals, magazines, music artists, commercial agency's and cultural institutions. Besides assigned projects giving life to non-commissioned series is also big part of his activities in which he likes to design and make his own sets.
His non-commissioned work is on permanent display at his gallery, gets a lot of media attention and has been added to several important collections. His work has been displayed at festivals like Breda Photo and PHE, receiving several awards. Recently Mark started to direct music videos.
More details, information and photographs can be found at the a2011oddity.com website.
---
BW COMPETITION WINNERS
22nd October 2011
Thanks to everyone who entered the recent BW competition to win 1 of 3 copies of the newly published book The Man Who Sold The World
by Peter Doggett.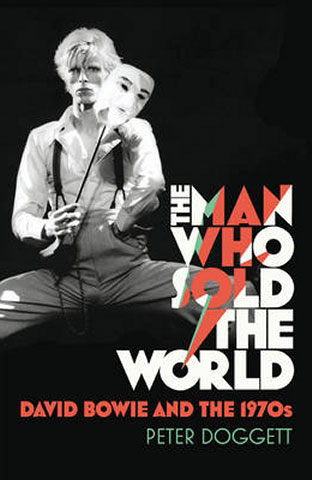 The answers to the six questions are:
Q1. Who was the original drummer with The Hype? A: John Cambridge
Q2. Who wrote 'Man In The Middle'? A: Mark Pritchett (Mark Carr Pritchett)
Q3. What number did 'Rebel Rebel' reach in the UK charts in 1974? A: Five
Q4. Who directed The Man Who Fell To Earth movie? A: Nicolas Roeg
Q5. What was David's first number one single in the USA? A: Fame
Q6. Who directed the "Heroes" promotional video? A: Nick Ferguson
The three winners randomly selected are: Martin Scott, Isabelle Chaudon and Wolfram Balzer-Kroehling.
The prizes were kindly supplied by the publishers BODLEY HEAD.
---
WILL PALIN - REST IN PEACE
21st October 2011
It is very sad news to report the passing away of WILL PALIN on Wednesday morning 19th October.
Will Palin first started working with DAVID BOWIE and The Spiders From Mars in November 1971 at Underhill Studios in Greenwich, London and then worked on the road during David's first two world tours in 1972 and 1973.
A tribute page has been set up by Brenda Anderson Brown a very dear friend of Will Palin. You can also visit willpalin.com
'One smile dispels a thousand tears' - rest in peace Will.
---
AND THE BITS FLEW FAR AND WIDE...
18th October 2011
• Last weekend at the DeLuna Fest 2011 at Pensacola Beach, Florida in the USA, Albuquerque based band THE SHINS performed an excellent cover version of DAVID BOWIE's number one hit 'Ashes To Ashes'. The band have been showcasing this track during their recent gigs. Well worth checking out - [from Ben W.]....
• The winners of the BW competition to win 1 of 3 copies of the new book 'The Man Who Sold The World: David Bowie and The 1970s' by Peter Doggett will be announced shortly...
• The Bridge School Benefit Concerts 25th Anniversary Edition is set for release on 24th October which comprises of a 3-DVD set and a 2-CD collection that includes unique live performances from many of the artists who have performed over the past 25 years. DAVID BOWIE performed two shows back in 1996 (19th/20th October) performing acoustic versions along with Reeves Gabrels and Gail Ann Dorsey. One of his songs "Heroes" appears on the DVD. Check out bridgeschool.warnerreprise.com for the full tracklisting. All proceeds from the movie screenings, DVD and CD go directly to The Bridge School, which a non-profit organisation which educates children with speech and physical impairments through the use of augmentative and alternative communication systems and assistive technology...
---
STATION TO STATION AT SAINTE-MAXIME
18th October 2011

French photographer PHILIPPE AULIAC has a new upcoming exposition Station To Station taking place on Saturday 29th October which is part of a DAVID BOWIE evening.

Besides the Station To Station multimedia installation, there's a whole host of other events happening at Le Carre-Ste-Maxime, 107 Plan de la Tour, 83120 Sainte-Maxime, France.

For more details and information pop on over to carreleongaumont.com
---
KEEP YOUR 'LECTRIC EYE ON EBAY
17th October 2011

Currently up for grabs on eBay are two early DAVID BOWIE collectors items... both one-sided acetates.
The first ever release by DAVIE JONES with The King Bees on the Dick James Music Label is a 7 inch one sided demo of Liza Jane from 1964.
The bidding starts at £1,500 GBP (approximately $2,369 US) and there are five days remaining on the auction.
Update: The final price realised was £1,938 GBP with 3 bidders.

Up next is And I Say To Myself a 10 inch one sided mono acetate from Pye Groups Records from 1966.
This was the b-side of his first ever release using his new stage name 'David Bowie' which was released on 14th January 1966 by Pye Records.
The bidding opens at $299 US (approximately £189 GBP) and there are 7 days remaining.
Update: The final price realised was $1,214 US (approx £761 GBP) with 5 bidders.
---
LATEST BW COMPETITION: ONE MORE DAY
15th October 2011
Update: The winners will be announced in the next few days.
The current BW competition only has one day remaining - last chance to enter - it finishes tomorrow at midnight.
It's your chance to win one of three THE MAN WHO SOLD THE WORLD: DAVID BOWIE AND THE 1970s books by Peter Doggett, courtesy of publishers Bodley Head.
Three hardback books... six easy Bowie 70s questions... simply answer the six questions and send in your answers.

This competition ends at midnight (GMT) on Sunday 16th October 2011.
ENTER BW COMPETITION 23 HERE
All the answers can be found on this website. Good luck to everyone.
---
IMAN: RODEO DRIVE AWARD
14th October 2011
OFFICIAL PRESS RELEASE:
BEVERLY HILLS, California - The Rodeo Drive Committee and the City of Beverly Hills have announced that the next recipients of the Rodeo Drive Walk of Style Award® will be international supermodel, actress and entrepreneur IMAN, and acclaimed Italian fashion house, MISSONI. The on-going award, inaugurated in 2003, honours style legends for their contributions to the worlds of fashion and entertainment. Both recipients will also receive plaques on Rodeo Drive, featuring their signature and quote, which will be embedded permanently in the sidewalk of the celebrated street.
The awards ceremony will take place on Rodeo Drive on 23rd October 2011, with a special silent auction to benefit Save the Children in their efforts to respond to the needs of children and their families affected by the East Africa Food Crisis brought on by the worst drought in six decades.
"The City of Beverly Hills is pleased to honour Iman and Missoni with the Rodeo Drive Walk of Style® Award," says Beverly Hills Mayor Barry Brucker. "Iman's influence in the fashion, philanthropic and entertainment sectors, coupled with Missoni's genius aesthetic and presence on Rodeo Drive, make them both highly deserving honourees."
"What a privilege it is to honour Iman and Missoni, two of the most influential figures in fashion," says Rodeo Drive Walk of Style® Selection Committee Chairwoman Wanda McDaniel. "Iman has been the voice and role model for women around the world. Her philanthropic efforts for Save the Children and the crisis in East Africa have been an inspiration to us all."
Iman began her career in 1975 as a model and has challenged the prevailing notions of beauty ever since. The daughter of an African diplomat, Iman was born in Somalia and grew up speaking five languages. She studied political science at Nairobi University, where legendary photographer Peter Beard discovered her. Her first modelling assignment was for Vogue in 1976; since then, she has been a muse for fashion designers including Yves Saint Laurent, Versace, Calvin Klein and Donna Karan. During her 14 years as a model, Iman worked with top photographers Helmut Newton, Richard Avedon, Irving Penn and Annie Liebovitz.
Iman's influence in the fashion and entertainment industries does not only stem from her role as an international supermodel and actress, but also an entrepreneur and philanthropist. She is the Founder and CEO of IMAN Cosmetics, Skincare and Fragrances, a beauty company that created the first cosmetics and skincare collection designed for all women with skin of colour. Launched in 1994, the IMAN brand philosophy holds that women with skin of colour present many races, cultures and ethnicities. In addition to running a global beauty company, Iman is actively involved in several charities, including The Children's Defense Fund, Action Against Hunger and the Raise Hope for Congo campaign, that aims to build a permanent and diverse constituency of activists who advocate for protection and empowerment of Congolese women and girls. She is also ambassador for Save the Children to raise funds and awareness for the famine and drought that is ravaging East Africa, and in particular, her homeland Somalia.
In 2010, the Council of Fashion Designers (CFDA) honoured Iman with the prestigious Fashion Icon Award, presented annually to one person who embodies fashion and revolution. In celebration of the award, then Creative Director of Barneys New York, Simon Doonan, dedicated two of the store's Madison Avenue window displays to the supermodel and mogul with a gallery-like tribute. Iman has also previously been honoured as Glamour Magazine's 'Woman of the Year' in 2006 for her AIDS activism.
A special outdoor banner exhibition honouring Iman and Missoni will coincide with the Rodeo Drive Walk of Style® celebration from October 20th to November 3rd. The exhibition along Rodeo Drive will consist of iconic photographs of Iman as well as Missoni's signature patterns and vibrant colours.
Created by the late sculptor Robert Graham and standing 14-feet tall at the intersection of Rodeo Drive and Dayton Way, "Torso" serves as the symbol for the Rodeo Drive Walk of Style®. The Walk of Style® Award, also designed by Mr. Graham, is a miniature model of "Torso."
Iman and Missoni will be the 16th and 17th recipients inducted into the Rodeo Drive Walk of Style®, following previous honourees Fred Hayman, Princess Grace (Kelly) of Monaco and Cartier, Manolo Blahnik, James Galanos, Gianni and Donatella Versace, Salvatore Ferragamo, Edith Head, James Acheson and Milena Canonero, Herb Ritts and Mario Testino and Tom Ford. Giorgio Armani was the first recipient in 2003. Honourees are selected by an independent committee comprised of media, celebrities, past honourees and academics in the worlds of fashion and entertainment.
About Rodeo Drive
Rodeo Drive, internationally recognised as the intersection of fashion and entertainment, is a unique destination for both Southern California residents, as well as visitors from around the globe. The more than 100 distinguished retailers all help create an unparalleled atmosphere only found on the three blocks of this famed street.
For more information Rodeo Drive and the Rodeo Drive Walk of Style®, please visit rodeodrive-bh.com
---
LIFE ON MARS REVISITED
10th October 2011
If you're anywhere near Brooklyn this coming weekend - you should check this out...
The transfiguration installation 'Life on Mars Revisited' by DAVID BOWIE, Mick Rock and Barney Clay will be shown this coming weekend in Brooklyn, New York as part of a weekend of art, film screenings, and music.
People will recall The Creators Project inaugural NYC launch event at Milk Studios last year, but this year they are going bigger and better, and hosting an unforgettable art and technology festival in DUMBO, Brooklyn on Saturday and Sunday October 15th-16th.
On Saturday, there will be dozens of live music performances from bands like Florence + the Machine, A$AP Rocky, Atlas Sound and Company Flow, Four Tet and John Maus, to name a few.
The event will be free and open to the public, though RSVP is mandatory and all venues will be subject to capacity regulations.
In addition to the two outdoor stages and an indoor DJ hub, there will be a plethora of food and beverages from the Brooklyn Flea and a host of major art installations and films spread out over 11 different venues in DUMBO.
More details and information can be found over at thecreatorsproject.com website.
Thanks to DavidG for the pointer.
---
BRIXTON BOWIE BANK NOTES
8th October 2011
Quite a few people have asked for more details about the Brixton Banknotes... all of which is available at brixtonpound.org but below is some extra information and cheaper purchasing options...
Firstly, if you want a cheaper option of purchasing your DAVID BOWIE Brixton Banknotes you can purchase here via eBay.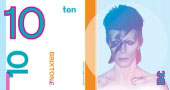 You will be buying a mint, uncirculated, limited edition B£10 note, direct from issuers The Brixton Pound.
Why buy from other sellers when you can get it from the source, ensuring authenticity and supporting our work?
This note features 9 security features, including micro-printing, watermarking, foil embossed features and holograms.
The front features the classic 'Aladdin Sane' album cover, and the back features street art andarchitecturall motifs from around Brixton. As you know David Bowie was born at Stansfield Road in Brixton SW9, and spent his early years there.

Also includes a copy of the Brixton Pound user guide which explains how the scheme works and gives you all the artwork for the other notes too.
The Brixton Pound (B£) is an alternative currency which can be used in the Brixton area of central London, UK. It's designed to support Brixton businesses and encourage local trade and production. It's a complementary currency, working alongside (not replacing) pounds sterling, for use by independent local shops and traders. The B£ is the UK's first local currency in an urban area and the fourth transition town to have its own currency, following the Totnes Pound in Devon, Lewes Pound in Sussex and Stroud Pound in Gloucestershire. You are buying a note which can actually be used at over 200 participating businesses in Brixton and the surrounding area.
They prefer to send all their notes to you using recorded delivery, however they do offer cheaper options for overseas deliveries if you can live without the tracking option.
Would you like to ensure you get a low serial number on your note? Consider buying one of the collectors packs, which come with consecutive, low serial numbers, a signed letter of authenticity from Lambeth Council CEO Derrick Anderson, and a smart plastic wallet.
---
LATEST BW COMPETITION NOW UNDERWAY
8th October 2011
Welcome to the latest BW competition... courtesy of Bodley Head.
It's your chance to win one of three THE MAN WHO SOLD THE WORLD: DAVID BOWIE AND THE 1970s books by Peter Doggett.
Three hardback books... six easy Bowie 70s questions... simply answer the six questions and send in your answers.

This competition ends at midnight (GMT) on Sunday 16th October 2011.
ENTER BW COMPETITION 23 HERE
All the answers can be found on this website. Good luck to everyone.
---
BOWIE LITERARY EVENT IN LONDON
8th October 2011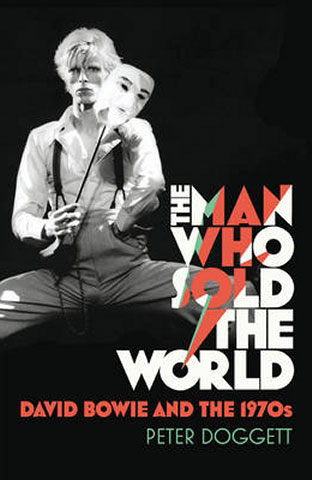 Author PETER DOGGETT will be signing and talking about his newly published book on DAVID BOWIE at Foyles bookstore on London's Charing Cross Road this month.
His new book The Man Who Sold the World: David Bowie and The 1970s
explores the place of albums such as Hunky Dory, Diamond Dogs and Scary Monsters in the cultural and political turmoil of the 1970s.
His detailed analysis of every song on every album reveals the diverse sources of inspiration for Bowie's music and his influence in turn on countless other musicians, but Doggett also looks at how Bowie expressed his attitudes to wider themes such as shifting notions of gender identity and the West's uncertainty in a time of oil shortages and terrorism.
Peter Doggett has been writing about popular music and social and cultural history for more than thirty years. His books include, You Never Give Me Your Money, a study of the Beatles' break-up and its traumatic aftermath, and There's A Riot Going On, his history of rock music's collision with revolutionary politics.
The event takes place on Tuesday 25th October at 6:30pm - 7:30pm.
Admission is FREE, but tickets can be booked in advance from Foyles. [Click here to order].
And if you come a little early, you'll be treated to a soundtrack of David Bowie rarities.
Check out peterdoggett.org for an interview and extracts from the book.
(Ed. Watch this space later today for your chance to win one of three copies of this new book in the latest BowieWonderworld competition).
---
Q MAG BOWIE QUOTES
7th October 2011
There are some really nice quotes about DAVID BOWIE from this month's Q magazine which is celebrating its 25th Anniversary and has asked a whole host of stars to comment on the music that changed their lives.
Noel Gallagher is asked: Which legend would you most like to see live?
His reply: "Bowie. He is the one person me and the missus would die to see. Led Zeppelin, Roses... they would be exciting. But I'd kill to see Bowie live. I know he hasn't been very well but we need him. He's just in a different league to everyone else."
Alex Turner is questioned about which musical heroes have you met?
He replies: "First time we ever played New York, David Bowie came to watch us. We talked about nothing because we all freaked out, basically. He came backstage after and we all shook hands and said hello. It was a mad time for us, anyway, but I wasn't expecting that. I wasn't prepared. I'd like to meet him again, now it would be a better conversation. We're all pros. We just went silent and he could see what was happening and just went, 'Good gig, I'm off now.' That would be an example of how not to meet someone you admire."
Turner also goes on to say he's attempted Moonage Daydream at karaoke!
Plan B is asked about what he thinks people will be saying about him in 25 years and replies that "my mum says I remind her of David Bowie, not the way the music sounds but just how I can be diverse and reinvent myself. So maybe people will see me as that."
Bowie is also mentioned by the likes of Green Day, The Killers, Guy Garvey from Elbow.
Thanks to Dash_Away on the BW MB.
---
YOUNG ADULT TRAILER
6th October 2011
Check out the new trailer for the upcoming movie 'Young Adult'... which features the classic DAVID BOWIE track 'Queen Bitch'.
Starring Charlize Theron as 'Mavis', a struggling, damaged author who heads back to her home town to win back her old flame played by Patrick Wilson.
Directed by Jason Reitman, the film hits theatres in December.
---
KEEP YOUR 'LECTRIC EYE ON EBAY
5th October 2011


Currently up for grabs over on eBay is a DAVID BOWIE two-sided acetate of 'Up The Hill Backwards' backed with 'Crystal Japan'.

The Town House 7 inch 45 rpm acetate, which is in excellent condition, currently has 6 days remaining and the bidding opens up at a mere £6.45 (approx $9.99).

Update: The final price realised was $149.50 US with 24 bidders taking part.

---
SWEET D HEAD
4th October 2011


One of DAVID BOWIE's 'D Head' series of paintings has been put back up for sale over on eBay from a private collector in Lausanne, Switzerland.
D HEAD XVIII is a 1995 acrylic and computer collage on canvas, sized at 24cm x 19cm.
The piece is priced at £2,744 GBP (3,200 Euros) on the 'Buy It Now' option and there are 3 days remaining on the auction.
The eagle-eyed amongst you may now notice that the artwork now has its correct title. It was previously listed with a typo as D Head XXXIII.
---
AN ODE TO BOWIE
3rd October 2011
If you've been following the continuing story over the last decade concerning The Three Tuns in Beckenham, which became The Rat and Parrot, and now is a Zizzi Ristorante read on...
Not only has the restaurant had a complete makeover with a DAVID BOWIE theme, you'll notice the db plaque has now been lovingly put back in its rightful place.
Check out Illustrator/Painter Tobias Hall's website tobias-hall.co.uk to get the background and details of his brief: 'Create an ode to Bowie'.
Many thanks to Alan for the filming when he visited last month.
---
BRIXTON BOWIE TENNERS
1st October 2011

The second edition of the BRIXTON POUND bank notes feature DAVID BOWIE, Luol Deng, Len Garrison and Violette Szabo.
Designer Charlie Waterhouse unveiled the new Brixton Pound notes last week.
As you can see, David's iconic 'Aladdin Sane' features on the £10 note.
Check out the brixtonpound.org website, where you can purchase uncirculated notes and collectors packs.
To purchase the B£10 note featuring David Bowie will cost you UK £21.00 / Europe £23.00 / Rest of World £26.00 via PayPal. For this you will be sent an uncirculated note plus a Brixton Pound user guide.
---
THE MAN WHO SOLD THE WORLD
1st October 2011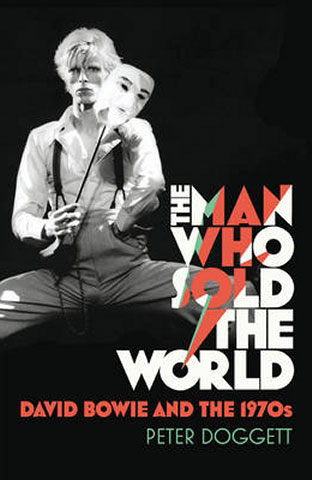 Out now is the latest DAVID BOWIE book The Man Who Sold The World
David Bowie and The 1970s by PETER DOGGETT and published by Bodley Head.
Synopsis: Brilliant musical critique; biographical insight and acute cultural analysis, The Man Who Sold The World is a unique study of David Bowie and the 1970s.
* No artist offered a more incisive and accurate portrait of the troubled landscape of the 1970s than David Bowie. Through his multi-faceted and inventive work, he encapsulated many of the social, political and cultural themes that ran through this most fascinating of decades, from the elusive promise of scientific progress to the persistent fear of apocalypse that stalked the globe.
* In The Man Who Sold The World: David Bowie and the 1970s, cultural historian Peter Doggett explores the rich heritage of the artist's most productive and inspired decade, and traces the way in which his music reflected and influenced the world around him.
* The book follows his career from 'Space Oddity', his dark vision of mankind's voyage into the unknown terrain of space, to the Scary Monsters album. It examines in detail his audacious creation of an 'alien' rock star, Ziggy Stardust, and his own increasingly perilous explorations of the nature of identity and the meaning of fame, against the backdrop of his family heritage of mental instability.
* Among the book's wider themes are the West's growing sense of insecurity in the age of oil shortages and terrorism; the changing nature of sexual roles, as represented by Bowie's pioneering adoption of a bisexual persona; the emergence of a new experimental form of rock music that would leave an indelible mark on the decades to come; and the changing nature of many of the world's great cities, including London, New York, Los Angeles and Berlin, each of which played host to Bowie during particularly creative periods of his career.
* Mixing brilliant musical critique with biographical insight and acute cultural analysis, The Man Who Sold The World is a unique study of a major artist and his times.
You can purchase NOW
and receive a massive 46% discount!
Check out THE WORD Podcast 188 - the Bowiecast - which features author Peter Doggett talking about his new book and associate editor Paul Du Noyer talking about interviewing David over the years or download mp3 [right click and save target as] 43.44 MB.
---
DESIRABLE ITEMS WANTED
1st October 2011
The CHANNEL 4's hit TV series FOUR ROOMS is back and looking for more extraordinary items to feature in the second series.
Do you own something unique, rare or beautiful that you want to sell?
Our four top dealers are ready to part with their cash for something truly exceptional.
From iconic DAVID BOWIE memorabilia to beautiful or rare objects, your item could be bought for life changing amounts of money.
If you own an item that you would like to show the dealers, we want to hear from you!
To apply please call 0207 861 8499 or email a photo and description to
From talkbackTHAMES.
---
DAVID BOWIE WONDERWORLD NEWS ARCHIVE
September | August | July
June | May | April | March | February | January
2010 Bowie News | 2009 Bowie News
2008 Bowie News | 2007 Bowie News | 2006 Bowie News | 2005 Bowie News
2004 Bowie News | 2003 Bowie News | 2002 Bowie News | 2001 Bowie News
2000 Bowie News | 1999 Bowie News | 1998 Bowie News | 1997 Bowie News






| | |
| --- | --- |
| Created: October 2011 © Paul Kinder | Last Updated: 24/10/11 |