WHAT'S REALLY HAPPENING IN DECEMBER - MONTHLY PLANNER

[BOWIEWONDERWORLD SHOP] [LATEST DAVID BOWIE ITEMS ON eBAY]
[@bowiewonderworld.com email addresses HERE]
Have YOU got some DAVID BOWIE related news or a hot scoop?
Well don't just sit there keeping it to yourself - send it in to
All news items are credited if you so wish
---
DAY IN, DAY OUT
31st December 2016
• On this day, 43 years ago, RCA held a press lunch with DAVID BOWIE as guest of honour at Rules, London's oldest restaurant on Maiden Lane in Covent Garden.
Upstairs, in a private dining room, he is presented with an 'outstanding musical achievements' award from RCA Records for having SIX different albums in the UK charts for a total of nineteen weeks during 1973...




• On this day, 51 years ago, DAVID BOWIE performs his first-ever gig outside of the United Kingdom. David Bowie and The Lower Third play at Le Golf Drouot, Montmartre, Paris, France in 1965...
• On this day, 53 years ago, DAVID BOWIE plays final gig with THE KONRADS at Justin Hall, West Wickham in 1963...
---
AND THE BITS FLEW FAR AND WIDE...
28th December 2016
• DAVID BOWIE graces the front cover of ROLLING STONE magazine in France for their January/ February 2017 issue...
• Celebrate DAVID BOWIE on Saturday 7th January at the Regent Theatre, Arlington, MA, USA with JEFF ROUGVIE. For more details and information, please visit regenttheatre.com...
• On this day, 44 years ago, DAVID BOWIE performed at The Hardrock, Stretford, Manchester in 1972...
---
MERRY CHRISTMAS EVERYONE!
25th December 2016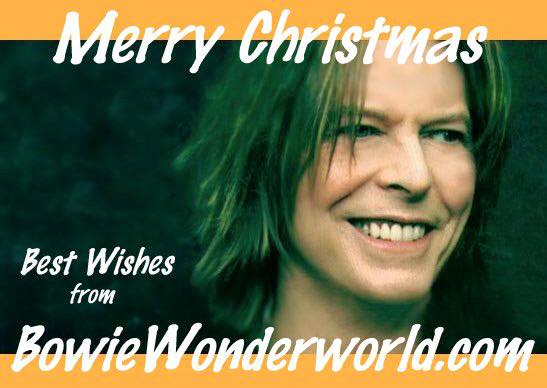 Wishing everyone, everywhere, a very Merry Christmas
Have a Cool Yule! I hope you all receive everything you ever wish for
Very Best Wishes from Paul (aka Rednik)
---
NEW! DAVID BOWIE: GLAMOUR FANZINE
18th December 2016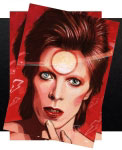 Update: ALL NOW SOLD OUT. Thanks to everyone who ordered. It's turned out to be more popular than they thought.
Announcing a new 48-page DAVID BOWIE fanzine made by fans for fans.
A 'vintage' style fanzine, not available online! An A4 colour fanzine, it has molecules!
Graphic design by Milky Cereal (@LoveMilkyCereal). Content by @DavidBowieGlamour and @QuietSeclusion. Cover artwork by Helen Green (@HelenGreen).
Fan stories, fan art, fan articles, fan reviews, fan photos, fan poems, fan opinion, fan interviews! All inside the NEW DAVID BOWIE: GLAMOUR fanzine.
Contributors include:
Carlos Alomar
Sophia Anne Caruso
Mike Garson
Mark Paytress
Suzi Ronson
Martin Samuel
James Stevenson
George Underwood
Alex Walton
Woody Woodmansey
Price £10 plus the postage cost to wherever you are in the world! This is a non-profit making venture. We simply want to share Bowie fans contributions far and wide.
Pre-order your copy of DAVID BOWIE: GLAMOUR - the fanzine clearly stating the number of copies you require and the address where you would like your fanzine sent. Please ensure you select the correct postage option.
You can pre-order Issue 1 up to and including 2nd January. Your DAVID BOWIE: GLAMOUR fanzine will be ready to post to you by 20th January.
We are actively seeking content for on-going issues for your fanzine. Please email content to
Anything you have to say about David Bowie will be welcome. Maybe it's a story, or artwork, or photographs, an article, a review of a record/show/play/book etc. Perhaps you would like to tell us of the impact he has had on your life or how you felt when you heard the news of his passing and its subsequent impact upon you.
This is your David Bowie fanzine. We will encourage Bowie collaborators to contribute, but your content and support as fans is vital for future issues and the success of this venture.
For purchasing, ordering and more details please visit davidbowieglamour.wordpress.com
From @DavidBowieGlam.
---
MARIA SCHNEIDER INTERVIEW
16th December 2016
Check out a fascinating and insightful interview with MARIA SCHNEIDER via Library of Congress. Towards the end Maria talks about working with DAVID BOWIE (55:40).
---
THREE 1965 BOWIE ACETATES SOLD AT AUCTION
15th December 2016
The three acetates mentioned on here last September have now sold at BONHAMS in their 'Entertainment Memorabilia' auction today in Knightsbridge, London at 12.00 GMT.
The 3 acetates realised a total of £18,375 (including premiums).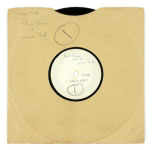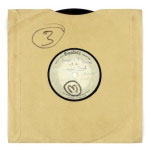 LOT 137: David Bowie: A rare acetate recording of 'I Don't Mind' by Davy Jones And The Lower Third, 1965. Estimate: £1,000-£1,200 GBP.
A single-sided, 8 inch disc, the label with typewritten title, Davie Jones and the Lower Third in blue ballpoint and numbered 1 in black felt-tip pen, in paper sleeve similarly numbered and also inscribed in blue ballpoint I dont Mind Davie Jones & Lower Third.
Footnotes: This acetate, and the following two, were the subject of an article in Record Collector magazine, October 2016, No. 458, p. 16.
Following the lack of chart success with The King Bees and The Manish Boys, Bowie joined The Lower Third and just a few days after his audition with them on 17th May 1965, the group went into Central Sound studios in London's Denmark Street. It is not known exactly what tracks were recorded but it is believed that the three acetates offered here may have resulted from this session, although the Emidisc example may indicate a separate session. It is possibly David himself who annotated the labels/sleeves.
'Born Of The Night' was previously known about by the existence of a press release for the group, written by Bowie, detailing this track as their forthcoming single. However, following the securing of a record deal, it is likely that producer Shel Talmy rejected 'Born Of The Night' for release and chose instead 'You've Got A Habit Of Leaving' and 'Baby Loves That Way', issued by Parlophone in August 1965.
With regard to the other two tracks on these acetates, 'I Wish You Would' is probably a cover of the song of the same name by Billy Boy Arnold, which had also been released as a debut single by The Yardbirds in 1964. It was later recorded by Bowie on the 1973 album 'Pin Ups'. 'I Don't Mind' is something of a mystery, it being unclear as to whether it is a cover or an original composition.
SOLD: Price realised £6,250 (including premium).
LOT 138: David Bowie: A rare acetate recording of 'Born Of The Night' by Davy Jones And The Lower Third, 1965. Estimate: £1,500-£2,000 GBP.
A single-sided, 8 inch Emidisc, label with typewritten title, inscribed in blue ballpoint Davie & B.L. Jones with the Lower Third and numbered 3 in black felt-tip pen, in paper sleeve similarly numbered.
SOLD: Price realised £5,250 (including premium).
LOT 139: David Bowie: A rare acetate recording of 'I Wish You Would' by Davy Jones And The Lower Third, 1965. Estimate: £1,000-£1,200 GBP.
A single-sided, 8 inch disc, the label with typewritten title Come Back Baby crossed out and I wish you would written in blue ballpoint, Davie Jones & Lower Third also inscribed in blue ballpoint in the same hand, numbered 2 in black felt-tip pen, in paper sleeve similarly numbered and inscribed in blue ballpoint I wish you would Davie Jones & Lower Third.
SOLD: Price realised £6,875 (including premium).
For more details, information and bidding on these items, please visit Bonhams website.
(BW News item 8th September)
The discovery was first featured in RECORD COLLECTOR magazine (October #457) with a full-page letter article complete with photographs of the three new discoveries.
Owner MR JANES reveals that his father picked up three DAVID BOWIE records at a church sale a while back. The owner filed them away, then when he heard about David's passing, he remembered he had them and dug them out.
The three 8" one-sided acetates by DAVIE JONES & THE LOWER THIRD are:
1. I Don't Mind.
2. I Wish You Would.
3. Born Of The Night.
Collectors will already know about 'Born Of The Night' as it was mentioned by David in a press release at the time. The band were hoping that this song would be released as a single. The song was recorded at Central Sound studio in Denmark Street, played regularly in their live set, but unfortunately, it was rejected by producer Shel Talmy.
As for the other two songs, logic says 'I Wish You Would' is probably the Billy Boy Arnold song. This was covered by The Yardbirds, and as you know DB re-recorded this on his 1973 Pin Ups album as his nod to the band.
'I Don't Mind' could possibly be the James Brown penned song that was released in 1961 on the King label. This song was covered and released by The Who, The In Crowd and The Moody Blues all in 1965).
Other David Bowie lots sold (incl. preiums) were:
Lot 141: Signed Aladdin Sane album £8,750.
Lot 142: Signed Let's Dance acetate album £1,062.
Lot 144: Signed 1991 letter and photo £3,125.
Lot 145: Saucer II litho £6,250.
---
ANOTHER DBI TOKYO EXCLUSIVE RELEASE
15th December 2016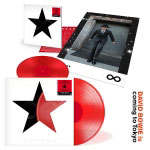 davidbowie.com have announced there is to be another limited edition release specifically for the DAVID BOWIE IS exhibition opening next month in Tokyo.
Added to the already announced 7" Lady Stardust picture disc there will also be a transparent red vinyl 12" single of ★
Included is an exclusive poster of one of Jimmy King's beautiful photographs of David.
Made in Japan, (Cat. no. SCJ7 1) will feature ★ (album version) and b-side: 'Lazarus' (radio edit) and 'I Can't Give Everything Away' (radio edit).
More details over at davidbowie.com website.
---
AND THE BITS FLEW FAR AND WIDE...
14th December 2016
• 'BOWIE BY DUFFY' photo exhibition at PROUD CHELSEA from 6th January through 5th February - [More details]...
• Exclusive iconic DAVID BOWIE portraits from 'The Session' by renowned photographer GAVIN EVANS... as seen at Sotheby's Bowie/Collector Art auction, 'Lazarus' the David Bowie musical, the V&A's 'Bowie Is' book cover, Bowie biographies and innumerable magazine covers and features. You can purchase these beautiful A3 fine art Open Edition prints direct from the artist. Each print is embossed with the photographer's stamp for proof of authenticity. 99 euros each plus VAT and P&P - [More details]...
---
SENSE OF DOUBT
12th December 2016
Check out DAVID BOWIE: 'Sense Of Doubt' - 1978 Live... 'Blackout' - 1978 Live, more NACHO edits...
---
UNSEEN BOWIE PHOTO IN Q MAG
10th December 2016

Featured in the next issue of Q MAGAZINE (number #368) is a previously unseen DAVID BOWIE photograph taken by Jimmy King, from a photo shoot in September 2015.
Inside, there is a six-page reminder why the world belonged to David Bowie in 2016 and a preview of the forthcoming 'David Bowie: The Last Five Years' BBC documentary, which airs on BBC Two on 7th January.
The magazine goes on sale on Tuesday. More details at qthemusic.com website.
Thanks to Jo K for the heads up.
---
DAVID BOWIE SINGS FOR JOHN LENNON
8th December 2016
DAVID BOWIE sings 'Imagine' in tribute to JOHN LENNON.
Performed 33 years ago today, during the final show of the 1983 Serious Moonlight Tour at the Hong Kong Coliseum (at Hung Hom), in Hong Kong.
---
RECORD COLLECTOR BOWIE SPECIAL
7th December 2016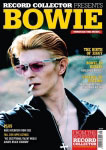 Out tomorrow is a rather special RECORD COLLECTOR 116-page edition of the magazine.
RC have taken the best of nearly 40 years of writing on DAVID BOWIE, plus exclusive new features, for this special edition.
Some of the articles featured inside include: 'The Birth of Ziggy' - an eyewitness account, 'Bowie In Berlin' - worldwide rarities, 'Station To Station' - The Thin White Duke's deep, dark return.
Plus a rare interview from 1993, full 2018 RRPG listings - "his exceptional talent would always reach stardom."
For more details and information, please visit the recordcollectormag.com website.
---
ON THIS DAY...
7th December 2016
On this day, one year ago, DAVID BOWIE and IMAN attended the premiere of LAZARUS at the New York Theatre Workshop.
Lopey [bowiefun.com] managed to take some great images including a smiling David and Iman as they arrived at theatre, as well as Susan Sarandon, Tony Visconti and Kristeen Young.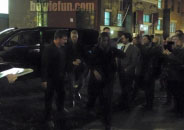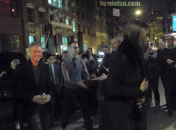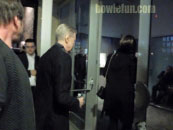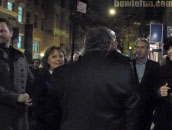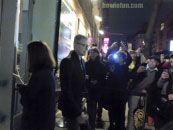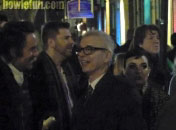 All the photographs below courtesy of Paula S were taken as David, Iman and actors Michael C. Hall and Cristin Milioti left the theatre.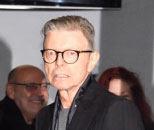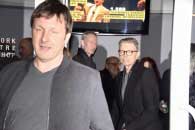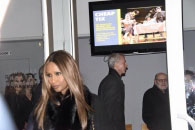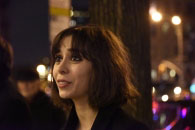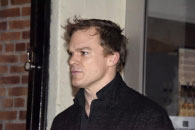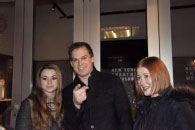 For all you fashionistas out there... David was wearing a Alexander McQueen dark navy and silver skull polka dot evening scarf.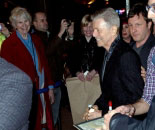 Photos by AKM-GSI Splash.
---
CELEBRATING DAVID BOWIE IN NY
7th December 2016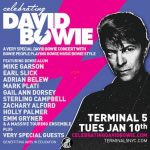 The New York date of the CELEBRATING DAVID BOWIE five-city worldwide tour takes place on Tuesday 10th January at Terminal 5, 610 West 56th Street, New York, NY 10019.
Performers include: Mike Garson, Earl Slick, Adrian Belew, Mark Plati, Gail Ann Dorsey, Sterling Campbell, Zachary Alford, Holly Palmer, Emm Gryner and a massive touring ensemble, plus very special guests.
General tickets go on sale on Friday, December 9th at 12:00 pm EST.
American Express Card Member PreSale starts: Wednesday, December 7th at 10:00am EST.
For ticket details and more information please visit axs.com
---
★ NOMINATED FOR 5 GRAMMYs
6th December 2016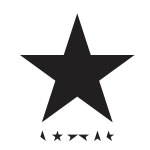 DAVID BOWIE's ★ album and song have been nominated for FIVE GRAMMY Awards in the following categories...
12. Best Rock Performance
Joe (Live From Austin City Limits) - Alabama Shakes.
Don't Hurt Yourself - Beyonce Featuring Jack White.
Blackstar - David Bowie.
The Sound Of Silence (Live On Conan) - Disturbed.
Heathens - Twenty One Pilots.
14. Best Rock Song
Blackstar - David Bowie.
Burn The Witch - Radiohead.
Hardwired - James Hetfield and Lars Ulrich (Metallica).
Heathens - Tyler Joseph (Twenty One Pilots).
16. Best Alternative Music Album
22, A Million - Bon Iver.
Blackstar - David Bowie.
The Hope Six Demolition Project - PJ Harvey.
Post Pop Depression - Iggy Pop.
A Moon Shaped Pool - Radiohead.
65. Best Recording Package
Anti (Deluxe Edition) - Ciarra Pardo and Robyn Fenty.
Blackstar - Jonathan Barnbrook.
Human Performance - Andrew Savage.
Sunset Motel - Sarah Dodds and Shauna Dodds.
22, A Million - Eric Timothy Carlson.
69. Best Engineered Album, Non-Classicial
Are You Serious - Tchad Blake and David Boucher, engineers; Bob Ludwig, mastering engineer (Andrew Bird).
Blackstar - David Bowie, Tom Elmhirst, Kevin Killen and Tony Visconti, engineers; Joe LaPorta, mastering engineer (David Bowie).
Dig In Deep - Ryan Freeland, engineer; Kim Rosen, mastering engineer (Bonnie Raitt).
Hit N Run Phase Two - Booker T., Dylan Dresdow, Chris James, Prince and Justin Stanley, engineers; Dylan Dresdow, mastering engineer (Prince).
Undercurrent - Shani Gandhi & Gary Paczosa, engineers; Paul Blakemore, mastering engineer (Sarah Jarosz).
The 59th GRAMMYs show hosted by James Corden takes place on Sunday 12th February 2017 - airing live on CBS from the Staples Center in Los Angeles at 8 p.m. ET / 5 p.m. PT.
---
AND THE BITS FLEW FAR AND WIDE...
5th December 2016
• GERRY LEONARD has been added to the upcoming DUBLIN BOWIE FESTIVAL taking place on 5th - 10th January. For all details, please visit dublinbowiefestival.ie...
• EARL SLICK guests on Danya Steel's Rock Talk Success and talks about working with DAVID BOWIE - [View here]...
• The sold-out FROM IBIZA TO THE NORFOLK BROADS play in Salford at The Lowry now has another performance added - [More details]...
• Update on the DAVID BOWIE Aylesbury statue... £100K target reached... Campaigner DAVID STOPPS said it was an exciting moment and raising the cash means "the statue will now happen" - [Read here]...
• A new restaurant in Manchester is opening next year to be named THE MAN WHO FELL TO EARTH... ex-Manchester United footballers GARY NEVILLE and RYAN GIGGS, with Michelin Star chef MICHAEL O'HARE are opening the restaurant inside their new boutique hotel, the former Stock Exchange building located on Norfolk Street. The restaurant with an a la carte menu will be set in a grand Parisian ballroom-style - [More details]...
• DAVID BOWIE has been nominated in BBC 'British Artist of the Year' award. Also nominated are: Adele, Calvin Harris, Coldplay and Jess Glynne...
• If you missed last Friday's broadcast on BAD PUNK, Resonance FM's art-radio show of the live reading and soundscape inspired by DAVID BOWIE's 'Blackstar' song and music video, with ANDY BARDING reading his science fiction story, 'Hama Blag Sda', over a live soundscape by Band of Holy Joy. The soundscape benefits from close investigation featuring music from David Bowie, Gerry Leonard, Spooky Ghost and Reeves Gabrels - do yourself a favour and listen in here at mixcloud.com...
---
BOWIE JAPANESE RELEASE INFO
5th December 2016
davidbowie.com have announced more details of the next limited edition DAVID BOWIE IS exhibition release for the opening in Tokyo, Japan next year.
The DBI exhibition opens on 8th January 2017 at Warehouse Terrada G1 Building in Tokyo, where this release will be available exclusively to visitors.
The song titles for the 7" picture disc are 'Lady Stardust' and 'Crystal Japan'.
For more details, information and tickets, visit davidbowieis.jp website.
Also to celebrate the visit of the exhibition to Japan, Sony Records International are to release several limited edition coloured vinyl albums on 11th January.
Namely: 'Heathen' - blue vinyl (SIJP-35), 'The Next Day' - yellow vinyl (SIJP-40), 'Reality' - clear vinyl (SIJP-36) and 'A Reality Tour' - blue vinyl (SIJP-37). More details can be found at davidbowieis.jp
No word yet on whether these releases, including the MICK RONSON 'Heaven And Hull' CD Blu-spec CD2 (SICP-31037) due 21st December via Legacy Recordings will be available via cdjapan.co.jp website.
---
DAY-IN, DAY-OUT...
5th December 2016
• On this day, 21 years ago, DAVID BOWIE performed at the Kings Hall, Belfast during his Outside Tour in 1995...
• On this day, 33 years ago, DAVID BOWIE performed at the Army Stadium, Bangkok, Thailand during 'The Bungle in the Jungle' leg of the Serious Moonlight Tour in 1983...
• On this day, 51 years ago, DAVID BOWIE with The Lower Third performed at the Marquee Club, Soho, London in 1965...
• On this day, 52 years ago, DAVID JONES & The Manish Boys performed twice at City Hall, Newcastle, unbilled and supporting the Gerry & The Pacemakers/Gene Pitney/The Kinks tour in 1964...
---
MICK ROCK INTERVIEW AND EXHIBITION
4th December 2016
MICK ROCK has been photographing the world's biggest rock stars for more than 40 years. He spoke to Steve Fairclough about his career and new DAVID BOWIE book.
Of his relationship with Bowie, Mick explains: 'We just hit a certain dynamic. I wasn't really bothered about money. Bowie would invite me to things and I'd go to a couple of clubs - my wife and his wife - and it just kept rolling along right in front of my camera. It did so for 21 months and obviously the book bears some of the fruit of this period, but by no means all of it. I've got more than 5,000 photographs just of the Ziggy Stardust period alone.'
You can read the whole interview over at the amateurphotographer.co.uk website.
Mick's latest exhibition is now open in Toulouse, France (2nd December through 15th January). Visit cite-espace.com for more details.
---
AND THE BITS FLEW FAR AND WIDE...
2nd December 2016
• Check out an interview with ROGER GRIFFIN talking about his newly published DAVID BOWIE book The Golden Years
- [Listen here]...
• Check out a new interview with DONNY McCASLIN over on TIMEOUT where he talks about working with DAVID BOWIE and performing with his band - [Read here]...
• Interview with WOODY WOODMANSEY The Last Spider from Mars recalls life with DAVID BOWIE - [Read here]...
• There's a charity event taking place in Brixton on 6th January - DAVID BOWIE: LET'S DANCE! celebrating the genius of David Bowie one year on at Prince Albert, 218 Coldharbour Lane, Brixton, 9pm-2am - [More details]...
• Heads up... next Summer... eight more locations added: Exeter, Bournemouth, Portsmouth, Oxford, Milton Keynes, Newcastle, Bolton and Peterborough for the DAVID & I photo exhibition by DENIS O'REGAN - [More details]...
---
HAMA BLAG SDA
1st December 2016
Tomorrow night's radio listening... BAD PUNK, Resonance FM's boundary-pushing Friday night art-radio show, is honoured to present a live reading and soundscape inspired by DAVID BOWIE's 'Blackstar' song and music video.
ANDY BARDING will read his science fiction story, 'Hama Blag Sda', over a live soundscape by Band of Holy Joy on Friday, 2nd December at 10pm (GMT) That's 4pm CST. The hour-long show can be picked up on 104.4FM or via the resonancefm.com website.
Andy said: "When Blackstar premiered at the end of last year, I was transfixed by the song and video. I watched it again and again and again, my imagination running wild over its many themes, which I took to include ancient astronauts, religion, telepathy, space travel, soul-jacking, death and the after-life, human sacrifice and black magic.
"That's a lot to take in. So I tried to make sense of it all by writing my own short story based on the dead astronaut seen in the opening scenes of the video.
"When I met James and Johny from Band of Holy Joy, we got to talking about this song. They're just as fascinated by it as I am - we chatted about it for ages. So now we're performing this as our combined take on David Bowie's brilliant Blackstar."
'Hama Blag Sda' was originally published in '47-16', a David Bowie tribute anthology from Canadian publishers Penny Dreadful.
For more information about BADPUNK and the Band of Holy Joy visit bandofholyjoy.co.uk
Andy Barding's series of David Bowie concert history books can be found at cygnetcommittee.co.uk
---
'MY BOWIE STORY' PROJECT
1st December 2016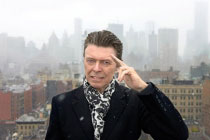 Are you up for a bit of writing about DAVID BOWIE? Written submissions are required for a forthcoming book with profits going to charity.
Be a part of a collection of Bowie stories - written entirely by his fans - that span all decades of his work!
In the months since David's untimely death, there have been bits and pieces of your favorite memories surfacing - this book will bring together all those wonderful stories!
Your submission can be from any decade as long as it is heartfelt and entertaining. The compilation will be edited and published by Dale K. Perry, a writer and longtime Bowie enthusiast.
Date extended! Story submissions: Please submit your story no later than 31st December.
Make sure the year and location of the event you are writing about is included. If you wish to include photographs, they must be your own personal photos not copyrighted professional pictures. Please suggest a title for your piece. Assistance with writing and/or editing is available.
Your submission should be true - this is not a work of fiction. If your narrative is accepted for use you will receive contributor credit (or you may remain anonymous if you prefer).
For more information, or to share your story, please email
For information on how to submit using regular snail mail, please email the above address.
---
AND THE BITS FLEW FAR AND WIDE...
1st December 2016
• DAVID BOWIE l'Europeo Photo Exhibition by PHILIPPE AULIAC is now open in Bologna, Italy in San Giorgio in Poggiale. The exhibition takes place from 10th November 2016 throughout to 29th January 2017 - [More details]...
• At the King's Cross Theatre in London, more tickets have been released for LAZARUS and are now available. Extra £35 and £15 tickets available in November/December - book now at lazarusmusical.com - be quick...
• The DAVID BOWIE: GLAMOUR fanzine currently in production will be available in January. Details and the contributors to be announced...
• For the US THE MAN WHO FELL TO EARTH 40th Anniversary newly restored movie arrives to the USA market on Limited Collector's Edition Blu-ray on 24th January via Lionsgate...
---
THE COMPLETE DAVID BOWIE 2016 EDITION OUT NOW!
1st December 2016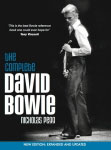 Out now is the 2016 newly revised and expanded Seventh Edition of THE COMPLETE DAVID BOWIE by NICHOLAS PEGG via Titan Books.
Incorporating 'Blackstar', 'The Next Day', the 'David Bowie Is' exhibition, the 'Lazarus' stage show, this year's heartbreaking news, and every other development in the world of David Bowie since the last update was published back in 2011, this new edition is the biggest one yet.
For USA... owing to distribution schedules and other logistics, the US publication date has been confirmed as 29th November.
"This is the best Bowie reference book one could ever hope for" - TONY VISCONTI.
You can purchase The Complete David Bowie
revised and updated 7th edition 2016 NOW!
---
LATEST BW COMPETITION
1st December 2016

Update: The latest BW Competition is now over. Winners will be notified shortly.
Here's your chance to win one of FIVE copies of 'SPIDER FROM MARS: MY LIFE WITH BOWIE' by WOODY WOODMANSEY, courtesy of St. Martin's Press.
This hardcover, 320-page US edition of the book, published by St. Martin's Press, New York, is scheduled for publication on 3rd January 2017 in the USA.
For details please visit BW COMPETITION for the low-down.
If you are entered the competition via the David BowieWonderworld Facebook page then please click on the LIKE PAGE button before entering.
Likewise, if you are using via TWITTER please follow @bowieww
All entrants in this prize draw, will be issued internally with a number, and the FIVE winners will be drawn at random.
This prize draw competition ends at midnight (GMT) on Wednesday 30th NOVEMBER 2016.
If competitions aren't your thing, you can pre-order your copy at all good US book stores now.
Alternatively, if you live outside the US, the UK version has just been published by Sidgwick and Jackson on 3rd November and is available to purchase now
(note different front cover).
---
DAVID BOWIE WONDERWORLD NEWS ARCHIVE
November | October | September | August | July
June | May | April | March | February | January
2015 Bowie News | 2014 Bowie News | 2013 Bowie News
2012 Bowie News | 2011 Bowie News | 2010 Bowie News | 2009 Bowie News
2008 Bowie News | 2007 Bowie News | 2006 Bowie News | 2005 Bowie News
2004 Bowie News | 2003 Bowie News | 2002 Bowie News | 2001 Bowie News
2000 Bowie News | 1999 Bowie News | 1998 Bowie News | 1997 Bowie News



| | |
| --- | --- |
| Created: December 2016 © Paul Kinder | Last Updated: 31/12/16 |